2 N.B. regions forced back into orange phase after 13 new cases of COVID-19 confirmed – CBC.ca
Two parts of New Brunswick have been forced back into the more restrictive orange phase of COVID-19 recovery after 13 new cases were confirmed on Friday.
The change for the Moncton health region (Zone 1) and Campbellton health region (Zone 5) will take effect at midnight, Premier Blaine Higgs announced during a news conference in Fredericton.
Residents in those zones will need to stay within two-household bubbles, said Higgs. Unlike the previous version of the orange phase, bubbles can now include caregivers and immediate family members, he said.
The return to the orange phase is based on the recommendation of Dr. Jennifer Russell, the province's chief medical officer of health.
The recommendation around the Moncton region is due to additional exposures that Public Health identified through investigations, she said.
There is an outbreak in Moncton at the Manoir Notre-Dame special care home, affecting at least 19 people.
The recommendation around the Campbellton region is due to a community outbreak that involves several exposure settings, cases of potential community transmission being investigated, and reports of low compliance with directives, Russell said.
Sugarloaf Senior High School in Campbellton has confirmed a positive case — the first reported school-related case of COVID-19 since New Brunswick schools reopened in September.
The new cases include: 12 in the Campbellton health region and one in the Moncton health region.
Of the 37 cases in the province, 21 are in the Moncton region, two are in the Saint John region (Zone 2), one is in the Fredericton region (Zone 3), and 13 are in the Campbellton region.
Three people are in hospital, none 0 in ICU
More to come
Quebec reports 25 more coronavirus deaths and 1,030 new cases – Global News
Quebec's novel coronavirus caseload stands at 103,844 as authorities reported 1,030 new infections Thursday.
The province also recorded 25 additional deaths linked to COVID-19, the disease caused by the virus. Eight of those deaths occurred in the last 24 hours.
The health crisis has claimed the lives of 6,214 Quebecers since March.
Hospitalizations continued to drop Thursday, falling by 17 to 509. Health authorities say 78 of those patients are in intensive care, a drop of 11 from the previous day.
[ Sign up for our Health IQ newsletter for the latest coronavirus updates ]
The most recent data about screening shows 27,370 tests conducted on Tuesday. The province has administered 3,052,900 tests to date.
Quebec Premier François Legault is expected to address the government's response to the second wave of the pandemic on Thursday afternoon in the province's capital. He will be joined by Health Minister Christian Dubé and Dr. Horacio Arruda, director of Quebec public health.
© 2020 Global News, a division of Corus Entertainment Inc.
Healthcare capacity stretched thin in Manitoba as COVID-19 spikes – CityNews Winnipeg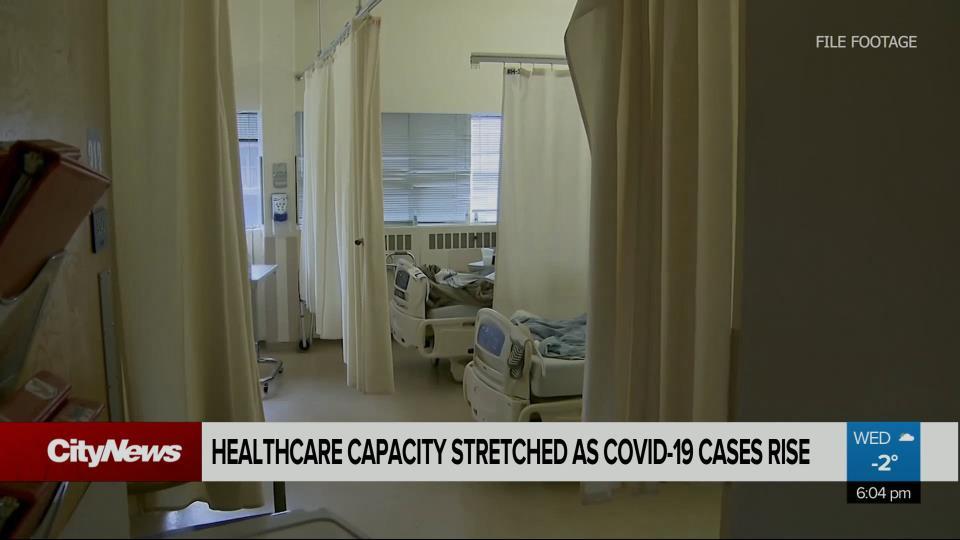 * public_profileBlurb *
* public_name *
* public_gender *
* public_birthdate *
* public_emailAddress *
* public_address *
* public_phoneNumber *
Drive through flu shot clinic coming up – SooToday
Another flu shot clinic is planned by Superior Family Health Team for Saturday.
The clinic is set to take place on Saturday from 10 a.m. until 2 p.m.
Anyone who can't make it can also contact their primary care provider's office or visit a pharmacy.
They can also contact Algoma Public Health or book an appointment via the Group Health Centre for the Algoma Ontario Health Team's flu clinic at the GFL Memorial Gardens.
The full release is as follows:
Recently, on Oct. 17, Superior Family Health Team (SFHT) hosted a drive-through flu clinic for the community out of their Queen Street location. The event was collaboration between multiple community organizations including SFHT, Sault Family Health Organization (SFHO) and Superior Medicine Shoppe. Michelle Brisbois, SFHT Executive Director, said she was "proud of the organizations coming together to provide this service to the community" and added that "it is so wonderful to work with organizations like that."
The event was a drive-through via the building's Queen Street entrance to the parking lot. Many vehicles patiently lined up on Queen Street. "We are very grateful that SSM Police was on site to help direct traffic at the Pim, Queen and Bay street intersection" said Dr. Cassandra Taylor, SFHO Lead Physician. Patients were screened for COVID symptoms and registered for the clinic from their cars. Then they were directed to an injection station where one of the SFHO clinic physicians gave them the flu immunization. "It is very inspiring that our clinic physicians including Dr. Mclean, Dr. White, Dr. Tkachyk and Dr. Caputo would volunteer their time to provide this service to the community" said Dr. Taylor.
Many people volunteered for the event including staff from the organizations and some of their family members. One volunteer was Jeni Glassford, a third-year medical student from the Northern Ontario School of Medicine who is currently doing her clerkship in Sault Ste. Marie. "I thought helping with the clinic was something a medical student should do, but once there, it was very fulfilling to give back to the community and I felt like I was providing a needed service."
"A lot of planning went into the event and it paid off as we were able to immunize over 500 people in a short span of time" said Ms. Brisbois. They had a great turn out for the event. Ms. Brisbois added that "Patients were immunized in their own vehicles in an outdoor setting without leaving their social bubble, it was a very safe way of immunizing a lot of people and still following COVID-19 social distancing guidelines. This event gave patients flexibility as they didn't have to book an appointment and we accommodated any patient from the community with or without a health card."
Eligible patients were able to get the high-dose flu vaccine however they quickly ran out of supply of the higher dose. "I'm encouraged to see the community making an effort to get immunized against the flu this year, especially given the COVID-19 pandemic, but I'm disappointed at the lack of High Dose vaccine that was made available given the demographics we serve in this community" said Dr. Al McLean, SFHT Lead Physician. The higher dose flu vaccine is indicated for anyone over the age of 65, when it is unavailable, patients should still get the regular dose to still have some protection.
This season, several options are available for getting the flu vaccine. Patients can contact their primary care provider's office or visit a pharmacy. They can also contact Algoma Public Health or book an appointment via the Group Health Centre for the Algoma Ontario Health Team's flu clinic at the GFL Memorial Gardens. "It is important to have many different ways for patients to get immunized for the flu so that more patients have the opportunity to be immunized. We encourage everyone to get their flu vaccine." said Dr. Taylor.
The organizations are planning another drive-through flu clinic for Oct. 31, 2020 from 10 a.m. to 2 p.m. at 765 Queens Street East. Vehicles can enter via the Queen Street entrance to the parking lot for COVID-19 screening and clinic registration. Any patient above six months in age is welcome; parents should come with an adult in the back seat with their child. The clinic will only have regular dose flu vaccines available. They appreciate everyone's patience and ask that they allow vehicles attending other Queen Street businesses to pass through the queue.