5 Ways to Use Information Technology to Increase Productivity
Do you feel like your business is not doing well and productivity at your workplace is lacking? Is it because you are hesitant to take the leap towards the use of newer technology? Adapting technology can make you advanced and enhance productivity greatly. The use of machine learning, data management, computing and newer algorithms can make tasks easier and improve delivery at work.
With the advancements in technology we are heading towards a future that have been written in books of Artificial intelligence and envisioned by authors and scientists across the globe. So, we must dive into the latest technology based approaches for enhancing the productivity at work. Here are a few ways in which information technology can increase productivity at work.
1. Accessing Information
Access to information is a pre-requisite of working whether you are in business or IT industry, BPO or Post office, government official or a teacher, researcher or a scientist. It is the most powerful tool and the deeper you can access information, the more important your position. So, access to information depends on you having a reliable network system. The best way is to indulge in a multifaceted approach with the establishment of a good network, security measures, a good back up system and constant updating of that system. Having a stable network system ensures employees to have essential information required to communicate effectively with their clients. Use of information technology also enhances employee satisfaction and enables them to work productively. I
nstalling a secure VPN system allows them to carry on with remote work and ensure they can access any information they require to complete the project in hand from wherever they are working.
When you invest in developing a secure system for accessing information, you can ensure your employees a better communication system with customers, allow them to work remotely and provide them job satisfaction that improves their productivity as well as enhance customer satisfaction which is good for your business overall.
2. Staying connected
The judicious use of information technology allows you stay connected with clients and team personnel effectively. Productivity in jobs is enhanced if you allow your employees to work from anywhere and develop a secure VPN system that they can use for communication. All you have to do is build a secure system and your employees can stay connected from anywhere, it allows them the freedom to work from anywhere and they are more comfortable by remote working. You can also be required to be or video when your logged in there are many different pieces of tech that can be used for this including mini cameras you can see some here reviewed on GadgetsSpy.
Another way is allowing your employees to bring their own device. It is termed as BYOD- Bring your own device so that they are not bound to work on the hardware provided by your office. They can work on their own machine that gives them the flexibility to access information and they are more comfortable rather than using your machine that they have to customize again.
Employees are likely to be more productive if they are allowed to work on their own laptop, phone or tablets and it improves efficiency. Reports suggest that around 50% of employees are more comfortable working on their own machine. Information technology allows you to work from anywhere and on any machine and access information to deliver the requirements.
Information technology can be used to improve connectivity by offering new platforms for video conferencing or easy and faster communication. Travelling for meetings offsite is becoming obsolete and more and more people are comfortable with remote video conferencing via apps that can be easily installed. Providing employees or people with a safe zone to communicate can enhance connections and increase productivity at work.
3. Collaboration
The next step for any business to boost their productivity is collaboration. Collaborating with prospective clients or potential people can upscale your work and increase productivity greatly. With the use of information technology, you can boost your work productively and form a collaboration suite. Collaboration suites such as Microsoft, Slack or G-Suite are built to provide employees a platform where they can meet online, discuss, plan and work. The tools of these suites allow employees to communicate better about projects and reformations that can be implemented.
People who are shy speaking face to face can easily open up on such online platforms and this is what boosts productivity. The use of these suites helps to minimize time spent in preparing and arranging meetings. It is a faster way of communication and arranging and attending meetings consumes more time with hardly any productive solutions that come out of it. These communication suites allows you to communicate online, save a lot of time and simply send an email where unnecessary meetings would be called for otherwise.
4. Improving customer service
Another simple way to use information technology for increasing productivity is by connecting your CRM solutions to the employee's device so that the employees have easy access to the customer information. This would also provide customer satisfaction as they would not have to wait in long lines for solution to their problems and employees will be able to access any information faster and work in a more productive manner.
There are several methods to link CRM to employee's customer via intranet or company portal and thus offer better customer solutions. Access to customer information can make employees provide faster solutions to customer problems, increase productivity and provide customer satisfaction as a bonus.
5. Implementing new technology
Finally, as hardware becomes obsolete and new software's come into the market, right after a few days, new technology should be implemented at the workplace that is in use. Having a long-term succession plan to execute new technology and change the working systems accordingly prevents you from becoming slow at work and keeps you at par in the market. Planning the implementation of new technology allows you to train your team piece by piece on it and use an effective solution.
Using new technology boosts the morale of your employees and keeps them excited about learning new things and progress at work. This enhances productivity at work and keeps the employees and customers happy.
Final Words
These are the most effective ways by which you can use information technology to enhance productivity at work. It is a key for any lock and the key can be improvised every time with new technology to open the lock in a more effective way.
Sony apologizes for PS5 pre-order disaster — promises more stock soon – Tom's Guide
If you're angry about the way Sony has handled PS5 pre-orders, you're not alone. Pre-order windows for the $499.99 PS5 and $399.99 Digital Edition opened quickly after Sony's mid-week games showcase, causing chaos across the internet as people struggled to get their orders in.
Worse, even getting a confirmed PS5 pre-order in doesn't seem to guarantee a launch-day console, with Amazon emailing buyers to let them know that they may have a wait ahead of them.
Now Sony has accepted that things haven't gone smoothly, and issued an apology to fans about the way things have been handled. "Let's be honest: PS5 preorders could have been a lot smoother," the Sony's official PlayStation account tweeted. "We truly apologize for that.
"Over the next few days, we will release more PS5 consoles for preorder – retailers will share more details. And more PS5s will be available through the end of the year."
Let's be honest: PS5 preorders could have been a lot smoother. We truly apologize for that. Over the next few days, we will release more PS5 consoles for preorder – retailers will share more details. And more PS5s will be available through the end of the year. pic.twitter.com/h1TaGsGBunSeptember 19, 2020
Hopefully that's a sign that Sony was either too conservative with initial allocations, or it has a plan to ramp up production quickly – because a possible alternative is allocations intended for other markets' November 19 launch being rerouted to cope with America's November 12 date.
Either way, it's good that Sony has recognized its mistakes, because the PS5 pre-order window opened in a manner that's the polar opposite of what was originally promised. Back in July, Eric Lempel told Summer Game Festival curator Geoff Keighley that: "I think it's safe to say that we'll let you know when pre-order will happen. It's not going to happen with a minute's notice.
"At some point we'll let you know when you can pre-order PlayStation 5, so please don't feel like you have to go run out and line up anywhere until you receive official notice on how that'll work."
In something of an ironic twist, the man who asked the question also seems to be caught in pre-order limbo.
Amazon has just informed me I may not receive my PlayStation 5 pre-order on release day due to "high demand." pic.twitter.com/3S1ZqmhWKaSeptember 18, 2020
Hopefully, Sony's promised additional stock will cope with demand, because at the moment, Christmas has come early for scalpers. A search on Ebay for PS5 pre-orders reveals listings of up to $12,500 for confirmed console bundles.
This chaos is good news for Microsoft, which will open its Xbox Series X and S pre-orders at 8 a.m. PT.11 a.m. ET on September 22. While there's no guarantee that the new Xbox won't be just as scarce as the PS5, the company may well hope to pick up a few disappointed would be PS5 buyers unless Sony gets its act together very quickly indeed.
Sony Apologizes for Rough PlayStation 5 Preorder Mishap – HYPEBEAST
Sony has just tweeted an apology for its misaligned preorder system which took gamers by surprise — leaving many without a secured PlayStation 5 console. Taking a form closer to a Quickstrike sneaker release, the console was announced last Wednesday that it would be available for preorder the next day but was launched just hours later on Walmart — leading to other retailers opening their preorder links which caused a frenzy of preorders by quick-handed gamers and resellers alike.
Resellers got their hands on multiple preorders while fans were left emptyhanded. Recognizing this, Sony has promised to release more preorders "over the next few days" with more units coming at the end of the year. Those that missed out should get ready for an update from Sony next week so that they lock down a preorder of their own.
Let's be honest: PS5 preorders could have been a lot smoother. We truly apologize for that.

Over the next few days, we will release more PS5 consoles for preorder – retailers will share more details.

And more PS5s will be available through the end of the year. pic.twitter.com/h1TaGsGBun

— PlayStation (@PlayStation) September 19, 2020
In other gaming news, the Nintendo 3DS has been discontinued.
How to use the Handwashing feature on the Apple Watch – AppleInsider
The addition of the Handwashing Timer to watchOS 7 is meant to encourage Apple Watch users to properly wash their hands for at least 20 seconds. Here's how to get the feature working, to remind you to keep your hands clean.
The ongoing COVID-19 pandemic has caused health-related organizations and governments around the world to come up with ways to encourage people to be more hygienic. One idea that has been adopted around the world is that of regularly washing hands, and doing so for at least 20 seconds to minimize the risk of infection by touch.
Memes have been circulated, proposing songs and other ways people can use to time themselves washing their hands, with social pressure helping to enforce the washing of hands in the first place.
With the Handwashing feature of watchOS 7, Apple has added a function to the Apple Watch that is a fairly simple concept, namely a timer that appears whenever the user starts to wash their hands, counting down from 20 seconds. With the release of watchOS 7, it is now available to enable and use on supported devices.
Handwashing requires users to update their iPhone to run iOS 14, and their Apple Watch to watchOS 7, in order to function.
How to turn Handwashing detection on and off via your iPhone
Open the Watch app on your iPhone.
Under My Watch, scroll down and tap Handwashing.
Tap the toggle next to Handwashing Timer.
Handwashing can be enabled within the Watch app on iOS.
How to turn Handwashing detection on and off via your Apple Watch
Press the Digital Crown and select the Settings app.
Scroll down and tap Handwashing.
Tap the toggle next to Handwashing Timer.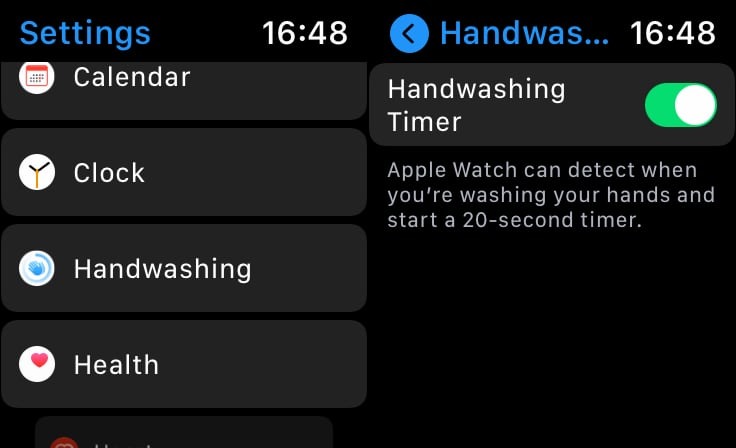 Handwashing Timer can also be enabled directly on the Apple Watch in the Settings app.
How to use the Handwashing timer
Start washing your hands.
If the Apple Watch detects correct hand movements and the sound of running water, the timer will appear. It will automatically adjust to have started the timer when it thinks handwashing started, and will show a countdown timer with the remaining time.
Continue washing until the Apple Watch chimes and displays a "Thumbs Up" symbol.
It is advised to not bother to stop and look at the timer on the Apple Watch, as it will cease the countdown and may stop the timer altogether. AppleInsider has encountered situations where the timer stopped abruptly, such as water being registered as a screen tap, which may be an issue for some users.
Along with the default timer, Apple has also included Handwashing Reminders, which will use location tracking to determine if the user has been outside of home, and has returned. The reminder is to encourage users to wash their hands on arrival at home, again to minimize any bacteria or virus transference to other family members by bringing them into the house.
How to turn Handwashing notifications on and off via your iPhone
Open the Watch app on your iPhone.
Under My Watch, scroll down and tap Handwashing.
Ensure the toggle next to Handwashing Timer is enabled to see the Handwashing Reminders toggle.
Tap the toggle next to Handwashing Reminders.
As handwashing is an important part of staying healthy, especially in the current COVID-19 climate, the Apple Watch collects data on handwashing activities. This includes times when the counter is enacted, how many times the user successfully reaches 20 seconds, the average time spent handwashing, and other data which can be reviewed over a longer period of time.
How to view Handwashing data on the iPhone
Open the Health app.
If it doesn't appear in the Summary page when entering the app, select Browse.
Select Other Data.
Select Handwashing.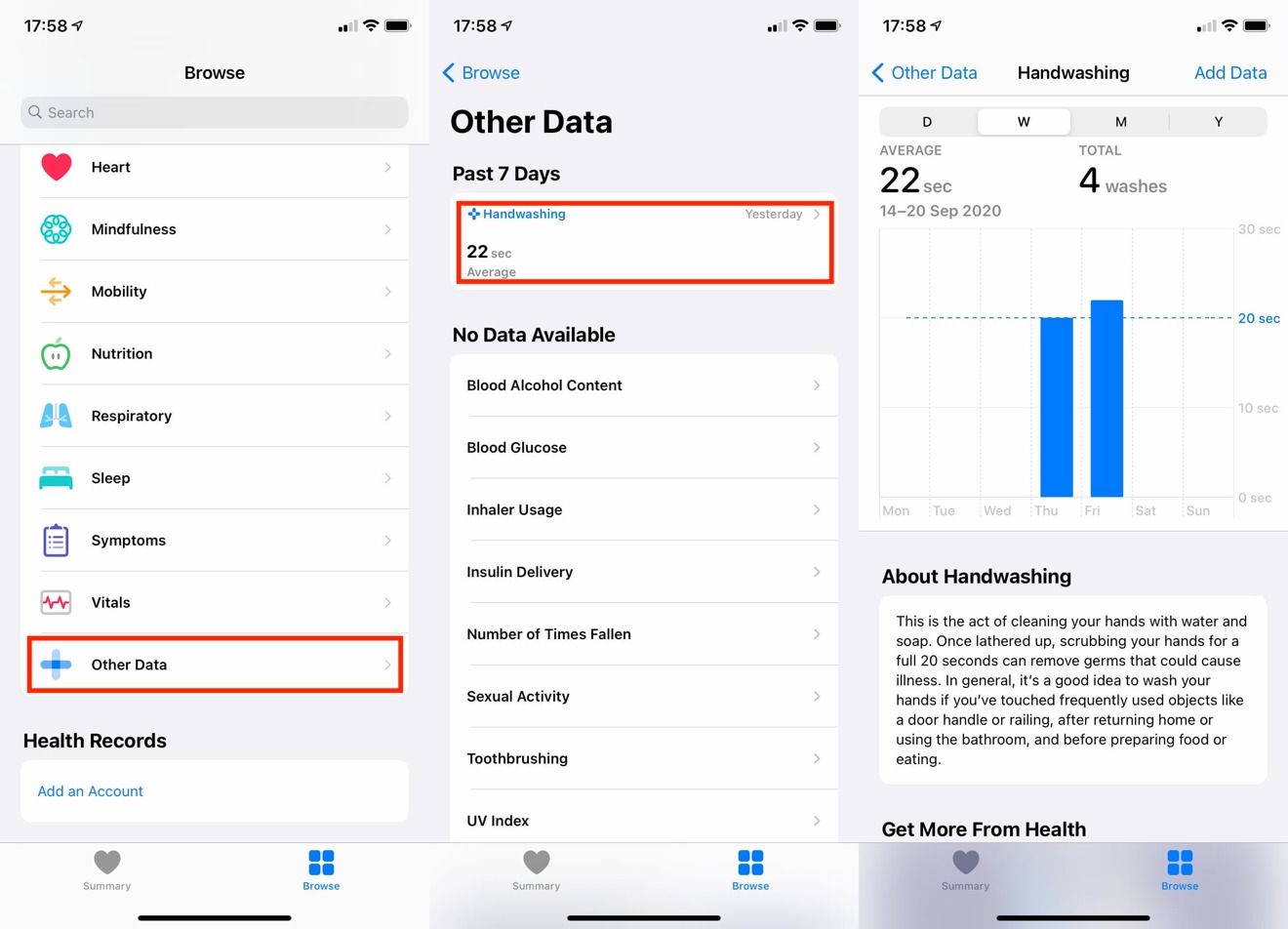 The Health app keeps track of how often and how long you wash your hands for.
Like other metrics the app tracks, users can see how many times they washed their hands in a day, week, month, or year, as well as how long for, averages, and even timestamped data. This feature may be especially useful for families, with parents able to check if their children are washing their hands sufficiently throughout the day.