7 realistic predictions for the 2020 NFL Draft – theScore
theScore is offering fans the chance to win $5,000 USD with our Top 10 Draft Contest!* Correctly predict the first 10 draft picks in the order they're called to win.
theScore's NFL editors each took a stab at what could happen during the 2020 draft, which begins with Round 1 on Thursday and wraps up with Round 7 on Saturday.
Herbert becomes 2nd QB drafted
Joe Burrow is a lock to go to the Bengals at No. 1, but it's far less clear which quarterback will be the first to follow. Questions about former Alabama star Tua Tagovaolia's health persist, but Oregon product Justin Herbert carries no such concerns. Rumors of a draft slide for Tagovailoa should be taken with a pinch of salt as teams may be attempting to deceive one another, but there's no smoke without fire. For all his undoubted talents, Tagovailoa is a major risk. Either the Dolphins or Chargers will decide Herbert is the safer bet. – Jack Browne
RBs get shut out in Round 1
The top running back prospects aren't expected to be drafted until the back half of the first round at the earliest, but this year, teams will avoid wasting a prime selection on a devalued position. Despite their collegiate accolades, D'Andre Swift, J.K. Dobbins, Jonathan Taylor, and Clyde Edwards-Helaire will have to wait until Day 2 to hear their names called. – Michael McClymont
Patriots find a new Love
After two decades with Tom Brady under center, the Patriots face uncertainty at quarterback. Jordan Love is a divisive prospect, but he's got plenty of arm talent and New England was reportedly among the teams doing homework on him before the draft. The Patriots own 12 picks, which means they have the resources to trade up from No. 23 if that's what it takes to secure a potential quarterback of the future in Love. – Caio Miari
Jaguars blow up what's left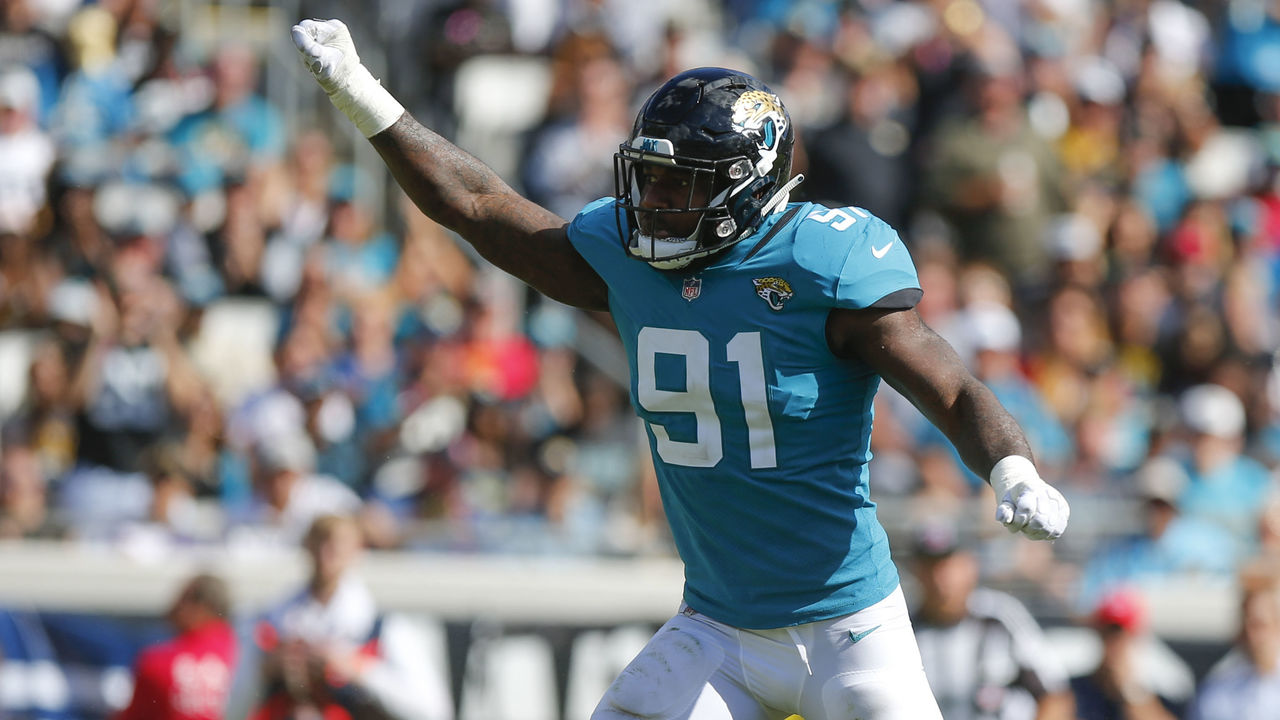 The Yannick Ngakoue saga has turned ugly and the Leonard Fournette situation isn't far behind, so it's time for the Jaguars to salvage what remains of the pair's value. Jacksonville may not get the offers it desires, but proposals will only worsen once the draft passes. With their respective departures inevitable, Jacksonville might as well recoup whatever it can for the disgruntled veterans and apply the returns to the 2020 draft and opening-day roster. – Alex Chippin
Panthers trade down from top 10
In their first year under head coach Matt Rhule, the Panthers will pass on selecting a successor to Luke Kuechly at No. 7 – as many mock drafts tab them to. Instead, they'll trade down to stockpile 2021 picks with an eye toward eventually landing Clemson star Trevor Lawrence. – David P. Woods
Hurts sneaks into Round 1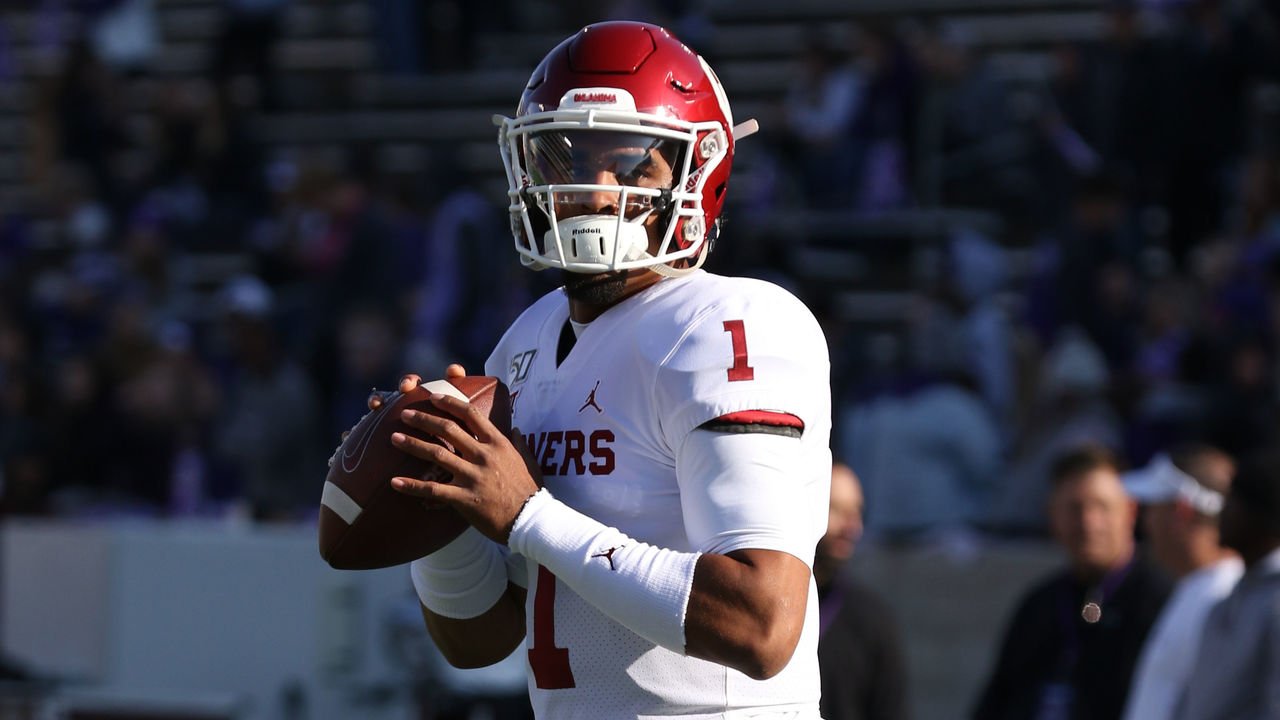 Most mocks have four quarterbacks going in the first round – Burrow, Tagovailoa, Herbert, and Love. Don't be surprised if Jalen Hurts pushes that total to five. The Oklahoma star is a potential centerpiece for offenses willing to embrace the modern game, and he's made monumental strides as a passer to complement his unique ability on designed runs and scrambles. That intriguing skill set, along with his toughness and reputation as an outstanding leader, will get him drafted earlier than many expect. The Colts and Chargers are probably the most sensible fits for him early in the second round, assuming Los Angeles doesn't take a QB with its first pick, but why not move up a few spots to secure the fifth-year option included in rookie contracts for first-rounders? It could pay off in a big way down the road. – Dan Wilkins
7 OTs fly off board on 1st night
The wide receiver and cornerback classes are incredibly deep this year, but the same can't be said for the group of offensive tackles. This will result in a race for the best perimeter-blocking prospects. Andrew Thomas, Jedrick Wills Jr., Mekhi Becton, and Tristan Wirfs appear locked into the top 20, meaning other clubs could scramble to nab the next tier of prospects in the latter half of Round 1. Ezra Cleveland and Austin Jackson will be the primary beneficiaries, while Josh Jones and Isaiah Wilson have both been rumored as potential first-round picks as well. With a major drop-off below the top two tiers, expect an early run of tackles. – Mike Alessandrini
*Terms and conditions apply. Contest is open to legal residents of the United States (excluding Guam, U.S. Virgin Islands, and Puerto Rico) and Canada (excluding Quebec) who are of legal age. Void where prohibited. For official contest rules, visit https://thesco.re/Top10Draft2.
Donald Trump says Drew Brees shouldn't have backed off flag comments – CBC.ca
President Donald Trump on Friday criticized Drew Brees' decision to publicly apologize and walk back his comments about "disrespecting the flag."
The New Orleans Saints quarterback apologized Thursday for comments he made one day earlier that he described as "insensitive and completely missed the mark." He said Wednesday that he "will never agree with anybody disrespecting the flag of the United States of America or our country" while reiterating his objection to NFL players who kneel during the national anthem.
Numerous black athletes, including NBA star LeBron James, expressed outrage at Brees. Several of Brees' New Orleans teammates were among the NFL players who were irate.
Trump, though, said on his Twitter account that he doesn't think Brees needed to issue an apology.
"I am a big fan of Drew Brees. I think he's truly one of the greatest quarterbacks, but he should not have taken back his original stance on honoring our magnificent American Flag. OLD GLORY is to be revered, cherished, and flown high. …
"We should be standing up straight and tall, ideally with a salute, or a hand on heart. There are other things you can protest, but not our Great American Flag — NO KNEELING!"
Brees posted an open-letter reply to Trump on his Instagram account on Friday night.
"Through my ongoing conversations with friends, teammates, and leaders in the black community, I realize this is not an issue about the American flag," Brees wrote. "It has never been. We can no longer use the flag to turn people away or distract them from the real issues that face our black communities.
"We did this back in 2017, and regretfully I brought it back with my comments this week. We must stop talking about the flag and shift our attention to the real issues of systemic racial injustice, economic oppression, police brutality, and judicial & prison reform.
"We are at a critical juncture in our nation's history! If not now, then when?
"We as a white community need to listen and learn from the pain and suffering of our black communities. We must acknowledge the problems, identify the solutions, and then put this into action. The black community cannot do it alone. This will require all of us."
Trump's comments came hours before NFL commissioner Roger Goodell apologized and said that the league was wrong for not listening to players and their concerns about social justice and racism.
Social injustice has been a major source of tension in the NFL since former San Francisco 49ers quarterback Colin Kaepernick began kneeling before games during the 2016 season to bring attention to police brutality. Kaepernick hasn't played in an NFL game since that year.
The NFL's relationship with black players is under scrutiny in the wake of the death of George Floyd in Minneapolis. A group of players requested the NFL take strong action on Thursday in a video directed at Goodell and other NFL officials.
Floyd, a black man, died on May 25 after white Minneapolis police officer Derek Chauvin kneeled on his neck for more than eight minutes in an incident caught on cell phones. Chauvin was charged with second-degree murder, third-degree murder and second-degree manslaughter.
Three other officers — Thomas Lane, J. Alexander Kueng and Tou Thao — were arrested and charged with aiding and abetting both a second-degree murder and a second-degree manslaughter.
Goodell says NFL was wrong for not listening to players – CTV News
NEW YORK —
NFL Commissioner Roger Goodell said the league was wrong for not listening to players fighting for racial equality and encouraged them to peacefully protest.
One day after 2018 NFL MVP Patrick Mahomes and several of his peers released a video demanding the league condemn racism, Goodell made his strongest statement on the issues many players passionately support.
George Floyd's death has ignited nationwide protests over racial injustice and police brutality, issues former San Francisco 49ers quarterback Colin Kaepernick began speaking out against in 2016 when he started taking a knee during the national anthem.
"It has been a difficult time for our country. In particular, black people in our country," Goodell said in a video released Friday. "First, my condolences to the families of George Floyd, Breonna Taylor, Ahmaud Arbery and all the families who have endured police brutality. We, the National Football League, condemn racism and the systematic oppression of black people. We, the National Football League, admit we were wrong for not listening to NFL players earlier and encourage all to speak out and peacefully protest. We, the National Football League, believe Black Lives Matter. I personally protest with you and want to be part of the much needed change in this country.
"Without black players, there would be no National Football League. And the protests around the country are emblematic of the centuries of silence, inequality and oppression of black players, coaches, fans and staff. We are listening. I am listening, and I will be reaching out to players who have raised their voices and others on how we can improve and go forward for a better and more united NFL family."
UFC 250 Results: Nunes vs. Spencer – MMA Fighting