8 prints that prove you can afford quality wall art – Boing Boing
Want to class up your walls? There comes a time when we all must move out of the dorm room and its comfortable movie posters. A time when we might even consider purchasing actual art by actual living artists.
Believe it or not, there's tons of great art out there — and you might not even have to drop a month's rent to get it. Here are eight prints by artists with a distinctive voice, all priced way down for the holidays.
Giant Art "In Trouble She Will" by Agnes Cecile
This hypnotic figure is the work of Silvia Pelissero, better known in her native Italy by her nom de art Agnes Cecile. The massive 54″ square print comes with stretchers and hardware to mount it appropriately in any room that needs a strong focus.
MSRP: $552.00
Sale Price: $441.99
"Daughter" by Jenny Liz Rome (Framed Print White)
This piece by Canadian artist Jenny Liz Rome was inspired by her experiences as a mother. It's a great fit for bedrooms, living spaces or anywhere that needs a touch of warmth.
MSRP: $129.00
Sale Price: $103.20
Giant Art "Casual Fridays" by Hidden Moves
Here's a curious visitor from Rhys Owens' "Hidden Moves" series of paintings, ready to hang out in your living room and spread a little whimsy. At 72″ by 48″, it may be casual, but it won't go unnoticed.
MSRP: $552.00
Sale Price: $441.99
Giant Art "Space Cadet" by Hidden Moves
Welsh artist Rhys Owens captures quiet cool with this large-scale print. It's 72″ by 48″ and comes complete with stretchers and mounting hardware.
MSRP: $552.00
Sale Price: $441.99
Framed Print Black "Freda" by Sofia Bonati
Get lost in the detail with this one. The work by the experienced Argentinian artist Sofia Bonati comes matted, framed and ready to add a surreal element to your room.
MSRP: $129.00
Sale Price: $103.99
"How Far is a Light Year" (Framed Print, White Frame)
Here's a playful but detailed curiosity from Spanish digital illustrator Alexander Grahovsky. At 24″ by 20″ framed, it's just right for the foyer, living room or anywhere you need a visual jolt of cool confidence.
Framed Print Black "Roux" by Sofia Bonati
Another dose of piercing femininity by Bonati. Her 24″ by 32″ painting comes matted on white and framed.
MSRP: $129.00
Sale Price: $103.99
Art Block Framed "Sneaker" by HR-FM
Digital art up-and-comer HR-FMhails from Japan and his psychedelic ode to the sneaker is pre-framed in ash wood made from sustainably-grown North American trees.
MSRP: $120
Sale Price: $120
<!–
–>
12 cosy blankets that are beautiful enough to be art – CBC.ca
Draped across a couch, a chair or the end of a bed, blankets and throws instantly inject visual interest into your space. They're also easy to swap out as the seasons change or when you crave something new. With that in mind — and since it's officially blanket season — we've sourced these beautiful blankets that are both artful and cosy. Scroll through for a dozen picks featuring pretty patterns, luxurious textures, fancy finishes, gorgeous colour palettes and more distinct elements that will make them stand out in any space.
Cuddle up with this reversible cotton blanket during the colder months and let its flower pattern remind you of summer strolls in the garden. When it's not in use, the style and colour palette of the blooms, reminiscent of antique botanical prints, along with the fringed edges will lend a vintage feel to your space.
Valley Cruise Press Wildflower Woven Throw Blanket, $164, Urban Outfitters
With an oversized check print in a very autumnal palette and a long fringe finish, this woven polyester blanket from Indigo's Oui line will instantly add warmth — and softness — to your space.
Holiday Check Throw, $69.50, Indigo
This undoubtedly glam throw is part of the Karismatisk collection from Ikea. Designer Zandra Rhodes calls the pattern a combination of all the flower shapes she's designed during her career. Its vibrant, graphic design would be a bold addition to any room in your home.
KARISMATISK Throw, $59.99, Ikea
This pick was designed by Nikki Shawana and features a "star quilt" design in tribute to her Nancy-baa (grandmother), along with designs honouring her husband's Haudenosaunee ancestry and her own Anishinaabe heritage. The blanket is made of a machine-washable wool, acrylic and polyester blend, making it great for taking outdoors or to the couch without worrying about dry cleaning.
Nibi Eco-Friendly Everyday Blanket, $145, Mini Tipi
The ski hill motif on this jacquard-woven blanket transports us straight to the chalet — even if we're at home on the couch. Its pattern makes it a perfect addition to a cabin, of course, but we think you can drape it over the sofa or armchair to add après ski vibes to any living room.
Jacquard-Woven Snowscape Throw Blanket, approx. $121.97*, Anthropologie
This blanket is part of a collaboration between Arket and Swedish artist and illustrator Linnéa Andersson. The striking pattern adds a graphic pop to any room. Plus it's made of 100 per cent lambswool, so you're sure to want to snuggle with it all season.
Linnea Andersson Blanket Green, approx. $122.35*, ARKET
As the name suggests, this jacquard blanket by Viso would be beautiful wall art if hung as a tapestry, but it can also be stylishly draped over furniture, too, for a touch of the abstract.
Tapestry Blanket V10, $279, Goodee World
Work a well-known piece of art into your home with this collection for Society6. Gustav Klimt's The Tree Of Life — originally made with gold paint, but way cuddlier in this soft sherpa fleece — is our pick for fall.
Gustav Klimt The Tree Of Life Throw Blanket, $52.07, Society6
This velvety blanket has a bit of sheen to it, which will lend your decor a bit of luxury. Its embossed pattern is elegant, but its satiny feel means it's soft enough for snuggling up with, too.
Embossed Velvet Throw, $60, Simons
Add this faux fur throw to the end of a bed, the arm of a chair or the back of a sofa and the room will instantly read "ready for winter." We particularly love its soft, natural palette, which makes it easy to incorporate into your decor this season.
Faux Fur Throw, $99, H&M Home
This reversible dino blanket by Calgary's Frankie Print Co is so perfect for kids' rooms, but we think it would be a whimsical addition to the living room, too. It's made of 100 per cent cotton and comes in two sizes — the larger one is big enough to use as a bedspread.
Dinosaur Throw Blanket, starting at approx. $122.35*, Frankie Print Co
This textured, handspun cotton blanket from New York-based designer Hana Getachew would also double as a gorgeous shawl. It's made in Ethiopia, where Getachew was born, and the soft shades of grey and blue are inspired by the mists of the country's highlands.
Simien Throw – Mist, approx. $240.99*, Bolé Road Textiles
*Price has been converted from foreign currency and is subject to change
---
Brittany Toole is an associate producer at CBC Life.
Art Beat: Coast artist Dean Hunt honoured by B.C. Achievement Foundation – Coast Reporter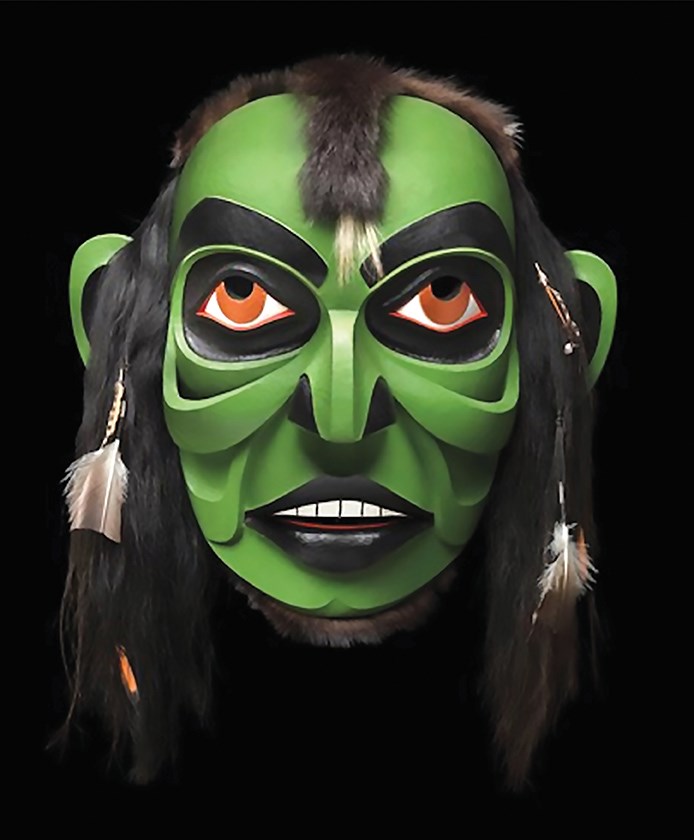 The B.C. Achievement Foundation has named Sechelt-based carver and visual artist Dean Hunt as a recipient of the 2021 Fulmer Award in First Nations Art. The annual award goes to as many as five B.C. Indigenous artists "who have demonstrated a commitment to their art practice, have accumulated a body of work, and who are recognized in their communities as artists." Hunt is a member of the Heiltsuk Nation in Bella Bella. In a release, the foundation said Hunt is "constantly pushing the evolution of Heiltsuk art forward," and is "a part of the movement to modernize the art form." Hunt undertook a five-year apprenticeship with his father, Bradley Hunt, and older brother, Shawn Hunt, "using the tools and techniques his ancestors fought to hold onto through times of hardship and oppression." Check out Hunt's website for a look at some of his outstanding work.
MushrooMania
The Canada West Mushroom Fest is on from Friday, Oct. 29 to Sunday, Oct. 31, featuring "speakers and workshops at Gibsons Public Market, Shaggy Jack's Wild Mushroom Foraging class and forest foraging walks, a mushroom products vendor market at Gibsons Public Market, a mushroom treasure hunt for kids and more." Part of the festival is a presentation on Friday of the documentary film Dosed, at the Heritage Playhouse in Gibsons. It tells the story of one woman's struggle with addiction and who was cured by therapies that included supervised use of "magic mushrooms," or psilocybin. Doors at 7 p.m. Learn all about the festival at mushroomania.ca.
A Christmas Sail
The annual run of TV movies with a Christmas theme has begun, many of them produced by the company that makes Hallmark greeting cards, and some of which were filmed on the Sunshine Coast. You might see some familiar faces among the extras in A Christmas Sail, shot recently in and around Gibsons Harbour. The movie airs on the W Network at 5 p.m. on Sunday, Oct. 31 and again at 12:30 a.m. Monday. Don't worry if you miss it this time, as W will repeat its showings often over the next few months.
Halloween weekend music
The Grateful Dead tribute band GDBC presents "A GDBC Halloween" at Roberts Creek Legion at 7 p.m. on both Friday, Oct. 29 and Saturday, Oct. 30. Tickets are $25-$35 and can be booked through the website rclegionevents.com.
Get creative with your Halloween costume and maybe win a prize at Halloween Quiplash at Tapworks in Gibsons on Friday, Oct. 29 starting at 8 p.m.
The Clubhouse Restaurant in Pender Harbour has a Rocky Horror Picture Dinner Show from 5 to 8 p.m. on Saturday, Oct. 30, with a screening of the cult classic film Rocky Horror Picture Show starting at 6 p.m., a three-course meal, and prizes for best movie-character costumes.
Take your pick from two of the best cover bands on the Coast playing Halloween bashes in the same building on Saturday, Oct. 30 from 7:30 to 11 p.m. The Sofa Kings play the lounge at the Gibsons Legion, while Playback performs in the banquet hall. It's going to be "monsterous," the Legion assures us. No matter how you dress up, bring a health-protocol mask, too, to wear when you're up and moving around inside.
At the Clubhouse in Pender on Friday, Oct. 29 from 5 to 8 p.m. you can hear the four-piece traditional Celtic folk band from Victoria, Clanna Morna.
On Sunday, Oct. 31, the Steve Hinton Band plays the Clubhouse from 2 to 5 p.m.
A new exhibit explores how art sees the changing American landscape – WSKG.org