All the new watch faces in watchOS 7 and Apple Watch Series 6 – AppleInsider
Apple has officially released watchOS 7 to Apple Watch owners everywhere. The update brings a plethora of new features, including seven new watch faces with countless customizations.
Each of these new faces not only has a different look, but many of them also have unique functionality, such as the tachymeter on the Chronograph Pro face.
Chronograph Pro
As we mentioned, the Chronograph Pro was already shown off by Apple during its WWDC 2020 event as it announced watchOS 7. More classic timepieces are the inspiration for the face, and it offers a tachymeter in the center for measuring speed.
GMT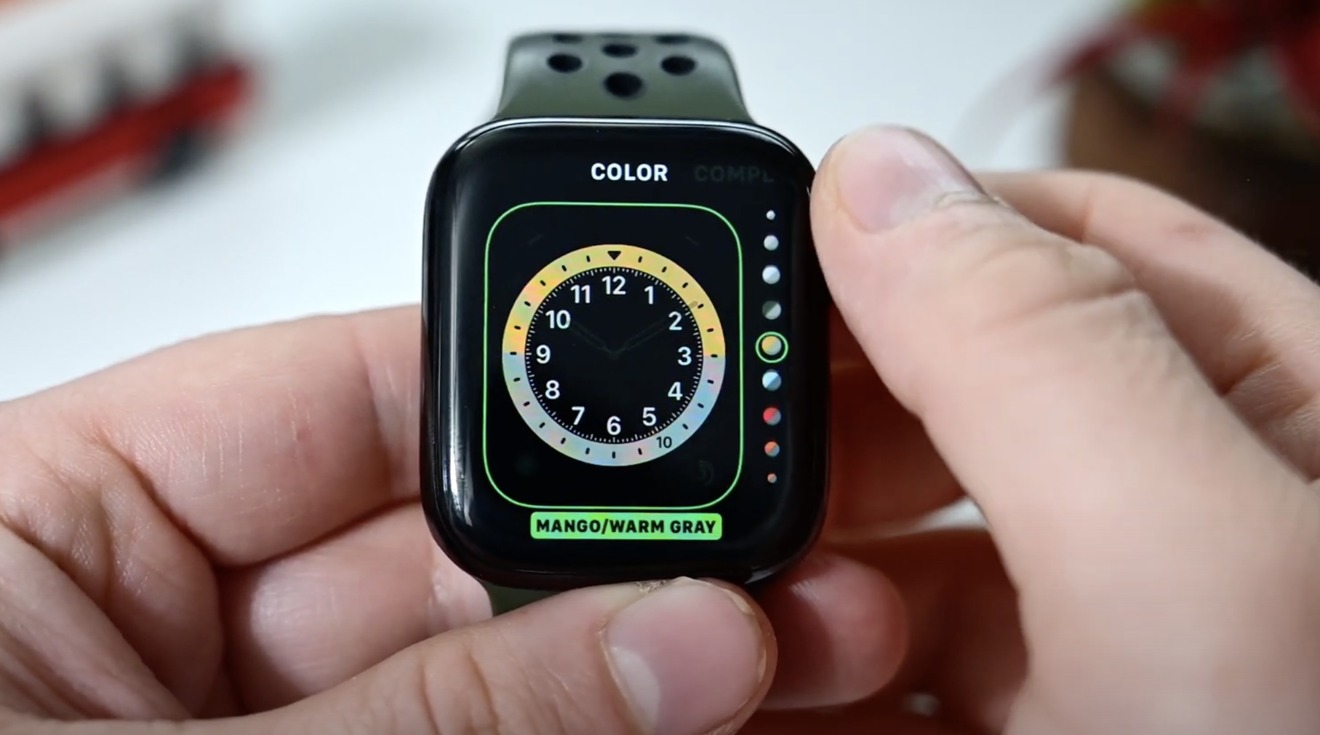 GMT face
GMT is a unique watch face that shows two time zones simultaneously on your Apple Watch. With a tap or a tip of the Digital Crown, the time zone can be changed.
This face has a dual-color design with many contrasting options to choose from. Users can also customize the four complications as well as turn the center date on or off.
Stripes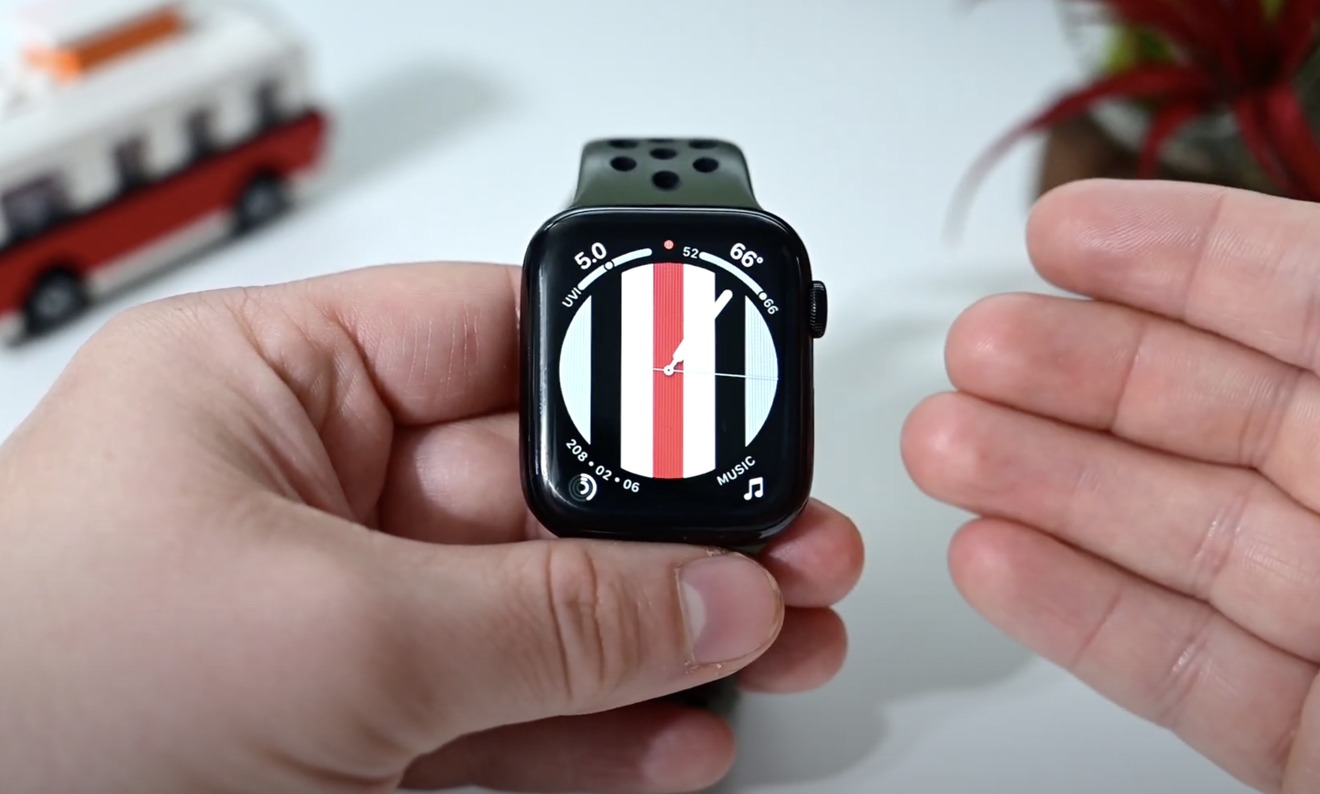 Stripes face to support The Ohio State Buckeyes
Stripes is one of our favorites of the bunch. It is a simple design that has many applications. The watch face is made up of a series of stripes ranging from two to nine. Each stripe can have its own user-selected color, and the angle of the stripes can be adjusted in 15-degree intervals.
For instance, you can create a SCUBA flag with a red, white, to red set of stripes at an angle. Or celebrate the return of football with your favorite team — such as the OSU Buckeye helmet pattern above. Match it to your outfit, match it to the season, or match your band.
The Stripes face can be full-screen or a circle in the center. We think the full-screen looks better, but the circular option supports complications.
Memoji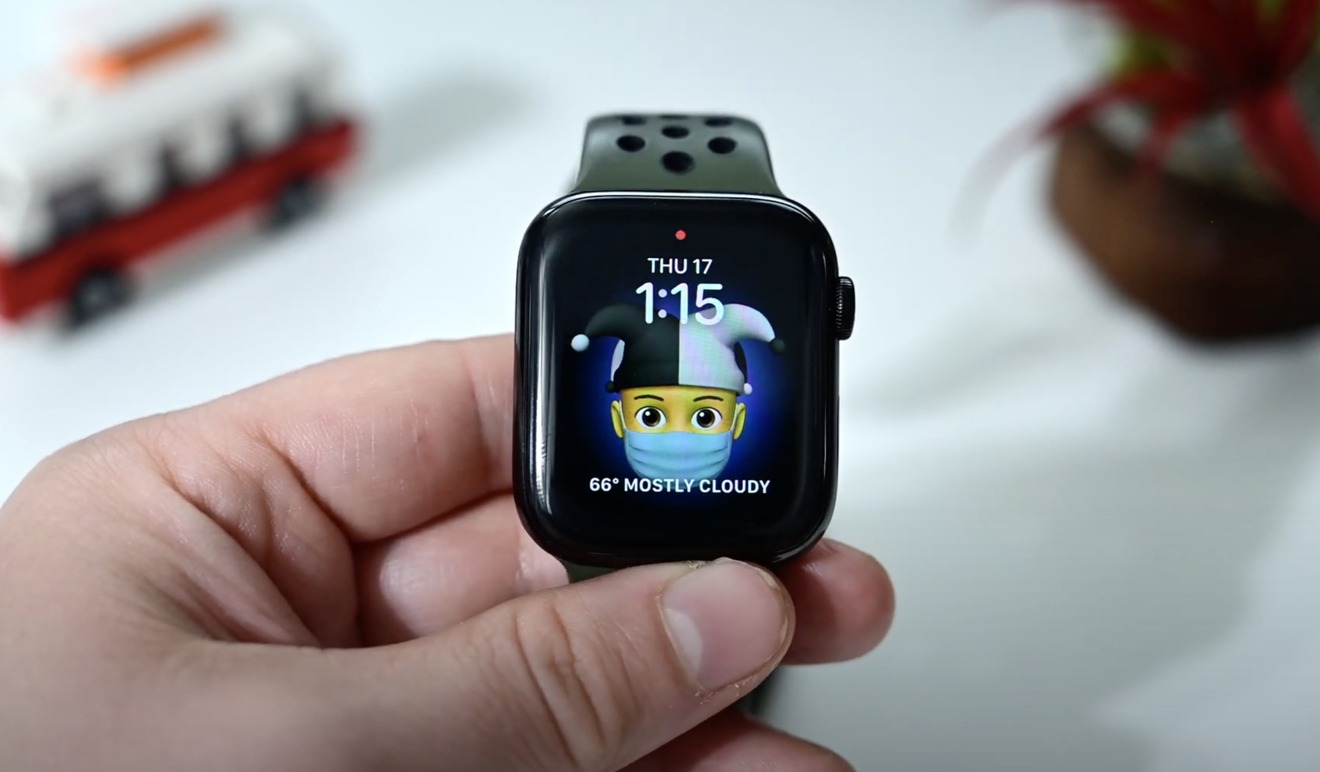 Memoji watch face
The Memoji watch face brings Apple's cute characters to the face of your Apple Watch. Users can choose between any Memoji characters they created, a specific Animoji character, a random Animoji, or a random user-created character.
Typograph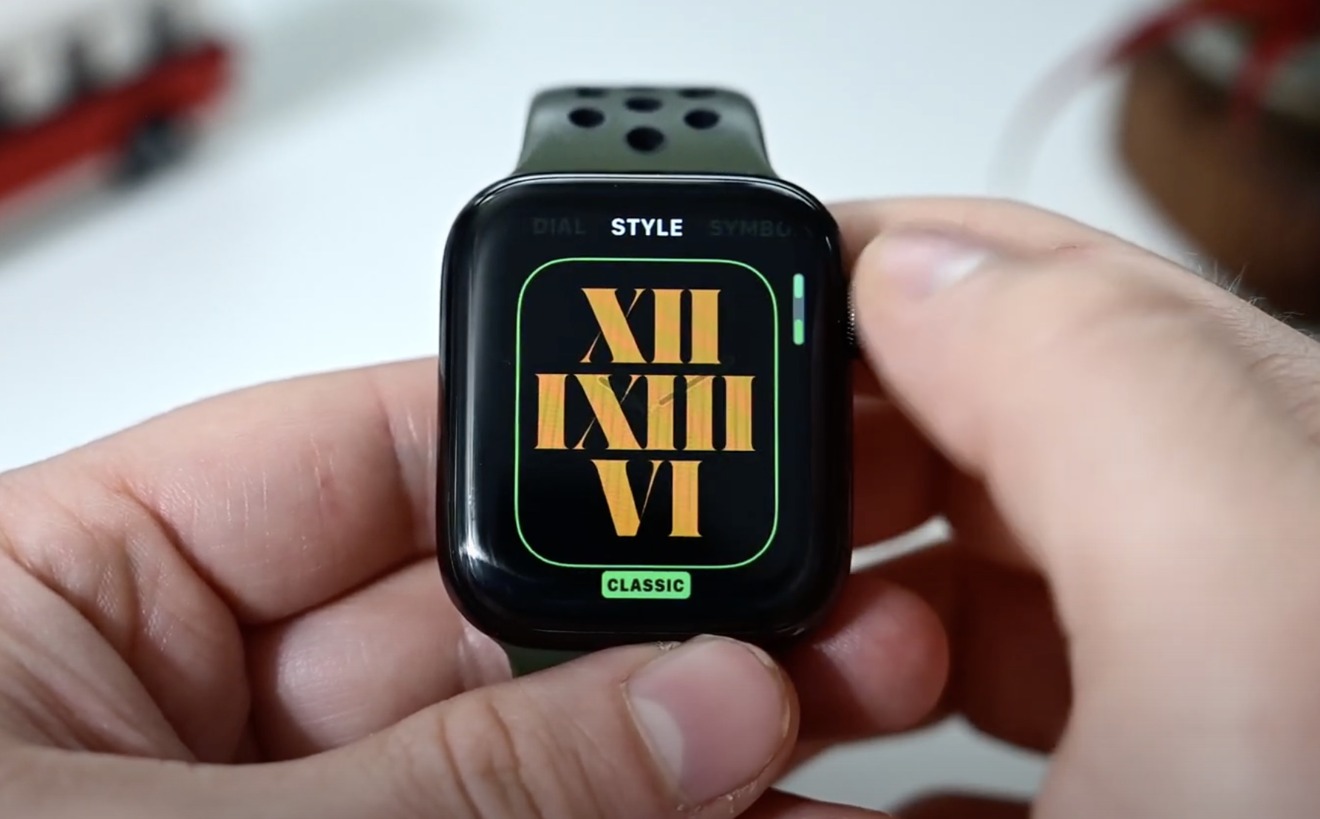 Typograph face
With a similar style to the Numeral watch face, Typograph plays with the fonts of the time. There are two dial options of the face — one with 12, 3, 6, and 9 shown large and the other with all the numbers more near the image like a traditional clock face. Then there are three styles — classic with some flair, modern with clean lines, and rounded.
Apple provides the choice of Roman, Arabic, Arabic Indic, and Devanagari symbols. Then comes the huge array of colors, some with solid backgrounds, then a complication if choosing the second dial option.
Count Up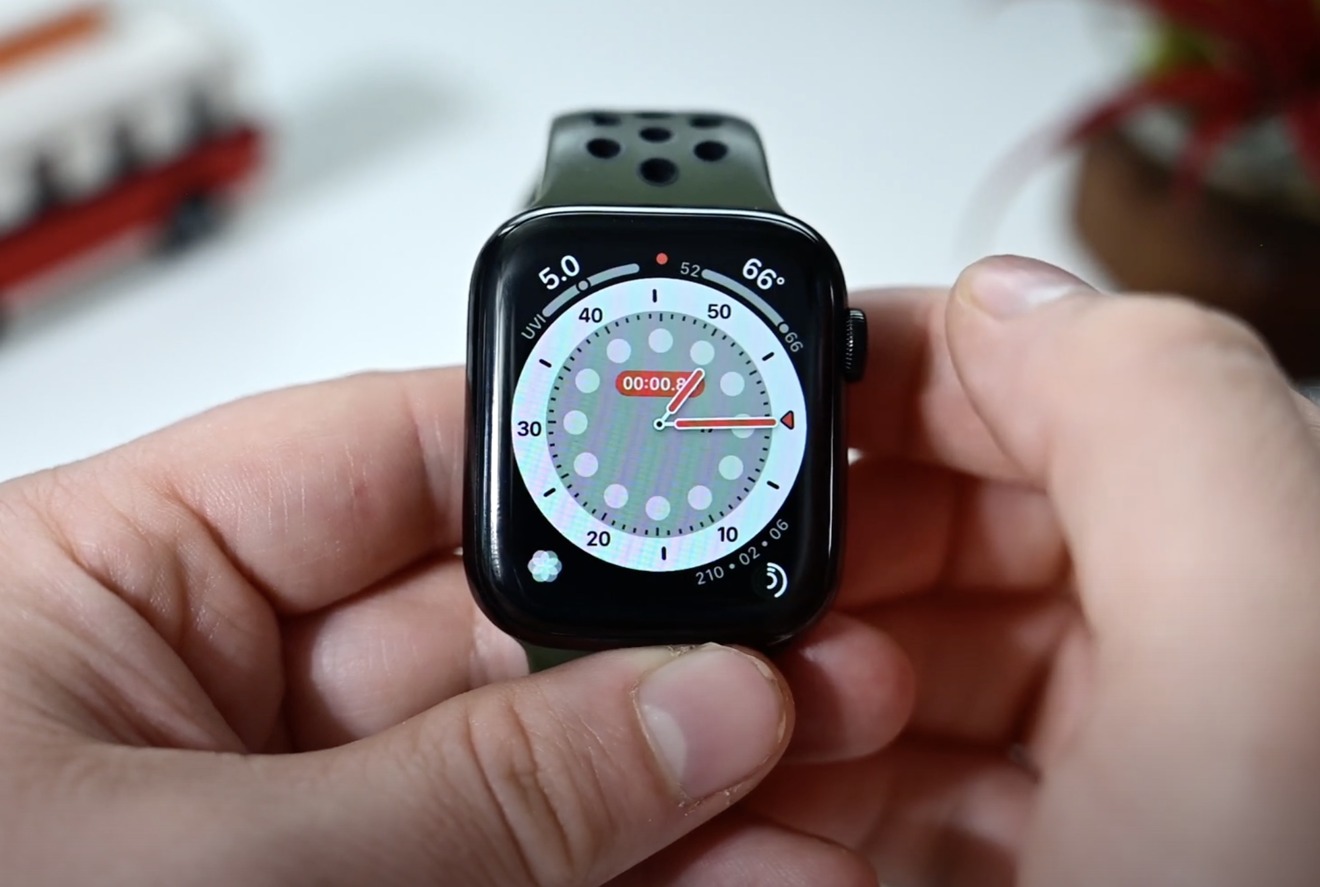 Count Up watch face
Another unique face, Count Up, allows you to start counting up after just a tap. Tap on the face, and a start button appears in the center. Press start, and it will start a stopwatch. Tap again to see the elapsed time more prominently or stop the clock.
Count Up comes in the full array of colors as well as with four corner complications.
Artist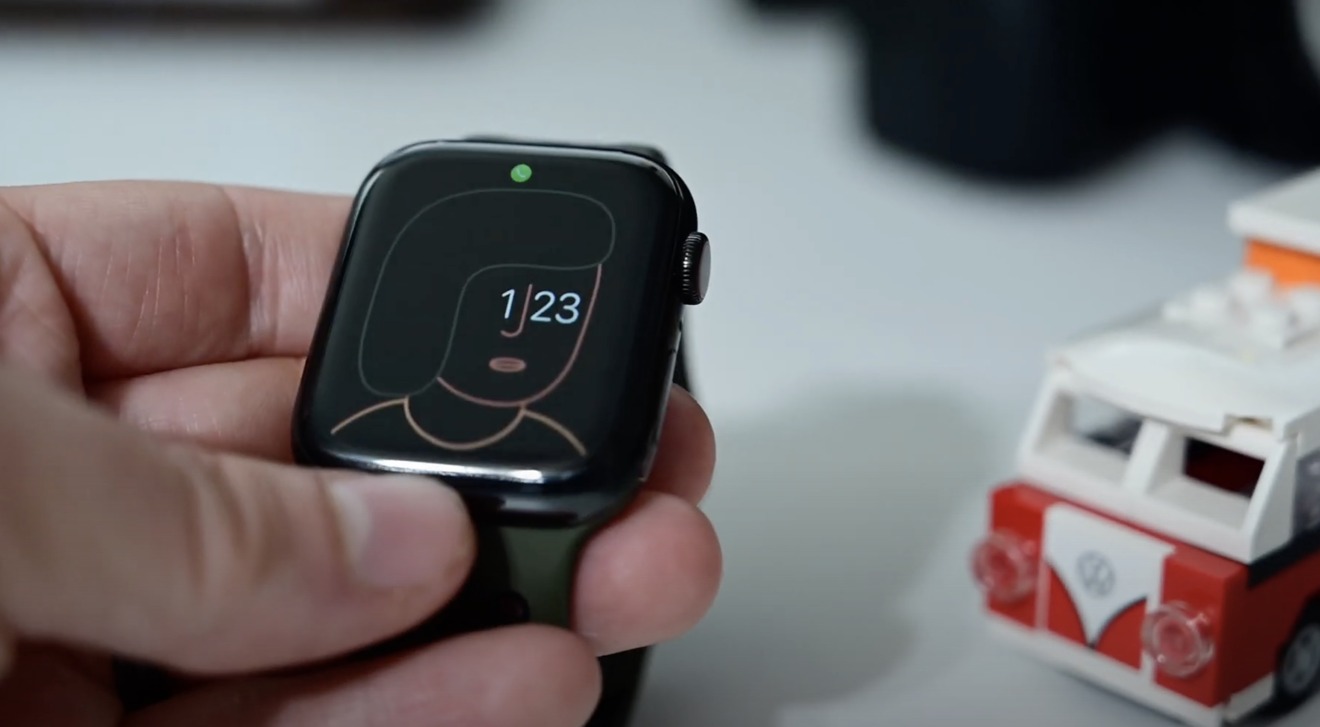 The new Artist face
The Artist face is a collaboration between Apple and artist Geoff McFetridge. There are several different real human faces on this face that alternate each time you tap the face or lift your wrist.
The Artist face also inverts to an outline of the selected face when your wrist is down, and your Series 6 or Series 5 always-on display is conserving battery.
The time is cleverly integrated right into the face and makes for a unique look unlike any of the past Apple Watch faces.
Try them out
The best part about these watch faces is it gives you more opportunities to express your own personal style with Apple Watch. Between the new color options, new band styles, Apple Watch is a very personal device.
The latest Apple Watch Series 6 will have all of these faces along with all the older ones, but Apple Watch Series 4, Series 5, and Apple Watch SE get them as well a part of watchOS 7.
iPhone 12 didn't get USB-C, and I'm starting to accept that it'll never happen – CNET
This story is part of Apple Event, our full coverage of the latest news from Apple headquarters.
I had high hopes that the iPhone 12 would move to a universal port that's already everywhere. Instead, it's traded one proprietary format for another. The iPhone 12 didn't get USB-C at Apple's event last week. (Here's how to preorder and buy all four Apple 12 models.) Instead, it kept Lightning and added a new MagSafe connector instead.
I'm starting to accept that USB-C on the iPhone will never happen.
Lightning has been around since the iPhone 5 in 2012, when it debuted as a replacement for the old 30-pin charger that had been around since the iPod. Lightning had its advantages, way back last decade: It was small, and enabled faster data transfer. But we've been living in the era of USB-C for years now. Lightning feels old by comparison.
Apple's new MagSafe charge connection looks like an improvement to standard wireless Qi charging, adding a magnetic handshake similar to the way the Apple Watch charges. Charging could be more reliable. But also, you'll need a whole new charge cable, and the MagSafe-compatible iPhone cases to go with them.
But why is there still a Lightning port? Why not be brave and move to USB-C, too?
Apple's iPad lineup has already started to shift to USB-C: the iPad Pro first, now the iPad Air this year. MacBooks have all moved to USB-C/Thunderbolt 3. I can charge an iPad Pro, MacBook Pro, Nintendo Switch, Google Stadia controller and Oculus Quest 2 all from common charge cables. And then Lightning for the rest.
Lightning is a weird legacy port now, and it's even weirder that Apple packs a USB-C-to-Lightning charging cable in the iPhone 12 box. It makes you find or buy a charging brick that is USB-C, and that you'll plug your Lightning cable into. It's like a tease. Seriously, why not just move fully to USB-C?
And now that Apple isn't including a charging brick in the box, and that USB-C tipped cable won't fit into your older iPhone and iPad power adapters, what are the odds that a lot of people will just end up buying a MagSafe charger and a new case with their iPhone 12?
At the moment, there's a power strip on my home office desk studded with all the bricks and cords I need to charge up all my random devices. I see a ton of wearable-specific chargers, but for everything else, it's nearly all USB-C. Everything, that is, except for the iPhone, and the few other Apple devices that still use Lightning.
I hate dongles. And I dislike proprietary charge cables even more. At least one could have been eliminated on future iPhones. Instead, I might be adding another.
I don't think I need to explain why USB-C should be on the iPhone. Because all other phones use it. Because half of Apple's devices do, more or less? And also, it would allow a more seamless flow of accessories and dongles for the iPhone and iPad Pro and other products I use. Sure, I can do many of those things with Lightning and a dongle: I could output to a TV with HDMI, or use a microSD card to read camera data. But even so, USB-C would be so much nicer.
Sure, you may have all those Lightning accessories you may need to replace. Who cares? Unlike the 30-pin to Lightning evolution, which involved two waves of proprietary ports and accessories, USB-C skips all that. And, again, here's the great news: Apple has already made the move. Or, made the move partway.
So, iPhone 12 didn't get USB-C. Now, I'm wondering if it ever arrives at all. But seriously: Apple, don't skip it. Don't go portless, and fuse the whole thing into one port-free slab like everyone is anticipating, using MagSafe as the only charge method. No, please. If the iPhone is an everyday computer, it would be extremely helpful for it to get an everyday port, too — one small and already well-used and accepted one.
The best time to buy an Apple iPhone? Right now

<
Yahoo Life is committed to finding you the best products at the best prices. We may receive a share from purchases made via links on this page. Pricing and availability are subject to change.
figure class="canvas-image Mx(a) canvas-atom My(24px) My(20px)–sm" data-type="image" data-reactid="13″>
If you're thinking about making the switch from Android to iPhone, or just need a smartphone upgrade, get ready: The best time to save money on an iPhone is…right now!
Apple recently announced the new iPhone 12 and iPhone 12 Pro with the latest and greatest bells and whistles—including 5G wireless—you can put inside a smartphone. While the newest models start at just $699 for the Apple iPhone 12 Mini, the tech giant also dropped the price on previous models.
In fact, you can pre-order the Apple iPhone 12 for $800 (or $33.33 per month for 24 months) at Verizon. Want something bigger? Pre-order the Apple iPhone 12 Pro for $1,000 (was $41.66 per month for 24 months) at Verizon too. Both phones come out on October 23.
(Verizon Communications, Inc. is the parent company of Verizon Wireless and Yahoo Life.)
Once a year, Apple usually discounts older generations of the iPhone to clear inventory for the new generation. This year is no different with price drops on last year's iPhone 11 ($599, was $699) and iPhone XR ($499, was $749). Not too shabby.
However, Apple quietly discontinued the 2019's iPhone 11 Pro and iPhone 11 Pro Max altogether.
Meanwhile, retailers like Amazon are always selling new and renewed models of older iPhones. At the moment, you can get the Apple iPhone SE (64GB) for as little as $350. When it was released earlier this year in April, it cost $399—that's a savings of $49.
So unless you just can't survive without the very latest model, check out the best iPhone deals below:
Here are the best deals on previous models of the Apple iPhone:
Apple iPhone 8 Plus (64GB)—renewed, $332 (was $385), amazon.com
Apple iPhone 8 Plus (64GB)—renewed, $330 (was $386), amazon.com
Apple iPhone 8 Plus (64GB)—renewed, $320 (was $339), amazon.com
Apple iPhone 8 Plus (64GB)—renewed, $332 (was $385), amazon.com
Apple iPhone 7 Plus (128GB)—renewed, $290 (was $350), amazon.com
Apple iPhone 7 Plus (128GB)—renewed, $3090 (was $340), amazon.com
Apple iPhone 7 Plus (128GB)—renewed, $299 (was $315), amazon.com
Apple iPhone 7 (128GB)—renewed, $211 (was $229), amazon.com
Apple iPhone 7 (128GB)—renewed, $189 (was $400), amazon.com
Apple iPhone SE (64GB)—renewed, $350 (was $370), amazon.com
Apple iPhone 11 Pro Max (256GB) —renewed, $950 (was $1,260), amazon.com
Apple iPhone 11 (128GB)—renewed, $630 (was $850), amazon.com
Apple iPhone XS Max (64GB)—renewed, $530 (was $564), amazon.com
Apple iPhone XS (64GB)—renewed, $449 (was $484), amazon.com
Apple iPhone XS (64GB)—renewed, $440 (was $465), amazon.com
Apple iPhone XS (64GB)—Simple Mobile (pre-paid), $399 (was $600), amazon.com
Apple iPhone XR (64GB)—renewed, $384 (was $405), amazon.com
Apple iPhone X (64GB)—Simple Mobile (pre-paid), $502 (was $528), amazon.com
Apple iPhone X (64GB)—renewed, $380 (was $404), amazon.com
The reviews quoted above reflect the most recent versions at the time of publication.
Read More from Yahoo Life:
Follow us on Instagram, Facebook, Twitter and Pinterest for nonstop inspiration delivered fresh to your feed, every day.
T.M.R. planning redevelopment of Rockland sector – Montreal Gazette
Article content continued
"We don't want to see Rockland go," Roy said.
But T.M.R. wants to ensure any future redevelopment plans for the mall by its owner, Cominar, a real estate investment trust in which the Caisse de dépôt et placement du Québec owns a stake, will necessarily involve building underground parking, Roy added.
"We're creating a framework," he said. "We're sending a message to the owner of the land saying here's the playing field and if you come and propose projects, we'll see according to that."
The Rockland sector is at a crossroads given the uncertain future of shopping centres, Roy said. Cominar has announced plans to densify other malls it owns in the Montreal region with residential construction.
T.M.R.'s plan for the Rockland sector also includes an extension of Brittany Ave., a bike path and a shuttle service to transport residents to the future REM stations in T.M.R. CDPQ Infra Inc. is also building a REM station across from Rockland on the north side of the Met in St-Laurent borough. However, Roy said the Caisse de dépôt subsidiary hasn't yet indicated whether and how T.M.R. residents will be able to get to it.