Audain Foundation endows historical Indigenous art curator at UBC
Michael Audain's fascination with Indigenous art dates to childhood. After attending Saturday lectures on natural history at the Royal B.C. Museum, he would wander around the galleries, awestruck at the northwest coast Indigenous art on display.
The museum's director, Dr. Clifford Carl, spotted his interest, and encouraged it.
"He opened up one of the display cases," Audain recalls. "He asked me to put on some white gloves and showed me some of the masks. I didn't know that much about them, but the images just attracted me, and that stayed with me for many years. Even before I started collecting the stuff myself, I couldn't get it out of my mind."
Seven decades later, Audain is one of the world's premier collectors of northwest coast art, and one of Canada's leading philanthropists. The two passions come together in the Audain Foundation's latest donation, $3 million to fund an Audain Chair in Historical Indigenous Art at the University of B.C.
Source: – Vancouver Sun
Street art festival boosts LGBT visibility in Vancouver's Chinatown – CBC.ca
Pride in Chinatown is celebrating its third anniversary and, unlike the Vancouver Pride Parade and other major events across the Lower Mainland, the event is not going online because of the COVID-19 pandemic.
"The idea of Pride in Chinatown [is] to have a presence," said Paul Wong, the artistic director and curator of the month-long street art festival.
The festival features eight artists' projects scattered throughout the neighbourhood, meant to promote the inclusion of LGBT people in the community.
"Chinatown has been segregated through discrimination and racism and fear. Chinatown has evolved from being very conservative and being very repressed … and homophobic," Wong said to Stephen Quinn, host of CBC's The Early Edition.
Most of the festival's artworks are displayed at a single location. But artist Kendall Yan's creation Quarantine is a bit different — with several locations across Chinatown.
The drag performer — whose stage name is Maiden China and who has family ties to Chinatown — turned one of his Instagram self-portraits into a poster and put it up at multiple locations across the neighbourhood.
"It's very pleasing for my ego," Yan said about seeing his face all over Chinatown.
The project began after he uploaded 41 portraits to the photo-sharing platform while stuck at home during the height of the pandemic, one photo per day.
But what came after was an unpleasant experience.
Yan initially wanted to display all 41 of his self-portraits on a storefront. He approached three businesses near his studio, but said the responses were disappointing.
"People are very hesitant to give space that's very visible, in the fear that someone is going to vandalize their business," he said.
"That is a very homophobic thing in and of itself."
Wong faced similar resistance when he dispatched volunteers asking business associations and community service organizations to put "Pride in Chinatown" stickers on their doorways and windows.
"It's been an interesting way to see that kind of embracing or resistance to being queer out loud and proud in Chinatown," said Wong.
On Saturday, community organization Youth Collaborative for Chinatown had an anonymous artist present a floral installation at the Millennium Gate as a tribute to people of different races and sexualities.
Good morning, <a href="https://twitter.com/hashtag/ChinatownYVR?src=hash&amp;ref_src=twsrc%5Etfw">#ChinatownYVR</a>! You look beautiful today!! Celebrating launch of Pride in Chinatown today 2PM w/ <a href="https://twitter.com/paulwongproject?ref_src=twsrc%5Etfw">@paulwongproject</a>. We're proud to present Floral Installation by Anononymous Artist after their original action! Blooms by The Flower Factory. <a href="https://twitter.com/hashtag/pride?src=hash&amp;ref_src=twsrc%5Etfw">#pride</a> <a href="https://twitter.com/hashtag/strength?src=hash&amp;ref_src=twsrc%5Etfw">#strength</a> <a href="https://twitter.com/hashtag/resilience?src=hash&amp;ref_src=twsrc%5Etfw">#resilience</a> <a href="https://t.co/ffCzcdM6EZ">pic.twitter.com/ffCzcdM6EZ</a>

&mdash;@ycc_yvr
All the exhibits for Pride in Chinatown — except the artwork made of real flowers — will be displayed until Sept. 7.
Click the following link to listen to Paul Wong and Kendall Yan's interview on The Early Edition:
Solo exhibition "Pastel Stories" debuts at Quesnel Art Gallery – Quesnel Cariboo Observer
For Marcela Bodorikova, her first art gallery show is a celebration of texture and colour.
"Pastel Stories", which opened August 6, 2020 at the Quesnel Art Gallery, is the culmination of a year of work. Bodorikova has brought together 50 artworks, all rendered in pastels.
"About a year ago I discovered pastels, and I completely fell in love with the texture and the colours and how vibrant they are," said Bodorikova.
Her solo show is testament to that love. The images range in subject matter, from small landscapes to larger, close-up images of flowers or fruit; from colourful barnyard beasts to Bodorikova's latest works, a series of self-portraits. But a common theme is Bodorikova's exploration of the medium. "Because I just started [using pastels] a year ago, it's all a learning process," explained the artist.
Bodorikova, who moved to Canada from Slovakia in 2002, only began creating art in a serious way about five years ago. It was the gift of a colouring book that sparked her creativity.
"Somebody got me a colouring book, and I thought, 'This is cool, but also kind of boring to colour things. I'd rather create these pages,'" said Bodorikova. She began experimenting with an art form called Zentangle, in which the artist combines dots, lines, orbs, and other small shapes in an unplanned way on small pieces of paper. Bodorikova began to Zentangle on porcelain mugs, and she sold her creations in local shops, including Cariboo Keepsakes and Tiny Treats.
"At some point, the Zentangle started to be a little bit too repetitive for me," admitted Bodorikova, who then challenged herself with acryllics on canvas. Next came charcoals. "I thought, 'These are so cool to use, but I need more colour.'" So Bodorikova ordered a set of pastels, and stumbled onto her preferred medium.
Bodorikova favours a technique that showcases the mark-making process. "I prefer a non-smudging style, so you actually see the strokes of pastels." A piece titled Set Free, for example, depicts a horse rearing against a blue background made up of hundreds of pastel markings in different shades, densities and thicknesses.
Bodorikova said she is still learning about working with pastels, but hopes to continue evolving her style as she experiments. She takes online art classes, and every month there is a different topic to explore. These explorations have resulted in some of the works hung in the Art Gallery until August 28: an image series of different kinds of fruit, for example, showcases experimentation with blending the foreground and background. "The exercise with the pear and the apple, it's called 'lost and found edges' … the edges of the apple are lost at some point in the background; it's about making a joined impression with the background," said Bodorikova.
Above all, Bodorikova said she enjoys the tactile nature of working in pastels. "I like the feel of it. I like the messiness of it," she said. "It's part of the pleasure of painting with pastels."
"Pastel Stories" runs Aug. 6-28 at the Quesnel Art Gallery. For more information about this and other local art shows, visit quesenlartgallery.com.
---
Do you have a comment about this story? email:
editor@wltribune.com
Like us on Facebook and follow us on Twitter.
Local artists urge patio patrons to check out Arts District (4 photos) – OrilliaMatters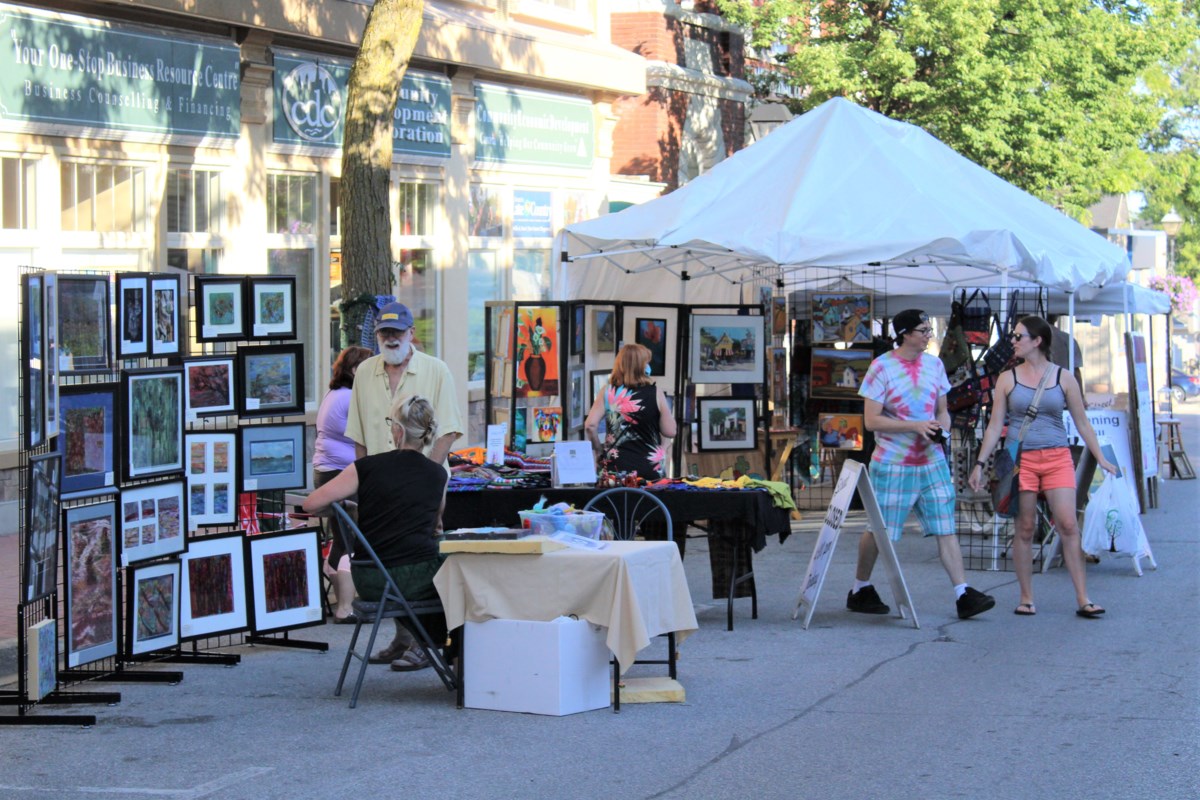 Local artists want to remind residents there's more than restaurants to explore on the weekend.
Every other Friday, the Peter Street Arts District hosts an Art Walk, during which Peter Street is closed to traffic from Colborne to Mississaga streets.
"The arts district gets dismissed sometimes. We are here," said Molly Farquharson, owner of Hibernation Arts, who helps organize the Art Walk.
The event sees artists bring their work onto the street. While the turnout has been increasing since the Art Walk began, artists would like to see more people stop by before or after enjoying dinner or drinks on a nearby patio.
"If people could buy art, we could afford to eat on the patios," Farquharson said with a laugh.
The final Art Walk of the season will take place Aug. 21 from 6 to 9 p.m. Organizers expect there will be more artists on the street and there could be interactive opportunities for kids.
Farquharson wants people to spread the word to help ensure the Art Walk series goes out with a bang.
"We're trying to toot our own horns, but we need others to help us toot them," she said.
Lucia McGarvey, who owns The Shadow Box, said she understands art might not be at the top of someone's shopping list right now, but she noted there are many affordable pieces for sale, and any purchase helps artists who have been struggling during the COVID-19 pandemic.
"It's really important that (restaurants) have this opportunity, but other small businesses need the community's support," she said. "If people are enjoying time on a patio, they can consider meandering into the arts district."
McGarvey encourages people to check out the Aug. 21 Art Walk, even if they don't purchase anything.
"Even positive comments to the artists go a long way," she said.