Boeing's Starliner crew spacecraft won't dock with Space Station as planned after missing target orbit – TechCrunch
Boeing's Starliner CST-100 crew spacecraft got off to a great start on its first-ever launch to the International Space Station this morning — but despite the rocket and launch vehicle performing as expected, the Starliner spacecraft itself hit a bit of a snag when it came time for its own post-launch mission to begin.
The Starliner capsule successfully separated from the ULA Centaur second-stage rocket that brought it to its sub-orbital target in space, but when the Starliner was supposed to light up its own engines and propel itself to its target orbit, the requisite burn didn't happen. Boeing instead said that the spacecraft achieved a stable position to charge up its solar-powered batteries, and that it was working on the ground with its team to figure out which maneuvers come next to get the spacecraft where it needs to be.
NASA Administrator Jim Bridenstine provided via Twitter at 8:45 AM EST the first substantial update about what went wrong, noting that there was an incident wherein the Starliner spacecraft "believed it was in an orbital insertion burn, when it was not."
This means its mission clock encountered some kind of bug or error that told the Starliner systems it was at a different point in the mission procedure than it actually should've been. As a result, the spacecraft burned more fuel than it was supposed to and missed its intended orbital insertion point. The Starliner has subsequently done a second burn and is in a stable orbit, but it is no longer capable of reaching the International Space Station as planned.
At a press conference that kicked off around 9:38 AM EST, the NASA administrator kicked off remarks by noting that "a lot of things went right" in today's mission, regardless of the problems encountered.
"When the space craft separated from the launch vehicle, we did not get the desired orbital insertion burn that we were hoping for," he continued, noting again that the spacecraft believed it was at a different stage in the mission than it actually was. Once ground control was able to send a manual command to correct it, it was "too late" to salvage the full mission of actually reaching the Space Station as planned because too much propellant was already burned.
Bridenstine also speculated that were NASA astronauts actually on board, they would "absolutely" have "been safe," and that they probably could've assisted and overcome the automation error encountered via manual control to save the mission.
ULA CEO Tory Bruno explained that this was a fully successful launch from the perspective of the Atlas V launch vehicle, which flew in a different configuration than usual for the first time, so they consider it a win for their perfect launch record, having "literally hit a bullseye" for their target mission parameters.
"It appears that the vehicle was using a mission elapsed timer that was not the mission elapsed timer that the mission was on," explained Boeing Senior Vice President of Space and Launch Jim Chilton. "We don't know why that happened."
The Starliner is currently in an orbit that will allow it to turn back to Earth in 48 hours, which Bridentstine and Chilton said in itself will be an important test of the landing system. Once on the ground, teams will be better able to figure out what happened on board the spacecraft with the Mission Elapsed Timer (MET) error.
As for what this means for the overall Boeing Commercial Crew mission, and whether this will impact the timing and sequence of the crewed flight test that was supposed to take place next, all parties say it's too early to tell and they'll need to do more investigation into what happened before determining whether there's a need for another full orbital flight test before putting crew on a first test launch.
ISS forced to move to avoid collision with space junk – Sky News
Astronauts aboard the International Space Station had to carry out an "avoidance manoeuvre" to prevent it from being hit by space junk, NASA has said.
Its trajectory was changed to move it further away from the "unknown piece of space debris", the US space agency wrote in a blog post on Tuesday.
The three crew members – two Russians and an American – relocated to their Soyuz spacecraft attached to the ISS during the operation, so they could evacuate if necessary.
Experts expected the space junk to pass within "several kilometres" of the ISS, but decided to move it "out of an abundance of caution".
Russian and US flight controllers worked together to adjust the station's orbit in an operation which took minutes.
The crew were able to continue with their regular activities after the manoeuvre was complete.
NASA said the crew were not in danger at any time.
"Maneuver Burn complete. The astronauts are coming out of safe haven," NASA administrator Jim Bridenstine said on Twitter.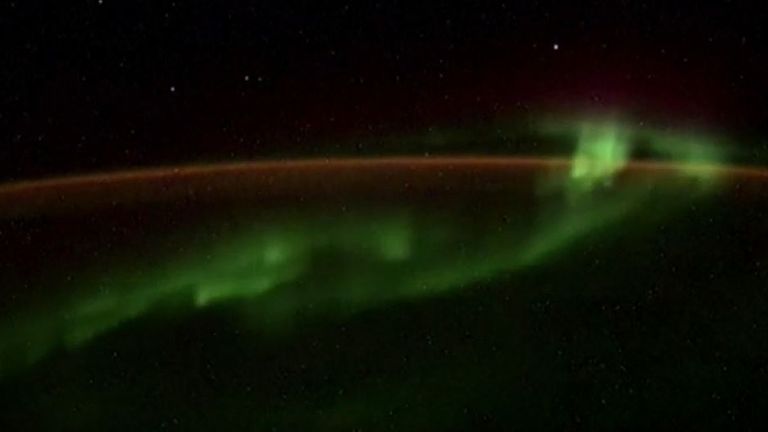 It is the third time this year the International Space Station (ISS) has had to manoeuvre to avoid space debris, he said.
He tweeted: "In the last 2 weeks, there have been 3 high concern potential conjunctions. Debris is getting worse!"
Astronomer Jonathon McDowell, at the Harvard-Smithsonian Center for Astrophysics, tweeted the unknown object was a part of a 2018 Japanese rocket which broke into 77 pieces last year.
The ISS is orbiting around 260 miles (420km) above the Earth, travelling at a speed of about 17,130mph (27,568km/h).
At this velocity, even a small object has the ability to cause serious damage to the space station.
NASA has said these kinds of manoeuvres occur on a regular basis, with 25 having occurred between 1999 and 2018.
An Asteroid Will Get Closer to Earth Than The Moon This Thursday, But Don't Panic – ScienceAlert
An asteroid will get awfully close to Earth this Thursday (September 24), when it whizzes by our planet closer than the Moon orbits.
The asteroid – known as 2020 SW – isn't expected to collide with Earth, according to the Center for Near Earth Object Studies (CNEOS) at the Jet Propulsion Laboratory in Pasadena, California. But it will get close, passing about 16,700 miles (27,000 kilometers) away from Earth, according to the Virtual Telescope Project.
To put this in perspective, the moon hangs out at an average of 238,900 miles (384,000 km) from us, or about 30 Earths away. This asteroid will pass at a distance of about 2.1 Earths.
This means that asteroid 2020 SW will pass even closer than TV and weather satellites, which orbit at about 22,300 miles (35,888 km) away from Earth, according to EarthSky.
Scientists have yet to pin down the asteroid's exact size, but it's not that large, likely between 14 feet and 32 feet (4.4 and 9.9 meters) long, according to CNEOS.
This potentially RV-size asteroid was discovered only last week, on September 18, by the Mount Lemmon Survey in Arizona, and announced the next day by the Minor Planet Center, a NASA-funded group that monitors minor planets, comets and natural satellites. (It's not unusual to find unknown asteroids; in September alone, the Minor Planet Center has announced the discovery of 244 near-Earth objects.)
The orbit of asteroid 2020 SW is seen here in gray. (JPL/NASA)
Passing by Earth will actually be a life-changing event for asteroid 2020 SW. It's such a small asteroid that Earth's gravity is expected to change the space rock's course when it zooms by our planet at 7:18 am EDT (11:18 UTC), according to EarthSky.
After asteroid 2020 SW's close shave with Earth, it won't pay our planet another visit until 3 June 2029, according to the Jet Propulsion Laboratory.
That said, the asteroid is certainly rushing to see us this Thursday (we hope it has a face mask), traveling at a velocity of about 17,200 mph (27,720 km/h, or 7.7 km/second) relative to Earth, the Jet Propulsion Laboratory reported.
The asteroid will appear brighter as it nears Earth, but it won't be visible to the naked eye.
If you want a clear view of the space rock, visit The Virtual Telescope website, which is showing a live feed starting at 6 pm EDT (22:00 UTC) on Wednesday, September 23.
This article was originally published by Live Science. Read the original article here.
ISS moves to avoid space debris – Space Daily
Astronauts on the International Space Station carried out an "avoidance maneuver" Tuesday to ensure they would not be hit by a piece of debris, said US space agency NASA, urging better management of objects in Earth's orbit.
Russian and US flight controllers worked together during a two-and-a-half-minute operation to adjust the station's orbit and move further away, avoiding collision.
The debris passed within about 1.4 kilometers (nearly one mile) of the ISS, NASA said.
The three crew members — two Russians and an American — relocated to be near their Soyuz spacecraft as the maneuver began so they could evacuate if necessary, NASA said, adding that the precaution was taken "out of an abundance of caution."
The astronauts were able to return to their normal activities after the procedure, according to NASA.
"Maneuver Burn complete. The astronauts are coming out of safe haven," NASA chief Jim Bridenstine said on Twitter.
The threatening scrap was actually a piece of a 2018 Japanese rocket, astronomer Jonathan McDowell said on Twitter. The rocket broke up into 77 different pieces last year.
The ISS usually orbits roughly 260 miles (420 kilometers) above the Earth, at a speed of about 17,000 miles per hour.
At such a velocity, even a small object could seriously damage a solar panel or other facet of the station.
This type of maneuver is necessary on a regular basis. NASA said 25 such maneuvers had occurred between 1999 and 2018.
Bridenstine wrote on Twitter that this was the third such maneuver on the ISS just this year.
The operations could become even more frequent as Earth's orbit becomes littered with pieces of satellites, rockets and other objects launched into space over the last sixty years.
Accidental or deliberate collisions, including anti-satellite missile launches by India in 2019 and China in 2007, can break objects apart even further and create added risk.
"Debris is getting worse! Time for Congress to provide @CommerceGov with the $15 mil requested by @POTUS for the Office of Space Commerce," Bridenstine tweeted.
The Office of Space Commerce is a civilian organization that supporters want to take over the surveillance of space junk, a job currently occupied by the military.
ico/sst-caw/jm
ISS A/S
Related Links

Space Tourism, Space Transport and Space Exploration News


Thanks for being there;


We need your help. The SpaceDaily news network continues to grow but revenues have never been harder to maintain.

With the rise of Ad Blockers, and Facebook – our traditional revenue sources via quality network advertising continues to decline. And unlike so many other news sites, we don't have a paywall – with those annoying usernames and passwords.

Our news coverage takes time and effort to publish 365 days a year.

If you find our news sites informative and useful then please consider becoming a regular supporter or for now make a one off contribution.


SpaceDaily Monthly Supporter
$5+ Billed Monthly

SpaceDaily Contributor

$5 Billed Once

credit card or paypal



Small leak of ammonia detected at US Segment of ISS

Moscow (Sputnik) Sep 18, 2020


A small leak of ammonia has been detected at the US segment of the International Space Station (ISS), Roscosmos confirmed to Sputnik, adding that the incident poses no threat to crew members.
Ammonia is used in transferring heat from the US segment on the ISS to space. Moderate levels of ammonia are not so dangerous, but exposure to high concentrations of it can be a health hazard.
"Experts have registered an ammonia leak outside the US segment of the ISS. We are speaking about the leak with … read more