Call of Duty Modern Warfare and Warzone Update
Activision and Infinity Ward have announced a significant update for Season 4 of Call of Duty Modern Warfare and Warzone. The substantial update, dubbed Season 4 Reloaded, will go live tonight, June 29, at 11 pm PDT.
For Modern Warfare owners, the update will weigh between 22-36GB, depending on the platform. Console players will also need to install a secondary download of around 3.5GB, then reboot the game to access Multiplayer. For Warzone players, the download size will vary from 22-30GB, depending on the platform. After the installation is complete, there will be a slight increase in Modern Warfare's digital footprint and a slight decrease in Warzone's.
From new game modes to a new Operator, the update will introduce a plethora of new content. Activision's blog gives us a comprehensive idea about what Season 4 Reloaded will bring to Modern Warfare and Warzone.
Call of Duty Warzone receives some of the biggest additions
Perhaps the biggest revelation is that 200 players will get to jump into Verdansk at once after the update rolls out. Currently, the increased player count is only for Battle Royale Quads, meaning 50 Quads will wreak havoc until the very end.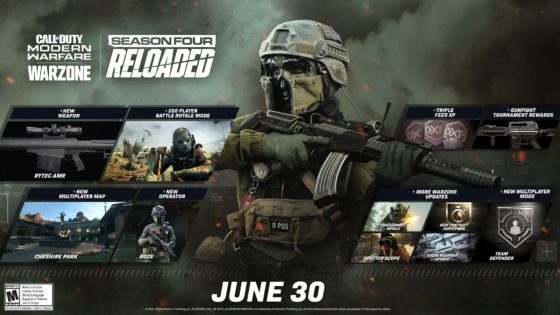 Warzone also gets the Juggernaut Royale mode that comes with a Juggernaut Suit. Players have to search airdropped care packages to become the Juggernaut and utilize the mini-gun to take down enemies or vehicles.
"Once a Juggernaut is sent to the Gulag, a new Juggernaut care package will drop on the map, so do your best to capture the suit and take on any squad that stands in your way."
Moreover, Supply Run Contracts are coming to the battle royale. Activating the contract will direct players to a nearby Buy Station. Players will receive a discount on Buy Station purchases, if they get there within the time limit.
That's not all. A new piece of equipment, the Spotter Scope, awaits Warzone players. It is a high-powered and re-usable scope that enables one to scan their surroundings to mark enemies while remaining undetected.
"Perfect for scouting ahead, the Spotter Scope is a great tool for Operators who want to plan their next move while keeping a low profile."
Modern Warfare gets its share of new content too
Modern Warfare players get to experience multiplayer combat in a new map called Cheshire Park.
"Located in urban London, England, Cheshire Park is a picturesque garden and conservatory where Operators will battle from door to door or through the central flora-filled area​."
"Take to the townhomes for long sightlines, the stores to capture objectives through intense CQB battles, or take to the side streets to take some shortcuts. If you dare, try to challenge those who may set up shop in second-story windows, phone booths, front yards, or scaffolding."
Additionally, Team Defender makes its return to Modern Warfare. It is a fast-paced objective-based game mode similar to Capture the Flag, but with a twist.
There is a single flag that a squad member must capture and keep possession of, rather than both teams defending their respective flags. A squad scores a point for every second their squad member holds onto the flag. Thus, protecting the flag carrier is pivotal to victory. Meanwhile, the opponents' motive is to take down the flag carrier, which will secure points for them.
"Both squads will frantically attempt to wrest control of the flag until the very last second in this pulse-pounding Multiplayer experience."
New weapon and operator
Season 4 has already introduced new guns to the stockpile of lethal weapons. Now, a powerful sniper rifle, the Rytec AMR, is coming to multiplayer and battle royale. The Rytec AMR uses .50 caliber bullets and is "one of the deadliest semi-automatic anti-material rifles an Operator can get their hands on."
Players can unlock the sniper via in-game challenges. A blueprint variant is also available in the Store as a part of the 'Lost Souls' bundle.
After Captain Price and Sergeant Kyle "Gaz" Garrick, it is time for another Operator. Roze is the latest to join the combat roster with the update. Her operator bundle will become available in the Store, alongside other bundles.
Apart from all that, a Warzone Starter Pack and a Modern Warfare Battle Pass Edition, offering a range of cosmetics and other rewards will also be up for grabs. Check out Activision Games Blog for all the details about the Season 4 Reloaded update.
Source:- Essentially Sports
Two top Ubisoft execs leave during sexual harassment probe – CTV News
MONTREAL —
Two top executives from one of the world's largest gaming companies have left the firm during an investigation into allegations of sexual harassment and abuse.
Last month, French company Ubisoft — whose products include Assassin's Creed — launched an investigation after allegations of sexual assault and harassment were shared online.
CEO Yves Guillemot wrote in a message to the company's 18,000 employees late Friday that Maxime Beland, vice-president of editorial in Toronto, had resigned.
"We continue to investigate the allegations made against him," Guillemot added, without specifying the allegations.
Tommy Francois, vice-president of editorial and creative services based in Paris, was placed on disciplinary leave "pending the outcome of an investigation," Guillemot said in the message seen by AFP.
Another unnamed employee in the Toronto studio has been dismissed for "engaging in behaviors that do not align with what is expected of Ubisoft employees," he said.
"Other investigations are ongoing and will be conducted rigorously."
"We cannot tolerate workplace misconduct and will continue taking disciplinary actions against anyone who engages in harassment, discrimination and other behaviors that infringe on our Code of Fair Conduct."
Ubisoft is the latest player in the gaming industry to be the target of harassment accusations.
In June, current and former employees used social media recently to denounce predatory behaviour by powerful managers.
Gmail users flooded with spam messages, company says issue fixed – CanIndia News
San Francisco, July 5 (IANS) Gmail users around the world were complaining about spam messages flooding their inbox over the weekend as the Google service was apparently suffering from a widespread problem with its email filters.
Several Gmail users took to Twitter and other social media platforms like reddit to convey they were being bombarded with spam messages.
Google acknowledged the problem to Forbes, saying the spam flaw was actually part of a bigger issue which caused Gmail emails to be delayed, both when sent and received.
The consequence of this was "some messages were delayed enough that they resulted in delivery without all spam checks completing".
Google said that "during this time, scans to filter malware and the most egregious spam and harmful content remained fully operational".
The issue was first reported by Android Police.
"Why did the gmail spam filters break?!" posted one user.
"Did gmail's spam filter and category function just completely shut down for anyone else? Everything's now going straight to the primary inbox," commented another.
Google said the issue has now been resolved.
Another user posted: "It is a strangely comforting thing that I can just search for 'gmail' and immediately Twitter provides me with evidence that yes, others are getting weirdly hit with spam right now".
–IANS
na/
Weekly poll review: iOS 14 is a solid upgrade, might even get some to switch – GSMArena.com news – GSMArena.com
Last week's poll shows that iOS 14 is a solid upgrade – one in four voters think it will allow them to continue happily using their current iPhone, another one in five are looking forward to upgrade to the iPhone 12 to get the OS in its best form.
Is it good enough to help Apple lure away users of premium Androids? Well, a solid 23% say that is the case. They will be able to choose from the $400 iPhone SE, the $600-700 iPhone 12 or one of the $1,000+ Pro models, depending on their needs.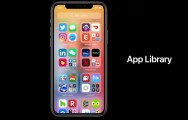 New in iOS 14: Home screen widgets • App library • Enhanced privacy • iMessage improvements
Of course, Apple has no phones in the sub-$400 mid-ranger market, barring second-hand units, while Android makers offer some really impressive phones in that range. Owners of such Androids see no reason to pay a premium for iOS.
Also, many feel that iOS is still trailing Android, especially when it comes to customization. And it's true, it took 14 versions for Apple to let you pick your browser app. So if your Android UI looks nothing like the stock installation, iOS 14 is not for you.
If you value privacy and long term software support, however, iOS has several new features that will make former Android users feel at home.