Canada's single-use plastic ban faces its first legal test – CBC.ca
Canada's single-use plastic regulations face their first legal test today as the plastics lobby and the federal government head to court.
A federal court judge will hear arguments from lawyers on all sides from Tuesday to Thursday in Toronto.
The federal judge, who is not expected to deliver a ruling for months, must consider whether Ottawa was justified when it listed plastic products as toxic under the Canadian Environmental Protection Act.
"This is one of the largest environmental court cases that we have seen in Canada," said Anthony Merante, plastics campaigner at Oceana Canada, an intervener in the case.
"This is about tackling Canada's second most pertinent environmental crisis, which is the global plastics pollution crisis."
The Liberal government relied on a scientific assessment of plastic pollution published in 2020. It found that plastic pollutes rivers, lakes and other water bodies, harming wildlife and leaving microplastic fragments in the water we drink.
That report was soon followed by several federal policy and regulatory moves, culminating most recently in the federal government officially announcing dates for a ban on the manufacture, sale and import of certain plastic products.
The ban affects checkout bags, straws, stir sticks and cutlery. Some of these prohibitions have already taken effect and some won't happen until 2025.
As the government attempted to address the pollution problem, the plastic industry accused the government in legal briefs of introducing a plan with "fatal flaws." It's not the federal government's place, the complainants argue, to regulate plastic pollution when the provinces and territories typically handle waste management.
"The government's decision to regulate all plastic products may be motivated by laudable goals (e.g., diverting waste from municipal landfills and seizing the value of a circular plastics economy)," says a court document filed on behalf of the plastics industry. "However, those goals must be pursued in accordance with the Constitution."
The plastics industry also alleges the federal government failed to demonstrate it had enough scientific evidence to justify the regulations. The industry argues Ottawa failed "to conduct a risk assessment" and "to characterize ecological exposure to all plastic products."
"The test for toxicity is not satisfied by proving that a single bottle cap poses a risk to a single animal," says a legal brief filed on behalf of the plastics industry.
The plastics companies bringing the case — Dow Chemical Canada, Imperial Oil and Nova Chemicals — declined to comment or didn't return CBC's requests for comment. The Responsible Plastic Use Coalition — an industry group, also an applicant in the case — did not respond.
A York University researcher who is not involved in the case said he believes the federal government's plastics policies, although well-intentioned, are rooted more in politics than science.
"What they are doing is responding to an optics issue where we see plastic bags in our environment and oceans," said Calvin Lakhan, a research scientist and co-investigator of the "Waste Wiki" project in the faculty of environmental studies. "That's things that consumers really care about."
The lifecycle analysis of individual plastic items, Lakhan said, is complex; he suggested the Liberals' plastic pollution approach needs a rethink.
Environment Minister Steven Guilbeault said in a media statement the Liberals are delivering on a campaign promise. He then went after the plastics industry.
"While a handful of big multinational companies try to stop our ban on harmful single-use plastics, we're going to keep fighting for the clean, healthy environment Canadians deserve," Guilbeault said in the statement. "We're going to stick to the facts and science and deliver the sustainable options Canadians are asking for."
The court will hear from several interveners, including the American Chemistry Council, the American Fuel and Petrochemical Manufacturers and the governments of Alberta and Saskatchewan.
Several environmental groups, including Environmental Defence and Oceana, will also appear to ask the court to uphold the government's plastic regulations.
The lawyer representing the environmental groups, Ecojustice's Lindsay Beck, said a win for the government would solidify the push against plastic pollution, while a loss would throw a wrench into those efforts.
If the court overturns the regulations, she said, it could have a domino effect that could force the government to rescind its single-use plastic ban, which is also subject to its own court challenge.
"It means that that ban would be vulnerable to being overturned," Beck said.
Federal data show that in 2019, 15.5 billion plastic grocery bags, 4.5 billion pieces of plastic cutlery, three billion stir sticks, 5.8 billion straws, 183 million six-pack rings and 805 million takeout containers were sold in Canada.
A 2019 Deloitte study found less than one-tenth of the plastic waste Canadians produce is recycled. That meant 3.3 million tonnes of plastic was being thrown out annually, almost half of it plastic packaging.
Newfoundland and Labrador, Prince Edward Island and Nova Scotia already have taken their own action against plastic bags, as have some cities, including Regina, Victoria and Montreal.
Sobeys eliminated single-use plastic bags at its checkout counters in 2020 and Walmart followed suit this past April. Loblaws announced Monday morning it will ban plastic bags by spring 2023.
Many fast food outlets have replaced plastic straws with paper versions over the last several years as well.
Twenty-six organizations call for MSI for migrant workers in Nova Scotia
Halifax, NS (March 21, 2022) – Today, as the spring session of the Nova Scotia legislature opens, twenty-six organizations have published an open letter calling for healthcare access for Kerian Burnett and all migrant workers in Nova Scotia. Today is also the International Day for the Elimination of Racial Discrimination.
The signatories to the letter include the Antigonish Coalition to End Poverty, Central Kings Community Health Board, CUPE NS, King's Students' Union, National Farmers Union – Nova Scotia, No one is illegal – Nova Scotia, Nova Scotia Health Coalition and Western Kings Community Health Board.
In some provinces, migrant workers have access to public healthcare on arrival. In Nova Scotia, migrant workers must have a one-year work permit to be eligible for public healthcare coverage (MSI). This means that Caribbean and Mexican workers who come to Nova Scotia under the Seasonal Agricultural Workers Program (SAWP) are not eligible, because their contracts are a maximum of 8 months of each calendar year.
"Nova Scotia's MSI eligibility criteria shuts out this racialized workforce. This is a blatant example of systemic discrimination, which can and must be immediately redressed," said Stacey Gomez, Manager of the Migrant Workers Program with No one is illegal – Nova Scotia.
Migrant workers in the SAWP only have access to private health insurance, which is tied to their employment.
"Private health insurance from employers and restrictions on eligibility for MSI prevents migrant workers from accessing the care they need leaving them vulnerable and falling through the cracks of our public healthcare system. The NSHC signs onto this letter and supports the call for all migrant workers, especially seasonal agricultural workers, to be eligible for MSI immediately upon arrival in Nova Scotia. Access to free, universal, public healthcare is the right of every human being, regardless of immigration status. We must do better," said Alexandra Rose,  Coordinator of the Nova Scotia Health Coalition.
Ms. Burnett, who was diagnosed with cervical cancer after arriving in Nova Scotia as a migrant worker,  now has a Temporary Resident Permit until January 10, 2024. However, she still does not have medical coverage in Nova Scotia. She was advised by her doctor to remain in Canada to undergo life-saving treatments and for follow-up care. Ms. Burnett is currently hospitalized.
– 30  –
Media contact:
No one is illegal – Nova Scotia
Telephone: (902) 329-9595
Email: outreach@migrantjusticens.ca
Canada's inflation rate cools more than expected – Financial Post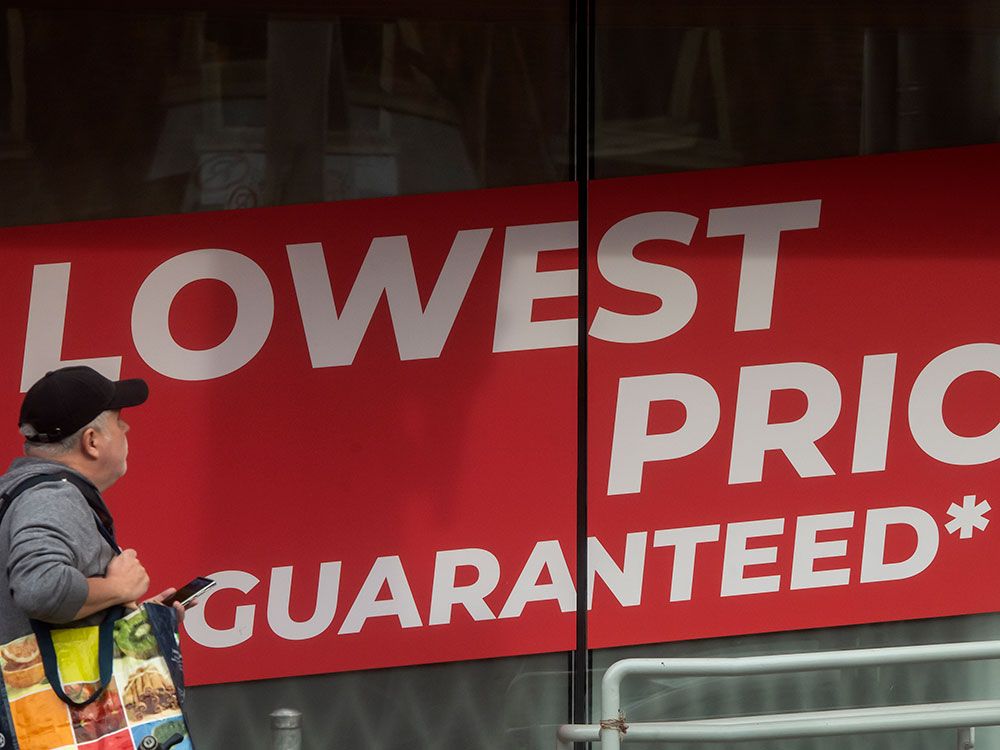 Article content
OTTAWA — The annual pace of inflation cooled in February as it posted its largest deceleration since April 2020.
Article content
Statistics Canada said Tuesday its consumer price index in February was up 5.2 per cent compared with a year earlier.
Article content
Analysts polled by Reuters had expected the annual rate to fall to 5.4 per cent.
The reading compared with an annual inflation rate of 5.9 per cent in January and was the lowest annual inflation rate since January 2022 when it was 5.1 per cent.
Article content
Statistics Canada noted that the decline was due to a steep monthly increase in prices in February 2022 when the global economy was significantly affected by the Russian invasion of Ukraine.
Despite the overall cooling, grocery prices remained elevated and outpaced overall inflation.
Prices for food purchased from stores in February were up 10.6 per cent compared with a year ago, the seventh consecutive month of double-digit increases.
Which food items went up in price in Canada – CTV News
Inflation for goods in Canada is cooling but prices for food remain high, Statistics Canada's latest report shows.
The Consumer Price Index (CPI) for February was at 5.2 per cent year-over-year, a decrease from January's 5.9 per cent year-over-year increase.
"This was the largest deceleration in the headline CPI since April 2020," the StatCan report reads.
Energy reflected the cooling as prices fell 0.6 per cent year-over-year. Gasoline prices are leading the drop, StatCan says, with a 4.7 per cent difference year-over-year — "the first yearly decline since January 2021."
"Inflation is cooling more than what was typically expected," David George-Cosh, BNN Bloomberg reporter, told CTV News Channel on Tuesday. "But when you drill down into some of the details, it's unlikely to really convince Canadians that the worst is really behind us."
Despite the overall signs inflation is decreasing, Canadians are not seeing this reflected at grocery stores, where food prices rose 10.6 per cent year-over-year in February. This is a slight decrease from January, which saw a 11.4 per cent year-over-year increase.
FOOD PRICES REMAIN HIGH
February marks the seventh consecutive month of double-digit food inflation, StatCan says.
This pressure is largely due to supply constraints from extreme weather in some regions and higher costs of animal feed, energy and packaging materials.
Pasta products continue to increase in price, with a 23.1 per cent year-over-year difference in February. This is an upward trend from January, which had a year-over-year increase of 21.1 per cent.
Fruit juice had the largest increase in price from January to February 2023, data from StatCan shows. In January, the product had a year-over-year difference of 5.2 per cent; this rose to 15.7 per cent year-over-year in February.
According to StatCan, the quick rise in the cost of fruit juice is led by the increased price of orange juice specifically.
"The supply of oranges has been impacted by citrus greening disease and climate-related events, such as Hurricane Ian," the CPI report reads.
William Huggins, lecturer of corporate finance and business economics, explained supply chains are under pressure from many areas.
"We've had, for instance, problems with avian flu…There are problems with African swine fever in China, we've had trouble getting enough employees to come back post pandemic with their steel supply chains," Huggins told CTV's Your Morning on Wednesday. "We've seen this not just in Canada, but also in the United States as well. So rather than people thinking it's very much a homegrown problem, it's much more of a North American logistic problem."
Oranges on their own have not increased quite as dramatically between January and February of this year. According to the data, in January oranges had a year-over-year increase of 14.1 per cent, which rose to 15.1 per cent year-over-year in February.
Similarly, apples rose in price year-over-year to 16.6 per cent in February, a 4.5 per cent increase from January.
Some areas did see prices slowing, StatCan said.
Meat products decreased to 6.2 per cent year-over-year, though this is a smaller decrease than in January.
But Canadians aren't seeing decreases in all types of meat.
Fresh or frozen poultry remained high, as StatCan pegged the year-over-year increase at 10.7 per cent in February, a slight increase from January.
Fish, seafood and other marine products increased by 1 per cent from January's year-over-year marker to 7.4 per cent year-over-year in February.
Fresh or frozen beef saw a reduction in February, with a year-over-year increase of 2.4 per cent compared to January's 3.7 per cent difference.
Buyers of some types of produce are seeing a cooling effect as well, including the costs of lettuce and tomatoes.
Lettuce in January rose to 32.8 per cent year-over-year, but dropped the next month to 20.2 per cent compared to February 2022.
Tomatoes in January had a 21.9 per cent year-over-year increase, which dropped to 7.1 per cent year-over-year in February.
STUDY SHOWS MISTAKES ON RECEIPTS
Many Canadians are now acutely aware of how much food items cost, so they can ensure they are not paying more, but a new study shows two-thirds (67 per cent) of people have seen a mistake on their grocery receipts in the last year.
Dalhousie University's Agri-Food Analytics Lab polled 5,525 respondents.
According to the survey, 78.5 per cent of those who noted a mistake reported the most common error was that the price at the cash register was not the same price displayed on the shelf. About one-third of respondents said the daily discount was not applied and a total of 31.4 per cent claimed the cashier scanned an item too many times.
A majority of people said they check receipts for mistakes as they exit the store, before getting home. However, the survey notes not all Canadians have the habit of checking for mistakes; only half said they always check, while 3.3 per cent never do.
"As for frequency of mistakes, 79.2 per cent of respondents claim that they find at least no mistakes on their receipts, at least 10 per cent of the time," the press release reads. "A total of 15.2 per cent will find at least one mistake on their receipt, 25 per cent of the time."
Note: data for some specific grocery items are available only nationally, and are not available by province. Can't see the interactive above? Click here.