COMMENTARY: How Pfizer's and Moderna's mRNA-based COVID-19 vaccines work – Global News
The COVID-19 pandemic has driven a massive allocation of resources toward producing solutions, from identifying life-saving medications, tracking how the virus spreads and ultimately to preventing infection with vaccines.
As a physician scientist, I study how the virus has evolved over the pandemic, since any changes in the virus could also change the effectiveness of current treatments. On Nov. 9, Pfizer announced preliminary trial results showing that a vaccine it developed with BioNTech was about 90 per cent effective. That was followed up nine days later with final trial results and two months of safety data, indicating a 95 per cent effectiveness rate.
READ MORE: Pfizer applies for emergency coronavirus vaccine approval in U.S.
Pfizer announced on Nov. 18 that it intends to file for emergency authorization with the U.S. Food and Drug Administration.
Meanwhile, on Nov. 16, Moderna announced preliminary results for its own vaccine, developed with the U.S. National Institutes of Health, which also indicated effectiveness of about 95 per cent.
This is good news, but we need to understand what it means so life can ultimately go back to normal.
DNA, messenger RNA and proteins
Both Pfizer's and Moderna's vaccines are mRNA-based. In each of our cells, DNA produces messenger RNA (mRNA) containing the templates for making proteins. It's called messenger RNA because it carries that information to other parts of the cell, where the instructions are read and followed to produce specific proteins.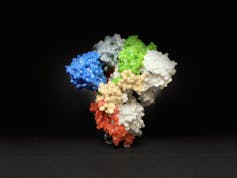 When a patient is injected with mRNA in a vaccine, their cells use the information in that mRNA to create a protein: in this case, a version of the spike protein from the coronavirus that causes COVID-19. The immune system recognizes that protein as a signal to produce antibodies and immune cells.
An mRNA vaccine has some advantages for mass vaccination. It can produce robust immunity, can be made rapidly at low cost, and, like inactivated and subunit vaccines, it is impossible for it to cause someone to develop the illness.
Building immunity
This vaccine has the potential to protect many people from this devastating virus. When it is said that a vaccine is 90 per cent effective, this means that if 100 people received the vaccine and were then exposed to the virus, 90 would be unlikely to get sick. While 10 would be at risk of still developing the infection, protection from vaccines is not all-or-nothing. These 10 individuals could have milder disease than someone who did not receive the vaccine.

1:08


Coronavirus: Pfizer applied for Health Canada approval of its vaccine, pending "rolling review" process



It takes time for immune systems to prepare to fight infections. Think of building immunity to SARS-CoV-2, the virus that causes COVID-19, as like preparing to run a marathon. First, the runner must register, just as the immune system must be exposed to the infectious agent. Then, they need to build stamina. For the immune system, this means making antibodies and immune cells. Finally, they run the marathon: the bolstered immune system now removes the infectious agent from the body, or prevents it from doing further damage.
In both the Pfizer and Moderna clinical trials, subjects received the vaccine in two doses, three or four weeks apart, respectively. That's about how much time it takes for the stimulated immune system to produce meaningful protection. A booster vaccine was given to produce even more antibodies and immune cells. In terms of the marathon example, this is like doing a practice marathon around three weeks into training. The runner will do better than they would have on day one, but more training is likely still needed. The booster vaccine provides that extra training.
The beginning of the end
Should we expect the pandemic to be over once a vaccine is available for public use? Not exactly. A vaccine will not be perfect, and it takes time for the immune system to be ready to protect us.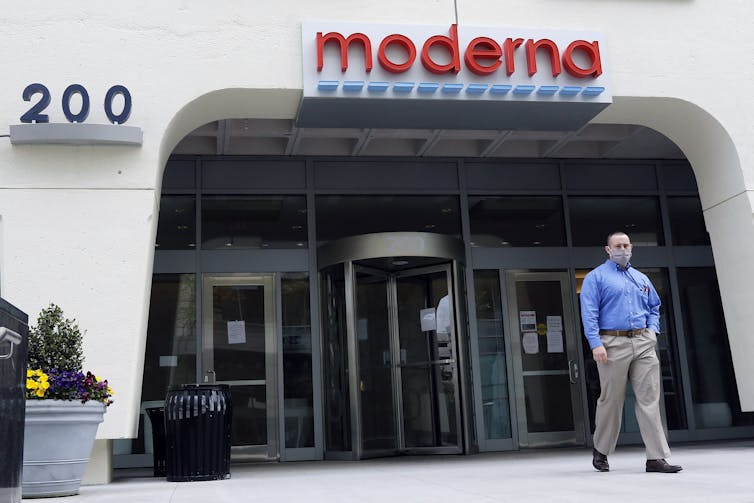 In addition, it is possible that the vaccines will be less effective than cited. Clinical trials are carefully set up, but it is possible that the virus will have evolved enough since the vaccines were designed so they will provide less benefit. It will also take time for enough vaccine to be made and administered for the population to achieve herd immunity.
Masks and social distancing will still most likely be necessary throughout 2021 because it takes time to accomplish such large-scale projects. We cannot expect herd immunity from our neighbours getting sick to get the world back to normal, even while neighbours are receiving vaccines. The human cost is unacceptable and the virus is too infectious for this to produce meaningful results unless 67 per cent of the population is infected, with a lot of people dying up to that point and afterwards.
We are in a scary time but have reason to have hope. The news of the Pfizer and Moderna vaccines is good news and could potentially bring the world back to something more normal. We must not forget that it will take time and all of us working together. Masks and social distancing are our reality right now, and will remain so until at least next year. We must persevere with these measures, even when we find them frustrating. There is a light at the end of the tunnel and we can all reach it if we work together.

Julian Daniel Sunday Willett, PhD Student, quantitative life sciences, McGill University
This article is republished from The Conversation under a Creative Commons licence. Read the original article.
As U.S., U.K. plan to roll out vaccines in December, Canada largely silent on distribution – CBC.ca
Two of Canada's closest allies have laid out plans to distribute new vaccines against the deadly novel coronavirus, with the first shots expected to be delivered in December.
Canada, meanwhile, has been largely silent on how promising vaccine candidates will be distributed here after Health Canada regulators give them the green light — providing few, if any, details beyond a promise to work with the provinces and territories and buy cold storage.
The federal government has procured some 358 million doses from seven companies — an insurance policy against the possibility that some of the vaccines in development prove to be ineffective in clinical trials. Little is known about how and when the vaccines will be made available, however.
"Our government has worked hard to secure tens of millions of doses, so we're prepared once a safe, effective vaccine is ready for Canadians," Prime Minister Justin Trudeau said today, adding that it's "premature" to say when communities will have access to the vaccines.
Trudeau said Canada — unlike the U.S., the United Kingdom and Germany — doesn't have any domestic vaccine manufacturing capacity, which means it could be a while yet before Canadians get a dose. "We're looking forward to being able to vaccinate Canadians in the coming months," he said.
WATCH: Trudeau says lack of Canadian manufacturing capacity to blame for vaccine challenges
Prime Minister Justin Trudeau spoke to reporters outside his home in Ottawa on Tuesday 1:59
Dr. Moncef Slaoui is the chief scientific adviser to Operation Warp Speed — the U.S. mission to develop a vaccine, manufacture it in large quantities and push it out into communities. The U.S. Food and Drug Administration (FDA) is set to meet on Dec. 10 to make a final decision on Pfizer's highly-effective vaccine and Slaoui said inoculations will begin immediately.
"Our plan is to be able to ship vaccines to the immunization sites within 24 hours from the approval," Slaoui said in an interview with CNN.
"I would expect maybe on day two after approval, on Dec. 11 or Dec 12, hopefully, the first people will be immunized across the U.S., across all states, in all areas where the state departments of health have told us to deliver the vaccine."
20 million Americans to be vaccinated in December
Slaoui said as many as 20 million Americans will be vaccinated in December, and 30 million more Americans will be vaccinated in every subsequent month.
Since October, Pfizer has been manufacturing hundreds of thousands of doses each week — even though it hasn't yet received regulatory approval. The company hopes to make 100 million doses available this year and another 1.3 billion in 2021. Each patient will need two doses of Pfizer's vaccine.
The National Health Service (NHS) in England has designated 1,250 local health clinics as vaccine sites where, starting as early as Dec. 1, staff will be on hand to administer the vaccine over 12-hour shifts, seven days a week. Each clinic site is expected to inoculate at least 975 people per week.
The NHS already has started booking vaccine appointments, designating blocks to priority groups. Vaccinations in the U.K. will start with older adult residents in long-term care homes and care home workers, all those 80 years of age and over and health and social care workers, before being offered to those aged 75 years or younger.
"I have tasked the NHS with being ready from any date from Dec. 1. The logistics are complex, the uncertainties are real and the scale of the job is vast, but I know that the NHS, brilliantly assisted by the armed services, will be up to the task," Matt Hancock, the U.K.'s health secretary, told Parliament last week.
In May, the U.S. tapped a retired four-star army general, Gen. Gustave Perna, to coordinate the distribution efforts — a massive task that will see millions of doses of the vaccine deployed to every state starting next month, through a partnership with U.S. drug distribution giant McKesson.
Perna is a former commanding general for the U.S. Army Materiel Command, which manages the Army's global supply chain, making him uniquely qualified to run such a complicated distribution network.
"The country's existing public health infrastructure is well tested — we see evidence every fall when Americans receive the flu vaccine in large numbers. But these are not normal times," Perna said in a media statement. "Leveraging our military planning and logistics capability and combining that with proven methods will allow existing systems to scale quickly to get the vaccine to the American people."
More than 1 million standard kits — which would cover 100 million vaccine doses — have been assembled by Operation Warp Speed.
The military and McKesson will distribute vaccines along with ancillary kits with all the required supplies to administer them, such as needles, syringes, alcohol pads and limited personal protective equipment.
Pfizer has an assembly centre in Kalamazoo, Michigan, and the drug manufacturer plans to use private shipping companies such as UPS and FedEx to deliver vaccines to hospitals and vaccination sites within hours.
Watch: Bains and Anand explain how Ottawa is developing Canadian vaccine production.:
Federal Industry Minister Navdeep Bains and Procurement Minister Anita Anand spoke with reporters on Tuesday. 1:48
While Operation Warp Speed will deliver vaccine shipments, it will be up to the states, territories and major metropolitan areas to further define where the doses ultimately go. All 50 states have submitted COVID-19 distribution plans to the U.S. Centers for Disease Control (CDC).
The CDC has flowed more than $300 million to the states to fine-tune the deployment process and, last month, the agency publicly released a 75-page playbook detailing everything from vaccine provider recruitment and enrolment guidelines, vaccine storage and handling tips to information on which groups should be first in line for a shot.
The CDC also has signed agreements with major U.S. pharmacy chains CVS and Walgreens to assist with on-site vaccinations at long-term care facilities (LTCs), which have been especially hard hit by the pandemic.
Germany also could start administering shots of COVID-19 vaccines as soon as next month, Jens Spahn, the country's health minister, said Sunday.
Spahn said he has asked Germany's federal states to have their vaccination centres ready by mid-December. "I'd rather have a ready-to-go immunization centre that remains inactive for several days than a licensed vaccine that cannot be administered," the minister said, adding that vulnerable persons, such as the elderly, would be treated first.
Canadian officials working 'around the clock': health minister
The Canadian federal government, by comparison, has said little publicly about what it has planned for vaccine distribution.
The scientists at the National Advisory Committee on Immunization (NACI) recently issued preliminary guidance on who should get priority for a vaccine.
Public Services and Procurement Minister Anita Anand announced last week the government has plans to purchase more than 100 new freezers to help store incoming COVID-19 vaccines from Pfizer but also Moderna.
When asked Tuesday why Canada seems to be further behind in the race to distribute vaccines, Health Minister Patty Hajdu said the whole process is complicated and Health Canada hasn't yet approved a vaccine candidate.
"I can't speak to allied countries' regulatory processes. I can just speak to mine," she said.
Hajdu said the health department is "working hand in glove" with procurement officials to distribute a vaccine, once Canada gets one.
"All of our departments are working right now, around the clock actually, on making sure we have a concrete plan with the provinces and territories, that we are ready to deploy the vaccines as soon as they arrive on Canadian soil," she said.
Ontario deploys rapid COVID-19 tests that can turnaround results in under 20 minutes to hospitals, long-term care homes – CP24 Toronto's Breaking News
The Ontario government has started to deploy rapid COVID-19 tests to hospitals, long-term care homes and regions of high-transmission as the province continues to combat a second wave of the novel coronavirus.
Premier Doug Ford along with his health minister and minister of long-term care made the announcement in Toronto Tuesday afternoon.
So far, the government has received roughly 98,000 ID NOW rapid tests and 1.2 million Panbio rapid antigen tests with another 1.5 million more Panbio tests expected by the end of November.
"The new rapid tests are game changers," Ford said during an announcement at Humber River Hospital in Toronto on Tuesday. "These new tests can turnaround test results in minutes instead of days."
Ford said both tests can provide results in under twenty minutes.
The ID NOW test detects the novel coronavirus using a nasal, nasopharyngeal or throat swab, while the Panbio test uses a nasopharyngeal swab only.
"I want to thank Health Canada for getting these in and then once it gets in, put them in the distribution center and we allocate it to the most vulnerable areas throughout Ontario, no matter if it's northern rural areas, or the long-term care homes," Ford said.
"We got the logistics down pat, they're out there as we speak right now people are using them as we speak right now and the more that come in the more we're going to get throughout the system," he added.
The ID NOW tests are initially being used in hospitals and assessment centres in rural and remote communities, and to test people as part of early outbreak investigations in hot spot regions.
Two hospitals, Ottawa Hospital and Soldiers' Memorial Hospital in Orillia, Ont., are also using ID NOW tests, with 20 more hospitals preparing to launch rapid testing, according to the government.
"We have moved these tests out as quickly as possible, making sure that we do the necessary examination of the ones that have been received making sure that they're ready to go, then making sure that we have the right allocations going to the right places," Health Minister Christine Elliott said at the press conference.
Ford commented on the significance of these rapid tests in the health-care system as infections are on the rise across the province, particularly in the hot spots of Toronto and Peel Region, which both entered the "lockdown" zone of the government's COVID-19 response framework on Monday.
"Over the next few weeks dozens of our long-term care homes will use these tests to test staff and visitors to keep our long-term care residents safe while ensuring essential caregivers can continue to visit and worry less about endangering their loved ones," Ford said.
ID NOW tests are currently being distributed in Simcoe Muskoka, Southewestern Ontario and Eastern Ontario. The government says the program will be expanded to other areas of the province next month.
Plans are in the works to roll out the rapid tests to Toronto and Peel and the government said it's collaborating with Ontario Health and local public health units to eventually deploy the tests across the province. The government did not say how long it will take for the rapid tests to be deployed across the whole province.
Meanwhile, the Panbio rapid tests will support a screening program for long-term care homes and other workplaces.
The government says the Panbio tests have already been deployed to six long-term care operators for potential roll out to more than 30 long-term care homes, 27 retirement homes, eight hospitals and 11 industry partners, including Ontario Power Generation, Air Canada and Magna.
The Panbio rapid tests will also be used in an eight-week pilot for participating employers in the private, public and non-profit sectors.
"This pilot program is an important opportunity to learn about the value of antigen screening for asymptomatic workers in a range of workplace settings, and will inform future decisions about safely and fully reopening the economy," Elliott said.
The deployment of rapid tests comes as the province reported 1,009 new COVID-19 tests on Tuesday. But the Ministry of Health says the new infections reported today are an underestimate and the 1,589 cases reported on Monday are an overestimate due to technical issues with data collection.
When averaging out new infections reported over the last two days, Ontario saw 1,299 cases on both Monday and Tuesday. The rolling seven-day average of new cases is now 1,395, down from 1,421 a week ago.
The government did not say if it has plans to roll out rapid tests to schools across the province even though cases continue to climb in school and child care settings.
On Tuesday, public health officials reported 270 new cases of the virus in Ontario schools. However, a spokesperson for the minister of education said the latest data is "a reflection of over three days of data and includes any cases identified in schools on Friday from 2 p.m., Saturday, Sunday and Monday until 2 p.m." It also includes cases from some boards that did not report to the ministry on Friday due to a P.D. day.
On Monday, more than 37,400 tests were completed by provincial health officials, with an average of 32,285 tests processed on both Monday and Tuesday, well below the province's goal of 50,000 tests per day.
Ford differentiates between Ontarians holding private gatherings and establishments defying COVID-19 rules – CBC.ca
Premier Doug Ford drew a distinction between Ontarians flouting public health measures through private gatherings and establishments that openly defy the province's COVID-19 rules Tuesday.
The remarks came in response to questions about at Toronto barbeque restaurant owner publicly vowing to keep his doors open amid the province's lockdown for the city.
"They have to follow the rules. There can't be rules for one group and not another," he said at a news conference Tuesday, less forcefully than in other instances where the premier has come out swinging against people throwing large parties or weddings, for example.
"When it comes to private parties, that's a different ball of wax," Ford said. "I'm not going to get up here and start pounding the small business owner when the guy's holding on by his finger nails. I differentiate between someone at home being reckless and having 100 people over and partying and renting a public storage place … that's reckless.
"I don't condone that he opened up but I feel terrible. My heart breaks for these guys … these business-owners, believe me. "But please, in saying all that, you've got to follow the protocols and guidelines."
WATCH | Ford comments on Toronto BBQ restaurant vowing to stay open during COVID-19 lockdown:
Ontario Premier Doug Ford says the owner of a Toronto BBQ restaurant who opened for indoor dining in violation of provincial lockdown orders should follow the rules, and he says his 'heart breaks' for small business. 1:12
Rapid testing begins, auditor general set to release report
The province also announced Tuesday that it has begun deploying rapid testing in long-term care homes, rural and remote areas — something the premier called a "gamechanger."
The rapid tests, which can produce results in minutes rather than days, have been sent to 36 long-term care homes and 27 retirement homes, as well as some hospitals.
Ford said the province will continue to deploy the 98,000 ID Now tests and 1.2 million Panbio tests it has received from the federal government in the coming weeks.Health Minister Christine Elliott says another 1.5 million Panbio tests are expected to arrive in Ontario next month.
The announcement comes as a data error resulted in an artificially low daily total of 1,009 new COVID-19 cases on Tuesday.
It also comes just one day before the province's auditor general is set to issue a three-part report on the province's pandemic emergency preparedness and its response to COVID-19, including lab testing, case management and contact tracing.
A spokesperson for Health Minister Christine Elliott said that yesterday's figure of 1,589 cases (which appeared to be a record high) inadvertently included eight-and-a-half extra hours worth of data from Nov. 22, meaning the total count was inflated. Today's number adjusts for the mistake.
The new cases include 497 in Toronto, 175 in Peel Region and 118 in York Region. The seven-day average now sits at 1,395.
Other public health units that saw double-digit increases were:
Waterloo Region: 40
Windsor: 31
Simcoe Muskoka: 25
Ottawa: 19
Niagara Region: 19
Durham Region: 16
Wellington-Dufferin-Guelph: 16
Hamilton: 10
Thunder Bay: 14
[Note: All of the figures used in this story are found on the Ministry of Health's COVID-19 dashboard or in its Daily Epidemiologic Summary. The number of cases for any region may differ from what is reported by the local public health unit, because local units report figures at different times.]
Testing falls to about half of capacity
Today's additional cases include 270 that are school-related: 223 students and 47 staff. The Ministry of Education said in a statement that the figure is not a one-day increase. Rather it reflects cases identified in schools from 2 p.m. last Friday to 2 p.m. yesterday, and also some others that were not reported Friday because of professional learning days in some boards, including the Toronto public and Catholic boards.
There are currently 703 publicly-funded schools in Ontario, or about 14.6 per cent, with at least one reported instance of COVID-19. Four schools are closed due to the illness, including one in Windsor with 39 cases, the largest school-related outbreak in the province.
There are now 12,917 confirmed, active cases of the illness provincewide, a slight drop from yesterday as 1,082 cases were marked resolved today.
The further infections in today's update come as Ontario's network of labs processed just 27,053 test samples for the novel coronavirus, and added 29,316 to the queue to be completed. There is currently capacity in the system for up to 50,000 tests daily. Meanwhile, the province reported a test positivity rate of 5.8 per cent.
The official COVID-19 death toll grew by 14, up to 3,519. So far this month, 374 people with COVID-19 have died in Ontario.
Hospitalizations of people with COVID-19 also jumped, up 27 to 534. Of those, 159 are being treated in intensive care and 91 with ventilators. Public health officials have identified 150 patients in ICUs as the threshold for when unrelated surgeries and procedures are likely to be postponed because of burdens on the hospital system.
Meanwhile, a group of engineers, physicians and other professionals issued an open letter to the province Tuesday, calling for updated COVID-19 guidelines that emphasize the importance of ventilation when it comes to curbing the risk of spreading the virus
'With winter approaching, our activities are moving indoors and it is therefore imperative that public institutions, workplaces and individuals understand the risk of aerosol transmission as well as the actions that can be taken to combat it," the letter says.
Backed by 36 professionals, it also calls on the province to mandate and fund ventilation assessments and upgrades of settings like schools and long-term care homes, establishing ventilation standards for reopening, among other measures.