COMMENTARY: How Pfizer's and Moderna's mRNA-based COVID-19 vaccines work – Global News
The COVID-19 pandemic has driven a massive allocation of resources toward producing solutions, from identifying life-saving medications, tracking how the virus spreads and ultimately to preventing infection with vaccines.
As a physician scientist, I study how the virus has evolved over the pandemic, since any changes in the virus could also change the effectiveness of current treatments. On Nov. 9, Pfizer announced preliminary trial results showing that a vaccine it developed with BioNTech was about 90 per cent effective. That was followed up nine days later with final trial results and two months of safety data, indicating a 95 per cent effectiveness rate.
READ MORE: Pfizer applies for emergency coronavirus vaccine approval in U.S.
Pfizer announced on Nov. 18 that it intends to file for emergency authorization with the U.S. Food and Drug Administration.
Meanwhile, on Nov. 16, Moderna announced preliminary results for its own vaccine, developed with the U.S. National Institutes of Health, which also indicated effectiveness of about 95 per cent.
This is good news, but we need to understand what it means so life can ultimately go back to normal.
DNA, messenger RNA and proteins
Both Pfizer's and Moderna's vaccines are mRNA-based. In each of our cells, DNA produces messenger RNA (mRNA) containing the templates for making proteins. It's called messenger RNA because it carries that information to other parts of the cell, where the instructions are read and followed to produce specific proteins.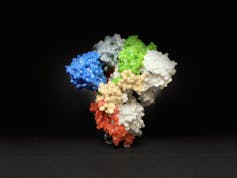 When a patient is injected with mRNA in a vaccine, their cells use the information in that mRNA to create a protein: in this case, a version of the spike protein from the coronavirus that causes COVID-19. The immune system recognizes that protein as a signal to produce antibodies and immune cells.
An mRNA vaccine has some advantages for mass vaccination. It can produce robust immunity, can be made rapidly at low cost, and, like inactivated and subunit vaccines, it is impossible for it to cause someone to develop the illness.
Building immunity
This vaccine has the potential to protect many people from this devastating virus. When it is said that a vaccine is 90 per cent effective, this means that if 100 people received the vaccine and were then exposed to the virus, 90 would be unlikely to get sick. While 10 would be at risk of still developing the infection, protection from vaccines is not all-or-nothing. These 10 individuals could have milder disease than someone who did not receive the vaccine.

1:08


Coronavirus: Pfizer applied for Health Canada approval of its vaccine, pending "rolling review" process



It takes time for immune systems to prepare to fight infections. Think of building immunity to SARS-CoV-2, the virus that causes COVID-19, as like preparing to run a marathon. First, the runner must register, just as the immune system must be exposed to the infectious agent. Then, they need to build stamina. For the immune system, this means making antibodies and immune cells. Finally, they run the marathon: the bolstered immune system now removes the infectious agent from the body, or prevents it from doing further damage.
In both the Pfizer and Moderna clinical trials, subjects received the vaccine in two doses, three or four weeks apart, respectively. That's about how much time it takes for the stimulated immune system to produce meaningful protection. A booster vaccine was given to produce even more antibodies and immune cells. In terms of the marathon example, this is like doing a practice marathon around three weeks into training. The runner will do better than they would have on day one, but more training is likely still needed. The booster vaccine provides that extra training.
The beginning of the end
Should we expect the pandemic to be over once a vaccine is available for public use? Not exactly. A vaccine will not be perfect, and it takes time for the immune system to be ready to protect us.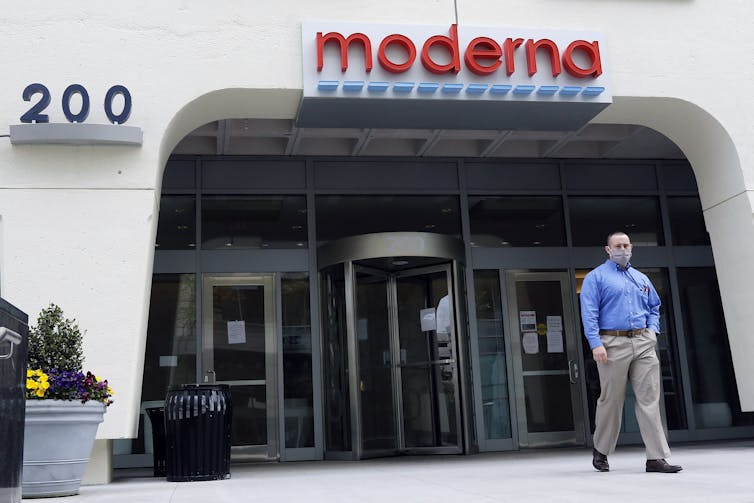 In addition, it is possible that the vaccines will be less effective than cited. Clinical trials are carefully set up, but it is possible that the virus will have evolved enough since the vaccines were designed so they will provide less benefit. It will also take time for enough vaccine to be made and administered for the population to achieve herd immunity.
Masks and social distancing will still most likely be necessary throughout 2021 because it takes time to accomplish such large-scale projects. We cannot expect herd immunity from our neighbours getting sick to get the world back to normal, even while neighbours are receiving vaccines. The human cost is unacceptable and the virus is too infectious for this to produce meaningful results unless 67 per cent of the population is infected, with a lot of people dying up to that point and afterwards.
We are in a scary time but have reason to have hope. The news of the Pfizer and Moderna vaccines is good news and could potentially bring the world back to something more normal. We must not forget that it will take time and all of us working together. Masks and social distancing are our reality right now, and will remain so until at least next year. We must persevere with these measures, even when we find them frustrating. There is a light at the end of the tunnel and we can all reach it if we work together.

Julian Daniel Sunday Willett, PhD Student, quantitative life sciences, McGill University
This article is republished from The Conversation under a Creative Commons licence. Read the original article.
7 Reasons Why America Loves Doing Business with Canada
Canada is one of the United States' most important trading partners. According to the United States Census Bureau, Bureau of Economic Analysis, the US exports over $300B worth of goods and services to Canada annually. It also imports over $300B worth of goods and services from the country every year.
In fact, the trade relationship between the two North American countries is the biggest in the world. The two nations have traded for over 100 years. And a strong trade relationship is prosperous for both countries.
So, what makes Canada such an excellent trading partner for the United States? Here are a few good reasons:
1. Geographical Location
Canada shares a large border with the United States. Trading with Canada is easy by road, boat, or air. Most of the economic hotspots in Canada like Toronto, Vancouver, and Calgary are just a short flight away from an American city.
2. Manufacturing Strengths
Canada has some exceptional exports thanks to its vast manufacturing strengths. Here are a few of its two products:
Non-renewable Energy: Canada's non-renewable energy exports like oil and gas are a significant part of its economy. Although falling gas prices have impacted this sector, Canada continues to depend on its gas and oil exports.
Composite Manufacturing: You'll find plenty of world-class options if you're looking for advanced composite manufacturing in Canada regardless of your industry. The Canadian composite manufacturing industry serves many national and international clients in sectors such as defence, transportation, marine, aerospace, medical, industrial, energy, home appliances, construction, and more.
Vehicle: Canada has a renowned automotive sector, producing light trucks, crossovers, SUVs, etc., with its technologically advanced factories. 95% of Canada's automotive exports go to the United States.
Aluminum: The Great White North produces some of the best quality aluminum in the world. The United States happens to be Canada's biggest importer of aluminum.
Meat and Dairy: Canada produces meat, beef, poultry, and dairy known for its quality. Unlike some countries, Canada doesn't use harmful hormones in its meat industry.
3. Good Tax Treaties
Canada has many provisions that make business favourable for American companies. For example, a non-resident corporation that does not otherwise have a permanent establishment (PE) in Canada may do business without paying income tax on its profits. Canada also offers favourable corporate taxes, especially compared to the United States.
Aside from federal incentives, many provinces offer provincial incentives to do business in Canada. For example, many American films and TV shows are shot in Toronto because of lucrative tax enticements.
4. Favourable Exchange Rates
Not only is the Canadian dollar stable, but it usually hovers 20% lower than the United States. The favourable exchange rate makes it cost-effective for the United States to import goods and services from Canada.
However, the exchange rate isn't so low that it discourages Canadians from travelling to the United States or buying American products. Many economists consider the exchange rate to be in the sweet spot.
5. Similar Culture
Canada speaks the same language, eats the same food, plays the same sports, and consumes the same entertainment. A similar coculture without language barriers makes it easier for Americans to do business with Canada.
Of course, there are some parts of Canada where French is the most popular language. Likewise, Spanish is more prevalent in certain places in the United States. However, these issues are easily overcome with business cards, translators, and technology.
6. Prominent Tech Industry
Many American technology companies are doing business with Canada because of the country's prominence on the tech stage. For example, Toronto produces more tech occupations than the Bay Area, New York, and even Silicon Valley.
Toronto also has over 2,000 startups and over 14,000 tech companies. In the MaRS Center, Canada also has one of the world's largest innovation hubs. Canada is also the first nation in the world to develop a national AI strategy. There are over 500 international AI firms in the country. The world's biggest concentration of AI startups is in Canada.
Besides the national AI strategy, there is plenty of other support for tech development in the country that's attractive to the United States. Canada invested $900m in high-tech innovation and funded startup incubators in 2015.
Additionally, Canada offers many tax breaks to companies for research and development. It also provides special visa programs for investors and entrepreneurs in the tech industry.
7. Qualified Labour Pool
Canada has the second-highest tertiary education levels worldwide for people between the ages of 25 and 34, according to the Organisation for Economic Co-operation and Development (OECD). Canada's highly skilled workforce stands at nearly 1.5 million people. Canada's tech talent is also ranked highly for diversity.
These are just some of the many reasons why the United States enjoys doing business with Canada. Even with the economic climate changing, you can expect the partnership between the two countries to stand the test of time.
10 Ways to Make Your LinkedIn Profile Stand Out in 2021 – Part 2
Last week I provided 5 suggestions on how you can make your LinkedIn profile, which in 2021 is a non-negotiable must-have for job seekers, to stand out. The suggestions were:
Add a headshot
Create an eye-catching headline
Craft an interesting summary
Highlight your experience
Use visual media
I'll continue with my next 5 suggestions:
Customize your URL
Your LinkedIn URL (Uniform Resource Locator) is the web address for your profile. The default URL will have your name and some random numbers and letters (https://www.linkedin.com/in/nick-kossovan-647e3b49). Customizing your profile URL (https://www.linkedin.com/in/nickkossovan/) makes your profile search engine friendly; therefore, you're easier to find. As well a customized URL invites the person searching to make some positive assumptions about you:
You're detail oriented.
You're technologically savvy.
You understand the power of perception (Image is everything!).
James Wooden, one of the most revered coaches in the history of sports, is to have said, "It's the little details that are vital. Little things make big things happen."
To change your profile URL, go to the right side of your profile. There you'll find an option to edit your URL. Use this option to make your URL concise and neat.
Make connections
The more connections you have increases the likelihood of being found when hiring managers and recruiters, looking for potential candidates with your background, search on LinkedIn. Envision your number of connections as 'the amount of gas in your tank.'
At the very least, you should aim to get over 500 connections. Anything below 500 LinkedIn will indicate your number of connections as an exact number (ex. 368). Above 500 connections, LinkedIn simply shows you have 500+ connections. Getting to 500 implies you're a player on LinkedIn.
As much as possible, connect with individuals you know personally, have worked with, met in a professional capacity (tradeshow, conference), is in your city/region and industry/profession. If you'd like to connect with someone you haven't met, send a note with your request explaining who you are and why you'd like to connect. (This'll be my topic in next week's column.)
Ask for recommendations and skill endorsements
This is vital to making your profile stand out! Employers want to know that others think of your work.
When asking for a recommendation, or skill endorsements, think of all the people you've worked the past. Don't just think of your past bosses; also think of colleagues, vendors, customers — anyone who can vouch for your work and professionalism.
Instructions on how to ask for, and give, a recommendation, can be found by going to the LinkedIn 'Help' field (Located by clicking on the drop-down arrow below the 'Me' icon in the upper right-hand corner.) and typing 'Requesting a recommendation.' Do the same for skill endorsements.
TIP: It's good karma to write recommendations, and endorse skills, in return and to give unsolicited.
Keep your profile active
LinkedIn is not simply an online resume — it's a networking social media site. To get the most out of LinkedIn, you need to be constantly active (at least 3 times per week). Write posts and articles. Check out what is being posted, especially by your connections. Like and share posts that resonate with you. Engage with thoughtful comments that'll put forward your expertise.
Join groups that align with your industry and professional interests. Groups are an excellent way to meet like-minded professionals with whom to network and share ideas and best practices.
Check your LinkedIn profile strength
It's in LinkedIn's interest that you're successful using their platform. Therefore, they've created a 'Profile Strength Meter' to gauge how robust your profile is. Basically, this gauge tells you completion level of your profile. Using the tips, you'll be given, keep adding to your profile until your gauge rates you "All-Star." For instructions on how to access your 'Profile Strength Meter,' use the LinkedIn' Help' field.
The 10 tips I offered is a starting point for building a LinkedIn profile that WOWs! Jobseekers need to make the most of their profile to stand out in a sea of candidates, sell their skills, and validate their accomplishments. Make it easy for the reader to get a feel for who you are professionally.
_________________________________________________
Nick Kossovan, a well-seasoned veteran of the corporate landscape, offers advice on searching for a job. You can send him your questions at artoffindingwork@gmail.com.
Canadian National beats Canadian Pacific with $33.6 billion Kansas City bid
U.S. railway operator Kansas City Southern said on Thursday that it had accepted Canadian National Railway Co's $33.6 billion acquisition offer, upending a $29 billion deal with its competitor Canadian Pacific Railway Ltd.
The development, first reported by Reuters, gives Canadian Pacific five business days to make a new offer for Kansas City Southern. Were Canadian Pacific to table a new offer, a bidding war could ensue.
Canadian Pacific had previously announced a deal to buy Kansas City Southern on March 21, before Canadian National said it had submitted a higher bid on April 20. The headline price in Canadian National's cash-and-stock bid remains $325 per share as originally announced, though the company offered more of its shares to compensate for a decline in its stock price.
Canadian National has offered to cover the $700 million break-up fee Kansas City Southern will owe Canadian Pacific Railway Ltd. It will also pay Kansas City Southern $1 billion if the U.S. Surface Transportation Board (STB) rejects a voting trust structure it has put forward to complete the deal.
"We believe that Canadian Pacific's negotiated agreement with Kansas City is the only true end-to-end Class I combination that is in the best interests of North American shippers and communities," a Canadian Pacific spokeswoman said.
Canadian Pacific and larger rival Canadian National are in a race to take over the U.S. railroad operator, which would create the first direct railway linking Canada, the United States, and Mexico.
Either of them acquiring Kansas City Southern would create a North American railway spanning the United States, Mexico and Canada, as supply chains recover from COVID-19 pandemic-led disruptions.
The acquisition interest in Kansas City Southern also follows the ratification of the U.S.-Mexico-Canada Agreement last year that removed the threat of trade tensions, which had escalated under former U.S. President Donald Trump.
The STB last week approved the voting trust for Canadian Pacific's proposed acquisition. Canadian National has offered an identical arrangement.
(Reporting by Sanjana Shivdas in Bengaluru; Editing by Shailesh Kuber, Aurora Ellis and Richard Chang)