'Damage Is Done': Stock Market Likely Set For Another Plunge As Economic Warning Signs Abound, JPMorgan Cautions – Forbes
Topline
Despite growing hopes the U.S. may ultimately avoid an anxiously anticipated recession, JPMorgan economists are warning clients that a flurry of indicators are still flashing increasingly eerie warning signs—making it likely the economy and stocks may waver in the coming months, particularly since the effects of the Federal Reserve's rate hikes could take years to ripple through markets.
Key Facts
"Signals are pointing to trouble ahead," JPMorgan analysts led by Mislav Matejka wrote in a Monday note, positing a slew of warning signs that indicate the latest stock market rally should continue to fade before the end of March and that this quarter could "possibly" mark the stock market's high for the year.
For one, the yield curve has remained "heavily inverted"—an occurrence that has preceded every U.S. recession over the past 50 years—despite growing optimism the U.S. could skirt an economic downturn; the curve is the most inverted it's been since the 1980s, and JPMorgan cautions, "We have never escaped a recession from this point."
Additionally, the U.S. money supply, which measures safe assets households and businesses can use to make payments, has fallen abruptly since March and is negative on a yearly basis for the first time since 2006, all while banks have started enforcing stricter lending standards—leading to a sharp decline in credit demand that's been typical ahead of past recessions.
"The damage is done, and the fallout is likely still ahead of us," the analysts write, cautioning that the Fed's aggressive interest rate hikes over the past year could take up to two years to ripple across the economy.
Already, mortgage payments as a share of income have doubled from 13% to 26% and the savings rate has plummeted to almost zero, but Matejka notes the Fed is still expected to hike rates at least two more times this year, and stocks have never hit a cyclical low before the Fed has stopped hiking.
Despite lingering bearishness, others remain much more upbeat: Last week, Goldman economists led by Jan Hatzius pinned the odds of a recession at just 25% (well below average projections of 65%), reflecting "continued strength in the labor market" after a blockbuster jobs report and early signs that businesses are becoming more optimistic about the economy.
What To Watch For
The Fed is slated to release a summary of its latest meeting on Wednesday—giving a glimpse into how officials are thinking about the economy as they continue their most aggressive tightening campaign in decades. Last week, Cleveland Fed President Loretta Mester admitted she saw a "compelling" case for a second half-point rate hike earlier this month, rather than the more modest quarter-point hike ultimately authorized. Though she welcomed the moderation in inflation readings since last summer, she cautioned, "the level of inflation matters, and it is still too high."
Key Background
Amid record consumer spending and crippling supply-chain constraints, inflation skyrocketed to a 40-year high of 9.1% in June—forcing the Fed to drive up interest rates in order to help temper consumer demand and ease rising prices. With the central bank's rate hikes slowing down the economy, many experts have argued the Fed could be risking an unnecessary recession, but increasingly, others have warned inflation could remain at historically high levels for longer than expected or even flare up again. "Markets are admitting the Fed may not be close to done," Sevens Report strategist Tom Essaye wrote in a Tuesday note, as stocks sank following worse-than-expected retail earnings.
What We Don't Know
Though it's unclear when the Fed will stop raising rates, analysts at Goldman and Bank of America added another rate hike to their forecasts after a hotter-than-expected inflation reading last week. They now expect the central bank will raise rates to a top level of 5.5%, potentially hitting the highest level in more than 20 years.
Further Reading
Dow Sinks 400 Points As Retail Rut Eats Into 2023's 'FOMO' Rally (Forbes)
Fed Official Warns Hot Inflation Data Serves As 'Cautionary Tale' (Forbes)
Euro-Area Economy Strengthens More on Service-Sector Surge – Financial Post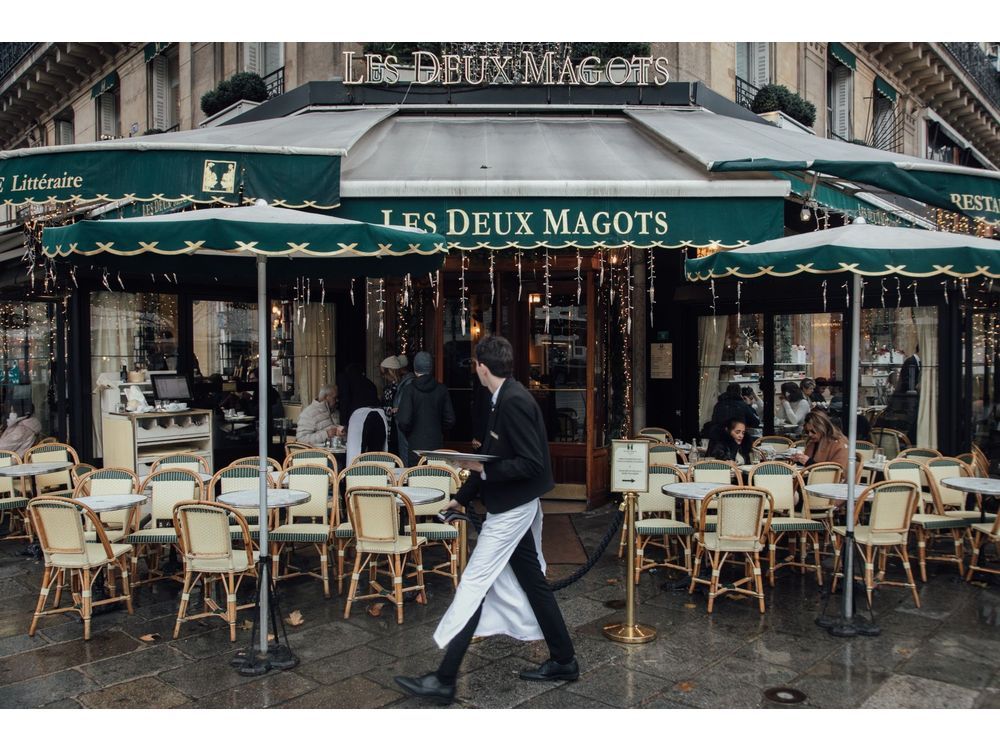 Article content
(Bloomberg) — Euro-zone economic growth continued to pick up in March, driven exclusively by the service sector as concerns over energy supplies recede.
Article content
The overall rate of expansion rose to the highest level in 10 months, according to business surveys by S&P Global. Manufacturing output broadly stagnated, however, only supported by a backlog of orders as demand continued to fall.
Article content
"Growth has been buoyed since the lows of late last year as recession fears and energy market worries fade, inflation pressures ease and the unprecedented supply chain delays seen during the pandemic are replaced with record improvements to supplier delivery times," said Chris Williamson, an economist at S&P Global.
Sentiment in Europe has been improving as it became clear that the region would avoid worst-case scenarios for access to natural gas predicted after Russia cut off supplies to the bloc. Recent turmoil in the banking sector has cast some doubt on how the global economy will develop, though European officials have sounded confident that the sector can withstand any fallout.
Article content
While activity improved in both Germany and France, the strongest performance came in the rest of the 20-nation euro area.
What Bloomberg Economic Says…
"The euro-area composite PMI survey for March suggests the economy is beginning to emerge from a period of stagnation and holding up well under the weight of higher interest rates. While monetary policy works with long and variable lags and choppy waters may still lie ahead, the resilience of the economy should allow the hawks at the European Central Bank to succeed in pushing for more interest rate increases"
—David Powell, economist. For full analysis, click here
Inflation is still running far above the European Central Bank's 2% target, however, with underlying data becoming the key focus for policymakers. While price gains continued to moderate in March, they remain elevated by historical standards, according to S&P Global.
Article content
"Such stubborn inflationary pressures, fueled primarily by the service sector and rising wage costs, will be a concern to policymakers and suggests that more work may be needed in terms of bringing inflation down to target," Williamson said.
The jobs market also remained resilient. Employment growth reached a nine-month high, with acceleration seen especially in services in line with rising demand.
Firms' confidence in the business outlook dipped, though it remained well above levels seen in late 2022. That could be linked to concerns over uncertainty caused by banking-sector stress and the impact of further increases in interest rates, S&P Global said.
The composite PMI reading for the UK edged lower to 52.2 in March from 53.1 the previous month, suggesting the economy has avoided a recession for now. British companies are the most confident they've been since the start of Russia's invasion of Ukraine.
Data earlier revealed activity in Japan's services sector edged up to the strongest in almost a decade as the return of Chinese tourists boosted demand. The US number due later on Friday is expected to be below 50.
—With assistance from Mark Evans, Joel Rinneby, Tom Rees and Zoe Schneeweiss.
(Updates with UK PMI data in 10th paragraph.)
Economy headed into a 'Bermuda Triangle' financial crisis: Nouriel Roubini
The economy is headed into a "Bermuda Triangle" of risk, economist Nouriel Roubini warned.
Roubini pointed to three stressors facing the US economy.
He sounded the alarm for a stagflationary debt crisis and a severe recession to hit the US.
In a recent interview on the McKinsey Global Institute's "Forward Thinking" podcast, the top economist warned that the economy was risking another financial crisis as central bankers continue to tighten monetary policy.
Federal Reserve officials raised interest rates another 25 basis-points this week, and have hiked rates 475 basis-points over the last year to control inflation. That marks one of the most aggressive Fed tightening cycles in history, and could place the economy under three different kinds of stress, Roubini warned.
First, high interest rates could easily overtighten the economy into a recession, experts say, which reduces income for households and corporations.
Second, high interest rates means firms are battling higher costs of borrowing and waning liquidity, which weighs on asset prices. Last year, US stocks plunged 20% amid the Fed's rate hikes, with warnings from other market commentators of an even steeper crash in equities this year.
Finally, high interest rates are pressuring the mountain of debt, both private and public, that was amassed during the years of low rates, Roubini said. He pointed to bankrupt "zombies", which include households, corporations, and governments.
"It's got like, a Bermuda Triangle. You have a hit to your income, to your asset values, and then to the burden of financing your liabilities. And then you end up in a situation of distress if you're a highly leveraged household or business firm. And when many of them are having these problems, then you have a systemic household debt crisis like [2008]," he warned.
Roubini, one of the experts who called the 2008 subprime mortgage crisis, has repeatedly sounded the alarm for another crisis to strike the US economy. The scenario he envisions combines the worst aspects of 70s-style stagflation with something like the 2008 crisis, with  a severe recession, stubborn inflation, and mounting debt levels bludgeoning economic growth.
He and other top economists have criticized the Fed's aggressive rate hiking regime over the last year, and some experts have called central bankers to stop raising interest rates entirely out of fear of "breaking" something in the financial system.
Signs of stress are mounting, the most recent being the failure of Silicon Valley Bank. But pausing interest rates could panic investors and lead to a resurgence of inflation, meaning central bankers are powerless no matter what they do with rates, Roubini has said previously.
Cuba's new parliament will face a familiar economic hangover
For Jose Guerra Ferrer, a Havana-based industrial engineer, "the economic situation in Cuba is bad". "I hope it can be addressed by the new parliament," he says, with reference to national assembly elections this weekend.
In recent years, Cuba's parliament has implemented gradual policy adjustments to try and ease economic constraints and that is Guerra Ferrer's hope with the country's upcoming elections.
The country's highest political body is assembled through committees such as trade unions and student organisations. Once candidates, most of whom are members of the Communist Party of Cuba, or PCC, are nominated, they can confirm their choice for president.
That is certain to be the incumbent, Manuel Diaz-Canel, who took over from Raul Castro in 2018. The following year, in 2019, Diaz-Canel, a PCC stalwart, adopted a new constitution. Amid growing political dissatisfaction, it was designed to modernise Cuba's entrenched state apparatus.
Voter absenteeism has become a feature of recent elections in Cuba. Turnout for the November 2022 municipal elections, for instance, fell below 70 percent for the first time, indicating disengagement in a political system that depends on public support.
Decades of sanctions
After US-backed leader Fugencio Batista was toppled in 1959, Cuba became a one-party-state led by Fidel Castro and his successors. Since then, the PCC has defied expectations by surviving decades of economic isolation and the disintegration of the Soviet Union, a key ally.
Since the early 1960s, the cornerstone of US foreign policy towards Cuba has been a controversial trade embargo, among other restrictions. Then, in 2015, the Obama administration began normalising relations with Cuba, including a shift away from sanctions.
By contrast, Donald Trump reintroduced old measures and added new ones as well. He barred US tourism and limited the amount of money Cuban Americans could send to their relatives (some remittance restrictions have been eased under President Joe Biden).
"The truth about sanctions is that repercussions are multilayered," says Guillaume Long, Ecuador's former minister of foreign affairs. "Governments are prevented from following standard protocols, which undermines state-building capacity."
He stressed that "there is no doubt that Cuba's economy has suffered under US sanctions". The country also experienced a painful adjustment after the collapse of the Soviet Union in 1991. Up to that point, the USSR supplied 90 percent of Cuba's petroleum needs and 70 percent of all other imports, including food and medicine, mostly at subsidised prices.
Between 1989 and 1994, Cuban trade with the former Soviet Union plummeted by 89 percent. While domestic production was squeezed, the government consolidated its control over the economy. Large public enterprises have survived through privileged access to credit and foreign currency.
Today, Cuba's economy remains undiversified and commodity-dependent. Tobacco and sugar account for roughly 30 percent of foreign exchange earnings. Cuba also exports healthcare services by sending physicians and nurses to Brazil and Venezuela. Tourism, meanwhile, represents an important source of revenue.
Elsewhere, the PCC has succeeded in establishing reputable education and healthcare systems. Not only is Cuba's life expectancy higher than the United States', it is also the smallest country in the world to have successfully developed a vaccine against COVID-19.
Recent setbacks
Due to the outsized role of tourism in Cuba's economy, COVID-19 dealt the island a body blow. Tourist arrivals fell dramatically during the pandemic, from four million in 2019 to just 356,000 in 2021, Bloomberg News reported. Foreign currency inflows slowed significantly.
To cope with falling international reserves, the PCC was forced to unify Cuba's dual exchange rate system in January 2021. This involved devaluing the Cuban peso (CUP), which had been set at parity with the US dollar for decades, to the then unofficial rate of 24 pesos per greenback.
However, the new rate was "overvalued" according to Alberto Gabrielle, a senior researcher at Sbilanciamoci, a Rome-based political think tank. "The devaluation did not achieve an equilibrium in Cuba's import-export mix, causing a scarcity of goods and nudging up inflation," he added.
Though difficult to measure, Cuba's official consumer price index rose by 70 percent during 2021. Unofficial estimates showed that inflation increased between 100 percent to 500 percent over the same period. "Queues at supermarkets and pharmacies went from long to longer," said Gabrielle.
Together with a surge in coronavirus cases at the start of 2021, the hit to purchasing power led to a groundswell of social unrest. In July of that year, Cuba witnessed the largest anti-government demonstrations in years.
Though public dissent is forbidden, thousands of protesters took to Cuba's streets, voicing concerns over food supplies and the handling of the pandemic by the authorities. The protests were quickly stamped out, but they did succeed in rattling the regime.
"The government got scared, especially when inflation persisted into 2022," noted Gabrielle. To counter these trends, authorities introduced a second exchange rate for personal transactions in August 2022 at CUP120:$1. This cooled the demand for dollars and eased import price pressures.
At roughly the same time, Cuba was struck by two concurrent shocks. On August 6, the island's main fuel import facility – the Matanzas supertanker – was struck by lightning. Three of its tanks caught fire, triggering electricity blackouts nationwide.
A month later, in September, a powerful storm surge rolled across western Cuba. Hurricane Ian knocked out the national power grid. It also prompted thousands of evacuations and caused extensive physical infrastructure damage, including to tobacco and sugarcane fields.
Gradual opening up
Even before the events of last year, the PCC agreed to expand private sector activity in an effort to boost output and relieve goods shortages. In February 2021, the government agreed to grant private company status for 2,000 listed professions (up from 127 previously), facilitating partnerships with foreign investors and limiting state control over commercial activities.
While a new law granting equal commercial rights for private companies and state firms has yet to be agreed upon, the government is hoping that piecemeal reforms will stimulate growth.
"Heterodox policies will be maintained, but a gradual opening will probably be the direction of travel for the new parliament," said Guillaume Long.
Until then, large numbers of Cubans are expected to try and leave the country. A record 220,000 Cubans were caught at the US-Mexico border in the fiscal year 2022, which ended on September 30, Reuters news agency reported. In December 2022 and January 2023, US Customs and Border Protection reported nearly 50,000 encounters with Cuban migrants.
The experience of Guerra Ferrer, the engineer, is not uncommon, "I have many friends who've emigrated. My son may also leave to help my wife and I once we retire."