Ethnic media provides added perspectives on "Freedom Convoy" – New Canadian Media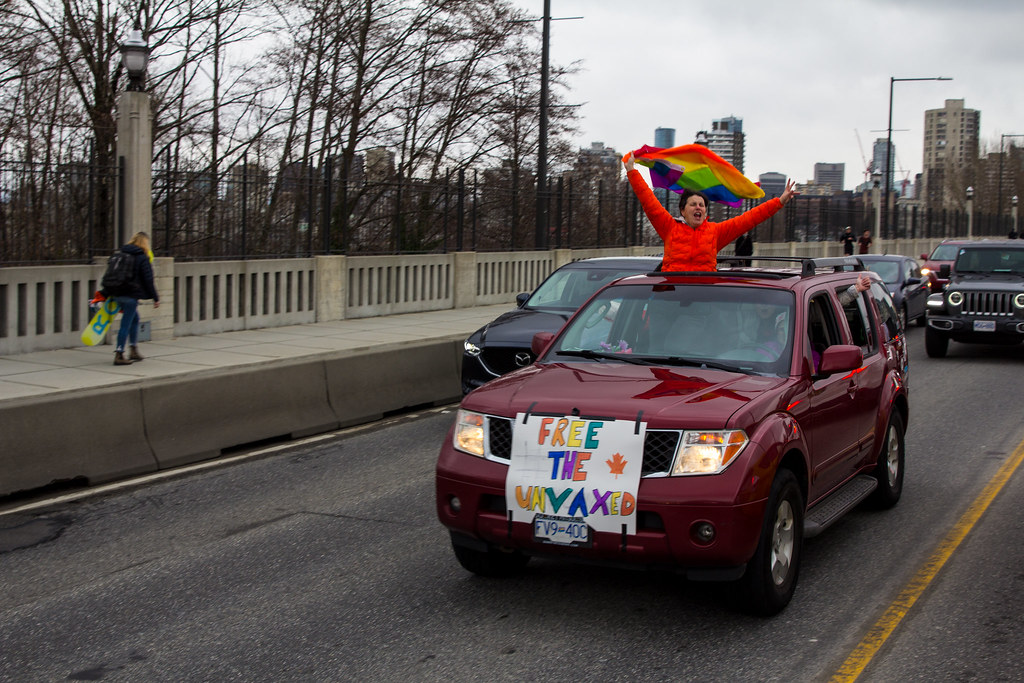 Over the last week, from Feb 3. to 10, various ethnic media outlets offered a wider range of perspectives on three hot-button issues that have dominated mainstream headlines.
From the so-called Freedom Convoy, to Erin O'Toole's ousting as leader of the Conservative Party, to the Black History Month, ethnic media provided coverage that went beyond the usual suspects interviewed by the mainstream.
By elevating different cultural perspectives, opinions and narratives, ethnic media was able to provide coverage that offers a fuller understanding of the issues at play. NCM has worked with Mirems to bring readers these added perspectives.
Polarizing 'Freedom Convoy'
The top story in both the mainstream and the ethnic media was the 'Freedom Convoy' protesting against vaccine mandates and pandemic restrictions in Ottawa and provincial capitals as well as land border crossings to the U.S. The Romanian paper Faptu Divers, for example, supported the convoy in multiple articles and likened Prime Minister Justin Trudeau to former Romanian dictator Nicolae Ceausescu for curtailing people's freedoms, while the Polish paper Goniec reported that that community provided food for the protesters. The Polish Gazeta, on the other hand, focused on the harassment, racism and misbehaviour of the protesters.
Both the Russian Vancouverovka and Russian Week highlighted comments by CBC host Nil Köksal suggesting that Russian actors are behind the protests because of Canada's support for Ukraine.
Multiple features on OMNI TV News Filipino focused on the impact the protests had on members of the Filipino community, who reported being afraid to leave their homes because of the harassment from protesters.
A feature on OMNI TV Italian focused on the racist messaging at the protests and online. G 98.7 FM radio featured responses from the Black parliamentary caucus to the public display of hate symbols, including the Confederate flag as a symbol for slavery.
Punjabi media focused on Punjabi truckers, who make up about a quarter of all Canadian truckers, and the hardships of the industry. OMNI News Punjabi featured some Punjabis among the protesters, who emphasized that they are against the mandates, not the vaccine, and object to protesters being silenced and insulted as extremists.
Several other features on OMNI Punjabi focused on Punjabi truckers who are stuck on the U.S. side of the Canadian border by Coutts, Alberta and by Windsor, Ontario. These truckers had to reportedly live in their trucks for days without access to food or medical supplies and were unable to do their jobs, deliver their goods and attend to personal commitments back home. Several other features highlighted that the Punjabi truckers have other priorities.
According to ethnic media reports, most Punjabi truckers are vaccinated, as vaccine coverage in the Punjabi community is high. Their priorities are around road safety, snow clearance, road maintenance, as well as working conditions and wage theft.
In fact, the West Coast Trucking Association organized a separate protest in January to demand better road maintenance on B.C. highways, which has not been mentioned by anyone taking part at the 'Freedom Convoy.' One trucker started an online fundraiser to "Support Canada's real struggling truckers," which had raised $7,866 as of Feb. 9, according to OMNI Punjabi.
Chinese media on O'Toole's ousting
Another top story was the Conservative leadership race.
Coverage reflected the vote to oust Erin O'Toole, the selection of dice Bergen as interim leader, the candidacy of Pierre Poilievre, and speculations around other potential candidates such as Premier Doug Ford, Mayor Patrick Brown, Peter MacKay and Jean Charest.
However, the race took a particular spin in the Chinese media, where it was coloured by perceptions of the Conservative party's hostility towards China. Erin O'Toole was perceived to be extremely anti-China, which may have lost the Conservatives several constituencies with a significant Chinese population in the last election, as Ming Pao Toronto reported on Feb. 3.
Reports reflect that Chinese media were relieved and delighted at O'Toole's ousting, because having him as prime minister would, in their view, further increase discrimination and hate against the Chinese diaspora, according to reports from Van People.
And according to a report on Sing Tao Vancouver, Lin Wen, co-founder of the Canadian Chinese Political Affairs Council, figured that no matter who the new Conservative leader is, the Conservative Party's China policy will not be changed.
Black History Month beyond the usual
Another topic that has more prominence in the ethnic media than in the mainstream has been Black History Month.
In the mainstream, Black History Month was covered either from a bird's-eye view of its significance, sometimes with reference to event listings, or with a focus on statements by political leaders, from the Prime Minister to local mayors. It also looked at ceremonies like flag-raisings and museum exhibits. Some contributions feature a Black author or a celebrity like Lincoln Alexander.
The ethnic media, on the other hand, were more focused on issues of concern to and activities arising within the Black community.
The radio station G 98.7 FM and OMNI TV reported in depth on the BE-STEMM 2022 virtual conference organized by the Canadian Black Scientists Network. The network has found that there are few Blacks in the areas of science, technology, engineering and mathematics (STEM) because Black students are not encouraged to pursue these areas in school. The network aims to open doors for Black people in Canada and around the world, as G 98.7 FM and OMNI TV Focus Punjabi reported on Feb. 4.
Another talk show on G 98.7 FM was devoted to a discussion on COVID with members of the Black Scientists' Task Force on Vaccine Equity. According to the task force, the Black community is over-exposed to COVID because many cannot work from home, have to commute on public transit, work in customer service or care-giving jobs, and have underlying health conditions putting them at greater risk, such as hypertension, diabetes and asthma.
School disruption was also discussed as something that wreaks more havoc for Black and low-income children's learning than for other groups. At the same time, Blacks are under-vaccinated because they distrust the authorities, information is not communicated to them appropriately, and they are targets of racialized disinformation using specific triggers from their historical experience.
Ethnic media's coattails
Often, ethnic media highlights issues of concern to a community that are either not reflected in the mainstream media or which are only picked up by it after they circulate in the ethnic media for a while.
One such example was a story about the Hindu community in B.C. protesting against a new small business owner who is using an image of Lord Ganesh along with profane language in her logo.
Community members, including about 40 organizations, are gathering signatures to have her stop using either the image or the wording, have approached local MLAs and MPs, held a protest at the Hindu temple, and are looking into legal action and mounting a PR campaign on social media.
They feel this is cultural appropriation, Hinduphobia and racism, and they want a new law to protect Hindu culture. MP Sukh Dhaliwal attended the protest and said Canada is a diverse country and that we should celebrate each other's culture and faith. He was going to approach the Heritage Minister and Prime Minister about this.
The story broke on the indiansinvancouver.ca blog on Jan. 31 and then on the Desibuzz Canada news website on Feb. 4. It was only then that it was picked up by CBC Vancouver on Feb. 6 as a report about the protest at the temple and by the Punjabi station Zee TV on Feb. 8.
This article has been produced in collaboration with Mirems media monitoring, which provided summaries from print, web and broadcast news platforms in a variety of languages.

Black History MonthConservative Partyerin o'tooleethnic mediaFreedom Convoyhinduphobiamainstream mediaracism
Social Media Increasingly Linked With Mass Shootings – Forbes
On Wednesday, authorities in Texas identified Salvador Ramos as the 18-year-old shooter who had opened fire in Robb Elementary School in Uvalde, Texas. Ramos, who had killed at least 19 students and two teachers during his shooting spree on Tuesday, had allegedly posted disturbing images online prior to carrying out the senseless attack.
According to reports, an Instagram account allegedly connected to Ramos featured disturbing photos. That account has since been taken down.
It was just last week that New York's attorney general, Letitia James, announced that her office was investigating social media companies after another mass shooter had used the online platforms to plan, promote and stream a massacre in a Buffalo grocery store that left 10 dead. James said her office would investigate Twitch, 4chan, 8chan and Discord along with other platforms that the shooter used to amplify the attack.
Many are asking if warning signs were missed.
"It is impossible to prevent people from making threats online," explained William V. Pelfrey, Jr., Ph.D., professor in the Wilder School of Government and Public Affairs at Virginia Commonwealth University.
Yet he suggested that social media organizations do have a moral responsibility to identify and remove threatening messaging.
"They are generally abysmal at this task. Direct threats (i.e. I want to shoot the President, I want to kill myself) frequently are flagged and investigated. Indirect threats are much harder to identify and rarely receive any attention," Pelfrey continued. "Many social media companies will need to make decisions – protect individual's rights to make oblique threats or protect safety. Compromising freedom of speech seems abhorrent until we weigh that compromise against the lives lost in Buffalo or the many other places where radicalized violent extremists found their motivation to kill."
The Anti-Social Networks
As the United States remains very much in what President Joe Biden has identified as an "Uncivil War," where the country remains so politically divided, the platforms that were once about friendly discussions have evolved very much into "anti-social networks" where people now find themselves in echo chambers that support their opinion and views.
"Social media has compounded a growing racial, cultural and gender divide in America and the world," explained Anthony Silard, professor at the Luiss Business School, Rome, and the author of The Art of Living Free in the Digital Age.
Social media has enabled the actions of extremists to be live-streamed to the masses.
"One facet of the Buffalo shooting that is critical for understanding its conception and operation is that it was not the work of one person," added Silard. "The shooter brought his thought community with him via live stream. They were poised and ready to send out the horrific imagery of innocent people being slaughtered before the social media site, Twitch, could take it down, in an impressive two minutes. They succeeded, yet millions watched from the comfort of their screens.
"With his thought community virtually present and at the ready, the shooter felt less alone and propped up by the hate-imbued ideology of his group," Silard added. "Herein lies an important point for lawmakers to consider about the role of social media in this tragedy: it enabled rapid, collective action by a hate group."
Lack Of Empathy
Social media has also been seen as responsible in lowering the empathy of most Americans. It is easy to "speak your mind" about someone on social media based on a tweet they made or something they posted on Facebook. Even like-minded individuals with similar interests can find themselves in serious flare ups that turn hostile.
This has been common with email, posts on Newsgroups and online forums, but has increased significantly in the era of social media.
"One of the primary reasons social media has become so dangerous to a healthy society is that it erodes empathy. The reason town hall meetings became a healthy medium for cross-aisle conversations is that people had to listen to each other, even when they disagreed," said Silard."Now that these conversations have gone online, empathy has fallen to the wayside. A recent meta-analysis of seventy-two studies conducted between 1979 and 2009, for instance, found that the empathy levels of American college students have dropped 40 percent, which the authors primarily attribute to the rise of social media."
The social media platforms have largely failed to address the issue, and in some cases it has only served to radicalize individuals, such as the recent mass shooters.
"Social media companies like Facebook promised us that its services would encourage people to care more for each other and express their authentic views more both online and in person. None of this has happened," warned Silard. "Instead, recent Pew research has found that people speak up less in person now for fear of retribution. Why? Social media has helped them realize there are many opposing views out there they would prefer not to confront."
Media Advisory: Premier Furey to Announce Additional Measures to Help Residents with the Cost of Living – News Releases – Government of Newfoundland and Labrador
The Honourable Andrew Furey, Premier of Newfoundland and Labrador, the Honourable Siobhan Coady, Deputy Premier and Minister of Finance, and the Honourable Bernard Davis, Minister Responsible for Labour, will announce additional measures today (Thursday, May 26) to help Newfoundlanders and Labradorians with the cost of living. The event takes place at 1:00 p.m. in the Media Centre, East Block, Confederation Building.
The announcement will be livestreamed on Facebook.
– 30 –
Media contacts
Meghan McCabe
Office of the Premier
709-729-3960
meghanmccabe@gov.nl.ca
Victoria Barbour
Finance
709-729-4087, 327-6152
victoriabarbour@gov.nl.ca
Lynn Robinson
Environment and Climate Change
709-729-5449, 691-9466
lynnrobinson@gov.nl.ca
Ideon Media announces exclusive Canadian partnership with VICE Media Group – GlobeNewswire
TORONTO, May 25, 2022 (GLOBE NEWSWIRE) — Ideon Media announced today it will serve as the exclusive ad sales and branded content development partner for VICE Media Group (VMG), the world's largest independent youth media group, in Canada. VMG digital properties, which include VICE.com, and Refinery29.com, reach a combined 13.3 million unique visitors in Canada per month across all platforms (GAR, GWL, Comscore, VICE Census).
The new partnership will see Ideon Media exclusively represent the commercial activity of VICE.com and Refinery29.com in Canada to brands and advertisers. This includes the sale of media advertising and sponsorships, production of branded content as well as affiliate advertising and commissions.
"VICE leaves an indelible mark on the public discourse, with impressive in-depth reporting and authentic storytelling that resonates worldwide. We're so proud to represent VICE in Canada, and so flattered that Ideon has been given full latitude to help Canadian advertisers tell their stories on platforms like VICE and Refinery29 using Canadian talent and creators," said Kevin Bartus, Ideon Media President and CEO.
"VICE is a true Canadian media success story, and has always been the gold standard for integrated campaigns targeting the youth demographic, and I am thrilled to be working with the company again. From best-in-class branded content, to incredible brand-sponsored events, and even cutting-edge proprietary digital ad products; VICE and Refinery29 allow brands to reach a huge Canadian audience of highly influential Gen-Z and Millennial young people in authentic and meaningful ways," said Shawn Phelan, Vice President of Brand Partnerships, Ideon Media.
"I am delighted to be partnering with Kevin, Shawn and the team at Ideon in Canada to drive future growth across our publishing business. Our shared passion for the VICE brands, storytelling, breakthrough content solutions and our audiences will allow us to realise our ambitious growth targets in the market and to forge new opportunities with brands and advertisers," said Luke Barnes, Chief Revenue Officer and Chief Digital Officer, EMEA, VICE Media Group.
ABOUT VICE MEDIA GROUP
VICE Media Group is the world's largest independent youth media company. Launched in 1994, VICE has offices across 25 countries across the globe with a focus on five key businesses: VICE.com, an award-winning international network of digital content; VICE STUDIOS, a feature film and television production studio; VICE TV, an Emmy-winning international television network; a Peabody award winning NEWS division with the most Emmy-awarded nightly news broadcast; and VIRTUE, a global, full-service creative agency. VICE Media Group's portfolio includes Refinery29, the leading global media and entertainment company focused on women; PULSE Films, a London-based next-generation production studio with outposts in Los Angeles, New York, Paris and Berlin; and i-D, a global digital and bimonthly magazine defining fashion and contemporary culture and design.
ABOUT IDEON MEDIA (www.ideonmedia.com)
Ideon Media is a Toronto-based digital firm that offers a wide spectrum of advertiser solutions with best-in-class publisher representation and wholly owned and operated sites, including SavvyMom.ca and 29Secrets.com. Ideon specializes in custom content programs created by our award-winning in-house editorial team, influencer programs, events, performance network, proprietary data, and analytics. Ideon Media reaches a combined total of 18.6 million Canadians (Comscore, March 2022).
For more information or interview requests: Shawn Phelan at shawn.phelan@ideonmedia.com