Germany Risks a Cascade of Utility Failures, Economy Chief Says – BNN
(Bloomberg) — Germany should prepare for deeper cuts in Russian gas supplies because President Vladimir Putin is pursuing a conscious strategy of driving up prices to undermine European unity, Economy Minister Robert Habeck said.
"We aren't dealing with erratic decisions but with economic warfare, completely rational and very clear," Habeck, the deputy chancellor in Olaf Scholz's government, said Saturday on a panel. "After a 60% reduction, the next one logically follows."
German leaders are stepping warnings of impending turmoil and natural-gas shortages in Europe's biggest economy, which relies on Russia for about one-third of its energy. Putin has gradually reduced supplies after European countries imposed sanctions in response to Russia's invasion of Ukraine.
German utilities are at risk of cascading failures that might require activating a legal clause that would allow them to pass on price increases outside of contract commitments, Habeck said.
Germany has refrained from activating the measure for now because it would lead to an "immediate price explosion" for consumers, he said at an event sponsored by the Die Zeit weekly. The government is working on an alternative, he said, without elaborating.
"If one company were to fail, or other companies were to fail, it's like a domino effect that would very quickly lead into a deep recession," he said.
European energy companies are facing a squeeze after Russia curbed flows on a key gas link earlier this month, forcing utilities to buy fuel on the spot market at elevated prices. High power prices are increasingly prompting German factories and businesses to curb demand and the government has activated the second stage of a three-stage gas emergency plan.
Russia has reduced shipments through Nord Stream by 60% and the pipeline is scheduled for a full shutdown this month for maintenance. Germany has raised doubts that Nord Stream will resume supply after that.
Russia's goal is to keep energy prices high and "destroy the unity and solidarity of the country," Habeck said.
Germany's government and energy giant Uniper SE are discussing stabilization measures. Finance Minister Christian Lindner said any additional government assistance would be in the form of a loan guarantee.
Gas rationing — if it came to that — presents challenges because the grid often isn't separated between residential and commercial customers, Habeck said.
If a factory is connected to the gas network and a whole part of the city is connected to it, then this factory can't be taken out of the network.
"That will probably then be regulated at the expense of the factories that are not connected to a mixed network," Habeck said.
Household customers in Germany are protected by law from gas shutoffs.
©2022 Bloomberg L.P.
German recession fears deepen as economy is hit by 'perfect storm' – Financial Times
Investors are now more pessimistic about the German economy than they have been at any time since the eurozone debt crisis more than a decade ago, worrying that a sharp fall in Russian natural gas supplies and soaring energy prices will plunge the country into recession.
The ZEW Institute's gauge of investor expectations about Europe's largest economy has sunk to its lowest level since 2011, dropping from minus 53.8 to minus 55.3, underlining the deepening gloom about the economic fallout from Russia's invasion of Ukraine.
The think-tank's survey of financial market participants provides an early indicator of economic sentiment after Russia reopened the Nord Stream 1 pipeline following a maintenance break last month, but kept the main conduit for delivery of gas to Europe operating at only a fifth of capacity.
Economists have slashed their estimates for growth in Germany and the wider eurozone this year, while raising their inflation forecasts and warning that an end to Russian energy supplies would force Berlin to ration gas supplies for heavy industrial users.
On Tuesday, German baseload power for delivery next year, the benchmark European price, rose over 5 per cent to a record €502 per megawatt hour, according to the European Energy Exchange. This is six times higher than the price a year ago — driven upwards by the sharply higher cost of gas used to generate electricity and the prolonged European heatwave that has disrupted generating capacity.
The surging price of energy has driven up the cost of imports for Germany and other eurozone countries, sending the bloc's trade deficit up to €24.6bn in June, compared with a surplus of €17.2bn for the same month a year earlier, according to data from Eurostat, the European Commission's statistics bureau. The value of exports from the bloc rose 20.1 per cent in June from a year ago, but imports were up 43.5 per cent.
"The still high increase in consumer prices and the expected additional costs for heating and electricity are currently having a particularly negative impact on the prospects for the consumer-related sectors of the economy," said Michael Schröder, a researcher at the ZEW.
He said investor sentiment also worsened due to an expected tightening of financing conditions after the European Central Bank raised its deposit rate by 0.5 percentage points to zero in response to record levels of eurozone inflation.
Carsten Brzeski, head of macro research at Dutch bank ING, said the German economy was "quickly approaching a perfect storm" caused by "high inflation, possible energy supply disruptions, and ongoing supply frictions".
A heatwave and dry spell has reduced water levels on the Rhine below the level at which barges can be loaded fully, restricting important supplies for factories, which Brzeski estimated was likely to knock as much as 0.5 percentage points off German growth this year.
Adding to the gloom, German households will have to pay hundreds of euros more in fuel bills this winter after the government unveiled an extra gas levy of 2.419 cents per KWH from October. This is expected to push up the cost for a family of four by €240 in the final three months of the year.
Germany's top network regulator told the Financial Times this month that the country must cut its gas use by a fifth to avoid a crippling shortage this winter. The economy ministry has also ordered all companies and local authorities to reduce the minimum room temperature in their workspaces to 19C over the winter.
The country has achieved its target of filling gas storage facilities to three-quarters of capacity two weeks ahead of schedule, after high prices and fuel saving measures led to reduced use. But there are worries its objective to lift gas storage to a 95 per cent target of capacity by November will be more challenging if Russia keeps throttling supplies.
The German economy stagnated in the second quarter, the weakest performance of the major eurozone countries. Last month, the IMF slashed its forecast for German growth next year by 1.9 percentage points to 0.8 per cent, the biggest downgrade of any country.
Additional reporting by Harry Dempsey
Why China's economy is slowing down – Axios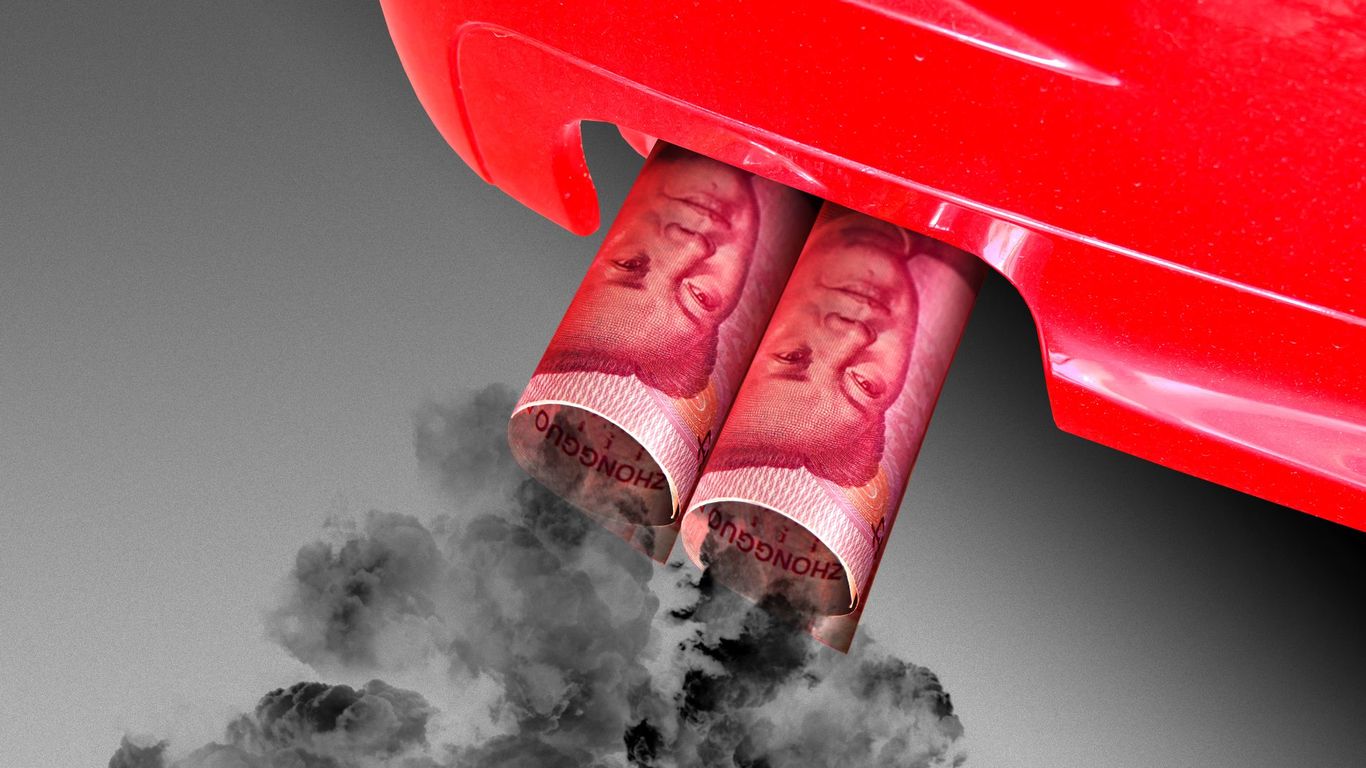 China is slowing fast, and the government is taking only modest steps to try to keep the earth's second-largest economy from outright contraction.
Why it matters: While it lags behind the U.S. in size, China's economy has been the largest source of growth for global GDP for much of the last two-plus decades — meaning it's a global engine of corporate profitability, investment activity, and demand for commodities.
Driving the news: A raft of disappointing economic updates this week showed Chinese growth still sputtering on multiple fronts.
Its industrial sector slowed again. Industrial production rose just 3.8% in July compared to the previous year — and well short of expectations for 4.5%.
The crisis in China's housing sector continues to hurt. Fixed investment — of which housing is an important component — was up just 5.7% in the first seven months of the year, compared to the same period in 2021. (In 2021, that figure was 10.3% higher year over year as of July.)
Consumers aren't picking up the slack either. Retail sales in July were up a scant 2.7% year over year, far short of the 5% expectation.
Context: In the recent past, when faced with a slowdown, Chinese policymakers quickly turned to tried-and-true tools to attempt to give growth a kick in the pants. They included…
Pouring money into public infrastructure investment.
Engineering a borrowing boom to fuel domestic spending.
Delivering sharp interest rate cuts.
The intrigue: Despite China's current economic blahs, there's little indication that the government is decisively trying to prop growth up.
In past slowdowns, China's broadest measure of all types of credit to the economy — known as "total social financing" — has surged, a sign the government was keen to boost debt to offset slumps.
A report on Friday showed total social financing far lower than expected, as the government seems disinclined to use a debt-driven boom as a source of growth.
Yes, but: The People's Bank of China did cut interest rates by a tiny one-tenth of a percentage point on Monday — a move most analysts think is modest, and unlikely to reinvigorate economic activity.
The bottom line: The ruling Chinese Communist Party knows that the breakneck pace of Chinese economic growth that prevailed in past decades is unlikely to be matched. But unlike in past decades, they don't seem particularly worried about it.
For the rest of the world, that may mean China will be less of a reliable engine of growth in the coming years.
US Economy Faces 'Lot of Uncertainty' in Coming Year, White House's Deese Says – Bloomberg