In The News for Nov. 18: Emergency Act inquiry hears from Canada's top civil servant – Nanaimo News NOW
The day is expected to begin with testimony from the deputy secretary to cabinet, Jacqueline Bogden, and Jeffery Hutchinson, a senior adviser in her office.
Clerk of the Privy Council Janice Charette and deputy clerk Nathalie Drouin are scheduled to give their testimony after that.
Charette is mandated to act as a nonpartisan adviser to the prime minister and sits at the top of the federal public service.
Security officials and members of the federal cabinet, including Prime Minister Justin Trudeau, are expected to testify next week.
—
Also this …
Although tanks have shown their limits in the war in Ukraine, they remain the centrepiece of the battlefield, Capt. Antonio Cornacchi of the Italian armed forces told The Canadian Press Thursday.
Cornacchi is in charge of the armoured-gunnery competition involving troops from 13 NATO countries — including Canada — that is taking place over four days at the Adazi base, located about 200 kilometres from the Russian border and a 45-minute drive from Riga, the capital of NATO member Latvia.
The military exercises — dubbed Iron Spear — involve multinational NATO battle group eFP Latvia, which serves both as a dissuasion and a shield in the event of an attack.
Thirty-four crews from 13 NATO armies are testing the striking force and manoeuvrability of tanks, as a debate rages about the relevance of armoured vehicles, following the setbacks incurred by Russian tank units in the invasion of Ukraine.
Cornacchi said tanks are "highly competitive" during exercises involving firing in motion or from fixed positions.
"The light infantry are also important for our army, but tanks … remain the focus," Cornacchi, commander of an Italian battle company, said in an interview.
On Thursday, the NATO crews competed for who had the most precise tank-fired shots across a field of a few square kilometres made up of mounds and paths. The shots from tank guns larger than 100 millimetres produced deafening blasts in a viewing bunker where a jury — composed of Italians and representatives from other NATO countries — judged the exercises.
The jury is there to "test in a highly professional way the ability of each crew," Cornacchi said. So far during the competition, he added, the Estonian, Danish and Canadian soldiers "are doing very well." But he said there is more competition to go.
"This is just the first step, and we'll see what happens."
—
What we are watching in the U.S. …
WASHINGTON _ Federal prosecutors are expected to make their final pitch to jurors Friday in the high-stakes seditious conspiracy case against Oath Keepers founder Stewart Rhodes and four associates charged in the Jan. 6, 2021 attack on the U.S. Capitol.
Closing arguments will begin in Washington federal court after the final pieces of evidence were presented in the trial alleging Rhodes and his band of antigovernment extremists plotted for weeks to interrupt the peaceful transfer of power from Republican Donald Trump to Democrat Joe Biden.
Evidence presented by prosecutors shows Rhodes and his co-defendants discussing the prospect of violence and the need to keep Biden out of the White House in the weeks leading up to Jan. 6, before stashing a massive cache of weapons referred to as a "quick reaction force" at a Virginia hotel.
On Jan. 6, 2021, Oath Keepers wearing helmets and other battle gear were seen pushing through the pro-Trump mob and into the Capitol. Rhodes remained outside, like "a general surveying his troops on a battlefield," a prosecutor told jurors. After the attack, prosecutors say Rhodes and other Oath Keepers celebrated with dinner at an Olive Garden restaurant.
Closing arguments are expected to be Monday for the defence, which has focused on prosecutors' relative lack of evidence that the Oath Keepers had an explicit plan to attack the Capitol before Jan. 6. Rhodes, who is from Texas, testified that he and his followers were only in Washington to provide security to right-wing figures like Roger Stone. Those Oath Keepers who did enter the Capitol went rogue and were "stupid," he said.
Rhodes testified that the mountain of writings and text messages showing him rallying his band of extremists to prepare for violence and discussing the prospect of a "bloody" civil war ahead of Jan. 6 was only bombastic talk.
Two other defendants testified in the case. Jessica Watkins, of Woodstock, Ohio, echoed that her actions that day were "really stupid" but maintained she was not part of a plan but rather "swept along" with the mob, which she likened to a crowd gathered at a store for a sale on the popular shopping day known as Black Friday.
Defendant Thomas Caldwell, a Navy veteran from Virginia, downplayed a chilling piece of evidence: messages he sent trying to get a boat to ferry weapons from Virginia across the Potomac into Washington. He testified that he was never serious about his queries, though he struggled to explain other messages referencing violence on Jan. 6.
The group is the first among hundreds of people arrested in the Capitol riot to stand trial on seditious conspiracy, a rare Civil War-era charge that calls for up to 20 years behind bars. The stakes are high for the Justice Department, which last secured such a conviction at trial nearly 30 years ago, and intends to try two more groups on the charge later this year.
—
What we are watching in the rest of the world …
BANGKOK _ Threats to peace and stability were dominating the agenda at a summit of Pacific Rim economies Friday in Bangkok, as leaders warned that war and tensions among the big powers threaten to unravel the global order.
Underscoring the risks, North Korea fired an intercontinental ballistic missile that landed near Japanese territorial waters, and Japan said the weapon may have the range to strike anywhere in the United States. North Korea is under U.N. sanctions for past weapons displays but has not faced fresh sanctions this year because U.S. attempts were opposed by China and Russia in the Security Council.
U.S. officials said Vice President Kamala Harris would meet with the leaders of Japan, South Korea, Australia, New Zealand and Canada to discuss the missile launch, the latest of many such provocations by North Korea that raise the risks of conflict.
"Geopolitical tensions are detracting from peace and stability and undermining the rules based international order, which we all agree are essential," Australian Prime Minister Anthony Albanese told fellow leaders of the 21-member Asia-Pacific Economic Cooperation forum who began a two-day summit Friday.
APEC's long-term mission is promoting regional economic integration, but more immediate exigencies often dominate the agenda. That's true in Bangkok, as leaders appeal for an end to Russia's war on Ukraine and consider strategies for nursing along economic recoveries from the coronavirus pandemic while contending with food and energy crises, the need to cut the carbon emissions that cause climate change and other urgent tasks.
The APEC gathering is the third back-to-back meeting of world leaders this week after the summits of the Association of Southeast Asian Nations last week in Cambodia and the Group of 20 leading economies, which wrapped up Wednesday in Indonesia.
—
On this day in 1992 …
Superman, alias Clark Kent, died after 54 years as one of North America's greatest superheroes. Superman was killed by Doomsday, a supervillain he had fought in D.C. Comics. You can't keep a good Man of Steel down, however — and Superman was resurrected within a year.
—
In entertainment …
NASHVILLE, Tenn. _ Ticketmaster says it is cancelling Friday's planned general public sale for Taylor Swift's upcoming stadium tour because it doesn't have enough tickets.
The decision came two days after a presale event caused the site to crash and left many fans without tickets. The ticketing company said in a statement Thursday two million tickets to The Eras tour next year were sold during presales on Tuesday, the most tickets ever sold on the platform in a single day.
Ticketmaster cited "extraordinarily high demands on ticketing systems and insufficient remaining ticket inventory to meet that demand" as a reason for calling off Friday's sale.
Questions remain about how remaining tickets _ and how many _ would be sold. But Ticketmaster said about 1.5 million fans who had gone through an early verification process _ called Verified Fan _ were invited to purchase tickets and the remaining two million were placed on a waiting list.
It's been a record year for Swift after releasing her latest album "Midnights," which also broke a Billboard record.
The 52-date Eras Tour kicks off March 17 in Glendale, Arizona, and wraps up with five shows in Los Angeles ending Aug. 9. International dates will be announced as well. It's Swift's first tour since 2018.
But fans and families around the country battled it out with long queues and error messages to try to race to the checkout cart.
Ticketmaster said that the site was overwhelmed both by real people and bot attacks resulting in unprecedented traffic on their site. The statement said about 15 per cent of interactions with the site had problems, including errors that caused people to lose tickets after they had waited in an online queue.
—
Did you see this?
A Saskatchewan Indigenous artist will sing the national anthem at this year's 109th Grey Cup game in Regina.
Teagan Littlechief will perform O Canada in three languages: Cree, English and French.
Littlechief, who is fluent in only English, says she has been taking lessons from a Cree teacher and French friend.
She is from White Bear First Nation on Treaty 4 territory in southeastern Saskatchewan.
Littlechief says she's happy to represent First Nation peoples at the CFL game this Sunday.
She says she'll be thinking about Indigenous youth during her performance.
Littlechief, who has overcome addiction, says she wants youth to see that dreams are possible when you work hard.
She says like in her life, change happens, leading to beautiful opportunities.
Littlechief is also known to sing the national anthem at Saskatchewan Roughrider games.
She was named Indigenous Artist of the Year at the Saskatchewan Country Music Awards.
—
This report by The Canadian Press was first published Nov. 18, 2022
The Canadian Press
Forecast: Coldest temperatures this winter coming to Eastern Canada – CTV News
The beginning of February is expected to bring Arctic-like temperatures across much of Eastern Canada, thanks to frigid air from the polar vortex.
"I think it will be a real punch in the face for easterners," Environment Canada senior climatologist David Phillips told CTVNews.ca. "It's going to be pretty short-lived and it's going to be right across the east."
The cold snap will descend on Eastern Canada between Thursday night and Friday, with temperatures becoming seasonable again on Sunday. In between, much of Ontario, Quebec and Atlantic Canada can expect the coldest days yet this winter.
"We'll see temperatures that are really, brutally cold," Phillips said from Toronto. "It's really a one-and-a-half-day wonder."
According to Environment Canada, as the cold air tracks east, daytime highs will only reach -13 C in Toronto, -20 in Ottawa, -21 in Montreal and -23 in Quebec City on Friday, and -18 in Fredericton, -15 in Halifax, and -18 in Charlottetown on Saturday.
"It'll be sunny and bright, because it's Arctic air," Philips said. "It's very dry, and it will be crisp"
Overnight temperatures on Friday night could dip as low as -20 in Toronto, -31 in Ottawa, -30 in Montreal, -34 in Quebec City, -28 in Fredericton, -21 in Halifax, and -23 in Charlottetown – all more or less double what's normal for this time of year.
"The last time it was that cold in Ottawa was 27 years ago," Phillips explained. "You can go year after year after year and not see a temperature of -20 in Halifax."
These temperatures do not factor in wind chill, which could make things feel even icier.
"It's going to be very punishing," Phillips said. "It's clearly an Arctic invasion of frigid air."
The short-lived and bitter winter blast is being blamed on a weakened polar vortex, which causes icy Arctic air to push south, leading to rapid and sharp temperature drops.
There is a silver lining for those who have been missing out on winter activities.
"The second half of winter, according to our models, seems certainly a little colder, more winter-like, than what we saw at the beginning of the winter," Phillips said. "But everywhere in Canada, we're now well the beyond the halfway point. There's more winter behind us than ahead of us!"
While much of Western Canada has been shivering through the winter, it's been a different story in the unseasonably mild east. Phillips says December and January in Ottawa, for example, were the third warmest on record in 150 years; and both Ottawa and Montreal have experienced no days below -20 this winter, when normally they would each have about 10. Ottawa's Rideau Canal Skateway is also still closed when it typically opens in January. Warmer winter temperatures, however, have also brought abundant snow.
"If you're in the east, it's looking like winter, but it doesn't feel like winter," Phillips said. "But it's going to feel like winter when the cold arrives."
Canada province experiments with decriminalising hard drugs – BBC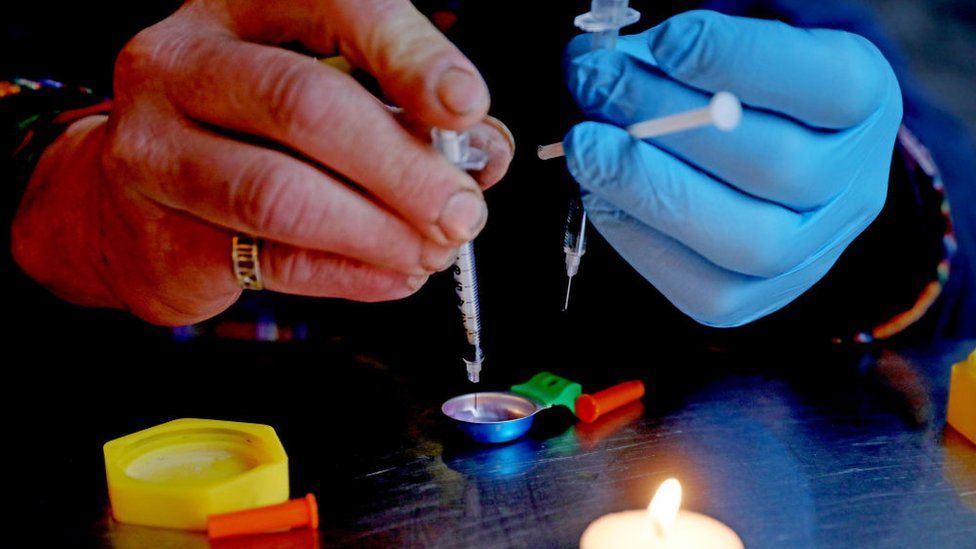 Canada's province of British Columbia is starting a first-in-the-nation trial decriminalising small amounts of hard drugs such as cocaine and heroin.
From Tuesday, adults can possess up to 2.5g of such drugs, as well as methamphetamine, fentanyl and morphine.
It follows a similar policy in the nearby US state of Oregon, which decriminalised hard drugs in 2020.
Ahead of the pilot's launch, British Columbia and federal officials outlined the rules under the federally approved exemption from the Controlled Drugs and Substances Act.
While those substances will remain illegal, adults found in possession of a combined total of less than 2.5g of the drugs will not be arrested, charged or have their substances seized. Instead, they will be offered information on available health and social services.
Federal minister of mental health and addictions Carolyn Bennett on Monday called the move "a monumental shift in drug policy that favours fostering trusting and supportive relationships in health and social services over further criminalisation".
Some 10,000 residents have died from drug overdoses since British Columbia declared drugs to be a public health emergency in 2016, officials said.
"Decriminalising people who use drugs breaks down the fear and shame associated with substance use and ensures they feel safer reaching out for life-saving supports," said Jennifer Whiteside, the British Columbia minister for mental health and addictions.
Thousands of police officers in the province have been offered training on the rule change, including those in Vancouver, the largest city in the province.
The programme will run from 31 January 2023 until 31 January 2026, unless it is revoked by the federal government.
Some experts have questioned the 2.5g limit, saying that it is not enough to account for the habits of many addicts.
There are some exemptions to the scheme.
The sale of drugs remains illegal. It is also illegal to possess drugs on the grounds of schools, childcare facilities and airports.
Canada legalised the use of recreational cannabis for adults nationwide in 2018.
But the four drugs now allowed in small quantities remain prohibited, meaning there are no plans to sell them in stores, unlike marijuana. Trafficking them across borders also remains illegal.
You may also be interested in:
Health Canada reviewing safety of controversial breastfeeding drug – CBC.ca
Health Canada has launched a safety review of the psychological withdrawal symptoms associated with stopping or reducing use of a drug commonly prescribed to help women breastfeed.
The agency confirmed the review in an email to CBC News.
"A safety review is currently under way for domperidone and drug withdrawal symptoms after stopping or reducing the dose of domperidone used to stimulate lactation," the statement said.
Domperidone is approved in Canada to treat gastrointestinal disorders. Health Canada has never authorized its use as a lactation aid, but it is widely prescribed off-label for this purpose.
The Health Canada review follows a CBC News investigation into severe psychological effects that can occur when some women stop taking the drug. Women who spoke to CBC described anxiety, lack of sleep and thoughts of self-harm severe enough that in some cases they became incapable of caring for their children or returning to work. One woman described multiple attempts to take her own life.
CBC's investigation also found domperidone is prescribed by some doctors to stimulate lactation at doses three to five times higher than what is recommended by both Health Canada and the drug manufacturer. Because this is not an approved use or dosage anywhere in the world, there are no large-scale clinical trials that shed any light on how often these side effects occur.
This makes it challenging for regulators like Health Canada to evaluate the safety of a drug for an off-label purpose, said Mina Tadrous, an assistant professor at the Leslie Dan Faculty of Pharmacy at the University of Toronto who specializes in drug safety.
"The company may not have intended it for that, so the original clinical trials were not designed for that. And so it means that they have to look at different mechanisms to be able to evaluate the safety of these drugs," he said.
That can include looking at data from other countries with larger populations, according to Tadrous.
Case studies document concerns
There are, however, case studies documenting the withdrawal effects, including three published in November 2022 in the peer-reviewed journal Breastfeeding Medicine. Domperidone blocks dopamine receptors in the brain, which stimulates the release of prolactin. This causes lactation, the authors note, but can also cause domperidone to act as an antipsychotic. The authors also noted withdrawal symptoms are typically less severe when women taper off the drug slowly.
The most recent case studies are from the United States, where domperidone is not approved by the Food and Drug Administration for any purpose. CBC's investigation found some American women get the drug from doctors in Canada.
Health Canada will review "all relevant domestic and foreign case reports," the statement said.
Reviews can result in Health Canada requesting more information, studies or monitoring by the manufacturer. They can also result in warnings to patients and health care providers, changes to how a drug is labelled or, if necessary, the withdrawal of a drug from the market "if the benefits no longer outweigh the risks of the product," according to the statement released by the department.
"The decision to take action, including issuing a warning, is not based solely on the number of case reports, but on a comprehensive assessment of the information contained in these case reports," Health Canada's statement said.
"Should new safety risks be confirmed, Health Canada will take appropriate action and continue to keep Canadians informed."
WATCH | Women report alarming withrawal effects after taking domperidone as a lactation aid:
WARNING: This story contains distressing details about suicidal thoughts and attempts. Correction: A previous version of this video included inaccurate Health Canada data about the number of domperidone prescriptions that were filled in 2020. That publicly available data has since been updated to show that 1.7 million prescriptions were filled that year.
The distinction between quantity and quality of reports is important, Tadrous said, because large numbers of reports, especially from non-clinicians, may only indicate people believe there's a connection between a drug and a reaction.
"That's the lesson we've learned with vaccines, for example, where these adverse event systems are flooded," he said.
"And so if you base something just on the number of reports without doing a thorough investigation and a different type of study design that reduces bias … you might reach a false conclusion."
Health Canada has conducted multiple safety reviews of domperidone, most recently in 2021. Previous reviews confirmed the risk of serious abnormal heart rhythms and sudden cardiac death related to domperidone use. These reviews resulted in Health Canada introducing a maximum daily dose recommendation of 30 mg and restricting its use in patients with certain cardiac conditions or taking other drugs.