INSIGHT-Safe bet? Sovereign funds rethink once-reliable real estate – Reuters
LONDON (Reuters) – The COVID-19 pandemic has forced sovereign wealth funds to think the previously unthinkable.
FILE PHOTO: Empty offices are seen as the spread of the coronavirus disease (COVID-19) continues, in London, Britain March 19, 2020. REUTERS/Simon Dawson
With prime office blocks lying empty around the world, hotels half-vacant and retailers struggling to stay afloat, the funds are retreating from many of the real estate investments that have long been a mainstay of their strategies.
Sovereign wealth funds (SWFs) invested $4.4 billion in the sector in the first seven months of 2020, 65% down from the same period a year ago, according to previously unpublished data provided to Reuters by Global SWF, an industry data specialist.
The nature of property investments is also shifting, with funds increasingly investing in logistics space, such as warehousing, amid a boom in online commerce during the pandemic, while cutting back on deals for offices and retail buildings.
Such shifts in behaviour can have seismic effects on the global real estate market, given such funds are among the largest investors in property and have interests worth hundreds of billions of dollars in total. Three sovereign funds sit within the top 10 largest real estate investors, according to market specialists IPE Real Assets.
A big question is whether the changes are structural for the funds, for which property is an asset-class staple at about 8% of their total portfolios on average, or a temporary response to a huge, unexpected and unfamiliar global event.
"Real estate is still a big part of sovereign wealth fund portfolios and will continue to be so," said Diego López, managing director of Global SWF and a former sovereign wealth fund adviser at PwC.
"What COVID has accelerated is the sophistication of SWFs trying to build diversification and resilience into their portfolio – and hence looking for other asset classes and industries."
Sovereign funds have been more bearish on property than public pension funds, another big investor in the sector, Global SWF found. While they have outstripped the pension funds in overall investment across most industries and assets this year, by two to one, that ratio is reversed for real estate.
For a graphic on Sovereign wealth fund property holdings:
FUTURE OF THE OFFICE
Funds are nursing hits to their existing property portfolios stemming from the introduction of lockdowns and social-distancing restrictions. While other parts of their portfolio, such as stocks and bonds, have rebounded from March's trough, a real-estate recovery is less assured.
Property capital value globally is expected to drop by 14% in 2020 before rising by 3.4% in 2021, according to commercial real estate services group CBRE. Analysts and academics question whether the pandemic's impact may prove long-lasting, with more people working from home and shopping online.
"I think there's a real threat to some commercial business districts in the big cities as I can't see us all return to the 9-to-5 schlep in, schlep out," said Yolande Barnes, a real-estate specialist at London university UCL.
The value of property assets of some funds has fallen in 2020, with those experiencing the biggest drops including Singapore's Temasek Holdings and GIC, Abu Dhabi Investment Authority (ADIA) and Qatar Investment Authority (QIA), according to data compiled for Reuters by industry tracker Preqin.
Those four funds have collectively seen the value of such assets drop by $18.1 billion to $132.9 billion, the data showed.
Reuters was unable to confirm whether the fall was due to lower valuations or asset sales. The funds either declined to comment or did not respond.
Many sovereign funds do not publicly disclose data on property investments, with Norway's one of the exceptions.
The Norwegian fund, which has around $49 billion invested in real estate, up from $47 billion at the end of 2019, said last week its unlisted property portfolio returned minus 1.6% in the first half of 2020.
Sovereign funds have also largely steered clear in 2020 of new direct investments in London or Los Angeles, hotspots in normal times, according to property services firm Jones Lang LaSalle (JLL), which said SWFs were "on the defensive".
LOGISTICS AND BIOTECH
The funds' advance in logistics properties, such as warehousing and goods distribution centres, comes at a time of high demand as people have bought everything from toilet paper to trainers from home during lockdowns.
So far this year, logistics have accounted for about 22% of funds' real-estate investments by value, compared with 15% in 2019 as a whole, the Global SWF data shows.
Meanwhile, investments in offices have fallen to 36% from 49% last year, and in retail property to zero versus 15%.
Marcus Frampton, chief investment officer at the Alaska Permanent Fund Corporation (APFC), told Reuters that real-estate deal volumes had "slowed down substantially" in general, but that, anecdotally, he saw activity in industrial facilities like logistics and "multi-family" apartment blocks.
The wealth fund's holdings have risen to $4.7 billion, up from $4 billion at the end of June, after the purchase of multi-family and industrial REIT stocks on July 1, Frampton said.
"Commercial warehouse activity is strong," he added.
In a sign of the times, Temasek participated in a $500 million investment in Indonesia-based e-commerce firm Tokopedia in June.
In contrast, physical retail, a significant part of many funds' holdings, has been hit hard. QIA-owned luxury retailer Harrods in London has reportedly forecast a 45% plunge in annual sales, as visitor numbers plummet. Many other retailers have sought to renegotiate rents.
The outlook appears brighter for some fledgling sectors such as biotech, which has come to the fore during the pandemic.
"We have seen significant demand for life sciences space. That's ranged from office to specialist lab and warehouse space," said Alistair Meadows, JLL's head of UK capital markets.
For a graphic on Sovereign wealth fund real estate deals:
DISTRESSED OPPORTUNITIES
The U.S. office market is expected to face its first year since 2009 of more space becoming vacant than leased, according to CBRE.
Still, investors are betting on a rebound of sorts in some quarters. For example, Canary Wharf Group, partly owned by the QIA, unveiled plans last month for a large new mixed-use development, including business space, in London's financial district.
And while hotels face huge challenges, occupancy rates are expected to rebound near to pre-COVID levels – but not until the end of 2021.
The Libyan Investment Authority has experienced problems with the operating expenses of some of its properties, including some hotels in Africa owned by its subsidiary, Chairman Ali Mahmoud Hassan Mohamed told Reuters.
But it remains committed to its real-estate portfolio, estimated at $6.6 billion in its latest valuation in 2012, as it was able to restore its value, he said.
Crises can also present opportunities, however.
In the aftermath of the pandemic, some funds may look for bargains as distressed properties emerge.
The Hong Kong Monetary Authority, which operates a fund, told Reuters it would "closely monitor market conditions with a view to capturing appropriate opportunities".
Slideshow

(4 Images)
And in an uncertain world, some academics argue that property remains a solid bet for savvy investors.
Barnes of UCL said sovereign funds could be "lighter on their feet" than some other institutional funds and more able to adjust their behaviour to suit changing circumstances.
"Real estate is one of the better sectors to be in, in a world of turmoil," she added. "But it's very much about picking the right real estate."
Reporting by Tom Arnold in London; Additional reporting by Alun John in Hong Kong, Gwladys Fouche in Oslo, Saeed Azhar in Dubai and Anshuman Daga in Singapore; Editing by Pravin Char
Moody's Doubles Down On Forecast of Canadian Real Estate Prices Falling Soon – Better Dwelling
One of the world's largest credit rating agencies doubled down on its Canadian home price forecast. Moody's Analytics sent clients its September update on Canadian real estate prices. The forecast reiterates they expect price declines to begin towards the end of this year. The report also names impacted cities this time, with Toronto expected to be a leader lower.
Forecast Vintages
A quick note on reading Moody's charts, which includes "forecast vintages." If you've only looked at consumer forecasts, these might be new. They're scenarios that vary depending on the forecasting model's inputs. Instead of giving a forecast like, "prices will drop x%," they give a range based on factors. These factors are fundamentals that have typically supported prices.
The Moody's forecast shows vintages as baseline, S1, S3, and S4. The September baseline is the scenario they believe has the highest probability. The S1 is what happens if indicators are better than expected. This would mean unemployment drops fast, and disposable income doesn't fall much. The S3 is what happens if fundamentals are worse than expected. S4 is the worst scenario that can unfold in a reasonable amount of time. Abrupt scenarios and black swans can still be worse. It's just those are outside of the range of reasonable expectations.
Canadian Real Estate Markets To Start Showing Weaknesses Soon
Moody's previous forecast didn't expect the market to show signs of weakness until Q3, and they're doubling down. The report's economist expects stimulus, mortgage deferrals, and interest rates to contain damage until Q3. They expect by Q3, the optimism of those programs will begin to wear thin. The reality of how meaningful the improvements are, should be apparent by then. The optimism should then fade. It's at this point they believe prices can no longer defy employment, vacancy, and delinquency rates.
Canadian Real Estate Prices To Drop Around 7%
The firm expects all scenarios to show a drop in the near future, but how much depends on fundamentals. In the September baseline, the firm's economist is forecasting a ~7% decline at the national level. This scenario expects unemployment at 8.56%, and a 2% drop of disposable income next year. Since the rise in disposable income was due to temporary supports, the fall is expected.
In the other scenarios, things vary from a brief drop to a very deep, multi-year decline. In the S1 scenario, there's only a brief dip in Q1, before prices rocket even faster and higher. In S3, a slightly worse than base case, prices fall about 15%, taking them back to 2016 levels. In S4, if disposable income, GDP, and/or unemployment worsen, prices drop about 22%, back to 2015 levels. Of course, this trend isn't evenly distributed across Canada. However, it's also not distributed how most might expect.
Prairie Cities and Toronto Real Estate To Lead The Declines
The base case sees Prairie cities and Toronto real estate leading price declines. Calgary, Edmonton, and Regina lead the drop, with a peak-to-trough decline between 9 to 10%. This is a trend already apparent in the regions' condo markets. Toronto, a little more unexpected, is forecasted to see a 9% price drop, from peak to trough. Vancouver's drop is forecasted below the national average, with an average decline of almost 7%. The last market is interesting, since other organizations gave Vancouver much worse forecasts.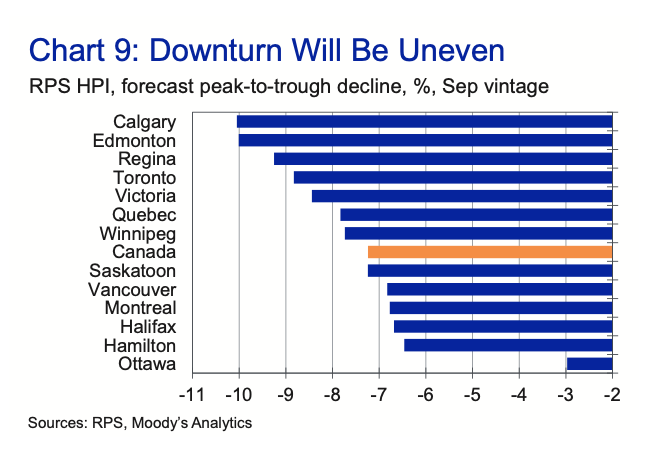 Toronto Real Estate To Experience Uneven Declines Across Regions
The base case for Toronto expects an uneven decline, with some regions harder hit. The drop across Toronto CMA is expected to be about 9%, from peak to trough. Pickering should see smaller declines, but experience minimal growth through 2025. Markham is the most surprising though, not expected to hit 2017 highs by 2025. The trend here appears to be regions short on space will recover the fastest. Although that is likely to depend on the type of housing as well.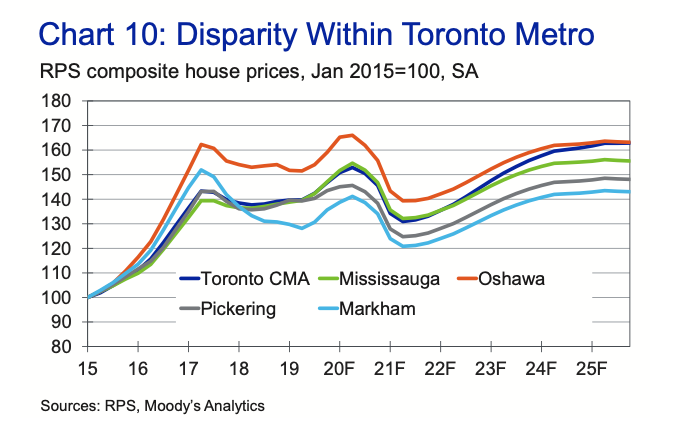 The forecast notes pandemic uncertainty, and its potential to bring greater downside. As it gets colder, the potential of more indoor activity may lead to a second wave. The report's economist believes this can bring even larger declines to prices. Shifting consumer behavior is also a wild card that can also push prices lower, as are any vaccine delays.
Like this post? Like us on Facebook for the next one in your feed.
Will development remain key growth strategy for REITs? | RENX – Real Estate News EXchange
Development has been a key growth strategy for many real estate investment trusts over the past decade, but will that continue during the next 10 years?
That was the theme of a five-person panel moderated by Lincluden Investment Management real estate equities vice-president and portfolio manager Derek Warren on Sept. 23, as part of RealREIT.
"There has been some dislocation in the short-term operating metrics," CIBC World Markets REIT analyst Dean Wilkinson said. "I think the question we're all struggling with is: Is this a permanent structural shift in a downward direction with the underlying fundamentals of the real estate, or have we overshot?"
"Projects are getting bigger and more complex, and we're seeing a lot of mixed-use," said Altus Group cost and project management senior director Marlon Bray, who noted he's being inundated with proposals. "I've got people sending me six, eight, 10 projects to look at in the space of two or three weeks.
"They're looking long-term at pipelines and thinking of the future and not just what's going to happen tomorrow."
Transit-oriented and mixed-use development
Immigration has slowed considerably during the pandemic, but it's starting to rise again and those people will need places to live and work.
While public transit ridership has decreased during the COVID-19 pandemic, SmartCentres REIT (SRU-UN-T) development VP Christine Côté said transit-oriented development is still desirable and should remain a focus for REITs and all levels of government.
Dream Unlimited (DRM-T) chief development officer Daniel Marinovic said a lot of critical transit infrastructure work began in the Greater Toronto Area in 2008 and, while it will be ongoing for years to come, he believes it's a "phenomenal" long-term investment.
"I'll continue to be a big believer in density," said Marinovic.
Allied Properties REIT (AP-UN-T) executive VP of development Hugh Clark remains a strong advocate of the "live, work and play" concept and believes it will continue to prosper. He said mixed-use projects need amenities to help people socialize.
Grocery stores, restaurants and services and amenities catering to the daily needs of the local community will become more important additions within residential buildings, according to Côté.
"We feel strongly that value-oriented retail will continue to be strong," she said.
Development costs
Construction costs levelled off from April through June, but have ramped back up due to supply and demand factors.
Bray attributes some of the increase to the 7,000 condominium units and 10,000 rental units under construction in the Greater Toronto Area, more than double the numbers from 10 years ago.
Bray pointed out construction costs comprise less than 50 per cent of residential development expenses.
Land can account for as much as 30 per cent, while development charges and taxes are also major costs. Development charges have increased by multiples and are always changing and hard to predict, said Bray.
Wilkinson said the saving grace over the last several years is that rent increases have "probably gone at, or at a level higher than, the inflation surrounding those construction costs. But if the script gets flipped and it goes the other way, what could happen?"
Specific issues for REITs
No more than 15 per cent of a Canadian REIT's funds are generally allowed to be spent on development, which Wilkinson said is lower than in other countries.
The potential build-out for some Canadian REITs, particularly those with retail sites with inherent density, is larger than their current gross leasable area.
Wilkinson added that development activity isn't included in the underlying value of a company until a building is finished. Thus, a short-term construction expenditure is a diluted effort because capital is put into something that's not creating immediate cash flow.
There's an increase in NAV after the completion of projects, but the public market is still focused on quarterly results instead of longer-term cycles, according to Wilkinson.
As a result, Allied is taking a prudent, market-driven approach to development and isn't looking to expand just because it can.
Clark said the REIT may slow the launch of new projects and ensure it hits certain pre-leasing requirements before starting construction so it doesn't put itself in a "position of strain."
Returns for REITs are getting smaller
Clark said it's "getting harder and harder to make some big gains, with eight or nine or 10 per cent returns on investment." While it's possible with some high-priced condos, those are few and far between.
Clark thinks REITs will be lucky to keep a 100- to 150-basis point spread going forward. A development yield of 150 basis points over the acquisition cap rate is much lower than the 400- or 500-point spreads of the past, Wilkinson added.
The convergence between the two figures could mean the elimination of compensation for development risk, so developers may have to start looking more closely at portfolio quality versus straight economic accretion.
"There's value to that, but it remains to be seen how the market wants to treat that," said Wilkinson.
Apartment rents have sagged recently due to the COVID-19 pandemic, and Wilkinson said there are concerns market rents may be just 10 per cent higher than in-place rents when apartments being built now are completed.
"The premium that was afforded to a lot of the apartment REITs was really based upon the fact that their in-place rents were 20 to 25 per cent below what was deemed to be market rent. So, they were trading at 20 to 25 per cent premiums to NAV."
SmartCentres REIT
Côté has been with SmartCentres for 17 years, and her focus in that time has changed from building Walmarts and shopping centres to intensifying existing properties across Ontario.
"We've got countless master plans that are in place now and we are preparing, submitting and processing development applications for those initial phases of redevelopment across the portfolio," she said.
SmartCentres has made applications for more than 20 development projects since the onset of COVID-19 and will submit another 20 over the next six months, according to Côté.
The REIT has more than 40 million square feet of density planned, mainly on sites it already owns, and has a long-term plan for much more than that.
Côté said SmartCentres is taking more time with new building design to increase efficiencies and make them more economical.
Despite the recent softness in rents, Côté doesn't think the REIT's planned purpose-built rental apartments will be switched to condos.
She believes the market will be past its short-term challenges by the time those buildings are ready for occupancy.
'Busiest year ever': Hot rural real estate market isn't cooling off – Ottawa Valley News