Italian art experts astonished by David statue uproar in Florida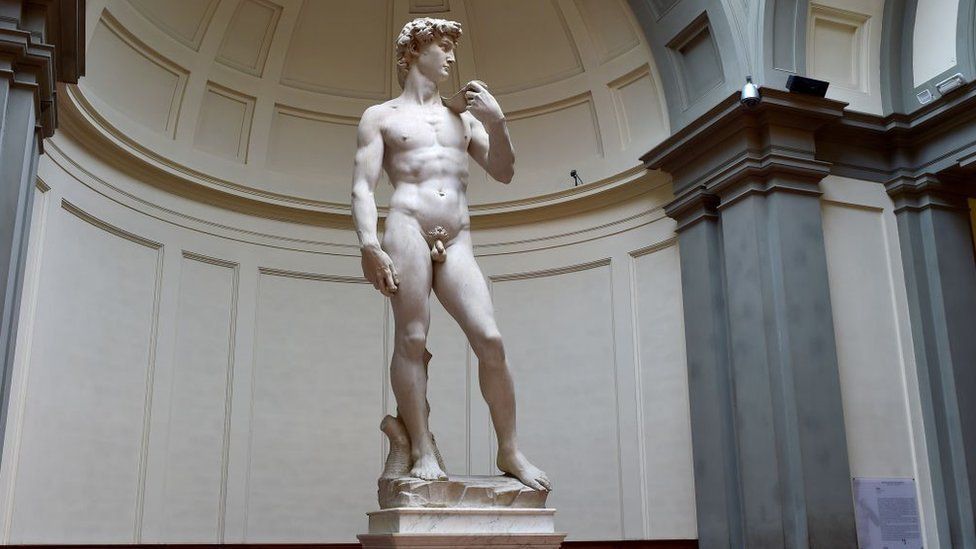 The Florence museum that houses Michelangelo's statue of David has invited teachers and students from a Florida school to visit, after an uproar over an art lesson.
The school's principal quit after a complaint about a sixth-grade art class that included an image of the statue.
A parent had complained the image was pornographic.
She said the principal should be "rewarded, not punished".
"Talking about the Renaissance without showing the David, an undisputed icon of art and culture and of that historical period, would make no sense," Ms Hollberg said.
The controversy began when the board of Tallahassee Classical School – a charter school in Florida's state capital – pressured principal Hope Carrasquilla to resign after three parents complained about a lesson that included a photo of the 17ft nude marble statue.
The statue, one of the most famous in Western history, depicts the biblical David going to fight Goliath armed only with a sling and his faith in God.
The board reportedly targeted Ms Carrasquilla because the parents claimed they weren't notified in advance that a nude would be shown, with one parent calling the statue "pornographic".
The incident has left Florentines and experts on Renaissance art bewildered.
The David is considered a masterpiece of the Italian Renaissance and a symbol of humanist values. It has been displayed in the Galleria dell'Accademia since 1873.
Ms Hollberg said she was "astonished", stating that to think that the David statue could be considered pornographic means not only failing to understand the Bible, but Western culture itself.
"I cannot believe that actually happened, at first I thought it was fake news, so improbable and absurd was it," she said.
"A distinction must be made between nudity and pornography. There is nothing pornographic or aggressive about the David, he is a young boy, a shepherd, who even according to the Bible did not have ostentatious clothes but wanted to defend his people with what he had."
The mayor of Florence, Dario Nardella, also invited the teacher who showed the students the image of Michelangelo's David to visit the city and its works of art.
"Mistaking art for pornography is simply ridiculous," he tweeted. "Art is civilisation and those who teach it deserve respect."
In an interview with Slate online magazine, Barney Bishop, chairman of the school board, said that last year the principal sent a notice to parents warning them that students were going to see Michelangelo's David, but this wasn't done this year.
He called it an "egregious mistake" and said that "parents are entitled to know anytime their child is being taught a controversial topic and picture".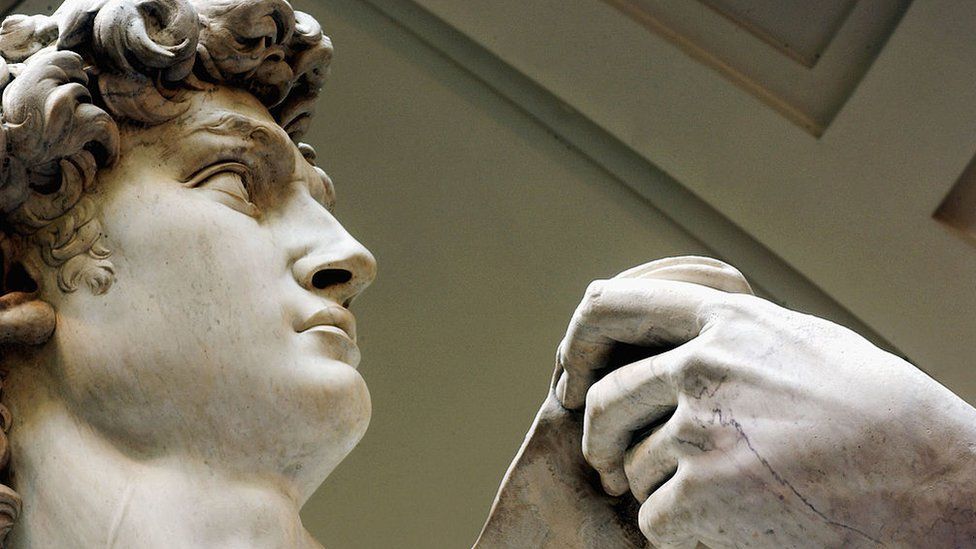 According to Florentine art historian and dean of the University for Foreigners in Siena, Tomaso Montanari, such an attitude is "disconcerting".
"First comes the dismay at the absence of educational freedom, as it should not be restricted or manipulated by families," Mr Montanari said.
"On the other hand, from a cultural perspective, the Western world has a tendency to associate fundamentalism and censorship with other societies, believing it possesses the capability to spread democratic ideals worldwide.
"But this cultural backsliding clearly highlights the presence of fundamentalist views within the West as well."
While several parents and teachers plan to protest Ms Carrasquilla's resignation at the school board meeting, she isn't sure she would take the job back even if it were offered.
"There's been such controversy and such upheaval," she said in an interview with the Associated Press. "I would really have to consider, 'Is this truly what is best?'"
Back in Florence, Ms Hollberg remarked: "From majestic statues to charming fountains and paintings, Italy is overflowing with works of art, not just in its museums, but in all its cities, squares and streets, with some featuring naked figures.
"Does that make it pornography? Should entire cities be shut down because of the artistic depictions of the human form?"
Renowned Queen Elizabeth II portrait on display at Art Galley of Peterborough – Global News
As he stood in the Art Gallery of Peterborough looking at the large portrait of Queen Elizabeth II, Alex Bierk says he can "hear my dad painting on it, being excited about working on it."
The city councillor spoke passionately about his father David Bierk as the portrait went on public display Wednesday evening for the first time since it was removed from the Peterborough Memorial Centre last fall where it hung over the ice for nearly five decades.
"So intuitively and immediately I'm connected to my dad's big presence and his energy when I view this work," Bierk told the audience.
READ MORE: Art Galley of Peterborough acquires Queen Elizabeth II portrait from Memorial Centre
In February, the gallery acquired the eight f0ot-by-12-foot portrait, which was first installed at the arena in January 1980 and remained there until the State Funeral of the Queen on Sept. 19, 2022.
Original commissioning documents, held at Trent Valley Archives in Peterborough, state that if the painting ever needed to be removed, it should be donated to the Art Gallery of Peterborough, or the Peterborough Public Library, whichever was preferred.
Briefly in 2003, the painting was removed from its original location due to arena renovations. However, public protest saw the portrait rehung.
Bierk follows in his father's footsteps as an oil painter and says the portrait is a labour of love. He recalled running around the Memorial Centre as a kid looking up at the painting. Bierk's brother Zac is a former Peterborough Petes player. David died in 2002 at the age of 58.
"The painting intersects my dad's love of sports and his life as an artist and how it hung over Zac's head all those years he played for the Petes," Alex said.
The portrait was launched as part of the gallery's Special Project: Tea with the Queens exhibition, a short-run project to showcase David Bierk's painting, Portrait of Her Majesty Queen Elizabeth II before it goes into collection storage joining the Permanent Collection.
The portrait will hang in the gallery until June 29 alongside works by artists who are Indigenous, queer, and living with disabilities.
"We've got a lot of works by David Bierk so it's pretty exciting to have this joining a number of his other pieces," curator Fynn Leitch said.
There will also be a series of afternoon tea sittings or "Tea with the Queens," hosted by local drag performers Betty Baker and Sahira Q. Seatings will take place on June 11 and June 14 from 2 p.m. to 4 p.m. and June 22 at 4 p.m. Tickets are available to purchase in person at the gallery or by calling 705-743-9179 during regular business hours.
Mayor Jeff Leal recalled he and others taking classes under David Bierk who was seen as an "artistic genius" and helped many to "develop a unique love of the arts."
Bierk says his family is appreciative of the gallery for accepting the painting.
"The amount of calls I got asking if I was going to take the painting — no!" he quipped as he waved his hands. "We're really glad it's here. It's safe and being a part of the collection at the Art Gallery of Peterborough will ensure it will live on in our community in really beautiful ways — ways like I felt when I walked into this room tonight."
Also launched Wednesday was Wayfinding: Works from the Youth Art Mentorship Program, a collection of works by youth artists Amber Rose, A. Carabine, Charley Pesonen, Kellan Mackenzie, Lauren Armstrong, and Mujgan Hussein Zada who spent the last three months working with artist-mentor Spencer J. Harrison. The goal was to explore the professional practice of being an artist and produce an exhibition of their work. The youth were selected by a jury of arts professionals earlier this year.
&copy 2023 Global News, a division of Corus Entertainment Inc.
Winnipeg Art Gallery sells four QEII prints to purchase Indigenous art – CityNews Winnipeg
[unable to retrieve full-text content]
Winnipeg Art Gallery sells four QEII prints to purchase Indigenous art CityNews Winnipeg




Source link
Andy Warhol paintings sell for $936,000 at auction | CTV News – CTV News Winnipeg
Four Andy Warhol paintings that were part of the Winnipeg Art Gallery's collection have sold at auction, with the money being used to help increase the Indigenous art collection at the gallery.
Four colour silkscreens of Queen Elizabeth II created in 1985 were on the auction block Thursday at Cowley Abbott Auctioneers, where the realized price when the auction ended was $936,000.
A spokesperson for the gallery says the money from the sale will go towards an endowment that will sit for at least one year. The gallery will use the accumulated interest to begin purchasing artwork by Indigenous artists to add to its permanent collection.
While the Winnipeg Art Gallery contains the largest public collection of contemporary Inuit art, only around one per cent of its collection is from First Nations and Metis artists.
The artwork by the famed pop artist was estimated to sell for between $700,000 and $900,000. It was donated to the WAG in 1999 by a collector.
-With files from CTV's Taylor Brock