Sotheby's Sale of Glitch Art Postponed After Artists Complain About All-Male Sale
Sotheby's paused its "Glitch-ism" auction Sunday, days after its March 24 launch, after prominent glitch artists pointed out that the auction, held by Sotheby's digital art marketplace Metaverse, didn't have a single woman artist represented.
"Sotheby's is pausing Natively Digital: Glitch-ism to redress the imbalance in representation within the sale, and will relaunch with a more equitable and diverse group of artists at a later date," read a Tweet by Sotheby's Metaverse published Sunday.
Artist Patrick Amadon announced Sunday on Twitter that he was pulling his artwork from the sale in "solidarity" with female and queer glitch artists. He was the only artist to do so.
A part of Sotheby's recurring Natively Digital sale, "Glitch-ism" was supposed to be a historic moment for "glitch art," which hasn't been represented in a major auction before. Glitch art defines an interest in the aesthetic, poetic, and political suggestions represented by the glitch, from eruptions of static to "deep fried," pixelated video.
The "glitch," as the representation of a failure, and the opportunities and slippage that can entail, has attracted many female and queer artists, including, for example, curator Legacy Russell, whose book Glitch Feminism introduced audiences to the feminist connection to the medium when it was released in 2020.
"To have an all-male show in 2023 seems entirely out of tune. But to do this in to the glitch genre is just whack," Rosa Menkman, a glitch artist, told ARTnews.
Menkman noticed that one of her works was being used in the auction's description of the history of glitch art, in which Menkman was credited not only for her pioneering work in the field, but also for her theorization. While Sotheby's recognized her contributions, the auction house didn't include her. What really bothered Menkman, however, wasn't her own exclusion, but a lack of historical awareness about glitch art as a movement molded since its inception by female and queer artists.
"I don't believe an auction house needs to define a genre, nor its aesthetic or its genealogies. But, like any institution, they need to take some responsibilities and show a certain level of care." said Menkman "If they don't – it's bad for everything including their own credibility,
Davis Brown, a Sotheby's pre-sale coordinator who organizedd the sale, reached out to glitch experts like Dawnia Darkstone to get more background research on the genre and recommendations for artists that would be a good fit. In a series of emails that Darkstone published on Twitter Sunday, Darkstone made clear to Brown that she would love to consult on the show, just not for free. Brown was apparently not interested.
"I was quite irritated with them for asking for my consultation without compensation, but when I opened the sales page and saw Rosa Menkman's work front and center I was still excited," Darkstone told ARTnews. Then she realized that neither Menkman nor any other female or queer artists had been included. "That felt like a slap in the face," she sadded.
As conversation about the show heated up online, Amadon, who who recently had a work censored in Hong Kong, caught wind and decided to pull out.
"It just didn't feel right participating in the show and I wanted to be in solidarity with female and nonbinary glitch artists," Amadon told ARTnews. "I'm very aware that [being excluded from] sales can perpetuate a cycle in which people who are deserving of representation get cut out, because sales create their own momentum."
Menkman and Darkstone said that they have since been contacted by Sotheby's with tentative offers to participate in the show as an artist and curator respectively. Darkstone said the outcome was an exciting result from a moment of protest.
"I feel cautiously optimistic," said Darkstone. "I think it shows that art communities coming together and speaking out against injustice can really make a difference."
Jaw-dropping immersive environmental art exhibit 'Arcadia Earth' is coming to Toronto this fall – NOW Toronto
Just when you think Toronto has been spoiled enough with world-class interactive art exhibits we get yet another one.
But we're not complaining.
A jaw-dropping immersive environmental art exhibit called Arcadia Earth is coming to Toronto this fall and from the looks of it, it's not one to pass up.
READ MORE: Explore centuries of Inuit life with a new exhibit at the Royal Ontario Museum
After a wildly successful run in New York, Las Vegas and Saudi Arabia, the exhibit is making its way up north for its Canadian debut.
Visitors can experience a 17,000-square-foot journey through planet Earth in all its glory and weaknesses.
The exhibit combines both large-scale art installations and technology.
"Arcadia Earth Toronto will transport visitors to the heart of global challenges such as overfishing, plastic waste, and biodiversity loss," the exhibit creators said in a statement.
"From an underwater world built from salvaged commercial fishing nets to a large-scale beehive made from thousands of pages of reclaimed books, the spaces promote individual empowerment and equip guests with actionable suggestions to help protect the future of our planet."
The exhibit will officially open in the fall of 2023 and set up shop at The
Well in Toronto.
Theatre, art, and water security central in international USask exhibition – USask News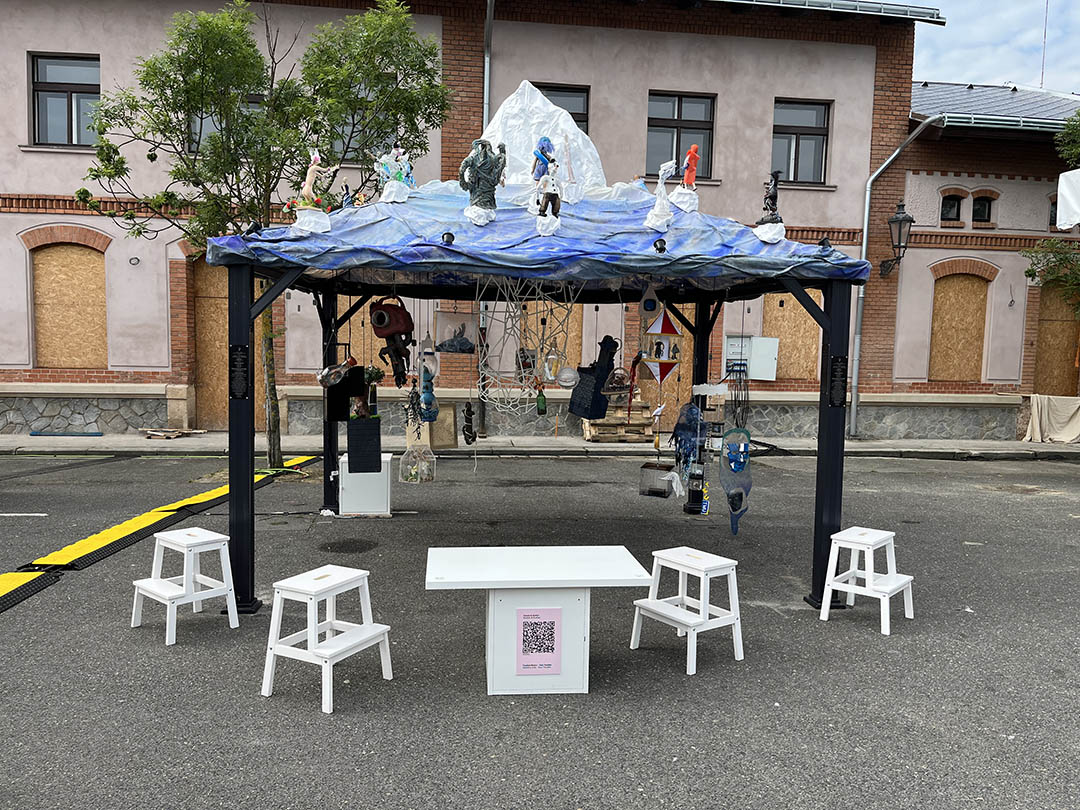 Per Orosz, the main "gazebo-like" structure is meant to invoke the idea of an iceberg, with other art pieces attached above or suspended below the structure's roof to symbolize thoughts and ideas that are either visible and talked about, or metaphorically "below the surface" when it comes to water security.
Six USask undergraduate students and two recent alumni contributed artwork to the exhibit. In addition, 20 USask students will be travelling to Prague to perform and engage with the public for the Canadian exhibition. Overall, around 150 students from across Canada will be participating in the exhibition at PQ.
Orosz spoke glowingly about the students' dedication to creating something that reflected ideas of water security and access to clean water in Canada, as well as their eagerness to collaborate with like-minded students from across the country.
"I feel pure pride for what USask does," she said. "It's an international stage, we're showing off the work to the rest of the world, but it's also important to show off to the rest of Canada."
In addition, Dr. Graham Strickert (PhD) with USask's School of Environment and Sustainability, and the Global Institute for Water Security, spoke to the students involved with the project about being mindful and thoughtful about the topic their artwork is focusing on.
USask has identified water as one of its signature areas of research that garners the university recognition and distinction around the world. Orosz and the students taking part in the PQ exhibition are shining a light on that focus in a unique and interdisciplinary way.
"What's important about these kinds of connections between art and science is that we're collaborating and feeding off of each other," Orosz said. "We're showing that scientists are hearing from us and thinking about new ways to approach their work, and we think about new ways to approach ours."
Richmond youth visual art contest draws worldwide participation – Richmond News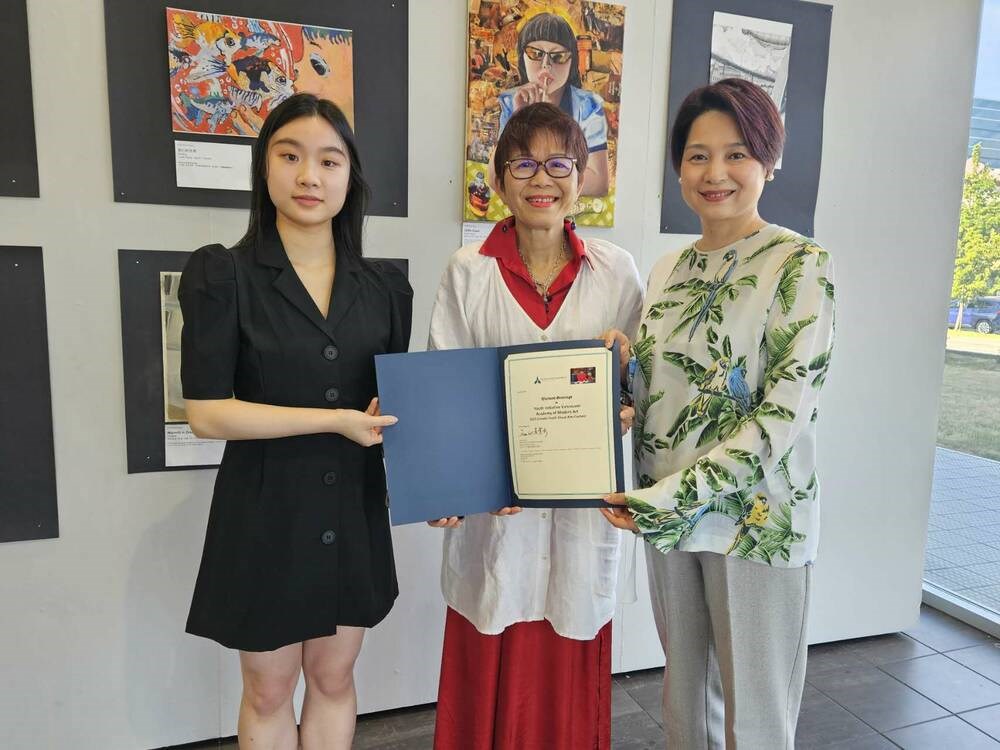 A Richmond-based visual art contest has received hundreds of submissions from across the world this year.
Canada Youth Visual Art Contest, an annual competition open to young people around the world is held by Youth Initiative Vancouver and Academy of Modern Art (AOMA) and was first launched in 2021.
This year, the contest received 660 pieces of artwork from 13 countries. The majority of the artwork will be on display at Lipont Place on No. 3 Road this weekend and can be viewed online after.
"Our competition was to connect young artists worldwide, especially during the global segregation because we started during the pandemic years," said Yoshier Hu, a student from Hugh McRoberts secondary and co-president of Youth Initiative Vancouver.
"We believe art is basically a universal language for creativity, especially in youth."
The contest is open to any type of art media, including traditional painting, mixed media, digital art, photography, 3-D models, sculptures and more.
A jury panel from different countries have selected 177 artworks as award recipients that will be announced at an award ceremony in Vancouver Saturday evening. More than 300 young artists are expected to attend the in-person event. The students also hope to raise funds for charities through the contest with the goal of raising $15,000 this year, Hu explained.
"In the past, we have raised money for UNICEF Canada, BC Children's Hospital Foundation, and this year we are doing VGH and UBC Hospital Foundation," she said.
"One of our main fundraising methods is artwork donation and charity auctions. Contestants and award recipients can choose to donate their artwork, and then we will auction it and raise funds that way."
The winning artwork will be available on AOMA's website.