Only recent homebuyers feeling crunch of rising interest rates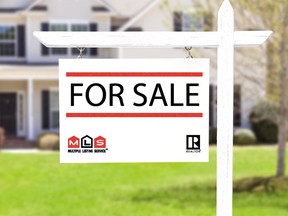 Holiday parties are back this year, baby.
And while the novelty of having somewhere to wear my party shoes again has yet to wear off, the cocktail party conversations remain the same as they ever were: the weather, holiday plans, upcoming travel and, of course, the real estate market.
This is Toronto, after all.
Would you believe me if I said there are people who, presumably in an effort to make benign small talk, ask me how the real estate market is and seem genuinely surprised to hear that things are rocky at the moment?
They indicate a vague awareness that interest rates are going up and slowing things down, but seem shocked to hear what that's shaking out to mean in terms of the fall from February's highs.
"It seems like things are sitting, huh?"
That was last night.
Confirms what I have long suspected:

Firstly, that Twitter bears very little resemblance to real life. Amen. Because, of course, if one were to extrapolate the state of things based on my (admittedly real estate heavy) Twitter feed alone, one would likely feel certain the world was ending.

And second, that unless you're a recent buyer with a variable rate mortgage feeling the crunch of the rising rates, you're probably busy living your life.

Your house may be worth substantially less than it might have been valued at last winter, but to you that was never real since even with the correction it's likely still up substantially from what you paid.
Unless you've bought, sold or refinanced, that gain was entirely theoretical — you were living in your home, not tinkering with your net worth abacus in real time.

Based on what I can tell from a solid two weeks of mixing and mingling, the people who seem to be uncomfortably straddling the two worlds at the moment are the Boomers sitting with a substantial portion of their wealth tied up in their homes. For those whose retirement plans centred upon cashing out and downsizing, perhaps renting a nice bungalow somewhere, the outlook isn't looking great.

Now there's an entirely uncertain timeline to contend with. We can't be sure where the bottom is, when we might finally hit it, when the recovery might start to begin, and when, if ever, we might see prices like that again.
The rental market is tighter than it's ever been, making the prospect of making a move both daunting and unappealing.

And to add a whole other layer of complexity to the situation, given how unaffordable the market has been for first-time homebuyers, the number of their parents who have pulled equity to help out with a downpayment is probably not surprising at this point. So we're not actually just talking about people sitting on pots of illiquid gains — they're also sitting on liabilities.

So the question is what should they do and when should they do it?

Of course, the answer is that I don't know — it really depends.

But I will say that like seemingly all else in this period of uncertainty, kicking the can down the road and hoping things will miraculously improve in the spring doesn't seem particularly promising.

Bah humbug indeed.
Increasingly large down payments could help GTA homeowners weather downturn: Report – CP24
A new analysis by realtor firm Re/Max says the Toronto real estate market may be better positioned than previously thought to weather the financial downturn expected this year, though there still may be some choppy waters ahead.
The new report compared average price and new mortgage values in different markets across the country between the third quarter of 2012 and the third quarter of 2022.
It found that in Toronto, loan-to-value ratios hovered at around 53 per cent in the third quarter of 2022, compared to 63 per cent 10 years earlier, suggesting people are putting down a higher percentage of the costs of a new home than they were a decade ago.
Loan to value ratios are used to express how much debt a person holds on an asset compared to its value. The higher the percentage, the greater the debt level on the asset.
Back in the third quarter of 2012, the average Toronto home price was $483,900, while the average new mortgage amount was $305,776, yielding a loan-to-value ratio of about 63 per cent.
In the third quarter of last year, the average Toronto home price was 1,079,957 while the average amount for a new mortgage was $567,441, yielding a loan-to-value ratio of about 53 per cent.
So what explains the fact that homebuyers in Toronto are putting down more money even as prices have skyrocketed over the last number of years?
Rising prices, Re/Max Canada President Christopher Alexander told CP24, are in fact part of the answer.
"Some people have generated a lot of equity over the years," he said, alluding to people who have made hundreds of thousands of dollars from properties as the housing market took off.
A few other factors have also contributed to people having more money to put toward a home, the report says, including large profits realized in the stock market over a lengthy bull run.
"You've had the remote work phenomenon, people are allowed to keep their jobs and move to more affordable markets," Alexander said.
"And the big, big story is the transition of generational wealth that's been going on. The 'bank of mom and dad,' as we like to call it in the industry, has played a huge role in supporting — whether they're first time homebuyers or move-up buyers — into purchasing homes at much higher down payment rates with chunks so that they can manage payments a lot easier."
But while people in the Toronto area may be putting down a higher percentage of a home's value than they were 10 years ago, there is no getting around the fact that the loans are nevertheless much larger than they were a decade ago — nearly double the size on average.
The report notes that given the steady climb in interest rates last year, "banks are tightening their own lending practices and proceeding with caution when qualifying today's borrowers."
The report says some bank appraisals are coming in lower than values paid in recent months, "sending buyers scrambling to make up the difference."
"With overnight rates poised to climb on at least two more occasions the first half of 2023, market stability will undoubtedly be tested, but the latter half of the year is forecast to improve as homebuyers and sellers continue to acclimatize to new market realities."
Limited supply of housing and a steady flow of new immigrants to the GTA are expected to buoy the housing market in the next year, the report says.
Alexander said that supply remains "shockingly low" and that some potential sellers may be holding back now because they perceive that they won't get top dollar for their properties.
"I think the majority of sellers are hoping to get the most for their money just like buyers want to pay the least," he said. "So you have a lot of them that don't need to move, just wait. And right now what you're really seeing is situational transactions. People that have kids, or have gotten married, divorced — the ones that really need to make a move are the ones you're seeing bringing product to the market right now."
He said potential job losses triggered by an economic downturn could also send more homes to market if people can no longer afford their payments.
The report noted that mortgage delinquency rates remain low in Canada.
"While challenges certainly exist in today's high interest rate environment, risk factors for the overall housing market are greatly reduced when homeowners own a larger proportion of their homes," Alexander said in a statement with the report. "With half of loan-to-value ratios within the 50- and 60-per cent range in Canadian markets, homeowners are better able to withstand downward pressure on housing values and fewer will find themselves underwater, carrying upside down loans."
Another report from Re/Max several months ago said GTA home prices could drop around 12 per cent in 2023, while one bank recently declared the GTA a buyer's market.
Real estate agents are turning to ChatGPT AI to describe listings – USA TODAY
Century 21 Beggins Enterprises on its website lists a "beautiful" three-bedroom condo in Madeira Beach, Florida with "large spacious balconies to enjoy the warm, beautiful views."
"This is one of the only properties available on the Gulf Beach islands that's totally pet friendly," the listing reads. "Secure your piece of paradise at The Residences at Madeira Beach Town Center. Welcome home."
If you're tempted to buy the listing, thank ChatGPT. The text above was written by the free artificial intelligence computer program.
Real estate agents across the country are turning to the program to help write up listing descriptions and content scripts, as first reported by CNN.
"We're using it every day," said Mike Puma, chief marketing officer at Century 21 Beggins, who uses ChatGPT to write content like social media posts or video scripts for real estate agents. "(This allows) them to spend more time on what they do best."
What is ChatGPT?: Everything to know about OpenAI's free AI essay writer and how it works
Remember how 5G was going to change everything? Here's a breakdown of reality vs. hype
AI school ban: Schools nationwide are banning ChatGPT. What we know about the future of AI in education.
How are real estate agents using ChatGPT?
Tony Angelos, a Chicago-based broker, said he started using ChatGPT soon after OpenAI launched the program in November 2022.
"It's a total game changer," he said. For most real estate agents, "marketing and prospecting is really most of the jobs' core functions. And this is a very cost-effective way to completely eliminate one of those things."
Angelos uses the program regularly to come up with scripts for social media videos and listing descriptions.
Earlier this week, he had the AI program write a script about things to do in Chicago in February. He said what would have taken him 20 minutes to write took ChatGPT five seconds.
"I said make it a little funnier, and it made it funnier for me," he said. "It's not perfect by any means. But it is an amazing starting point."
Paige Hewitt, a realtor based in Indianapolis, has used ChatGPT to help write listing descriptions and marketing newsletters. She said the program's capabilities far exceeded her expectations, and she's excited that the time it saves her means she can spend more time with clients.
"It's going to make my job easier, which is going to make me stronger at my job," she said.
While the technology is a growing trend in the industry, the National Association of Realtors' director of emerging technology, David Conroy, says business usage among realtors has so far been limited.
Relief for homebuyers in 2023: Mortgage rates at lowest levels since September
Mortgage rate buydowns: Mortgage rate buydowns are on the rise as homebuyers cope with high interest rates
How much does ChatGPT cost?
While ChatGPT is free for now, OpenAI's official Discord server in January said the company was "starting to think about how to monetize ChatGPT" to "continue improving and maintaining the service."
Real estate agents told USA TODAY they believe the tool would be well worth the money.
"We've been playing around with different AI platforms for years now and none of them have been very good," Puma said. With ChatGPT, "we can now build really unique things on top of this that make the agents' life even easier."
Schools nationwide are banning ChatGPT: What we know about the future of AI in education.
What are ChatGPT's limits?
ChatGPT has proven to be useful, but it's not perfect.
Its popularity means it regularly reaches full capacity, forcing users to wait their turn to use the program. And because it was trained with writing from the internet up to 2021, some of its information is outdated.
Conroy from NAR warned that anything generated with AI should be thoroughly reviewed by licensed professionals. That includes listing descriptions; he notes that NAR's code of ethics prohibits the exaggeration or misrepresentation of pertinent facts.
"There could be scenarios where listing descriptions created by using AI could unintentionally include language or descriptions that are not intended or even violate fair housing laws," Conroy said in an emailed statement. "It is important to remember that real estate professionals have a responsibility to their clients to be honest and truthful."
You can follow USA TODAY reporter Bailey Schulz on Twitter @bailey_schulz and subscribe to our free Daily Money newsletter here for personal finance tips and business news every Monday through Friday.
In Toronto real estate, a small bounce amid uncertainty – The Globe and Mail
Canada's housing market will slowly grind lower in 2023 before finding a bottom later this year, predicts Randall Bartlett, senior director of Canadian Economics at Desjardins Group.
"We think the worst is behind us," he says of the correction in real estate so far.
Still, buyers are likely to remain cautious as some price discovery takes place, Mr. Bartlett added in an interview.
"Nobody wants to catch a falling knife."
By the end of December, the national average house price had dropped 20 per cent from its early 2022 peak, and Mr. Bartlett figures it will slip up to five per cent from that level.
Debt-burdened homeowners – particularly those with variable rate mortgages – are likely to find the first quarter the most challenging, says the economist, following the eighth interest rate hike by the Bank of Canada as it strives to bring down inflation.
The central bank also signalled its intention to pause at the latest meeting after moving the policy rate from 0.25 per cent in early 2022 to 4.5 per cent.
Mr. Bartlett is not expecting a wave of distressed homeowners to sell their properties this year, but they will likely rein in spending, he says.
That decrease in consumption will likely contribute to a short and shallow economic recession, according to Mr. Bartlett.
He cautions, though, that the risks to his forecast are tilted to the downside, partly because of the prevalence of people taking out variable rate mortgages during the pandemic.
If the recession turns out to be more severe than he expects, more workers are likely to lose their jobs and another leg down in the housing market is a real possibility, he warns.
His base case is that real estate prices will find a floor in the third or fourth quarter, he says, and Desjardins has pencilled in a rate cut by the Bank of Canada for October or December.
Looking farther ahead, Mr. Bartlett is concerned that slow sales in the current market for pre-construction condo units will lead to a shortage of units in the coming years. While a rush of supply will come on this year and next after a sales boom during the pandemic, that segment is currently in a slump and immigration is expected to increase.
In Toronto, meanwhile, the end of one year and start of the next has brought a sudden flurry of sales, agents say.
Christopher Bibby, broker with Re/Max Hallmark Bibby Group Realty, says some properties that had been lingering on the market all through the fall sold at the end of December or beginning of January.
"I never would have predicted January would be our opportunity," he says of selling the various properties that were first listed in April, July and August.
Mr. Bibby says the opening salvo of many buyers is an offer well below the asking price, but some back-and-forth usually leads to an agreement.
"Frequently people will call just to gauge the motivation or how desperate we are."
In one case, a unit at 55 Stewart St. was listed with an asking price of $2.595-million. The buyer chiseled that figure down to a sale price of $2,478,600.
In another case, sellers had actually taken their one-bedroom unit at 301 Markham St. off the market with a plan to relist in the spring. A downsizing couple who had looked at the unit when Mr. Bibby had it listed for $629,900 in the fall contacted him in early January and asked to see it again.
They struck a deal for $600,000.
Typically, condo units sold for between 3 and 6 per cent below the asking price, he says.
"People feel they need some cushioning if prices go down a bit."
That's a significant change from the fall when many properties did not even have showings, he says.
Long closings in the 120-day range are increasingly common these days, he adds.
Some agents have reported spirited bidding wars in the Greater Toronto Area – particularly when properties are listed with an asking price far below market value.
In the east end of Toronto, for example, a rundown two-bedroom house was listed with an asking price of $349,000 and drew more than 30 offers. It sold just above $600,000.
In Mr. Bibby's opinion, most market participants are in no mood for the strategy of attracting eyeballs with an unrealistically low asking price. Listing agents report registered offers, he notes, and often just one offer is enough to discourage others who had viewed the property.
He says an effort to drum up a bidding war can backfire for the seller because they may not get the price they were hoping for and all other potential buyers will know it.
"The minute we say we have an offer, no one wants to compete downtown," he says. "Once that notice goes out, all eyes are on you."
With some confidence returning to the market, Mr. Bibby has six properties lined up to list in the coming weeks, but he points out that activity remains very unpredictable. He is not seeing any signs that suggest prices will skyrocket and recommends that potential sellers gauge their own comfort level.
"If the timing doesn't feel right, don't do it," he advises sellers.
Elli Davis, real estate agent with Sotheby's International Realty Canada, was surprised when two buyers submitted offers for different Bay Street condo units at 9 p.m. on a Saturday night.
Both condos were listed around the $1-million mark and deals firmed up within a few days.
A two-bedroom unit at Granite Place in midtown Toronto received two offers after Ms. Davis launched it during the first week of January.
The 1,312-square-foot unit was listed with an asking price of $1.195-million and sold for $1.3-million.
Ms. Davis says buyers and sellers continue to move for the usual reasons: They are leaving Toronto, expanding their family or downsizing.
"Not everyone is so affected by the economy and interest rates."
Ms. Davis encourages potential sellers to list when there is so little inventory available, but she stresses that they also need to be realistic about the asking price. Some are dismayed about the tumble from the heights of early 2022.
"'I don't want to give my place away,'" is a common refrain, she says, as sellers adjust their mindsets to lower prices.
Her usual response to that is, "let's look at what you made," she says, pointing out the gains to sellers who have owned their properties for many years.
Manu Singh, real estate agent with Right at Home Realty Inc., says January was unexpectedly busy for him after a moribund final quarter to the year.
He saw a discernible shift in the segment below $749,000 while he was working with a first-time buyer who purchased a loft in a boutique building near Queen Street W. and Dovercourt Road.
Mr. Singh advised the young professional to take her time looking because units were languishing on the market. Suddenly 25 showings had been booked for the one-bedroom-plus-den unit on Dovercourt Road listed with an asking price of $707,900.
"I hadn't seen this for months," he says.
The sellers had already rejected one bid below the asking price when Mr. Singh's client struck a deal with an offer of $715,500.
Mr. Singh believes pent-up demand from buyers who sat out the fourth quarter is one reason for the spurt. Many have preapproved financing lined up and they wanted to take advantage of the rate they were offered before the Bank of Canada's January meeting.
In the months ahead, Mr. Singh expects the market to remain fairly flat. Investors are still reluctant to buy, he adds.
"I think rates have actually scared them."