Lush to stop its social media until it's 'safer' – BBC News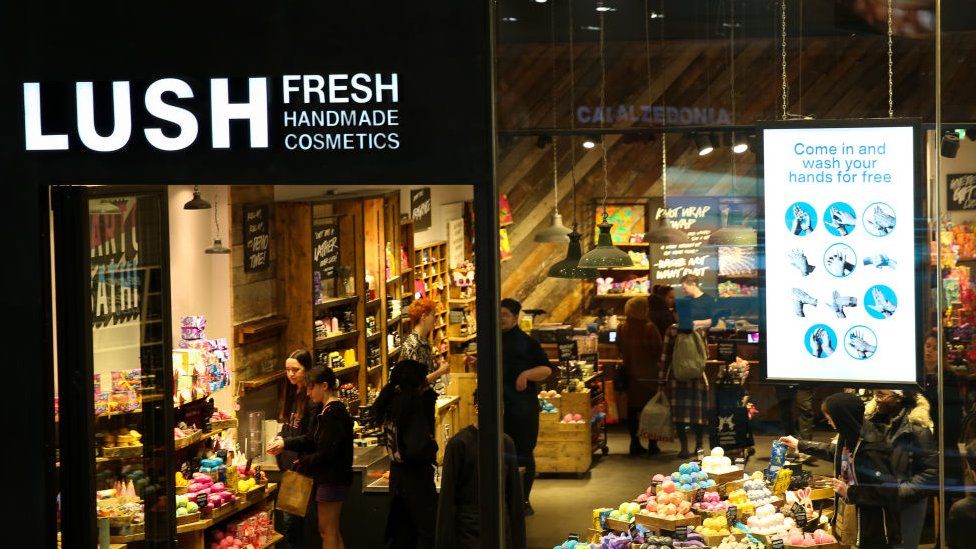 Cosmetics firm Lush says it is deactivating some social media accounts until platforms "take action to provide a safer environment" for users.
The company said that from Friday, its Instagram, Facebook, TikTok and Snapchat pages will be shut down.
The policy will be rolled out across all 48 countries Lush operates in.
However, the company will continue to operate on Twitter and YouTube "for now", as looks to "build better channels of communication elsewhere".
The retailer previously closed several of its UK social media accounts, but said it found itself "back on the channels, despite the best intentions".
It said it decided to bring back "some limited use of the channels we had mothballed", to offer service to customers during coronavirus lockdowns.
Lush said the "serious effects" of social media were barely being acknowledged and compared the situation to when "climate change was ignored and belittled for decades".
The company has four million followers on its Lush Cosmetics North America Instagram page and 1.2 million on Facebook.
'Out the mix'
"I've spent all my life avoiding putting harmful ingredients in my products. There is now overwhelming evidence we are being put at risk when using social media," said Mark Constantine, co-founder and chief executive of Lush.
"I'm not willing to expose my customers to this harm, so it's time to take it out of the mix."
Lush said it hopes platforms will introduce "best practice guidelines" and that international regulation will be passed into law.
"As an inventor of bath bombs, I pour all my efforts into creating products that help people switch off, relax and pay attention to their wellbeing," said Jack Constantine, chief digital officer and product inventor at Lush.
"Social media platforms have become the antithesis of this aim, with algorithms designed to keep people scrolling and stop them from switching off and relaxing."
Canadiens executive vice-president Jeff Gorton marks new era, meets Montreal media – Globalnews.ca
It's been the talk of the town among sports fans for the past week: the Montreal Canadiens firing longtime general manager Marc Bergevin and bringing in Jeff Gorton as executive vice-president. The newly appointed VP met with the Montreal media for the first time Friday morning to mark the start of a new era.
The former New York Rangers general manager started by attempting to say a few sentences in French. When finished, he thanked owner Geoff Molson and said, "I hope that was OK."
Gorton said working for the Habs is a dream. He feels like the Original Six franchise is a good fit, despite the fact that the Massachusetts-born VP grew up cheering for the Boston Bruins.
"You know, the Canadians broke my heart a lot of times. That's my first memories, like in 1979, probably sticks out as the first one," he told reporters.
Gorton insisted that he's just starting out in his new role and he's still getting a feel for the team. Regardless, the executive vice-president plans to work on player development and wants to add an analytics team.
"I do believe in analytics and I think that the way the game has gone, I think it's a big piece of information that you need to have," said Gorton.
A big piece missing from his qualifications is that Gorton doesn't speak French. He said he's learning — his wife even bought him lessons — and asks for patience.
"I wanted to be great at golf and I still stink. Right? So I will do my best," he said, chuckling.
Fans seem to support his effort, saying it's not language that will help the Habs get out of this season's slump.
"He did some sentences in French this morning, so I think it's a good step forward," said fan Patrick Gervais.
The team is still looking for a French-speaking general manager to complement Gorton. Former Canadiens goalie Patrick Roy has expressed interest in the position. But Gorton says he has yet to draw up a shortlist, adding that it's unlikely Bergevin's successor will be named before Christmas.
"I don't want to commit to anybody. I don't want to say no to anybody so people can keep calling me if they like," he said.
However, Global News hockey analyst Brian Wilde doesn't expect Roy to get the job.
Instead, he said he thinks Molson and Gorton would like "someone who has a lot of experience in scouting and has some experience as an assistant general manager."
"I think Mark Madden fits the role in Anaheim," said Wilde.
Wilde says he liked what he heard from Gorton on Friday. But the executive vice-president kept his cards close so fans will have to wait to see what the Gorton era brings.
"I don't think we got our answer to whether it's going to be a full rebuild, and I think we're going to have to wait just to see how many moves he makes," said Wilde.
© 2021 Global News, a division of Corus Entertainment Inc.
Montreal real estate broker fined $1500 for English-language social media ad – CTV News Montreal
MONTREAL —
A Montreal real estate broker has picked up a hefty fine for posting a social media ad in English only.
REMAX Broker Qiang Zhong said he was issued the ticket of $1,500 by the Office québécois de la langue française (OQLF) over the post, which advertised one of his properties.
Zhong said he didn't mind picking up the bill. "I know the government just wants to promote a French language," he said. "I don't have any personal emotion against this stuff."
The fine came from a violation of Article 52 of Quebec's French Charter, which states that, "catalogues, brochures, folders, commercial directories and any similar publications must be drawn up in French."
The OQLF said it became aware of the infraction after a complaint on Oct. 23, 2019.
Zhong said he's been working as a broker in Montreal for more than a decade after moving here from China, where he's used to navigating between languages: Mandarin, the official language of Mainlaind China, and Cantonese, which is also common in his home province of Guangdong.
He said he's still connected with his home communities, and has helped several new Chinese immigrants find homes in Montreal. He said he also encourages newcomers to learn French — the province's official language.
"Even though I got the bill, I still love Montreal," he said. "I could get double or triple the money in Toronto in Vancouver, but I want to stay here."
He also said the ad brought prospective buyers to the REMAX website, which can be viewed in both French and English.
Watch Live: Canadiens' Jeff Gorton addresses the media – Sportsnet.ca
Editor's note: This stream has now ended.
For the first time since assuming the role of executive vice president of hockey operations for the Montreal Canadiens, Jeff Gorton will speak with the media — and his comments can be seen in their entirety right here on Sportsnet, starting at approximately 10:00 a.m. ET.
Gorton took on the role amid seismic changes to the Canadiens' front office, including the departure of longtime general manager Marc Bergevin, and will be tasked with charting a course back to contention for Montreal, which has followed up a fabled run to the Stanley Cup Final with a troubled first quarter to 2021.