Media freedom safe in Ukraine despite the war, officials say
KYIV, Ukraine — Freedom of speech in Ukraine has not faded away and has survived the ongoing Russian aggression against the country, Ukrainian officials said.
"We live in times when the main news is coming from the frontlines," Oleksandr Tkachenko, the Ukrainian Minister of Culture and Information Policy, told a crowd at a recent conference on media freedom in Kyiv.
Government officials have put some limitations on media freedoms, including restrictions on reporting on the military, but media experts said those limitations shouldn't be transformed into restrictions on political reporting, according to a group of Ukrainian government, parliament, media and NGO members who gathered for a "National Media Talk" conference.
Andriy Kulykov, who chairs the Commission on Journalistic Ethics, said he wanted to dispel some of the lingering doubts about restrictions, pointing out that the Ukrainian society, with two recent revolutions behind its back, is learning and will not let political censorship take over.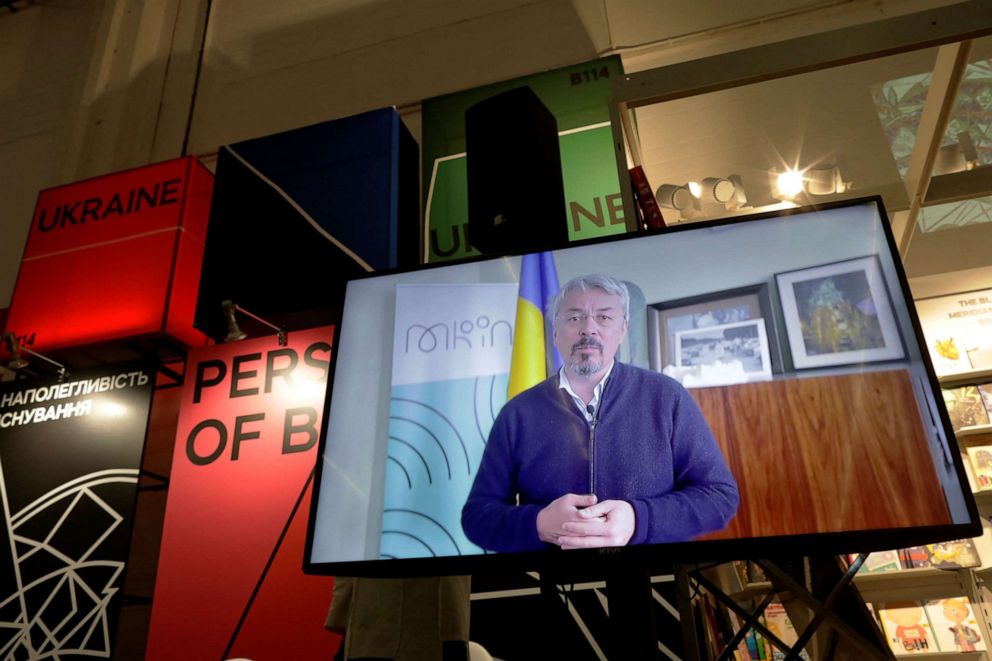 The media audience in Ukraine still has a variety of information sources to choose from — unlike on the territories currently occupied by Russia, the experts said.
"This is not a limitation on the freedom of speech — let's call it forced moderation during the war," Oleksii Reznikov, Ukraine's defense minister, said.
The function of journalism in Ukraine has changed since the beginning of the war, Reznikov added, as journalism today could serve as just another weapon. And Ukraine is struggling with propagandists from the Russian side. He highlighted the role of journalism in uncovering counter-propaganda and fake news, he said.
Reznikov also explained the rationale behind information silence or control in Ukraine — most evident on social media — saying Russian army reports to the Kremlin facts from the frontline roughly two and a half days after the given event. It is vital to make sure that the Russians will not be provided with valuable information in that time frame, before the Ukrainian army is ready to make its next move, Reznikov said.
Despite the maintained levels of information control, Reznikov said he does not "foresee any danger of information dictatorship in Ukraine."
Journalists in Ukraine are fighting "on their battlefield," the Ukrainian defense minister told ABC News.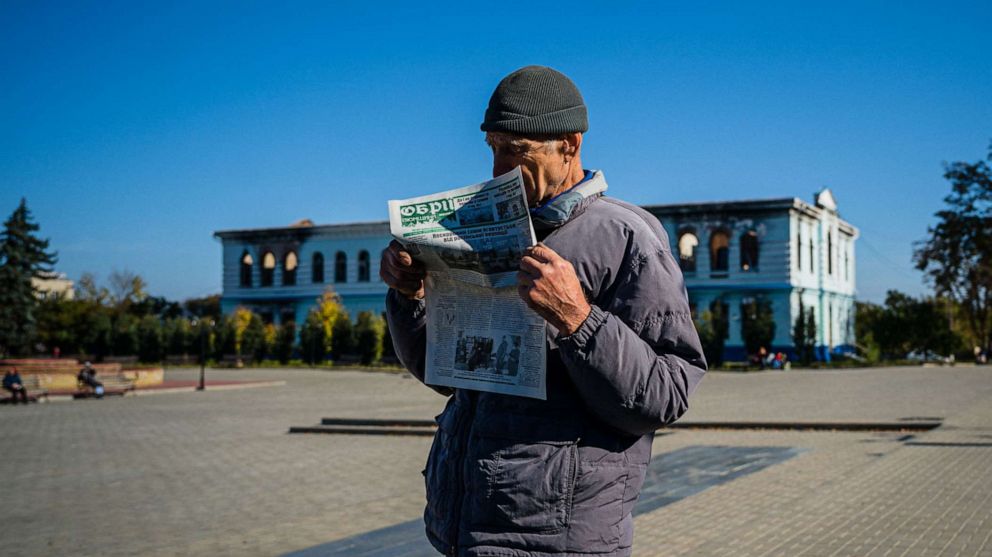 But the lines have been further blurred for some journalists who've enlisted in the military, according to Lesya Ganzha and Maksym Skubenko, former media representatives currently fighting in the Ukrainian army.
Another former journalist who joined the fighting, Artem Kolosov, said, "It is anger that I feel."
Denys Bihus, a former investigative reporter and editor, said, "The simplicity of war means that complicated questions you easily solve by a 120-mm mortar." Bihus said he believes that currently enlisted journalists will come back from the war more angry and more radicalized, which may change the media landscape in coming years.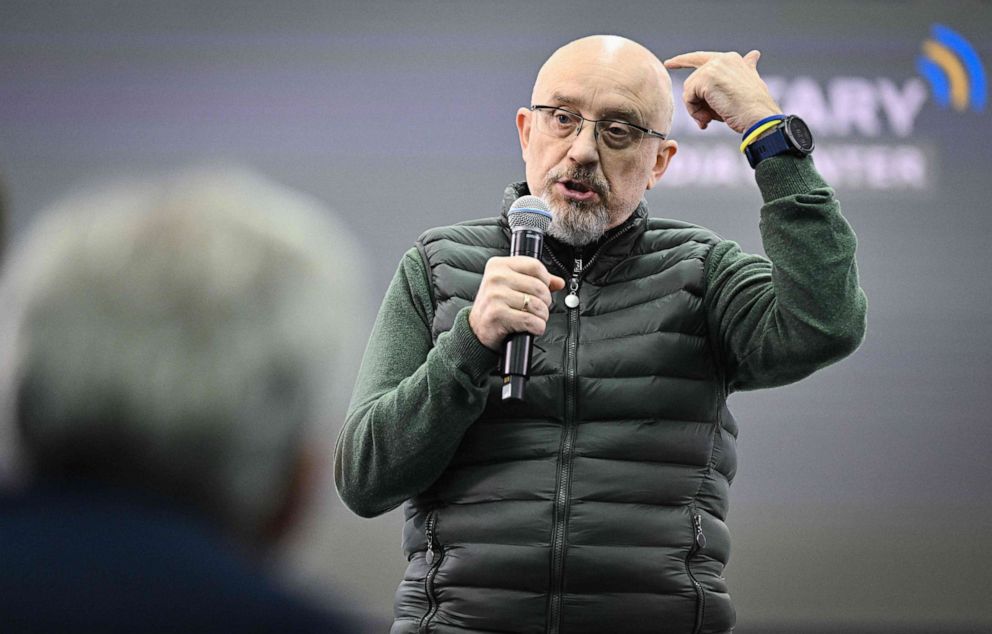 Yet according to Mykyta Poturayev, a lawmaker leading the charge in adopting a new law on media development, free media after the war will not only be about freedom, but also about responsibility.
"All this talk about online anarchy somewhere else in the world is over. These times are gone," he said. "Now, everybody understands the danger of that poison that is poured through the online space and out of Moscow on all democratic and civilized countries."
Russian teen faces years in jail over social media post criticizing war in Ukraine – CTV News
Olesya Krivtsova sports an anti-Putin tattoo on one ankle and a bracelet that tracks her every move on the other.
The 19-year-old from Russia's Arkhangelsk region must wear the device while she is under house arrest after she was charged over social media posts that authorities say discredit the Russian army and justify terrorism.
Russian officials added Krivtsova to the list of terrorists and extremists, on a par with ISIS, al Qaeda and the Taliban, for posting an Instagram story about the explosion on the Crimean bridge in October that also criticized Russia for invading Ukraine.
Krivtsova, a student at Northern (Arctic) Federal University in the northwestern city of Arkhangelsk, is also facing criminal charges for discrediting the Russian army for making an allegedly critical repost of the war in a student chat on the Russian social network VK.
Currently, Krivtsova is staying under house arrest in her mother's apartment in Severodvinsk, Arkhangelsk region, banned from going online and using other forms of communication.
"Olesya's case is not the first, nor is it the last," Alexei Kichin, Krivtsova's lawyer, told CNN.
Kichin said the teenager may face up to three years in prison for discrediting the Russian army and up to seven years in prison under the article of justification of terrorism. However, Krivtsova's legal defense hopes for a softer punishment such as a fine.
Independent human rights monitor OVD-Info said at least 61 cases were initiated in Russia in 2022 on the charges of justification of terrorism on the internet, with 26 leading to sentencing so far.
Olesya's mother, Natalya Krivtsova, says the government is trying to give a warning to the public, with her daughter being in effect "publicly flogged" for not keeping her views to herself.
"We live in the Arkhangelsk region and this is a vast region but too remote from the center. There are no more protests in Arkhangelsk, so they are trying to strangle everything that is left at its early stage," Natalya Krivtsova told CNN.
A local head of the Communist Party, Alexander Novikov, publicly mocked the teenager on state television, calling her a fool who should be sent to the front lines in Ukraine's eastern Donbas region so that she could "look into the eyes" of the military fighting as part of the Arkhangelsk battalion.
This is not Olesya Krivtsova's first run-in with the authorities for publicly airing her views. Last May, she faced administrative charges for discrediting the Russian army by distributing anti-war posters.
Matters became more serious when she was accused of discrediting the Russian army on social media last October. According to Krivtsova's lawyer, a repeat offense under the same article turns into a criminal case.
"She has a heightened sense of justice, which makes her life hard. The inability to remain silent is now a major sin in the Russian Federation," her mother told CNN.
According to Natalya Krivtsova, police burst into an apartment on December 26 where her daughter was living with her husband Ilya, forcing the young people to lie face down on the ground and allegedly threatening them with a sledgehammer, which the officers told her was a "hello" from the Wagner Group, a private military contractor headed by Yevgeny Prigozhin.
CNN has reached out to the state police in Arkhangelsk for comment.
"Olesya was very frightened because she saw the video in which a prisoner was killed with a sledgehammer," her mother told CNN.
In the notorious video referred to by Natalya Krivtsova, mercenaries from the Wagner Group, which actively recruits prisoners, apparently executed a former convict, Yevgeny Nuzhin, with a sledgehammer after he attempted to flee his post. The video description said: "The traitor received the traditional, primordial Wagnerian punishment."
"The state has some strange policies: prisoners go to war, and children go to prison," she said.
Surgeon General says 13 is 'too early' to join social media – CNN
US Surgeon General Vivek Murthy says he believes 13 is too young for children to be on social media platforms, because although sites allow children of that age to join, kids are still "developing their identity."
Meta, Twitter, and a host of other social media giants currently allow 13-year-olds to join their platforms.
"I, personally, based on the data I've seen, believe that 13 is too early … It's a time where it's really important for us to be thoughtful about what's going into how they think about their own self-worth and their relationships and the skewed and often distorted environment of social media often does a disservice to many of those children," Murthy said on "CNN Newsroom."
The number of teenagers on social media has sparked alarm among medical professionals, who point to a growing body of research about the harm such platforms can cause adolescents.
Murthy acknowledged the difficulties of keeping children off these platforms given their popularity, but suggested parents can find success by presenting a united front.
"If parents can band together and say you know, as a group, we're not going to allow our kids to use social media until 16 or 17 or 18 or whatever age they choose, that's a much more effective strategy in making sure your kids don't get exposed to harm early," he told CNN.
Teenagers especially at risk

New research suggests habitually checking social media can alter the brain chemistry of adolescents.
According to a study published this month in JAMA Pediatrics, students who checked social media more regularly displayed greater neural sensitivity in certain parts of their brains, making their brains more sensitive to social consequences over time.
Psychiatrists like Dr. Adriana Stacey have pointed to this phenomenon for years. Stacey, who works primarily with teenagers and college students, previously told CNN using social media releases a "dopamine dump" in the brain.
"When we do things that are addictive like use cocaine or use smartphones, our brains release a lot of dopamine at once. It tells our brains to keep using that," she said. "For teenagers in particular, this part of their brain is actually hyperactive compared to adults. They can't get motivated to do anything else."
Recent studies demonstrate other ways excessive screen time can impact brain development. In young children, for example, excessive screen time was significantly associated with poorer emerging literacy skills and ability to use expressive language.
Lawmakers are paying attention

Democratic Sen. Chris Murphy, who recently published an op-ed in the Bulwark about loneliness and mental health, echoed the surgeon general's concerns about social media. "We have lost something as a society, as so much of our life has turned into screen-to-screen communication, it just doesn't give you the same sense of value and the same sense of satisfaction as talking to somebody or seeing someone," Murphy told CNN in an interview alongside Murthy.
For both Murphy and Murthy, the issue of social media addiction is personal. Both men are fathers – Murphy to teenagers and Murthy to young children. "It's not coincidental that Dr. Murthy and I are probably talking more about this issue of loneliness more than others in public life," Murphy told CNN. "I look at this through the prism of my 14-year-old and my 11-year-old."
As a country, Murphy explained, the U.S. is not powerless in the face of Big Tech. Lawmakers could make different decisions about limiting young kids from social media and incentivizing companies to make algorithms less addictive.
The surgeon general similarly addressed addictive algorithms, explaining pitting adolescents against Big Tech is "just not a fair fight." He told CNN, "You have some of the best designers and product developers in the world who have designed these products to make sure people are maximizing the amount of time they spend on these platforms. And if we tell a child, use the force of your willpower to control how much time you're spending, you're pitting a child against the world's greatest product designers."
Despite the hurdles facing parents and kids, Murphy struck a note of optimism about the future of social media.
"None of this is out of our control. When we had dangerous vehicles on the road, we passed laws to make those vehicles less dangerous," he told CNN. "We should make decisions to make [social media] a healthier experience that would make kids feel better about themselves and less alone."
Why U.S. media made the near-universal decision to show the Tyre Nichols video – The Globe and Mail
Before showing video of Memphis police brutally beating Tyre Nichols, MSNBC host Joy Reid acknowledged the risk that watching it could desensitize her audience. But it was necessary to show the footage, she contended, because it was rare to get such a clear look at police violence on camera.
"We're going to show you this video because you pay for the police. The police work for the public," Ms. Reid said. "It is violent, but it also is a depiction of the kind of police violence that normally happens outside your view."
This introduction was one of the more thorough attempts by a U.S. media outlet to explain the near-universal decision to broadcast the video and post it online.
Unlike other police forces, which have often stonewalled efforts to get information on such incidents, the Memphis Police Department chose to make public more than an hour's worth of footage, gleaned from officers' body cameras and nearby CCTV. Releasing the video voluntarily gave police the ability to control its timing.
Analysis: Tyre Nichols's death provokes deep introspection of America's racial and cultural crises
Memphis police scrap unit involved in fatal beating of Tyre Nichols
The controlled release also gave media outlets more time to decide whether and how much of the video to disseminate. All of the United States' major broadcasters and newspapers chose to show it in some fashion.
In stark contrast with other high-profile instances of police brutality, the Memphis police have moved swiftly to show accountability in the wake of Mr. Nichols's death. In less than three weeks, the force fired five officers involved and charged them criminally. On the weekend, the unit to which they belonged was disbanded.
The footage shows officers dragging Mr. Nichols out of his car on the evening of Jan. 7, pepper-spraying him, tasing him, kicking him in the head, punching him in the face and hitting him with batons. He died in hospital three days later. Mr. Nichols was Black, as are the five officers accused of murdering him.
The Memphis police released the video footage on a Friday evening, when media outlets typically see their lowest readership and viewership figures.
Memphis Mayor Jim Strickland told The Commercial Appeal, the city's main newspaper, that police wanted to ensure that, if there were mass protests in response, they would occur after people had left work for the day.
"That was a law-enforcement preference on trying to get people home from school and home from work, and do it after rush hour when people were safely at home," he said.
As it was, protests on the weekend were far more modest than those in the wake of the 2020 murder of George Floyd – when Minneapolis police initially denied wrongdoing until bystander video showed otherwise – and remained mostly non-confrontational.
In photos: Protests over the death of Tyre Nichols erupt across the U.S. on Friday
In Mr. Nichols's case, media outlets took differing approaches to disseminating the footage of his fatal beating.
CNN aired it live in its entirety, as it was released by the police. Later on, for its website, it edited the video down to its key moments, adding voiceover to explain the narrative of what was happening. The Washington Post synced the four videos up and posted them in full to provide as complete a picture as possible.
USA Today opted to post only the CCTV footage, which offered the broadest view of the scene but did not contain some of the most brutal close-ups of the beating. British newspaper The Guardian, which has a large presence in the U.S., opted for a heavily edited version that did not show the most violent moments.
All media included content advisories, though relatively few offered extensive explanations of the thinking behind sharing the video. One editor's note, for the local NBC affiliate in Memphis, said it was necessary to put the footage out so viewers could judge for themselves what happened.
"Sharing this video will help our community understand and see the incidents from that evening," the note read. "It's the only way for you to see an unfiltered document of what transpired between Tyre and the five former Memphis police officers."
Fox News, meanwhile, went in the opposite direction, with some of its personalities either downplaying the video's significance or suggesting Mr. Nichols might have somehow been to blame.
"Does it bother you that you don't have the cops' perspective at all? I mean, it looks overwhelming, I get it. But don't we need both sides?" Brian Kilmeade said. Jesse Watters speculated Mr. Nichols was "on something" during the arrest and opined that he "didn't see any death blows" in the video.
Many Americans evinced discomfort with people so broadly viewing such footage. On social media, some chose to instead post video of a teenaged Mr. Nichols skateboarding in his hometown of Sacramento, calling for the 29-year-old, who worked as a FedEx driver and had a four-year-old son, to be remembered for the totality of his life.
"Before the Memphis Police Dept. releases the video of 5 MPD officers murdering #TyreNichols during a routine traffic stop, and that heinous video inevitably goes viral, I want to amplify THIS video of Tyre LIVING his best life," writer Mai Perkins tweeted with the skateboard video.
Monnica T. Williams, an expert in mental-health disparities at the University of Ottawa, said people – particularly those who are marginalized or at a higher risk of falling victim to police violence – can become "very distressed or even traumatized" from watching these sorts of videos.
In Prof. Williams's view, the videos should be made available to people who need to see them, such as those involved in the legal process, Mr. Nichols's family and reporters covering the story, but they should not be broadcast in places people might see them without choosing to.
"One danger of putting videos like this out all the time is that people can sometimes become numb to the violence and just feel like it's normal, and it shouldn't be normal," she said. "I don't think they should be blasted all over social media and I don't think people should be encouraged to watch them."
Victoria Bridgland, a researcher at Flinders University in Adelaide, Australia, said limiting peoples' exposure to traumatic materials "has to be balanced against the concern of spreading awareness about important social issues." Her research has shown that there is little evidence trigger warnings are effective either at dissuading people from watching traumatic videos or preparing themselves emotionally for them.
"However, people often say they like trigger warnings because they like that they have a choice given to them (regardless of if they actually then choose to then avoid the distressing thing – which we know they likely do not)," she wrote in an e-mail. "People also say that they think trigger warnings communicate a culture of care."
Mr. Nichols's parents, for their part, used the police department's management of the footage's release to prepare the public ahead of time. Speaking with reporters before the video was made public, Mr. Nichols's stepfather, Rodney Wells, called for demonstrations to remain non-violent.
"We want peaceful protests," he said. "That's what the family wants. That's what the community wants."