Moody's Doubles Down On Forecast of Canadian Real Estate Prices Falling Soon – Better Dwelling
One of the world's largest credit rating agencies doubled down on its Canadian home price forecast. Moody's Analytics sent clients its September update on Canadian real estate prices. The forecast reiterates they expect price declines to begin towards the end of this year. The report also names impacted cities this time, with Toronto expected to be a leader lower.
Forecast Vintages
A quick note on reading Moody's charts, which includes "forecast vintages." If you've only looked at consumer forecasts, these might be new. They're scenarios that vary depending on the forecasting model's inputs. Instead of giving a forecast like, "prices will drop x%," they give a range based on factors. These factors are fundamentals that have typically supported prices.
The Moody's forecast shows vintages as baseline, S1, S3, and S4. The September baseline is the scenario they believe has the highest probability. The S1 is what happens if indicators are better than expected. This would mean unemployment drops fast, and disposable income doesn't fall much. The S3 is what happens if fundamentals are worse than expected. S4 is the worst scenario that can unfold in a reasonable amount of time. Abrupt scenarios and black swans can still be worse. It's just those are outside of the range of reasonable expectations.
Canadian Real Estate Markets To Start Showing Weaknesses Soon
Moody's previous forecast didn't expect the market to show signs of weakness until Q3, and they're doubling down. The report's economist expects stimulus, mortgage deferrals, and interest rates to contain damage until Q3. They expect by Q3, the optimism of those programs will begin to wear thin. The reality of how meaningful the improvements are, should be apparent by then. The optimism should then fade. It's at this point they believe prices can no longer defy employment, vacancy, and delinquency rates.
Canadian Real Estate Prices To Drop Around 7%
The firm expects all scenarios to show a drop in the near future, but how much depends on fundamentals. In the September baseline, the firm's economist is forecasting a ~7% decline at the national level. This scenario expects unemployment at 8.56%, and a 2% drop of disposable income next year. Since the rise in disposable income was due to temporary supports, the fall is expected.
In the other scenarios, things vary from a brief drop to a very deep, multi-year decline. In the S1 scenario, there's only a brief dip in Q1, before prices rocket even faster and higher. In S3, a slightly worse than base case, prices fall about 15%, taking them back to 2016 levels. In S4, if disposable income, GDP, and/or unemployment worsen, prices drop about 22%, back to 2015 levels. Of course, this trend isn't evenly distributed across Canada. However, it's also not distributed how most might expect.
Prairie Cities and Toronto Real Estate To Lead The Declines
The base case sees Prairie cities and Toronto real estate leading price declines. Calgary, Edmonton, and Regina lead the drop, with a peak-to-trough decline between 9 to 10%. This is a trend already apparent in the regions' condo markets. Toronto, a little more unexpected, is forecasted to see a 9% price drop, from peak to trough. Vancouver's drop is forecasted below the national average, with an average decline of almost 7%. The last market is interesting, since other organizations gave Vancouver much worse forecasts.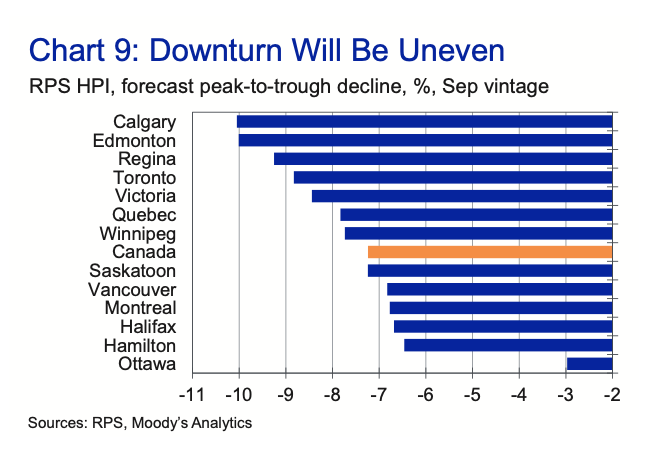 Toronto Real Estate To Experience Uneven Declines Across Regions
The base case for Toronto expects an uneven decline, with some regions harder hit. The drop across Toronto CMA is expected to be about 9%, from peak to trough. Pickering should see smaller declines, but experience minimal growth through 2025. Markham is the most surprising though, not expected to hit 2017 highs by 2025. The trend here appears to be regions short on space will recover the fastest. Although that is likely to depend on the type of housing as well.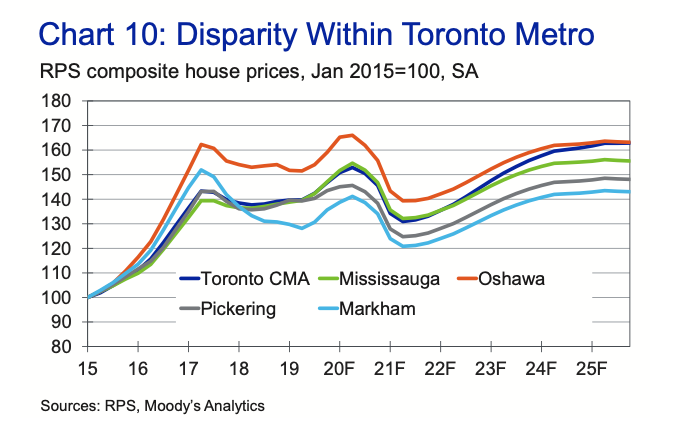 The forecast notes pandemic uncertainty, and its potential to bring greater downside. As it gets colder, the potential of more indoor activity may lead to a second wave. The report's economist believes this can bring even larger declines to prices. Shifting consumer behavior is also a wild card that can also push prices lower, as are any vaccine delays.
Like this post? Like us on Facebook for the next one in your feed.
Strong Activity Ahead for the Saskatoon Real Estate Market – RE/MAX News
As Saskatchewan's largest city and business hub, the Saskatoon market is energized with activity. The prairies were affected by COVID-19, but quickly rebounded to strong activity – notably, Saskatchewan has outperformed last year's market.
The city of Saskatoon had fewer cases of COVID-19 compared to other urban centers and was able to control the virus early to avoid the devastation experienced by other provinces. As a result, this market is showing promising signs of resiliency and recovery.
Here are a few market conditions that show the activity ahead in the Saskatoon real estate market:
Buying and Selling in Saskatoon
The province experienced a slight uptick in COVID-19 cases in September, but this hasn't deterred people from participating in the Saskatchewan real estate market. In fact, there was a 52 per cent increase in sales from last September.
Activity was evident during the summer months where some REALTORS® even noted the occurrence of bidding wars and homes selling within days. June was one of the busiest months in years. This was a sure sign of market recovery following slower Spring real estate activity due to coronavirus. The market has even outperformed last year's figures.
Despite the pandemic, buying and selling of homes waged on in this prairie province. Sale prices continue to be high, while inventory is low, showcasing that this market has seemingly recovered from the instability the coronavirus caused.
It's important to note that home prices in Saskatoon remain steady. Homes in the city stayed on the market an average of 40 days in September, which is a 27.3 per cent decrease from 55 days last year. All of these factors point to a seller's market in this city.
Low Interest Rates
Across the country, low interest rates will offer more Canadians the opportunity to dip their toes into the real estate market. The Bank of Canada has slashed interest rates to the lowest they've ever been at 0.25%. The rates are expected to stay for a while in order to bolster the economy.
Saskatoon is an attractive real estate market for young people and first-time homebuyers due to its affordability, compared to other markets across the country. For homebuyers who previously had trouble borrowing amid pervious market conditions, these accessible rates make jumping into the market a little easier.
Leveraging Technology to Get Deals Done
For those who aren't deterred by the coronavirus and are willing to adapt to new public health measures to facilitate real estate transactions, the market conditions are prime. Technology solutions are providing the opportunity for people to scoop up their dream home in the Saskatoon market.
From virtual tours to e-signatures, there's been a few changes to the way home sales are occurring within the current climate. Real estate agents have pulled out all the stops to ensure their clients feel safe when attending open houses and conducting business. Their dedication to innovation and commitment to putting clients first has helped keep the real estate industry afloat, despite shaky economic conditions across the country.
Can We Expect Strong Real Estate Activity Ahead?
Will demand for Saskatoon real estate be sustained into 2021? The Saskatchewan Real Estate Board does expect some of this demand to fall off as fall winds down and transitions to winter. Yet, consumer confidence continues to be high…for now.
RE/MAX brokers and agents are estimating a three-per-cent increase in average residential sale prices for the remainder of the year. Research indicates that 56% of Canadians who feel confident in the real estate market are likely to buy or sell even in the event of a second wave.
Real estate professionals are cautiously optimistic that Saskatoon will see at least average activity during the fall and winter seasons. Although, as government funding tapers off, it remains uncertain as to whether this activity will continue to be as strong. Some people may not have strong financial power to purchase homes. Yet, some industry observers suggest that the affordability of this prairie market may still attract homebuyers regardless.
Saskatoon is a fast-growing city with a buzzing real estate market that has thrived despite the COVID-19 pandemic. Although the coronavirus affected the market early on, with increased confidence and improving market conditions, Saskatoon is expecting the strong market activity to continue through the winter season.
Virtus Real Estate Investment Trust Acquires First US Based Holding – GlobeNewswire
WOODBRIDGE, Ontario, Oct. 26, 2020 (GLOBE NEWSWIRE) — Virtus Real Estate Investment Trust is pleased to announce the acquisition of its first U.S. based holding.
Virtus Real Estate Investment Trust (VREIT) has acquired a 71,760 square foot, free standing commercial building located at 1899 Cinema Drive, Olean, NY for $7,450,000 USD. The building is currently occupied by a single tenant, BJ's Wholesale Club. BJ's Wholesale Club recently exercised a 7 year lease extension beginning December 2019 through January 2027.
"We're thrilled to expand Virtus REIT's footprint with our first U.S. acquisition," comments Virtus President Aurelio Baglione. "We are excited to add this new commercial property to our portfolio given the strong demographic profile within the area."
About Virtus Real Estate Investment Trust
Founded in 2019, Virtus REIT offers investors the opportunity to invest in a diversified portfolio of income producing commercial, industrial, retail and multi-unit residential properties in both Canada and the United States. Virtus REIT is distributed as an alternative investment product through Virtus Capital Management Inc. To learn more about Virtus REIT and other alternative investment product offerings through Virtus Capital Management Inc., please visit virtuscapitalmgmt.com or contact contact@virtuscapitalmgmt.com.
Media Contact:
Scott Roberts
Phone Number: +1 416-930-8407
Email: sroberts@virtuscapitalmgmt.com
Whatever the future holds, how we use real estate will change | RENX – Real Estate News EXchange
There is a certain desperation in the air these days for evidence that speaks to any kind of return to normalcy in the near future. As I wrote last time, it promises to be a long, dark winter.
The only thing that can make it more bearable is some glimpse of light in the distance.
With this in mind, I listened in on the recent 2020 Ottawa Real Estate Forum (virtual edition). It featured a lot of talk, but not many facts to hang your hat on.
Other articles on the RENX site offer a recap of the Forum's highpoints, so I won't repeat them here, beyond the following:
* A hybrid model of work from home and work from the traditional office is likely to prevail versus one becoming overly dominant at the expense of the other;
* The pandemic (as I have noted before) is not a harbinger of doom for most segments of commercial real estate. Rather, it is an accelerant for those paradigm shifts that were already underway – such as the federal government already looking to reduce its real estate footprint across the country by about 25 per cent over the next couple of decades;
* Issues previously present in a large urban market, such as Ottawa's pressing need for new residential rental stock, haven't disappeared and will remain a factor. The fix for the issue, however, may now take a modified form thanks to the pandemic-driven shifts in how people will choose to live and work.
I don't profess to have a crystal ball, but if these conclusions prove true, I see the following consequences:
Middle managers redundant?:
Those management types who like to keep a constant eye on everyone haven't been able to do so with remote working.
We've had more than enough time now to gauge the true impact on productivity, creativity and team cohesion of a dispersed team. It works well for some and not so for others.
Why? There are two reasons – how any one person's brain is wired and what type of work they do.
What the surge in remote working may prove for many workplaces is that if you have in place a proper workflow and communications structure and performance metrics (to flag underachievers), along with competent people in the right positions, middle management may prove to be an unnecessary layer of the org chart that just doesn't add much value for the money.
Demand for more flexible housing designs:
Working from home from the kitchen table or the edge of the bed loses its lustre rather quickly, particularly if the kids are attending school remotely.
Families need the flexibility of a housing design that may offer two segregated spaces for a proper home office, without having to purchase a home of 4,000 square feet or more to get it.
Upward pressure on salaries:
But even so, incorporating this additional space into a design will still mean a somewhat larger home than what a family would have normally required if the breadwinners worked away from home at an office. Larger homes, of course, cost more.
This may mean that remote workers may come to demand higher salaries and jump ship as needed to find an employer willing to accommodate.
Standard office designs will no longer cut it:
The recent trend of packing more people into a smaller footprint likely will be at an end. Either because it's a government-mandated requirement or because people will demand it, there will have to be more square footage assigned to an individual.
If a large proportion of the workforce is working from home full-time or even part-time, this may not be a problem.
But . . . people will have new expectations and awareness around personal hygiene now, too. They say it only takes about 30 days to develop a new habit and we are now seven months and counting into the pandemic.
This means things like the traditional office bathroom design may have to go.
Demand for more space between sinks and urinals, and the replacement of standard entry doors with the kind of barrier-free entrances we see in airport and shopping mall bathrooms, may become the norm. All this will increase space requirements and demand a reno.
What the dollars and cents say
Regardless of what the next year or two holds for us, this much is certain – people continue to buy, sell and invest in real estate.
This is a highly speculative industry, after all, driven by two things – most of our lives are spent under one kind of roof or another, and how we design and use space has never remained the same.
I track commercial transaction data in Ontario and the numbers continue to suggest resilient levels of activity. Looking at transactions worth $10 million or more, we have seen 261 transactions across the province from the beginning of March 2020, versus 353 in the same period in 2019.
The total dollar value of these transactions is down almost 18 per cent – from about $10.6 billion to $8.7 billion. While there has been a decline, there are still transactions taking place.
Meanwhile, fuelled in part by bargain basement interest rates, housing markets in many regions continue to be on a tear. Ottawa is a prime example.
Some anecdotal reports attribute this to a flight to safety, as people flee the urban core for the perceived safety of more space in the 'burbs or even adjacent rural areas – why continue to live in a congested city if you're going to be working from home?
This may account for some of the activity and price inflation we have seen in, for example, Ottawa and nearby rural communities. But, it by no means accounts for all of it – bidding wars on properties are happening even in old central urban neighbourhoods like mine.
It remains to be seen how sustainable these current spikes and patterns in residential resale activity will be, but these price increases are not just in the large cities. In recent data from across the country, the greatest percentage increases were in New Brunswick.
Whether it's the commercial or the residential end of things, we can only continue to wait and see and let the markets speak for themselves.
To discuss this or any valuation topic in the context of your property, please contact me at jclark@regionalgroup.com. I am always interested in your feedback and suggestions for future articles.