Morning Coffee – Fri, Feb 19 – Raptors Republic
[embedded content]
[embedded content]
[embedded content]
[embedded content]
[embedded content]
[embedded content]
[embedded content]
[embedded content]
[embedded content]
[embedded content]
[embedded content]
[embedded content]
[embedded content]
10 things: Raptors deliver statement win by routing Bucks again – Yahoo!
Three — Fearless: Pascal Siakam was nothing short of sensational on both ends. Defensively, Siakam looked entirely comfortable both as a help defender at the rim, or switching onto Antetokounmpo in isolation, and he played the gaps beautifully. Offensively, Siakam picked the Bucks apart in the pick-and-roll. With the Raptors shifting to a smaller starting five, Siakam has to be the screener, which actually makes life easier for him. He found gaps in the defense to score two floating push shots, which sent Brook Lopez to the bench early in the third quarter. In crunch time, Siakam broke the Raptors' scoring drought with a driving and-one layup, schooled Giannis's brother with a drop step leading to a blow-by drive, and flipped the pick-and-roll with Fred VanVleet screening to create another open driving lane for Siakam.
Raptors render Bucks' size advantage meaningless – The Athletic
There are all sorts of caveats in the Raptors' mini-sweep over the Bucks. Jrue Holiday, one of the best perimeter defenders in the world, missed both games. It is a lot easier to aggressive attack DiVincenzo or Bryn Forbes than Holiday. As well, Lopez, who has given the Raptors fits as a rim protector in the past, played just 20 minutes Thursday. That was mostly because the Bucks lost his time on the floor by 11 points, with the Raptors' speed leaving him flummoxed, but one wonders what might have happened if the Bucks would have accentuated him a bit more in their offence.

In addition, the Bucks are experimenting with different schemes far more than they were last season, and they are certainly in a discombobulated state right now as losers of five straight. Particularly in the first half against the Raptors, they gave off the vibe of a team preparing for the vaunted players-only meeting.

With all that said, in both games, the Raptors looked like the more cohesive team, one executing a game plan as opposed to trying to make a bunch of individual plays to stem momentum. To match Milwaukee with 42 points in the paint and 23 free-throw attempts is something that just wouldn't have happened previously.

"I just thought we did a good job both games of not forcing it down there, making Brook and Giannis have to move and defend multiple actions, small ball," said Norman Powell, who led the Raptors with 29 points and was second to only Antetokounmpo in the game with eight free throws. "They weren't switching too much until later on in the second half, so forcing them to rotate and opening up the driving lanes off consecutive drives and kicks and re-attacks."

In the past, the Bucks' size in the paint has often spooked the Raptors. There have been quite a few games in which the Raptors big men inevitably took a bunch of long jumpers, because that is what Milwaukee's defence is designed to allow. Serge Ibaka went 4-for-16 on 3-pointers over two losses in the 2018-19 regular season, and then 1-for-10 in a loss last February. Earlier this season, the Bucks coaxed Aron Baynes into seven attempts from deep in a Raptors loss. He hasn't taken more than four in any other game and is shooting 22 percent for the season. It's not how you want to live.

If you are a big believer in tone-setting, those first few possessions meant something. The Raptors did not start a true big man, which naturally made the 7-foot Lopez have to creep out further than he prefers. The Raptors did what they could to put him in that position again and again.
Raptors continue to thrive without Lowry as defence sets tone against Bucks – Sportsnet
Meanwhile, even without Lowry, the Raptors' offence kept clicking. With Bembry in the starting lineup, Nurse chose versatility on defence and low-usage smarts on offence. The beneficiary seemed to be Powell who has been outstanding in a starting role this season and was especially so in the first quarter and he went off for 15 points on perfect 5-of-5 shooting including three made threes.

But it was Toronto's adherence to their defensive principles that set the tone.

"It doesn't really start with defence. As I've mentioned you have to really take care of the basketball. They are so great turning turnovers into fastbreak buckets. You have to take rhythm shots on offence so that your team is not putting itself in a half-second or full-second delay on whether they can get back or not," said Nurse before the game. "So, it starts with that. Then you really have to hustle back and try to use a minimum of two, sometimes three guys, to slow Giannis down in transition so he can't get to the rim.

"Then obviously the next step is if you do that he's usually kicking it out to a pretty good shooter so you have to peel out as fast as you can and start playing from there. Now, that's part of it to get all that done to get them in the half court and then there's several little schemes we like to do when they get in their halfcourt game as well. It's a lot. It's a lot for our players to do. They got tremendous size and length and athleticism and a lot of shooting so it's quite a list of things you have to get done to be successful against this team at the defensive end."

By the time Toronto headed into the half leading 58-41 – a season-low for the Bucks on their way to a season-low score for a game. Antetokounmpo had four field goals on eight attempts, but three second-quarter turnovers. Toronto was able to contain Kris Middleton as well, holding him to 2-of-7 shooting in the half and five turnovers on his way to 13 points for the game. For the half, the Raptors turned 10 Bucks turnovers into 18 points, and 24 points off 15 turnovers for the game.

The Raptors were able to hold on in the second half, although it got tense at times. They showed that even without Lowry they can beat one of the league's best teams and handily at that.

Can they build on it?

That's eluded them at times this season, but they keep giving themselves chances.
Rapid Recap: Raptors 110, Bucks 96 – Brew Hoop
Stat That Stood Out
I'm going to go with Norman Powell for this one. Yet again, the man who the Raptors selected with a draft pick that was sent to them by the Bucks for Greivis Vazquez, torched the Bucks. He'd put up 15 points in the first quarter and continued to exemplify his worth throughout the remainder of the game. There's something about the Bucks that gets him really going. Each time the Raptors play Milwaukee, it seems as if he is always a menace — and he was with 29 total points. Maybe it's the fact that the Bucks made that trade, but man, talk about a Bucks killer.
Recap: Toronto Raptors smother Bucks 110-96, sweep two-game mini-series in Milwaukee – Raptors HQ
Save for a couple minutes of exhausted white-knuckling, everything about the Raptors' second-straight double-digit win in Milwaukee came with the kind of ease that's borne out of repetition. Against teams with less rigid coaches, the process of learning all there is to know about the opponent might take longer than two games, if a full understanding is even attainable. Mike Budenholzer doesn't operate that way, though. Even their attempted curveballs spin into the dirt and hit the backstop.

Toronto's grasp of the Bucks' eminent predictability is why they won so comfortably on Thursday. Against the Bucks drop defense that has so magnificently covered up Brook Lopez' one-dimensionality for years, Toronto hit the soft spots. Fred VanVleet and Pascal Siakam eagerly hammered the mid-range — an area of the floor this top-10 scoring edition of the Raptors is far better equipped to attack thanks to some key internal development. Understanding the Bucks' fear of shots at the rim, Toronto's playmakers drove and kicked to shooters with daylight, and made use of whip smart passes in close to dodge lurching arms.

Milwaukee, to their credit, is trying to adapt with the times a little this year. Switching has been a bigger part of their defensive style, and they leaned on it heavily late in the game after Lopez was more or less played off the floor by a series of wet Siakam 10-foot floaters. The thing is, the whole switching thing falls apart when Bryn Forbes, Donte DiVincenzo and Bobby Portis are key cogs in your lineups. Practice is well and good, but you don't need reps to learn that Forbes can't guard Siakam one-on-one. As it turns out, Khris Middleton can't do a thing about OG Anunoby on switches, either. If they really want to lean into a more pliable style of defending, Milwaukee should consider getting more players who are not ass. What with all the draft picks they definitely have left to deal for upgrades, I'm sure they will find some…

The Bucks' rote game plan is of course all-encompassing, reaching well past the defensive end all the way to the other side of the floor. Giannis is a hammer, and to him everything is a nail. Except when you try to drive a nail into a cinder block three dudes wide, the hammer is going to shatter after enough swings. Antetokounmpo finished with 23 points on 8-of-20 shooting, and the work Anunoby, Siakam and even Aron Baynes put in to bother him on his drives was entirely responsible for the frustration that eventually saw the defending MVP foul out.

Khris Middleton's definitely better than he showed in two games against the Raptors, during which he scored just 24 points and turned it over 11 times. But if he doesn't learn to maneuver through the kinds of aggressive double-teams Toronto threw his way over 96 minutes, the Bucks are surely on their way to another post-season pants-wetting. VanVleet will probably lurk deep in Middleton's conscience for a few weeks at the very least.

On the topic of predictability, Norman Powell did the thing where he rips the Bucks' throats out again. Taking a step up in the shot hierarchy with Kyle Lowry out, he was the beneficiary of the extra attention paid to Siakam and VanVleet on their drives. He finished the night with 29 points on 9-of-12 shooting, including 4-of-7 on his threes. Thank you once again, Greivis Vasquez.

Now, even if a lot of this game could have been foretold ahead of time, there were some pleasantly surprising elements at play, too. Baynes had perhaps his best game as a Raptor. It seems he's found a home in the bench unit next to Chris Boucher (who is very clearly more useful as a power forward than a center), and while his defensive rebounding still leaves plenty to be desired, his rim protection — particularly in the fourth quarter — was critical to the Raptors holding off a Bucks push that never really got serious. His +19 on the night was the best on the team. Matt Thomas, hilariously, was second at +13.
Toronto Raptors withstand loss of Kyle Lowry in second straight win over Milwaukee Bucks – TSN.ca
They're 4-0 in the games that he's missed this season, with wins over Sacramento, Miami, Indiana and now Milwaukee – three of them by at least 10 points, and two of them by 20 or more points. They've also won the two games he's left early – victories over Memphis and Milwaukee, both of them by double-digit margins. They're an impressive 16-2 without him since the start of last season.

Don't read too much into that stat. It doesn't mean they're a better team without Lowry. It doesn't speak to his importance to the organization. What it does mean is that when they're at their best – and, somehow, being down a man or two often brings out the best in them – they can withstand the loss of Lowry, or any of their other regulars.

"He certainly gives us a lot," Nick Nurse said of Lowry, who was averaging 21.8 points on 59 per cent shooting and 52 per cent from three-point range in his last four games before getting hurt. "I was worried about the defensive side of it. I know that probably sounds silly because he's one of our primary scorers, but [with] the way he's been guarding recently – he's been outstanding – I was really worried. That's the first thing that somebody's got to pick up the slack on."

Defence wasn't an issue on Thursday, as it would turn out. The Raptors held Milwaukee – the NBA's second-ranked offensive team – to a season-low 96 points. The Bucks' all-star duo of and combined to score 36 points – 12.5 points fewer than their season averages – on 13-for-33 shooting. It was the best Toronto has looked on that end of the floor in quite some time.

The margin for error has been razor thin all season, and it'll be even smaller for as long as Lowry is out of the lineup, but they know they can win games undermanned. The formula is right in front of them.

They know they have to play harder and smarter than they would at full strength, and more often than not they do. Other guys are going to get opportunities and have to be ready to take advantage of them – on Thursday it was DeAndre' Bembry, who got the start, and Matt Thomas, who logged 17 minutes off the bench, but Flynn should also get his chance. The remaining regulars will have to step up, like does whenever Lowry goes down, and like (29 points), (27 points) and (10 points, including eight in the fourth quarter) did against the Bucks.

"I definitely wouldn't say [Thursday's shorthanded win over Milwaukee] surprised me," said Flynn, who hasn't been around long but catches on quick. "I think the whole team just has the next man up mentality. Whenever you're called on, be ready to play, and I think the guys did that tonight."​
Raptors win without Kyle Lowry again, sweeping two-game visit to Milwaukee | The Star
In the fourth quarter alone, Fred VanVleet made a big shot to calm the skittish Raptors, Pascal Siakam spun on Giannis Antetokounmpo for a basket while drawing a foul, and Anunoby made that delightful pass to a cutting Bembry for a baseline dunk.

Every time the Raptors needed a big play, they made one, almost always driving into the teeth of the Bucks defence and making the right plays from there.

"That's something that we talked about, being aggressive, taking it to the rim," said Siakam, who had 27 points. "We know that if we continue to play within the offence with multiple drives and kicks, you get open shots. I think that's kind of the idea: continue to be aggressive, drive and play from there. Whatever's open. If it's the layup, take it, if not pass it out and redrive."

Lowry injured his thumb in the first quarter of Tuesday's game, jamming it in a collision that included Siakam and Antetokounmpo.

Lowry eventually left that game about four minutes into the third quarter with a sore ankle but the thumb worsened while the ankle got better on the day off between games.

He has already been ruled out for Friday's game in Minnesota, Nurse said.

"I think it probably will keep him out of these two, for sure, then probably we'll have a little better idea," the coach said before Thursday's game.

In Lowry's absence, the Raptors got a true team effort to run their record to 14-15 on the season.

"We're not looking at every single game and record and where we're at," Powell said. "I think we're just trying to play the best basketball we can, and rack up some wins and continue to get better throughout the whole season. Continue to build chemistry. Continue to build our foundation, offensively and defensively."
Defence holds Giannis in check as Raptors solve Bucks again | Toronto Sun
Nick Nurse admitted before the game that he liked the way his starting unit Tuesday, which was without a traditional centre, performed but he wasn't ready to commit to staying small to start.

He said he was still considering two options.

It says here he picked the right one choosing Bembry, and we can't even be sure what the other option was.

"I did like the small and I did like the off-the-bench big," Nurse said referring to the small starting lineup and the play of Aron Baynes off the bench after starting most of the year. "And I did like the kind of combination of big late as well."

The combination of bigs late was having Baynes and Chris Boucher coming off the bench together which enabled Boucher to play power forward and not worry about battling a beast like Lopez to whom he gives up at least 50 pounds.

Bembry is a nice fit with the starting unit because he has exceptional basketball IQ and a defensive willingness that just isn't as prevalent as you would think in the league.

"I think the biggest concern coming into the game was Kyle," Nurse said post-game when asked about Bembry. "Kyle had just done a great job on Middleton and he was gone and that's a big assignment to give a guy that hasn't started for us all year and guarding an all-star and trying to set the same kind of tone or keep it going from the night before, obviously. He did a good job of working on him."
The Toronto Raptors new starting lineup finally gives them the identity they've been missing – Raptors HQ
Enter the Florida Five — Lowry, VanVleet, Powell, Anunoby, and Siakam.

(Or, as a friend of mine recommended: 5outhern Ice. Look, we'll figure the name out — I'm open to suggestions.)

The Raptors lineup Nurse trotted out to start against the Milwaukee Bucks has the opportunity to change those identity problems. When those five are on the floor together, the team has a clear, tangible style that makes life hell for its opponents. It also sets off a ripple effect that positively reverberates through the rest of the team. Nurse's apprehension for completely turning the keys over to this lineup is understandable, but frankly, he's got a peacock on his hands. At a certain point, you gotta let it fly.

Simply put, this group sucks to play against. A snarling pack of wolves, the Florida Five has no weak link on either end of the ball. They are all fast, athletic, and a little ornery. Defensively, they are switchy and play on a string with one another. On offense, everyone can create a shot, and everyone can hit an open three. There is no reprieve, no hiding a weak defender or sending extra help without compromising another spot.

Starting and closing with these guys sets a tone for both the opponent and the reserves coming off the bench. They will be relentless, they will make their opponent work, and they will do so without a centre. VanVleet, Lowry, Powell, Anunoby, and Siakam have long contributed to the identity of the team. It is now that they must set it as a unit.

In last year's playoffs, when we first really got a feel for this group, they outscored the Boston Celtics 45-38 overall. A small margin in a small sample, but that is notable in a gritty seven-game-series. This season, the sample is similarly small, and the numbers are similarly positive. In only 81 possessions, the Florida Five is outscoring opponents at a rate of 11.1 points per 100 possessions, holding opponents to 90.1 points per 100, according to the Cleaning the Glass.

The offense has not blown the doors of the opponent yet, but the defense has done more than enough to hold down the fort. With these players, the offense will undoubtedly improve, and while the defense is a tad unsustainable, that they have been so good without a centre should be of note. They showed off their speed and aggression early against Milwaukee, racking up a couple steals in the first few minutes.

Going small like this creates accountability on defense, as an aggressive, switch-heavy defense forces each piece to be on a string. If any player is a little lazy in communicating or rotating, the whole thing falls apart. There is no Marc Gasol waiting on the back end to clean up mistakes. Thus far, this forced engagement has been positive for the Raptors — particularly from Siakam, who was been a tad inconsistent in his approach on D this season.
Toronto Raptors Launch Black Lives Matter Apparel Collection | Complex CA
Fresh off a road win against the Milwaukee Bucks, the Toronto Raptors dropped a Black Lives Matter-inspired capsule collection on Wednesday. First seen during training last summer in the Orlando NBA bubble, the limited line can now be purchased by fans on the Real Sports website.

Toronto-based artists Adeyemi Adegbesan and Mark Stoddart designed the merch, with 100 percent of the proceeds going towards local Toronto initiatives and not-for-profit organizations of the artists' choice.
Eastern Conference sellers at the NBA trade deadline – The Athletic
What would selling look like for them?

Assuming Pascal Siakam, OG Anunoby and Fred VanVleet are all a part of their long-term foundation, the Raptors look pretty stable. The key decision point will be Kyle Lowry, as the 34-year-old guard hits unrestricted free agency this summer. Outside of Lowry, there are not many players who could reasonably be on the Raptors' trade block who also move the needle for potential trade partners. Breakout center Chris Boucher could become an interesting test case, but Lowry looks like the focal point.

Why would they be sellers?

Masai Ujiri is acutely aware of what it takes to build a championship-caliber team and while capable, the combination of Siakam, VanVleet and Anunoby likely needs some high-level help to get there. Ujiri has ownership's trust, which gives him the latitude to guide the franchise this direction if he believes it to be the best course and he originally intended a similarly bold path shortly after taking over in 2013 before the team exceeded expectations.

Why would they reject selling?

The Raptors had a rough start to the year but they are still a dangerous team with a strong foundation in terms of talent and coaching. Furthermore, the bigger problem may be that they are too good to truly tank so the incentive would primarily be a strong return for Lowry. Outside of that, it would take some injuries to lower their floor between now and the deadline to make a strong lottery pick even remotely possible.

Will they be sellers?

It feels unlikely considering they are already back in the playoff mix, but it only takes one team making a surprising offer for Lowry to change that calculus.
Ramblings: Coaching Change in Calgary, MacKinnon Out Friday, Wilson in More Trouble? (Mar 6) – dobberhockey.com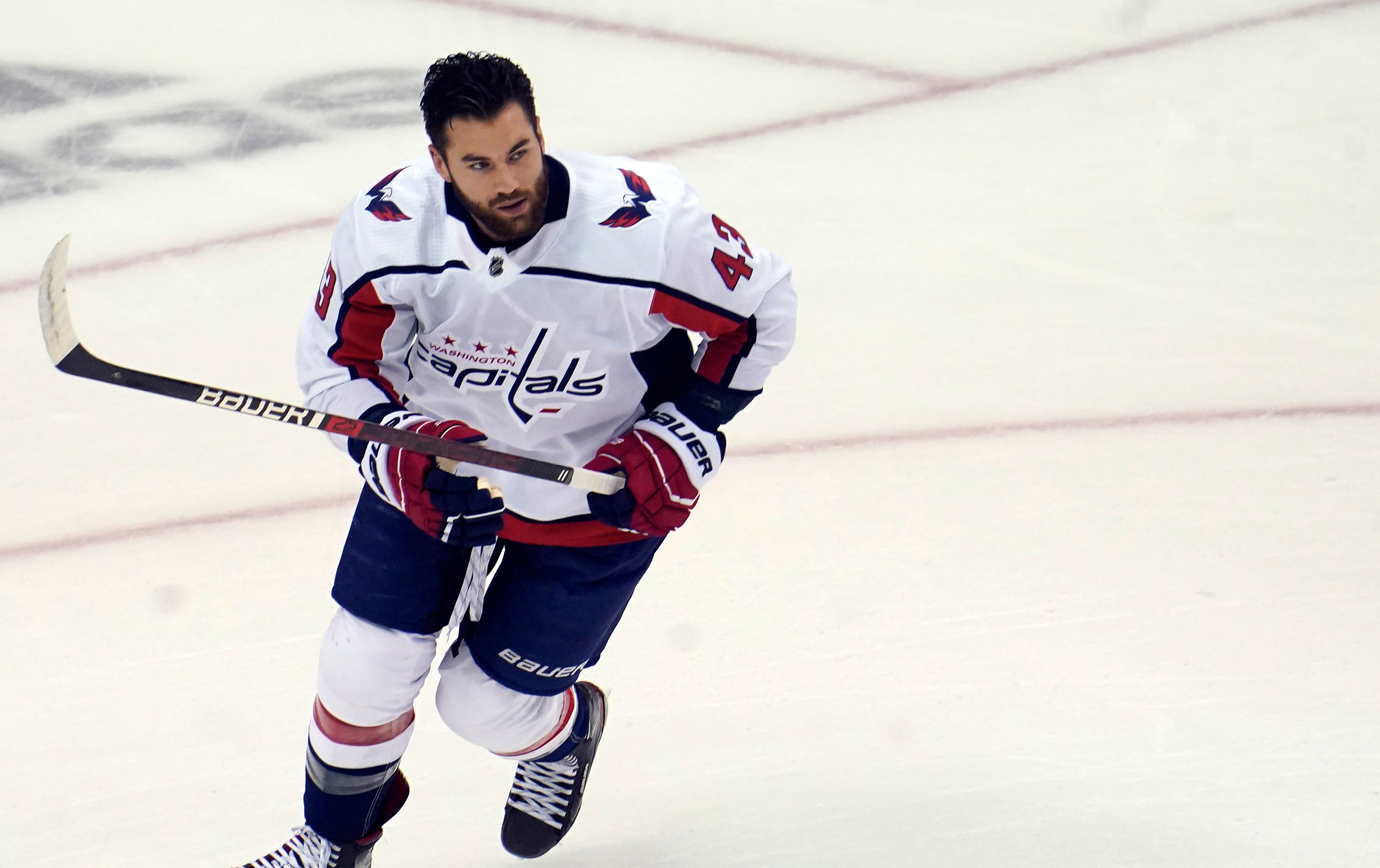 It shouldn't be much of a surprise given his current injury situation, but Brent Seabrook has announced his retirement. Seabrook will be remembered as a top-pairing blueliner on what might have been the most successful team of the past decade. His career ends with a long list of accomplishments, including three Stanley Cups, World Junior and Olympic gold medals, and over 1000 games over a 15-year career. All the best to him in retirement.
*
In case you missed it, I wrote a fantasy take on the late-night coaching change in Calgary. Geoff Ward is out, and Darryl Sutter is back in the saddle(dome).
Sutter is expected to report to the Flames on Monday after clearing COVID protocol, so assistant coach Ryan Huska will be the interim coach for the Flames' weekend games on Saturday in Edmonton and Sunday against Ottawa.
To expand on what I wrote last night, I think there's going to be a major shakeup in Calgary if this team does not make the playoffs or even exits the first round early. I wonder if it will involve general manager Brad Treliving, who has overseen high turnover behind the bench since he took over in 2014. Remember all those trade rumors surrounding Johnny Gaudreau? Watch his numbers, as he will be one step closer from being traded out of Calgary if he doesn't thrive under Sutter's defensive system.
*
Some good news for the Rangers, as Igor Shesterkin is considered day-to-day with a mild groin strain. Alexandar Georgiev is expected to start Saturday's game in New Jersey, however. For more starting goalie updates, be sure to check Goalie Post.
*
Nathan MacKinnon was not in lineup Friday. You may remember that he took a hit to the head during Wednesday's game against San Jose. With MacKinnon out of the lineup, Nazem Kadri moved up to the top line alongside Gabriel Landeskog and Mikko Rantanen. Tyson Jost moved up to take Kadri's spot between Brandon Saad and Andre Burakovsky.
With all the line juggling, Saad had success in scoring a goal and adding two assists. It seemed to help him break out of his funk, as he had not recorded a point in his previous six games. Who knew that Jost would be an upgrade on Kadri?
I'm going to give you lots of overtime highlights today. Valeri Nichushkin scored two goals on seven shots, including this overtime winner while wearing the Nordiques jerseys. Debate whether the Avalanche should be wearing those jerseys if they took the team from Quebec City, but they look amazing anyway.
Credit where credit is due: Rickard Rakell recorded an assist, extending his point streak to four games. He's recorded six points and taken 15 shots over that span. Rakell is far and away the Ducks' leader in shots with 76 (over three shots per game). Even though he has only three goals, the fact that he's shooting the puck is a great sign. With just a 3.9 SH%, more of those shots eventually have to go in. For that reason, he might be worth a pickup in your league.
*
Speaking of hits to the head, here's Tom Wilson doing Tom Wilson things again. It seems inconceivable that Wilson did not even receive a penalty on the hit, at least for charging if you don't think Wilson was aiming for the head or that Carlo moved. Given Wilson's history, a suspension should be forthcoming, as long as the NHL's wheel of justice doesn't land on the wrong number. You love all that he can provide in your bangers league, but this is the risk you take in owning him.
According to Bruce Cassidy, Carlo was taken to the hospital in an ambulance. Even if the league doesn't think this hit is as ugly as it looks, that won't help Wilson's cause.
Jarred Tinordi earned the respect of his new teammates by taking on Wilson in the second period.
If revenge is best served on the scoreboard, the Bruins got theirs with a 5-1 win. Brad Marchand (of all people) powered the Bruins with two goals and an assist, which gives him 27 points over 21 games. That scoring pace (1.29 PTS/GP) is similar to what he has produced in the past three seasons. However, his 24.5 SH% is much higher than normal. I don't think this is a case of selling high on Marchand, since this is his usual pace.
Marchand also gave his thoughts on the hit (Spoiler: Even he thought the hit was ********).
*
Alex DeBrincat scored twice with five shots on goal in the Blackhawks' 4-3 shootout win over Tampa Bay. I was going to write about DeBrincat, but Frozen Tools took care of that for me. Maybe they'll take care of my entire Ramblings if I ask nicely.
Okay, I'll pick one out on my own. Alex Killorn scored a goal and an assist in a losing cause. More notably for multicategory leaguers, he took eight shots. This is notable because Killorn took a total of eight shots over his previous six games combined. Killorn has two points in each of his last two games while playing on the Steven Stamkos line.
Although no goals were scored, this sequence is worth watching anyway because there was so much going on.
📢 advertisement:

*
David Perron scored twice on Friday, extending his point streak to five games. He's been hot for most of the season (according to Frozen Tools), scoring 24 points in his last 20 games.
Mike Hoffman scored the overtime winner on a delayed penalty call. He also added an assist on Perron's game-tying goal with under a minute to play.
Ryan O'Reilly assisted on all three Blues goals, which gives him nine points over his past seven games.
For the Kings, Dustin Brown fired eight shots while scoring a power-play goal. Brown had been held without a point in his previous three games.
Rasmus Kupari, who has scored nine points in eight AHL games this season, made his NHL debut on Friday. He received 10 minutes of icetime while on a line with Adrian Kempe and Trevor Moore. View Kupari's Dobber Prospects profile.
*
Just another Kirill Kaprizov highlight – one of his two assists in this game. Who says assists are boring?
At 6'3″, 223 lbs., Marcus Foligno provides hits, and lots of them. So when I needed help in the hits category in my multicategory league and didn't want to sacrifice scoring, I decided to add him earlier this week. He continued to provide that scoring touch, adding two assists on Friday to give him six points over his past three games and 10 points in his last seven games.
The Wild are finding scoring from all kinds of different sources this season, and the Foligno – Joel Eriksson Ek – Jordan Greenway line has been surprisingly strong. All three players are now within the top five in Wild team scoring, while more familiar names such as Kevin Fiala, Zach Parise, and Matt Dumba are not.
As for hits, which is the reason I added Foligno? Just one in this game. Can't have it all, I guess. Foligno is also a plus-10 and is even picking up power-play time. The advanced stats (33.3 SH%, 5-on-5 SH%, 3.0 PTS/60, 1055 PDO) scream regression, which makes sense for a player whose 25 points last season is his highest over a 10-year career. Still, he's a legitimate bangers league option with his hits and penalty minute totals combined with the recent scoring touch.
*
One more overtime winner for you. Should we be surprised that it's a goal from Max Pacioretty and an assist from Mark Stone? It's the third overtime winner of the season for Patches, who scored twice in this game and added another assist with five shots on goal.
Yes, I realize Alex Pietrangelo fed him the pass this time. However, Stone's point total (5 G, 21 A) has become rather assist-heavy. It shouldn't be a major gripe if you own Stone, as he's currently in the top 10 in points.
Vegas had a 3-0 lead in this game, but the Sharks managed to creep back after that. Kevin Labanc scored with just over a minute to play to tie the game. With also adding an assist, Labanc now has eight points over his past six games. He's receiving first-line minutes with Logan Couture and Evander Kane and first-unit power-play time, so he doesn't have to worry about making things happen on his own anymore. He's owned in just 6 percent of Yahoo leagues, so he might be worth adding to your watch list at minimum.
Erik Karlsson's assist on Matt Nieto's goal on Friday was his first primary assist since January 22. That's a span of 11 games without a primary assist, interrupted by injury of course. Karlsson picked up another helper, which gives him three points in the four games since returning from injury.
After allowing three goals on eight shots, Martin Jones was pulled for the fifth time in 15 starts. That's as much as you need to know about Jones and why he shouldn't be on your fantasy team.
*
For more fantasy hockey discussion, or to reach out to me, you can follow me on Twitter @Ian_Gooding
Mark Messier on Walter Gretzky: He made you 'feel good about yourself' – Sportsnet.ca
Many Canadians have fond memories and stories of meeting Walter Gretzky, whether it was in a hockey arena, at a charity event or perhaps somewhere in Brantford, Ont. Mark Messier is no different.
The six-time Stanley Cup champion got to know Walter and the Gretzky family while he played with Wayne Gretzky on the Edmonton Oilers in the 80s. Walter, known as Canada's beloved hockey dad, passed away at the age of 82 on Thursday.
To Messier, Walter was a good friend to everyone.
"Walter always had a way of making you feel good about yourself," Messier told Arash Madani and Stephen Brunt on Friday's edition of Sportsnet Today. "Even after we'd be down on ourselves after a tough loss, he had a nice way of keeping things in perspective. He'd always turn the page and [be] looking forward to the next game."
There was a big focus on family in Edmonton, Messier said, with not only teammates becoming great friends but also the players' parents forging their own relationships with each other.
Messier said that Wayne and Walter had a "beautiful relationship," noting that Walter along with wife Phyllis Gretzky were instrumental in making The Great One the person he is today.
"Walter and Phyllis did an amazing job of keeping Wayne grounded, protecting him when they needed to, exposing him when it was needed," Messier said. "But I think the life lessons that Walter and Phyllis passed down to Wayne has shone through his career. Wayne had time for everybody."
Just like many other Canadian families, Messier said the Gretzky family was hard-working and always made an effort to be good citizens.
"They didn't lose sight of the fact that the most important things were keeping your integrity and being honest and being truthful, and I think those are the Canadian characteristics that we all can recognize in great people, and Wayne had it because of his parents."
With Wayne's massive success in the NHL, Walter quickly became a public figure and a Canadian icon on his own. In hindsight of the celebrity status he developed during his life, Messier said Walter was "pretty shy" when he first got to know him and that Walter tried to stay out of the spotlight.
"It became evident to him later on—he became a celebrity in his own right," Messier said. "He was on the speaking circuit, the charity circuit, watching youth hockey games, being invited to events. I think he really embraced it after a while.
"I think he actually really felt responsibility to give back. He understood the gravity of the situation where he could be helpful to young boys and girls."
Philipp Kurashev scores in shootout as Blackhawks beat Lightning – Sportsnet.ca
CHICAGO — Philipp Kurashev scored the only goal in a shootout and the Chicago Blackhawks beat the Tampa Bay Lightning 4-3 on Friday night.
Alex DeBrincat scored twice and Dominik Kubalik added a goal in regulation for the Blackhawks, who lost their first three games to the Lightning this season. Malcolm Subban made 39 saves, plus three more in the shootout.
"We were resilient tonight," Blackhawks coach Jeremy Colliton said. "We gritted it out, whether it's the saves we got or the penalty kills. We blocked a lot of shots and got clears when we needed to."
Anthony Cirelli, Alex Killorn and Ryan McDonough scored for the Lightning, and Curtis McElhinney stopped 24 shots.
Chicago improved to 4-1-1 in its past six games and snapped Tampa Bay's six-game winning streak. On Thursday night, the Lightning won 3-2 in overtime on Alex Killorn's buzzer-beating goal.
"They were probably better last night, and we win," Tampa Bay coach John Cooper said. "Both teams probably know who was a little better tonight, and they end up winning. It comes out even."
McDonough made it 3-2 off a big rebound 3:20 into the third period, jumping on Killorn's drive and beating Subban from 10 feet.
Kubalik tied it 1:40 later by poking home the fluttering shot of defenceman Duncan Keith for his fourth goal in six games.
Overtime started with a flurry of chances for both teams. McElhinney stopped Patrick Kane on a pair breakaways in the first two minutes, and Tampa Bay also had several odd-man chances. Subban held strong despite a hard collision with Steven Stamkos, then denied Victor Hedman, Brayden Point and Stamkos in the shootout.
"We gave up a lot of chances, a lot of breakaways he stopped, and he's the reason we won," DeBrincat said.
Tampa Bay scored twice in the first 11 minutes, only to see Chicago tie it early in the second period.
Cirelli got behind Keith and rebounded Point's shot at 2:51 for his third goal in four games. Killorn made it 2-0 at 10:27 with a power-play goal, tipping Hedman's shot from the high slot.
DeBrincat scored less than three minutes later. The 100th goal of his NHL career was a power-play goal, a wrist shot from the left circle with Blake Coleman off for hooking.
DeBrincat, who had 18 goals in 70 games last season, scored his 14th in 21 games this year 7:08 into the second period, parking low in the left circle before one-timing a pass from Kane to tie it.
"This is a tough challenge," McDonough said of the three-game series with Chicago. "We've got one more crack at them in a couple of days and have to take advantage of it."
Blackhawks defenceman Calvin DeHaan crumpled to the ice after blocking Ondrej Palat's snapshot 2:12 into the final period and eventually limped to the bench. He went to the locker room and did not return.
EXTRA WORK
Tampa Bay played only two overtime games in its first 20 contests but were taken to overtime for the second game in two nights by the Blackhawks, running their season total to four. Columbus and Carolina were the other teams to force the Lightning past 60 minutes, and only Carolina scored a victory.
SEABROOK HONORED
Blackhawks defenceman Brent Seabrook received a video tribute on the scoreboard Friday night, hours after he announced his retirement because of injuries, saying his right hip wouldn't heal enough to allow him to play following surgery. Seabrook was a key part of the Blackhawks' Stanley Cup winning teams in 2010, 2013 and 2015, as well as Canada's 2010 Olympic champions.
UP NEXT
Tampa Bay and Chicago conclude their three-game series on Sunday at United Center.