NHL Rumors: Maple Leafs, Red Wings, Blues, More – The Hockey Writers
In today's NHL rumor rundown, there is speculation as to what it might cost the Toronto Maple Leafs to retain Morgan Rielly, along with what else they might do on the blue line. In Detroit, there is speculation as to what type of free agents they'll go for, and why are St. Louis Blues's scribes starting to question Alex Pietrangelo returning to St. Louis?
How Expensive Will Morgan Rielly Be?

According to Sportsnet's Luke Fox, it could cost the Toronto Maple Leafs big dollars to re-sign defenseman Morgan Rielly when his contract expires in 2022. Fox suggests a good comparison is the Arizona Coyotes' Oliver Ekman-Larsson's eight-year, $66-million deal. He also notes that the Maple Leafs will be closely watching what happens between the Boston Bruins and blueliner Torey Krug.
Considering the uncertainty surrounding the salary cap, it might be wise for the Leafs to try and sign Rielly early if they can convince him the cap won't bounce back by 2022. Free agents this year may have to take less money because of the drop in league revenue and it would be ideal for the Maple Leafs to get Rielly for less and hope salaries pop back up. If the revenues are up again by the time Rielly goes to re-sign, the Leafs won't have saved anything.
Related: Detroit Red Wings: A Tribute to Nicklas Lidstrom
More Help Coming on Maple Leafs Blue Line?
After signing Mikko Lehtonen, could the Leafs have more up their sleeve when it comes to addressing their blue line? Some have suggested the Leafs acquiring another LTIR contract to free up cap space to pursue St. Louis Blues defenseman Alex Pietrangelo. Fox doesn't see that happening but does note that acquiring a contract like Ryan Kesler's could help in another way. He writes:
"Paying Ryan Kesler or Marian Hossa to not play hockey won't help Toronto land Petro. Paying Kesler might, in theory, help Dubas acquire a Josh Manson plus a draft pick from Anaheim in exchange for Kasperi Kapanen."
Could Red Wings Pitch for Big-Name Free Agent?
Helene St. James of the Detroit Free Press took a look at potential free-agent options on the Red Wings' blue line and discussed possible interest in Pietrangelo. She admits the Blues captain may prefer staying for less in St. Louis or going somewhere more competitive than Detroit.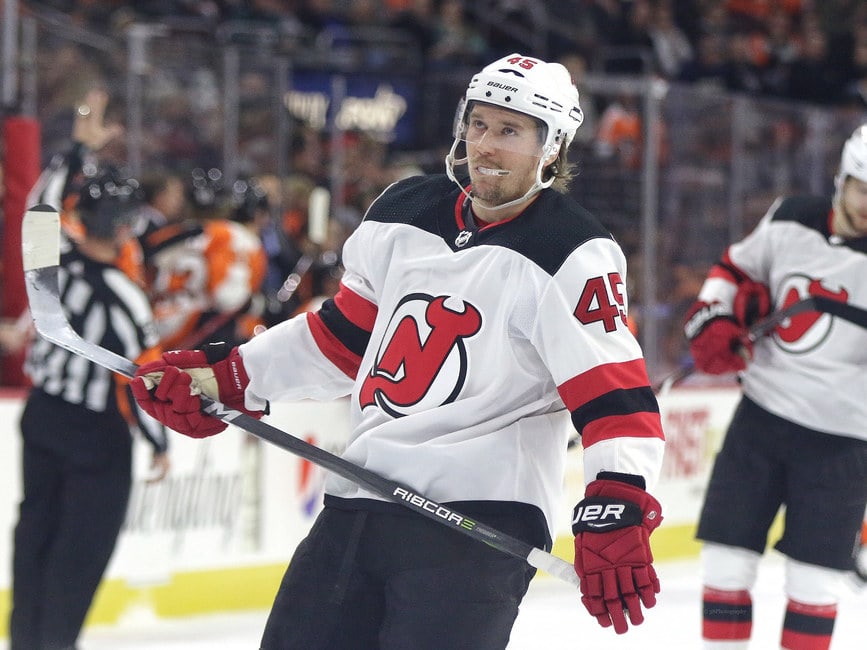 Other names mentioned include Toronto's Tyson Barrie, Carolina's Sami Vatanen, Tampa Bay's Kevin Shattenkirk, and Calgary's TJ Brodie.
St. James writes:
Yzerman will have money to spend — and other teams may find themselves budget-challenged, especially if the cap contracts. But he will still have to excel as a salesman to land one of the better free agents available, and will probably have to overpay. Selling free agents on the Wings was not an issue when he was a player (1983-2006) or worked in the front office (2006-2010), nor while general manager of the Tampa Bay Lightning (2010-2018), where he led a successful team in a state without income tax.

source – 'The Detroit Red Wings need to upgrade their defense. Here are options' – Helene St. Jams – Detroit Free Press – 05/02/2020
Related: Do You Know Your Maple Leafs Trivia?
Vancouver Pitches to Host Games
Apparently, Edmonton isn't the only western Canadian city interested in hosting games should the NHL resume this summer. Ryan Rishaug of TSN reports that Vancouver has also submitted a proposal.
At this point, there is nothing definitive about what the NHL plans to do, but what makes Vancouver an interesting option is how many buildings there are that could potentially host games. Already a hub for international travel, the options for NHL action includes Rogers Arena (Canucks' home arena), Pacific Coliseum (Canucks' former home arena), the University of British Columbia (UBC), Langley Events Centre (WHL Vancouver Giants home arena), Abbotsford Centre (Former AHL arena) and a number of BCHL rinks around the lower mainland (Langley, Surrey, Coquitlam, Chilliwack).
Blues Not Confident in a Pietrangelo Return?
Benjamin Hochman of the St. Louis Dispatch recently wrote that he's surprised so many fans in St. Louis seemed confident Pietrangelo would be back. He asks, "But why does seemingly everyone in St. Louis seem so sure he's staying?"
He adds:
The Blues captain and St. Louis sports icon is a free agent when this season is up — whenever this season is up. Or, frighteningly, perhaps there won't be any more hockey in the 2019-20 season, and the next time the Blues lace 'em up, it'll be the 2020-21 season. There is so much uncertainty right now during this pandemic.

But at some point, presumably, in the coming months, the defenseman will have to make a decision. And there are uncertainties involving his decision, some which existed even before the pandemic. Namely, the Blues don't have enough cap space to currently afford him.

source -Hochman: Petro returning to Blues makes sense, but there's no guarantee he'll be back' – Benjamin Hochman – St. Louis Dispatch – 04/27/2020
Catch up on all the latest NHL Rumors
FIFA calls on organizers not to sanction in-game gestures supporting George Floyd – CBC.ca
FIFA urged soccer competition organizers on Monday to apply "common sense" and consider not sanctioning players for solidarity with George Floyd during matches.
The recognition of the "depth of sentiment" over Floyd's death came in a rare statement by FIFA telling the global game to show flexibility and not enforce laws of soccer it helps to set.
Players used weekend games in Germany to reveal messages demanding justice for Floyd, a handcuffed black man who died after he pleaded for air as a white police officer pressed a knee on his neck in Minneapolis.
Germany's soccer federation announced earlier Monday that it was assessing whether to sanction the players for breaking laws of the game that prohibit "any political, religious or personal slogans, statements or images" on equipment.
WATCH | German league players show support for George Floyd:
"FIFA fully understands the depth of sentiment and concerns expressed by many footballers in light of the tragic circumstances of the George Floyd case," the governing body said in a statement.
"The application of the laws of the game approved by the IFAB is left for the competitions' organisers, which should use common sense and have in consideration the context surrounding the events."
FIFA controls half of the eight votes on the International Football Association Board, with the other four held by England, Northern Ireland, Scotland and Wales. A law change in 2014 — proposed by England — led to players being banned from revealing personal statements on undergarments.
England winger Jadon Sancho was booked while playing for Borussia Dortmund on Sunday for removing his jersey — a yellow-card offence — only so he could reveal a T-shirt with a "Justice for George Floyd" message.
WATCH | Canadian athletes speak against racism:
Borussia Dortmund teammate Achraf Hakimi displayed the same message on a T-shirt after scoring in the same game on Sunday but was not booked because he did not lift his jersey over his head.
Floyd, a handcuffed black man, died on Monday after a white Minneapolis police officer, Derek Chauvin, pressed his knee for several minutes on his neck. Three other officers were also at the scene. Chauvin has been charged with murder and all four were fired.
In the Bundesliga on Saturday, American midfielder Weston McKennie wore an armband over his Schalke jersey with the handwritten message "Justice for George," and Borussia Mönchengladbach forward Marcus Thuram took a knee after scoring for Borussia Mönchengladbach in another game.
On Monday, after the Deutscher Fussball-Bund said it was assessing the players' actions, Cologne forward Anthony Modeste became the latest to make a gesture after scoring against Leipzig. He stood briefly with his right palm facing out and his left palm facing in to display the darker skin on the back of his hand.
Cologne said it was "a clear signal" against racism from Modeste.
WATCH | ESPN's Howard Bryant reflects on Kaepernick's preaceful protest:
DFB president Fritz Keller on Monday showed his respect and understanding for McKennie, Thuram, Sancho and Hakimi's gestures.
"If people are discriminated against on the basis of their skin colour, it is unbearable. If they die because of their skin colour, then I am deeply distraught," Keller said in a DFB statement. "The victims of racism need all of us to show solidarity."
The expressions of protest are being investigated by the German soccer federation's control body.
"As is the case internationally," federation vice-president Rainer Koch said, "the game itself should remain free of political statements or messages of any kind."
FIFA's awareness of the depth of feeling over the racial inequalities highlighted by Floyd's death comes amid ongoing criticism soccer is not doing enough to eradicate or punish racism.
"FIFA had repeatedly expressed itself to be resolutely against racism and discrimination of any kind and recently strengthened its own disciplinary rules with a view to helping to eradicate such behaviours," the Zurich-based governing body said. "FIFA itself has promoted many anti-racism campaigns which frequently carry the anti-racism message at matches organised under its own auspices."
UFC star Jon Jones confronts vandals during George Floyd protest in Albuquerque – GIVEMESPORT
UFC star Jon Jones took to the streets of Albuquerque, New Mexico on Sunday night to confront vandals at a Black Lives Matter protest.
Jones has made news in the UFC world recently by vacating the light heavyweight belt but turned his attentions to more pressing matters at the weekend.
The 32-year-old shared footage on his Instagram account that shows him approaching vandals who were spray painting the city.
The protests were sparked by the death of American George Floyd while in police custody last week.
The clip of a police officer kneeling on Floyd's neck for nearly nine minutes shocked the world and has led to people challenging the injustice towards black people.
But Jones was eager for the protests to be peaceful and he was seen asking the vandals to hand over their spray cans.
He added a caption that read: "Is this s*** even about George Floyd anymore?!? Why the f*** are you punk ass teenagers destroying our cities!??
"As a young black man trust me I'm frustrated as well but this is not the way, we are starting to make a bad situation worse.
"If you really got love for your city (505), protect your s***. All you old heads need to speak up, call your young family members and tell them to come home tonight."
Several sports stars have paid tribute to Floyd, with Bundesliga football players making gestures in support of the American at the weekend.
On Saturday, Schalke's American midfielder Weston McKennie wore a 'Justice for George armband'.
And on Sunday, both Marcus Thuram and Jadon Sancho honoured Floyd after scoring for Borussia Monchengladbach and Borussia Dortmund respectively.
MLS players boycott training in apparent labour impasse – TSN
Toronto FC, Montreal Impact and Vancouver Whitecap players boycotted training Monday in an apparent labour impasse between the MLS and the MLS Players Association.
It appears players in "multiple markets" also stayed home amidst reports they faced a threatened lockout by the league.
The training sessions are voluntary but players had been taking advantage of them, with Toronto, Atlanta, Inter Miami and Sporting Kansas City among those slated to progress from individual to small group training sessions Monday.
"Players made a CHOICE to focus their time and energy on an important decision which includes the threat of a lockout instead of volunteering to attend on-field training for a tournament we already agreed to attend," tweeted Minnesota United midfielder Ethan Finlay, a member of the MLSPA's executive board. "Refuse is not the word I would use."
With the season on hold since March 12 due to the pandemic, the two sides have been bargaining about concessions and pay.
On Sunday night, the Players Association announced its membership had approved a package for the 2020 season included player salary reductions and additional concessions. It did not provide specifics although the proposal included participating in a summer tournament in Orlando.
"While a difficult vote in incredibly challenging times, it was taken collectively to ensure that players can return to competition as soon as they are safely able to do so," the PA said in a statement. "The package has been formally submitted to the league for a decision by the owners."
The league declined comment Sunday night but reports soon emerged that it wanted more concessions.
Complicating matters is the fact that while the league and PA agreed on a new collectively bargaining agreement in February, it has yet to be ratified.
The players' proposal included adding a year to the CBA.
The labour negotiations come against a backdrop of unrest in the U.S. in the wake of the death of George Floyd.
"I can't sleep some of these nights!," tweeted Mark-Anthony Kaye, a Canadian international who plays for Los Angeles FC. "My mind just races and goes on and on at the amount of possible scenarios in where I lose my life or I'm harmed by a police officer who took an oath to protect us. The police force has lost its credibility, the CHANGE needs to start internally!"
The league released a statement Monday saying the "entire Major League Soccer family is deeply saddened and horrified by the senseless murder of George Floyd.
"We stand united with the black community throughout our country and share in the pain, anger and frustration. We hear you. We see you. We support you. We are committed to use our voices and the platform of our league, our clubs and our players to continue to champion equality and social justice."
Prior to the league release, Toronto defender Justin Morrow wondered what was taking so long.
"How long must we wait to hear from you regarding what's going on across the country?" he tweeted. "Can't you see that your players are speaking up and it matters to them? Your silence is deafening. Please support us."
The MLSPA issued its statement Sunday.
"Like our players, we are deeply sickened by the continued inequality and violence around the country. We stand with all of those who have been subjected to unfair and unequal treatment because of the colour of their skin. We must commit as a society to end this horrible cycle."
This report by The Canadian Press was first published June 1, 2020.
—
Follow @NeilMDavidson on Twitter