NHL Rumors: Maple Leafs, Red Wings, Blues, More – The Hockey Writers
In today's NHL rumor rundown, there is speculation as to what it might cost the Toronto Maple Leafs to retain Morgan Rielly, along with what else they might do on the blue line. In Detroit, there is speculation as to what type of free agents they'll go for, and why are St. Louis Blues's scribes starting to question Alex Pietrangelo returning to St. Louis?
How Expensive Will Morgan Rielly Be?

According to Sportsnet's Luke Fox, it could cost the Toronto Maple Leafs big dollars to re-sign defenseman Morgan Rielly when his contract expires in 2022. Fox suggests a good comparison is the Arizona Coyotes' Oliver Ekman-Larsson's eight-year, $66-million deal. He also notes that the Maple Leafs will be closely watching what happens between the Boston Bruins and blueliner Torey Krug.
Considering the uncertainty surrounding the salary cap, it might be wise for the Leafs to try and sign Rielly early if they can convince him the cap won't bounce back by 2022. Free agents this year may have to take less money because of the drop in league revenue and it would be ideal for the Maple Leafs to get Rielly for less and hope salaries pop back up. If the revenues are up again by the time Rielly goes to re-sign, the Leafs won't have saved anything.
Related: Detroit Red Wings: A Tribute to Nicklas Lidstrom
More Help Coming on Maple Leafs Blue Line?
After signing Mikko Lehtonen, could the Leafs have more up their sleeve when it comes to addressing their blue line? Some have suggested the Leafs acquiring another LTIR contract to free up cap space to pursue St. Louis Blues defenseman Alex Pietrangelo. Fox doesn't see that happening but does note that acquiring a contract like Ryan Kesler's could help in another way. He writes:
"Paying Ryan Kesler or Marian Hossa to not play hockey won't help Toronto land Petro. Paying Kesler might, in theory, help Dubas acquire a Josh Manson plus a draft pick from Anaheim in exchange for Kasperi Kapanen."
Could Red Wings Pitch for Big-Name Free Agent?
Helene St. James of the Detroit Free Press took a look at potential free-agent options on the Red Wings' blue line and discussed possible interest in Pietrangelo. She admits the Blues captain may prefer staying for less in St. Louis or going somewhere more competitive than Detroit.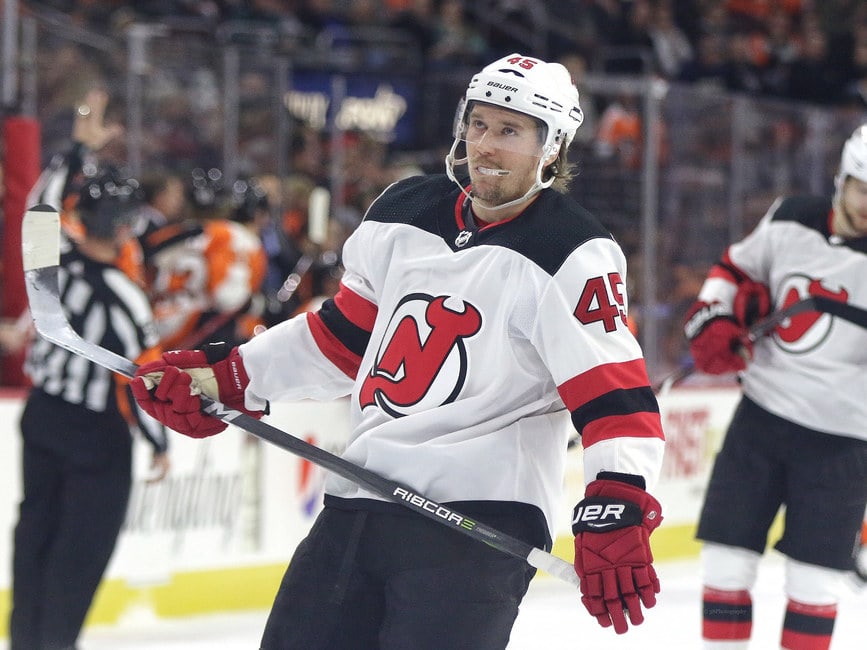 Other names mentioned include Toronto's Tyson Barrie, Carolina's Sami Vatanen, Tampa Bay's Kevin Shattenkirk, and Calgary's TJ Brodie.
St. James writes:
Yzerman will have money to spend — and other teams may find themselves budget-challenged, especially if the cap contracts. But he will still have to excel as a salesman to land one of the better free agents available, and will probably have to overpay. Selling free agents on the Wings was not an issue when he was a player (1983-2006) or worked in the front office (2006-2010), nor while general manager of the Tampa Bay Lightning (2010-2018), where he led a successful team in a state without income tax.

source – 'The Detroit Red Wings need to upgrade their defense. Here are options' – Helene St. Jams – Detroit Free Press – 05/02/2020
Related: Do You Know Your Maple Leafs Trivia?
Vancouver Pitches to Host Games
Apparently, Edmonton isn't the only western Canadian city interested in hosting games should the NHL resume this summer. Ryan Rishaug of TSN reports that Vancouver has also submitted a proposal.
At this point, there is nothing definitive about what the NHL plans to do, but what makes Vancouver an interesting option is how many buildings there are that could potentially host games. Already a hub for international travel, the options for NHL action includes Rogers Arena (Canucks' home arena), Pacific Coliseum (Canucks' former home arena), the University of British Columbia (UBC), Langley Events Centre (WHL Vancouver Giants home arena), Abbotsford Centre (Former AHL arena) and a number of BCHL rinks around the lower mainland (Langley, Surrey, Coquitlam, Chilliwack).
Blues Not Confident in a Pietrangelo Return?
Benjamin Hochman of the St. Louis Dispatch recently wrote that he's surprised so many fans in St. Louis seemed confident Pietrangelo would be back. He asks, "But why does seemingly everyone in St. Louis seem so sure he's staying?"
He adds:
The Blues captain and St. Louis sports icon is a free agent when this season is up — whenever this season is up. Or, frighteningly, perhaps there won't be any more hockey in the 2019-20 season, and the next time the Blues lace 'em up, it'll be the 2020-21 season. There is so much uncertainty right now during this pandemic.

But at some point, presumably, in the coming months, the defenseman will have to make a decision. And there are uncertainties involving his decision, some which existed even before the pandemic. Namely, the Blues don't have enough cap space to currently afford him.

source -Hochman: Petro returning to Blues makes sense, but there's no guarantee he'll be back' – Benjamin Hochman – St. Louis Dispatch – 04/27/2020
Catch up on all the latest NHL Rumors
How the gambling industry in Canada has risen over the years
Online gambling has grown to become a huge industry, and millions of people are gambling
every day. Canada is among the countries with the most daily gamblers and is ranked in eighth place among the countries with the most people who gamble every day. The global gambling industry is estimated to be around $458.93 billion in 2022.
The industry is estimated to grow further, and some key actions are leading to spreading the word about gambling online and making it popular. Let's have a look at it.
The legalization act
Many countries, states, and provinces are legalizing betting or are working on bills to do so. Many states in the US legalized online betting and gambling at the best online casinos, which has undoubtedly given it quicker growth, and provinces in Canada are following suit. More of these are taking advantage of the lucrative industry. These provinces include Saskatchewan, Ontario, Alberta, and British Columbia. It is estimated that Canadians spend a whopping $16 billion in local casinos every year and $ 4 billion on offshore online gambling platforms. This is from the 20 million Canadians that are playing.
Digital solutions
Another key factor when it comes to the increase in gambling activities is access to it. The internet has become highly developed, and we spend a lot of time every day here. Almost everyone owns a few impressive devices that can take you online to connect and gamble. Online sports betting sites and casinos on the internet are getting more user-friendly and practical to use. You can create your account, deposit money and start gambling within a few minutes, and the selection of games and bets are many. You can even indulge in live gambling to play in real-time against other, real players.
Spreading the word
The increased gambling activity and the possibility of developing betting sites have created competition in the industry. It makes it more desirable to make room for a higher marketing budget and to do it both online and offline to reach a preferred target audience. There are more commercials from gambling sites out there, and we can see big sportsbooks sponsoring soccer teams or even entire championships. People are joining as new bettors every day, so now it is all about attracting them to your own site.
Great Start from Kikuchi, Jays Beat Rays – Bluebird Banter
Rays 1 Blue Jays 4
Off the top, let's just acknowledge how great Matt Chapman is with the glove. With almost anyone else at third base, this would have been a different game. In the sixth inning, it looked like Yusei Kikuchi was starting to lose it. He gave up back-to-back singles to start the inning. Then there was a bouncing ball up the third-base line, that Chapman pitched up, touched third and made an excellent throw to first for the double-play. The next batter hits almost exactly the grounder, a fair bit harder (103.1 MPH) that Chapman again grabbed (further) behind the bag and again made a great throw to first, getting the third out. In the seventh, he made a great catch on a popup hit behind third.
Kukichi had a terrific start. Going six innings, he gave up a solo homer, the two singles mentioned above, and one other single, just one walk with eight strikeouts. He was in charge all the way through. He may have had one more inning in him, but I was all for taking him out while things were good. Without Chapman, his last inning wouldn't have been great.
On offence, two big swings did all the damage. Teoscar Hernandez crushed a no-doubter in the second inning, a two-run shot, 419 feet. And Santiago Espinal had his own two-run homer in the seventh. Not a no-doubter, just over the left-field wall, into the Jays bullpen, caught by David Phelps.
We only had 9 hits on the day. Teoscar (3) and Espinal (2) had 5 of the 9 hits.
Opener Matt Wisler pitched a scoreless first. After that, Ryan Yarbourgh pitched the bulk of the game, giving up 8 hits, 4 runs, and 1 walk without a strikeout, in 5.1 innings. I thought Kevin Cash left him in a little too long, but both teams have a lot of baseball ahead this weekend.
Vlad, Chapman and Moreno had 0 fors.
From the pen:
Trent Thornton gave up a hit and had a strikeout in the seventh
Phelps gave up a walk and got a strikeout in the eighth.
Cimber got the save (pitching his third game in a row). His fourth of the season. He finished it with a strikeout.
Jays of the Day: Kikuchi (.258 WPA), Teoscar (.189) and Espinal (.171). I'm giving Chapman an honourable mention, despite his -.076 WPA, for his glove.
No one had the Suckage number. Bo (-.087), Moreno (.080, but deserves points for helping Kukichi navigate the game) and Vlad (-.070) all came close.
Tomorrow we have a day game for Canada Day, a 3:00 Eastern start. Jose Berrios 5-4, 5.86 ERA, is hoping to bounce back from a terrible start. Corey Kluber (3-4, 3.45) gets the start for the Rays.
Trial of WNBA star Brittney Griner begins in Russia – Al Jazeera English
The trial of United States professional basketball player Brittney Griner, who was arrested in Russia in February after authorities found vape cartridges containing hashish oil in her luggage, has begun in Moscow.
Griner, a Women's National Basketball Association (WNBA) all star and two-time Olympic gold medallist, arrived at a courtroom on the outskirts of the Russian capital on Friday for the trial, in which she faces up to 10 years in prison.
Arriving at Khimki City Court in handcuffs, the 31-year-old athlete wore a T-shirt showing guitar icon Jimi Hendrix and was accompanied by three people. US embassy staff were in attendance at the proceedings. Cameras were not permitted in the court.
Two witnesses were questioned by the prosecution: an airport customs official, who spoke in open court, and an unidentified witness in a closed session. according to the state news agency RIA-Novosti. The trial was then adjourned, it said, when two other witnesses did not show up, and the next session was set for July 7.
Alexander Boykov, an attorney for Griner, told reporters outside court that "I wouldn't want to talk on the specifics of the case and on the charges and to comment on our position on it because it's too early for it."
US Charge d'Affaires Elizabeth Rood told reporters at the trial that Griner told her she was "keeping the faith" and that she was doing "as well as can be expected".
The US State Department has labelled Griner "wrongfully detained" and is negotiating for her release amid tanked relations with Russia in the wake of its invasion of Ukraine. Griner's arrest came just days before Russian President Vladimir Putin ordered troops into the neighbouring country on February 24.
[embedded content]
On Friday, Kremlin spokesman Dmitry Peskov denied the case was politically motivated.
"I can only operate with known facts, and the facts indicate that the eminent athlete was detained with illegal drugs that contained narcotic substances. There are articles in Russian legislation that provide for punishment for such crimes," he told reporters.
"Only the court can pass a verdict."
Griner's detention has prompted concerns that Moscow could use the athlete to seek the release of a high-profile Russian in US custody, with Senator Tim Kaine warning the forward for the Phoenix Mercury could be used as a "negotiating chip".
[embedded content]
Some of Griner's supporters have called on the US to offer such a swap.
High-profile figures across the sports world have also called for Griner's release, with NBA players wearing T-shirts that say "We are BG" at some games.
WNBA players, who are paid considerably less than their male counterparts, are often offered lucrative contracts by the Russian Women's Basketball Premier League to play during the US off-season.
Some have now left the Russian league, amid Griner's detention and Russia's military intervention in Ukraine.
US officials say Griner is one of two citizens wrongfully detained by Russia. Paul Whelan, a former US marine, has been held in Russia since 2018 after being convicted of spying. He has denied the allegation.
Russian news media have repeatedly raised speculation that she could be swapped for Russian arms trader Viktor Bout, nicknamed "the Merchant of Death," who is serving a 25-year sentence on conviction of conspiracy to kill US citizens and providing aid to a "terrorist" organisation.
Others have suggested that she could be traded in tandem with Whelan.
After Griner's hearing, US Secretary of State Antony Blinken tweeted: "We – and I personally – have no higher priority than bringing her and other wrongfully detained Americans, including Paul Whelan, home.
"We won't stop working until they are reunited with their loved ones."
Blinken, when asked Sunday on CNN whether a joint swap of Griner and Whelan for Bout was being considered, sidestepped the question.
"As a general proposition … I have got no higher priority than making sure that Americans who are being illegally detained in one way or another around the world come home," he said. But he said he could not comment "in any detail on what we're doing, except to say this is an absolute priority".