Ontario coronavirus investigations seem to be tapering off, official says – CFJC Today Kamloops
By Canadian Press
Feb 03, 2020
TORONTO — Ontario's chief medical officer of health says the number of people under investigation in the province for the novel coronavirus seems to be dropping.
Dr. David Williams says it has been about 11 days since China imposed strict travel restrictions, essentially preventing people from leaving Wuhan and other cities in Hubei province where the virus originated.
Williams says that first wave of people who had been in Hubei province before the quarantine was imposed is now slowing.
Three of Canada's four confirmed cases are in Ontario, and health officials say the patients in this province are all at home and doing well.
Coronavirus in California: What You Need to Know – The New York Times
California officials said this week that they had bolstered efforts to confront the growing threat of the coronavirus, declaring that they were prepared and pursuing aggressive measures to thwart its spread.
Gov. Gavin Newsom said on Thursday that the state had pushed for improved and expanded testing, urging federal officials to alter a testing protocol that he considered "inadequate" to address the situation California faces. He also said officials were actively monitoring people who might have come into contact with the pathogen.
California has had more coronavirus cases than any other state and has also been the nucleus of quarantine efforts in the United States. The sense of concern became more heightened after officials confirmed what is believed to be the first documented case of community transmission, in Solano County.
The governor sought to strike a delicate note by quelling fears over the virus while acknowledging the seriousness of the situation. He told residents that the overall number of cases remained low and that the state government was well positioned to keep it that way.
"We have been in constant contact with federal agencies," Mr. Newsom, a Democrat, said in a news conference on Thursday. "We have history and expertise in this space. We are not overreacting, but nor are we underreacting to the understandable anxiety that many people have as it relates to this novel virus."
Mr. Newsom has resisted declaring a state of emergency, a step taken by some local officials largely in an effort to muster public health resources. But there are worries about the economic fallout, with events having already been changed or canceled. Both Facebook and Microsoft said they were pulling out of conferences scheduled for March and May.
How many people are infected in California?
Thirty-three people have tested positive for the virus in California, said Dr. Sonia Angell, the director of the California Department of Public Health. Out of that group, 24 were from repatriation flights, seven were related to the patients' travel and one had contracted it from an infected spouse. The most recent case was the one involving community transmission, which was reported in Solano County.
How many people are being tracked?
Mr. Newsom said five people had moved out of the state after testing positive. In addition, at least 8,400 people who have returned from overseas are being monitored in 49 jurisdictions.
What makes Solano County a focus of concern?
One confirmed coronavirus case that cropped up in Solano County, between San Francisco and Sacramento, is especially worrisome to health officials. The patient had not had contact with anyone known to be infected, and had not traveled recently to a country where the virus is known to be in circulation.
The Centers for Disease Control and Prevention said it was the first such case reported in the United States, and it raised the possibility that someone who is asymptomatic may be carrying the virus and infecting others without knowing it.
The patient, a woman, became ill and was first treated in a hospital in Vacaville, then transferred to the UC Davis Medical Center. Doctors there suspected coronavirus and requested a test. But the C.D.C. did not perform the test for days, because it was restricting testing to sick people known to have been exposed to the virus. The day after her case was confirmed, the C.D.C. broadened its criteria to allow testing of people like her who appear to be ill from coronavirus but have no known point of exposure.
Solano County is also the location of Travis Air Force Base, where many Americans who were infected in Asia have been quarantined.
A government whistle-blower has filed a complaint saying that the federal health officials sent to interact with quarantined people at the base were not given proper training or protective gear, were not monitored or tested, and were allowed to move freely around and off the base — practices that potentially could have spread the virus into the community. The Department of Health and Human Services said it was looking into the complaint.
Similar things may have happened at Marine Corps Air Station Miramar near San Diego, another base where American coronavirus evacuees from Asia were taken to be quarantined, according to a person with direct knowledge of the efforts there.
How is the state responding?
California officials said on Thursday that the C.D.C. had promised to vastly expand the state's ability to test patients for the coronavirus. Mr. Newsom repeatedly said the previous system had been "inadequate" to keep the virus from spreading.
Mr. Newsom said the director of the C.D.C. had promised him that physicians would have a much greater ability to test patients who were showing symptoms of the infection, changes the governor said "can't happen soon enough."
"Testing protocols have been a point of frustration for many of us," Mr. Newsom said, referring to health officials in California and governors of other states. State officials said California had just 200 testing kits left.
Even as the governor resisted declaring a statewide emergency, officials in San Francisco and Orange County announced they were taking that step. But officials in both places stressed that the move was less an acknowledgment of an active crisis and more about mobilizing the resources to prevent one.
"This declaration of emergency is all about preparedness," San Francisco's mayor, London Breed, told reporters on Wednesday.
Nichole Quick, the health officer for Orange County, said the formal declaration there would enable local officials to be "more nimble and flexible" in their response.
"This is a rapidly evolving situation," Ms. Quick said on Wednesday, according to The Orange County Register, which reported that there had been one confirmed case of the virus in the county.
Can a state force a city to house patients?
State officials planned to move people infected with the virus to a state-owned facility in Costa Mesa, a city of more than 100,000 in Orange County. But city leaders are fighting to keep them out.
The authorities in California selected the site after the Defense Department informed them that patients who tested positive for the virus could no longer stay at Travis Air Force Base.
Federal officials had planned to move the patients to a government facility in Alabama, court documents said, but officials in California thought that moving the group, most of them said to be residents of the state, would be detrimental to their health and well-being.
Instead, state officials said the people would be moved from the base in Solano County to the facility in Southern California, where they would remain in isolation while recovering.
But the decision touched off a legal fight with Costa Mesa. A federal judge issued a temporary restraining order to stop the move. The judge said she would reconsider the issue after state and federal authorities provide more details about how they plan to protect the health of the community, as well as the people with the coronavirus. The judge set a hearing for March 2.
"This is a new one in terms of claiming a right not to have infectious disease introduced into your community," said Polly Price, a professor of law and global public health at Emory University. Although cities and towns once claimed "an absolute right" to guard against disease, she said, state-level control over isolation and quarantine has been the norm for more than a century.
What has life been like for evacuees on the military bases?
Blair Zong, 33, was among hundreds of Americans who were evacuated on flights arranged by the U.S. government and have had to wait through mandatory 14-day quarantines on military bases.
Ms. Zong, who lives in San Jose, Calif., was visiting her mother and grandparents in Wuhan, China, where she grew up, when the coronavirus outbreak became an epidemic.
She agreed to keep a daily journal of her time in quarantine at Marine Corps Air Station Miramar in San Diego.
Reporting was contributed by Patrick J. Lyons, Sean Plambeck, Roni Caryn Rabin, Farah Stockman, Louis Keene, Emily Cochrane, Margot Sanger-Katz and Noah Weiland.
Public health officials taking stock of supplies, equipment to prepare for possible coronavirus pandemic – CBC.ca
Canada's top public health officer says federal and provincial officials are now taking stock of the medical supplies and equipment they'd need to respond to a coronavirus pandemic — but the responsibility for ensuring those inventories are adequate lies with the provinces.
During a briefing call with reporters Thursday, Chief Public Health Officer Theresa Tam said the Public Health Agency of Canada serves a national coordination role for planning and preparing for health emergencies, and can do bulk purchasing on the provinces' behalf. While there is a federal stockpile of some medical supplies, it's normally reserved for rare, "high-impact" biological or radiological events.
Tam said that in those cases, the federal government can top up provincial and territorial supplies in the event they run short.
"As a result of the changing landscape because of COVID-19, we are pulling together that kind of information right now," she said.
"Of course, we have to adapt to … the evolution of the outbreak in order to fine-tune some of these estimates. But that's the kind of exercise that's being undertaken right now. But the granularity of the system's preparedness is, of course, left to the provinces and territories."
Tam noted that there are now more cases of COVID-19 — the respiratory illness caused by the novel coronavirus — being reported outside China than inside the country where the outbreak started. About 50 countries are now affected — some with isolated travel-related cases and others with outbreaks of their own, such as South Korea, Italy and Iran.
Seven countries — Brazil, Georgia, Greece, Macedonia, Norway, Pakistan and Romania — have only recently reported cases for the first time, World Health Organization (WHO) director general Tedros Adhanom Ghebreyesus told reporters at a daily briefing Thursday.
"This virus does not respect borders," he said.
No pandemic call by WHO
WHO has declared the epidemic a global health emergency but has not called it a pandemic.
To date, there have been 13 cases confirmed in Canada, but no reports of transmission through communities.
Tam said Canadian health authorities are in close contact with their counterparts in the U.S. — which only recently confirmed a case of the virus that does not appear to be linked to international travel.
The Trump administration has requested an additional $2.5 billion to respond to the coronavirus, even as the president expressed confidence there would not be a widespread outbreak in the U.S.
CBC News has asked if the federal government is earmarking extra funds for a response, but has not yet received an answer.
On Wednesday, Health Minister Patty Hajdu said it would be prudent for Canadians to prepare for a possible illness in their households by setting aside a week's supply of medicine and food.
Tam repeated that advice today, suggesting Canadians prepare by ensuring medication supplies and making back-up child care arrangements.
Coronavirus: More new cases outside China than in — WHO – Axios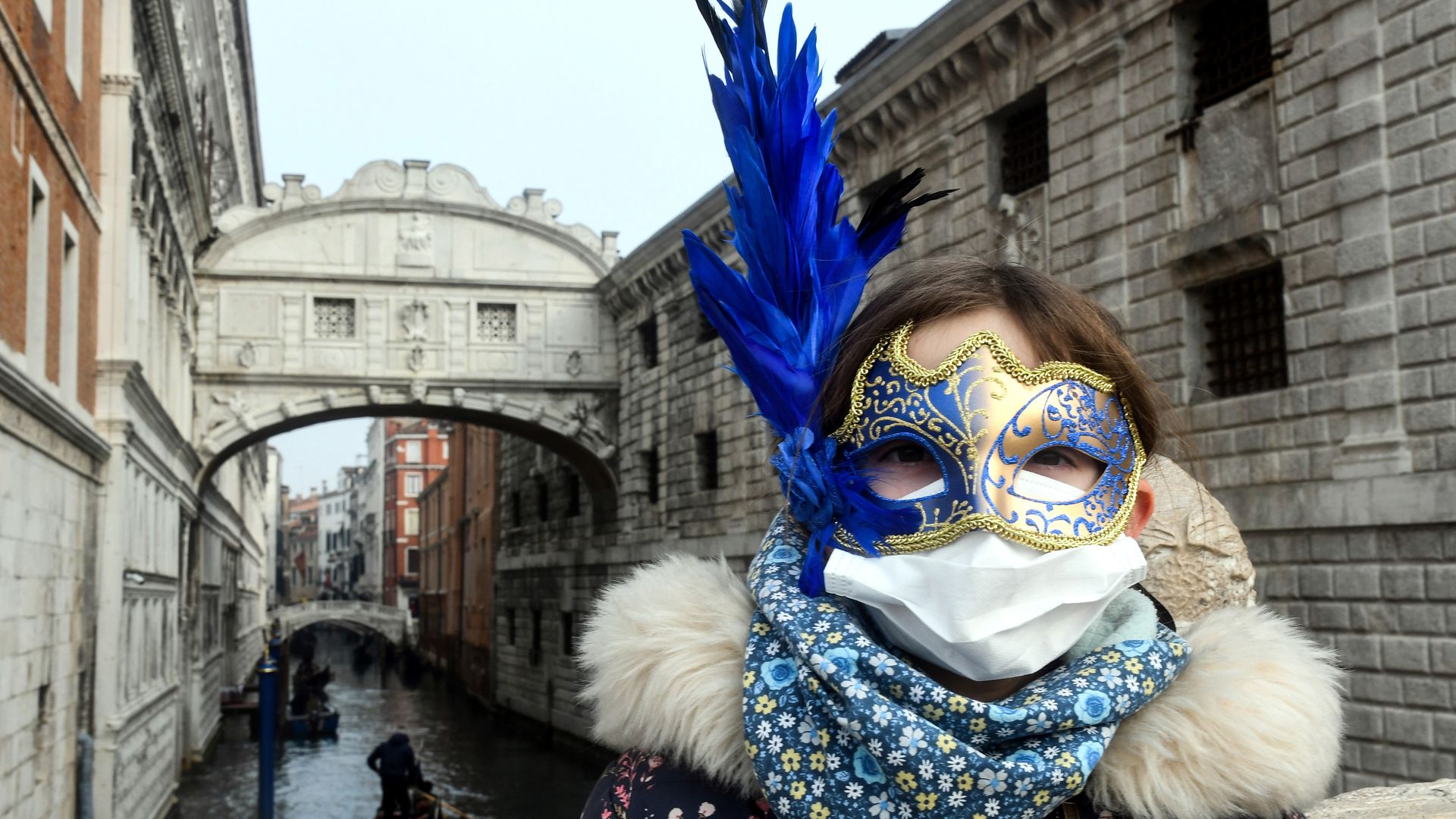 A tourist wearing a medical facemask in Venice, Italy. Photo: Andrea Pattaro/AFP via Getty Images
The number of new cases of the novel coronavirus reported outside China has exceeded those inside the country for the first time, the World Health Organization director-general Tedros Adhanom Ghebreyesus told a briefing on Wednesday.
Details: Tedros called the sudden increase in cases in South Korea (1,595), Italy (453) and Iran (141) "deeply concerning."
The big picture: Some 20 countries have reported their first cases in the past week, many in Europe — including Spain, Greece, Croatia, North Macedonia, Switzerland, Austria, Norway, Denmark, Romania and Estonia.
The first cases in the Middle East include Israel, Lebanon, Oman, Afghanistan, Bahrain and Kuwait.
Georgia, at the crossroads of Europe and Asia, has also reported its first case, as has Pakistan and Algeria.
Brazil became the first place in South America to confirm an infection. The virus spread to Brazil by a 61-year-old man who traveled from Italy, the epicenter of Europe's outbreak. The country is tracking 20 suspected virus cases.
Tedros noted that new cases in Algeria, Austria, Croatia, Germany, Spain and Switzerland were also linked to Italy, while infections in Bahrain, Iraq, Kuwait and Oman had connections with Iran.
What they're saying: Germany's health minister said Thursday the country was "at the beginning of an epidemic," per AP, as cases surged to 27.
Australian Prime Minister Scott Morrison said in a news conference his country was preparing for a pandemic, as 23 cases were confirmed.
"The risk of a global pandemic is very much upon us," he said.
Yes, but: The WHO has yet to declare the outbreak a pandemic.
"Using the word pandemic carelessly has no tangible benefit, but it does have significant risk in terms of amplifying unnecessary and unjustified fear and stigma, and paralyzing systems," Tedros said.
"It may also signal that we can no longer contain the virus, which is not true. We are in a fight that can be won if we do the right things."
Go deeper: