Ontario to begin phased reopening of economy next week: CP – CBC.ca
Ontario will begin to gradually reopen its economy next week, starting with regions that have fewer COVID-19 cases, The Canadian Press has learned.
Premier Doug Ford is expected to announce Monday that the state of emergency declared last month will be allowed to expire as scheduled on Tuesday, said a senior government source with knowledge of the decision.
According to the plan, the province will have an "emergency brake" in place to allow the government to quickly move a region into lockdown if it "experiences a rapid acceleration in COVID-19 transmission or if the health-care system becomes overwhelmed."
The measure is meant to help deal with the risk posed by new variants of COVID-19, said the source, who was not authorized to speak publicly.
The current stay-at-home order will remain in place in much of the province until each region transitions back into a colour-coded framework that allows the province to rank health units based on case numbers and trends.
The phased reopening of the economy will start in four regions where transmission of the virus is low.
Health units in Hastings Prince Edward, Kingston, Frontenac and Lennox and Addington, Renfrew County, and Timiskaming are expected to move into the least-restrictive green zone on Wednesday, which means restaurants and non-essential businesses can reopen.
On the week of Feb. 15, all remaining regions except three hot spots in the Greater Toronto Area are set to move to the framework based on their local case rates.
Concern over variants
Toronto, Peel Region and York Region are expected to be the last to make that transition on the week of Feb. 22, but the source said any sudden increase in cases could delay that plan.
A provincial lockdown was imposed in late December and was followed by the state of emergency and a stay-at-home order that took effect Jan. 14 as COVID-19 rates surged.
While cases have since declined, public health officials have said the spread of more contagious variants of COVID-19 are a concern.
Ontario's chief medical officer of health, Dr. David Williams, has said he would like to see daily cases drop below 1,000 and the number of patients with COVID-19 in hospital intensive care units below 150 before lifting restrictions.
Ontario reported 1,670 cases of COVID-19 on Friday, although 125 of them were older infections from Toronto that weren't previously recorded by the province.
Public health officials noted that updates to the provincial case database were causing fluctuations in this week's tallies.
The province also said there were 325 patients with COVID-19 in hospital intensive care units, with 225 on ventilators.
Forty-five new deaths related to the virus were reported Friday, bringing the total number of deaths from the novel coronavirus in the province to 6,438.
The global economy won't recover if we don't get vaccines to developing countries, too – CNN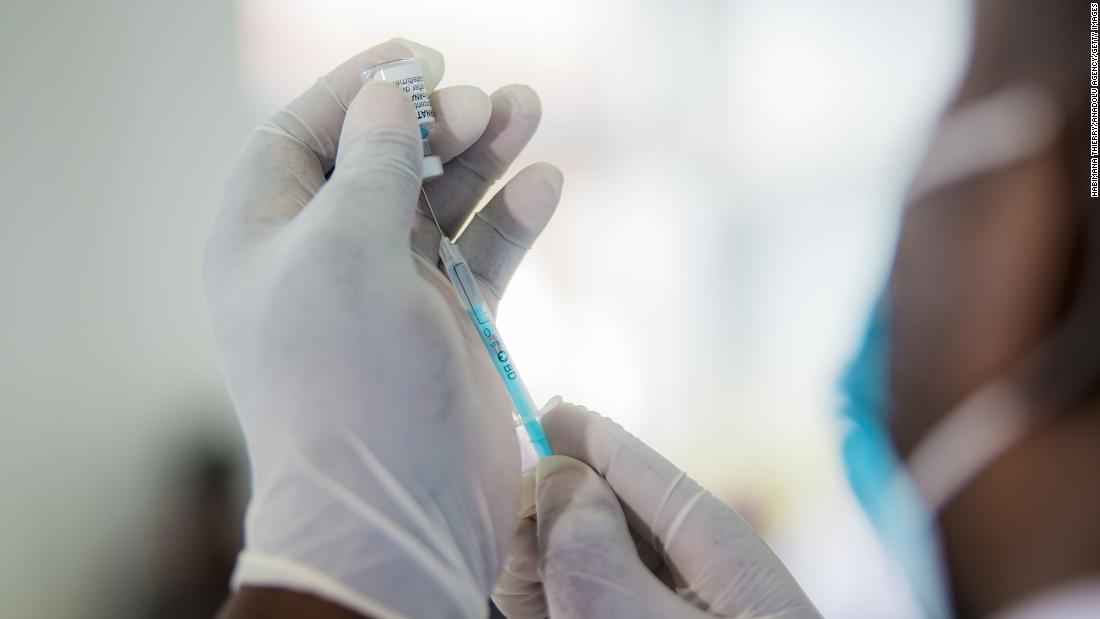 The International Monetary Fund recently projected global GDP growth at 5.5% this year and 4.2% in 2022. But it is going to be a long and uncertain ascent. Most of the world is facing a slow rollout of vaccines even as new virus mutations are spreading — and the prospects for recovery are diverging dangerously across countries and regions.
Indeed, the global economy is at a fork in the road. The question is: Will policymakers take action to prevent this Great Divergence?
As our note to the recent G20 meeting of finance ministers and central bank governors points out, there is a major risk that as advanced economies and a few emerging markets recover faster, most developing countries will languish for years to come. This would not only worsen the human tragedy of the pandemic, but also the economic suffering of the most vulnerable.
We estimate that, by the end of 2022, cumulative per capita income will be 13% below pre-crisis projections in advanced economies — compared with 18% for low-income countries and 22% for emerging and developing countries, excluding China. This projected hit to per capita income will increase by millions the number of extremely poor people in the developing world.
In other words, the convergence between countries can no longer be taken for granted. Before the crisis, we forecast that income gaps between advanced economies and 110 emerging and developing countries would narrow between 2020 and 2022. But we now estimate that only 52 economies will be catching up during that period, while 58 are set to fall behind.
This is partly because of the uneven access to vaccines. Even in the best-case scenario, most developing economies are expected to reach widespread vaccine coverage only by the end of 2022 or beyond. Some are especially exposed to hard-hit sectors, such as tourism and oil exports, and most of them are held back by the limited room in their budgets.
Last year, advanced economies on average deployed about 24% of GDP in fiscal measures, compared with only 6% in emerging markets and less than 2% in low-income countries. Cross-country comparisons also show how more sizable crisis support was often associated with a smaller loss in employment.
And it is not just divergence across countries. We also see an accelerated divergence within countries: the young, the low-skilled, women and informal workers have been disproportionately affected by job losses. And millions of children are still facing disruptions in their educations. Allowing them to become a lost generation would be an unforgiveable mistake.
It would also deepen the long-term economic scars of the crisis, which would make it even more difficult to reduce inequality and boost growth and jobs. Think of the challenges ahead: For G20 economies alone (excluding India and Saudi Arabia due to data limitations), total employment losses are projected at more than 25 million this year and close to 20 million in 2022, relative to pre-crisis projections.
So again, we stand at a fork in the road — and if we are to reverse this dangerous divergence between and within countries, we must take strong policy actions now. I see three priorities:
First, step up efforts to end the health crisis
We know that the pandemic is not over anywhere until it is over everywhere. While new infections worldwide have recently declined, we are concerned that multiple rounds of vaccinations may be needed to preserve immunity against new variants.
That is why we need much stronger international collaboration to accelerate the vaccine rollout in poorer countries. Additional financing to secure doses and pay for logistics is critical. So, too, is timely reallocation of excess vaccines from surplus to deficit countries, and a significant scaling up of vaccine production capacity for 2022 and beyond. Insuring vaccine producers against the downside risks of overproduction may be an option worth considering.
We also need to ensure greater access to therapies and testing, including virus sequencing, while steering clear of restrictions on exports of medical supplies. The economic arguments for coordinated action are overwhelming. Faster progress in ending the health crisis could raise global income cumulatively by $9 trillion between 2020 and 2025. That would benefit all countries, including around $4 trillion for advanced economies — which beats by far any measure of vaccine-related costs.
Second, step up the fight against the economic crisis
Led by G20 countries, the world has taken unprecedented and synchronized measures, including nearly $14 trillion in fiscal actions. Governments need to build on these efforts by continuing to provide fiscal support.
The key is to help maintain livelihoods, while seeking to ensure that otherwise viable companies do not go under. This requires not just fiscal measures, but also maintaining favorable financial conditions through accommodative monetary and financial policies, which support the flow of credit to households and firms.
The considerable monetary easing by major central banks has also enabled several developing economies to regain access to global capital markets and borrow at record-low rates to support spending, despite their historic recessions. Given the gravity of the crisis, there is no alternative to continued monetary policy support. But there are legitimate concerns around unintended consequences, including excessive risk-taking and market exuberance.
One risk going forward — especially in the face of diverging recoveries — is the potential for market volatility in response to changing financial conditions. Major central banks will need to carefully communicate their monetary policy plans to prevent excess volatility in financial markets, both at home and in the rest of the world.
Third, step up support to vulnerable countries
Given their limited resources and policy space, many emerging market and low-income nations could soon be faced with an excruciating choice between maintaining macroeconomic stability, tackling the health crisis and meeting peoples' basic needs.
Their increased vulnerability not only affects their own prospects for recovery from the crisis, but also the speed and scale of the global recovery; and it can be a destabilizing force in a number of already fragile areas. Vulnerable countries will need substantial support as part of a comprehensive effort.
The first step begins at home, with governments raising more domestic revenue, making public spending more efficient, and improving the business environment. At the same time, international efforts are critical to further scale up concessional financing and leverage private finance, including through stronger risk-sharing instruments.
For its part, the IMF has stepped up in an unprecedented manner by providing over $105 billion in new financing to 85 countries and debt service relief for our poorest members. We aim to do even more to support our 190 member countries in 2021 and beyond.
That includes supporting efforts to modernize international corporate taxation. We need a system that is truly fit for the digital economy and that is more attuned to the needs of developing countries. Here multilateral efforts will be essential to help ensure that highly profitable firms pay tax in markets where they do business.
It is vital that poorer countries have the support they need. The alternative — to leave poorer countries behind — would only entrench abject inequality. Even worse, it would represent a major threat to global economic and social stability. And it would rank as a historic missed opportunity.
With many vaccinated, Israel reopens economy before election – NEWS 1130 – News 1130
JERUSALEM — Israel reopened most of its economy Sunday as part of its final phase of lifting coronavirus lockdown restrictions, some of them in place since September.
The easing of restrictions comes after months of government-imposed shutdowns and less than three weeks before the country's fourth parliamentary elections in two years. Israel, a world leader in vaccinations per capita, has surged forward with immunizing nearly 40% of its population in just over two months.
Bars and restaurants, event halls, sporting events, hotels and all primary and secondary schools that had been closed to the public for months could reopen with some restrictions in place on the number of people in attendance, and with certain places open to the vaccinated only.
Israeli Prime Minister Benjamin Netanyahu's government approved the easing of limitations Saturday night, including the reopening of the main international airport to a limited number of incoming passengers each day.
Netanyahu is campaigning for reelection as Israel's coronavirus vaccine champion at the same time that he is on trial for corruption.
Israel has sped ahead with its immunization campaign. Over 52% of its population of 9.3 million has received one dose and almost 40% two doses of the Pfizer vaccine, one of the highest rates per capita in the world. After striking a deal to obtain large quantities of Pfizer/BioNTech vaccines in exchange for medical data, Israel has distributed over 8.6 million doses since launching its vaccination campaign in late December.
While vaccination rates continue to steadily rise and the number of serious cases of COVID-19, the illness caused by the virus, drops, Israel's unemployment rate remains high. As of January, 18.4% of the workforce was out of work because of the pandemic, according to Israel's Central Bureau of Statistics.
At the same time that it has deployed vaccines to its own citizens, Israel has provided few vaccines for Palestinians in the West Bank and Gaza Strip, a move that has underscored global disparities. It has faced criticism for not sharing significant quantities of its vaccine stockpiles with the Palestinians. On Friday, Israel postponed plans to vaccinate Palestinians who work inside the country and its West Bank settlements until further notice.
Israeli officials have said that its priority is vaccinating its own population first, while the Palestinian Authority has said it would fend for itself in obtaining vaccines from the WHO-led partnership with humanitarian organizations known as COVAX.
Israel has confirmed at least 800,000 cases of COVID-19 since the start of the pandemic and 5,861 deaths, according to the Health Ministry.
Ilan Ben Zion, The Associated Press
Powell's Dashboard Shows How Far US Economy Has to Go on Jobs – BNN
(Bloomberg) — Federal Reserve Chair Jerome Powell says he and his colleagues have learned a lot over the last decade about the meaning of full employment. Now, they're looking at a new set of labor-market indicators as they chart a recovery from the steepest economic downturn on record.
Call it the Powell dashboard.
The Fed chair has recently highlighted several data points that underscore the central bank's shift in focus beyond headline numbers and toward the most vulnerable sections of the workforce. It's an important development for Fed-watchers to graspin guaging how long policy makers will keep interest rates near zero as they judge incoming data, including Friday's jobs report.
The approach marks an evolution from that of Powell's immediate predecessor, Treasury Secretary Janet Yellen, who maintained a "dashboard" of metrics to help determine remaining slack in the labor market created by the Great Recession. It focused Fed-watchers on an array of statistics like job openings, layoffs, underemployment and long-term joblessness that applied to the entire labor force.
By comparison, the statistics on Powell's list home in on things like Black unemployment, wage growth for low-wage workers and labor force participation for those without college degrees, categories that historically have taken longer to recover from downturns than broader metrics.
"It's a pretty notable change," said Seth Carpenter, a former Fed official who is now chief U.S. economist at UBS. The new definition of full employment reflects a growing understanding among policy makers that they can't conclude the economy has reached such a state until "you really are starting to see businesses compete for workers at every part of the income distribution," he said.
Here are some of the numbers Powell is watching that underscore the challenges ahead:
Black Unemployment
Covid sent Black unemployment surging to 16.7% in April and May of last year. By January it had recovered to 9.2%. But it reversed some of that progress last month, rising to 9.9%, according to Labor Department figures published Friday.
The Fed has faced growing pressure to acknowledge the uneven expansion in recent years, and the experience of the pandemic has only added to it. Powell has repeatedly said he wants to see broad-based gains in employment, and not just in the aggregate or at the median. In August, the Fed announced changes to its monetary policy strategy to codify a more inclusive approach.
The long economic expansion that preceded the pandemic continually defied forecasts of accelerating inflation even as unemployment dwindled, indicating potential for further labor-market gains. By mid-2019, Black unemployment had fallen to 5.2% — a record low in nearly a half-century of data.
During the financial crisis of 2008, Fed officials cut their benchmark interest rate to nearly zero, and didn't begin raising it until December 2015. By then, the overall unemployment rate had recovered from a high of 10% to just 5%. But they didn't take into account the unemployment rate for Black Americans, which at the time stood at 9.4%.
Low-Wage Earnings
As Fed chair, Yellen often cited wage growth as a metric for judging progress toward full employment, including a measure produced by the Atlanta Fed in her dashboard.
In a Feb. 10 speech, Powell cited pay for the bottom 25% of earners in particular. Just before the onset of the pandemic in the U.S., wage growth for this group of workers was 4.7% on a 12-month average basis, according to the Atlanta Fed. That marked its highest rate relative to overall wage growth since the late 1990s.
By January of this year, the latest month for which data are available, it had moderated to 4%. In the wake of both the 2001 and the 2007-09 downturns, earnings growth for the lowest wage quartile took almost three years to bottom out.
No College
Powell has also highlighted labor force participation rates specifically for those without college educations. The pandemic has had an outsize effect on them. As of last month, their participation rate was just 54.7%, according to the Labor Department figures published Friday.
Compare that with February 2020, when it stood at 58.3%, up from a low of 56.9% in 2015.
The magnitude of job losses during the Great Recession made the recovery from it a slow process. Many individuals looking for work eventually became discouraged and gave up, leading them to stop being counted as unemployed.
Under Yellen, the Fed elevated the labor force participation rate in its analysis of the state of employment to account for the likelihood that many of the so-called labor-force dropouts would take jobs if work was available. But the slow pace of recovery fanned arguments among policy makers over whether everyone who had lost work — especially the least-educated — would be able to find new employment and should therefore be counted in the shortfall.
In 2015, the year Yellen's Fed began raising rates, "many forecasters worried that globalization and technological change might have permanently reduced job opportunities for these individuals, and that, as a result, there might be limited scope for participation to recover," Powell said in his Feb. 10 speech.
But the next five years proved them wrong as those without college degrees were increasingly drawn back into the workforce.
As the Fed chair put it during an event on March 4: "Today, we're still a long way from our goals."
©2021 Bloomberg L.P.