Pregnant women can reduce their blood clot risk on flights – National Post
(Reuters Health) – Pregnant air travelers face a higher risk of blood clots, but they can reduce their risks by walking airplane aisles, drinking water and doing calf exercises, according to a new review.
For women with additional risk, doctors may recommend compression stockings and injectable blood thinners while traveling, the authors write in the Journal of Travel Medicine.
"Both pregnancy and air travel are risk factors for venous thromboembolism, or a blood clot in the legs or lungs," said senior author Dr. Leslie Skeith of the University of Calgary, a member of the CanVECTOR Canadian thrombosis research network.
Blood clots affect about one to two per 1,000 nonpregnant people each year and are the third leading cause of vascular death after heart attacks and strokes, the authors note. With more than two billion passengers flying each year, about 150,000 cases of travel-related blood clots are diagnosed annually.
Long-distance flights tend to increase the risk by three-fold, yet travel-related studies either don't include pregnant women or only include a small number and don't directly investigate how pregnancy increases the risk.
"There is very little evidence to guide what pregnant and postpartum women should do to prevent blood clots while traveling," Skeith told Reuters Health by email.
Skeith and her colleagues review the many factors that play into an individual's risk for a blood clot, including height, weight, recent surgery, pregnancy, use of oral contraceptives, hormone replacement therapy and a family history of clots or diseases that promote clotting.
With pregnancy in particular, they write, the risk is higher because of physiological changes, such as slower blood flow and blood vessel dilation. Pelvic blood vessels may also be compressed as the uterus grows. Starting in early pregnancy, the body starts to become hypercoagulable, or more likely to form blood clots. These risks remain higher until about 12 weeks after giving birth.
Although the average pregnant or postpartum air traveler faces an increased risk of clots, the absolute risk estimate is low at less than 1%, the study found.
Pregnant women with other risk factors, such as inherited blood problems, obesity and recent surgery, may face a higher blood clot risk, however. Although the risk depends on individual factors, women with a history of blood clots tend to have a 4% higher risk while pregnant, and those with hormonal-associated blood clots tend to have a 6% higher risk while pregnant.
For most women with a history of blood clots, the risk during air travel still remains low at just over 1%. At the same time, pregnant women who face these higher risks should consider using more extensive blood clot prevention measures while traveling, such as the injectable blood thinner low-molecular-weight heparin (LMWH).
"It is known that LMWH prophylaxis lowers the risk of recurrent thrombosis in women with previous venous thromboembolism," said Dr. Ida Martinelli of the University of Milan, who wasn't involved in the study.
However, some studies show that certain blood conditions and blood thinners can lead to complications during delivery, so it's best to consult a doctor for individual recommendations.
Skeith and colleagues are now studying whether aspirin can prevent blood clots in postpartum women with risk factors for clots. The pilot randomized trial, called PARTUM, is expected to start in 2020.
"We desperately need more research to better prevent blood clots in pregnant and postpartum women," Skeith said. "We recommend talking to your doctor about different options."
SOURCE: https://bit.ly/34YV2cm Journal of Travel Medicine, online December 11, 2019.
Health unit probes whether COVID-19 variant behind 2nd Ontario long-term care home outbreak – CBC.ca
The Simcoe Muskoka District Health Unit is investigating whether an outbreak at a long-term care home in the town of Bradford West Gwillimbury is due to the variant first detected in the United Kingdom.
At a news conference on Sunday, the health unit said a person linked to the Bradford Valley Care Community has tested positive for the variant. This person has had close contact with another person who is a part of the outbreak at that home, it said.
Dr. Charles Gardner, medical officer of health for the Simcoe Muskoka District Health Unit, said the Public Health Ontario Laboratory told the health unit about the positive case late Saturday.
"Given this situation, we are working together in partnership with the residence to implement additional measures to contain the spread while pursuing the necessary tests to determine if it is the U.K. variant of COVID-19 that is the cause of this outbreak," Gardner said in a new release.
The health unit said it is investigating "all other connections" to the person who tested positive. Gardner said the person worked in a retail setting in Simcoe County that offered curbside pickup, and two COVID-19 cases are linked to this setting.
The news comes after the health unit said the variant is behind a deadly outbreak at Roberta Place Long Term Care in Barrie, Ont., on Saturday. Genome sequencing on six COVID-19 samples from the home have been identified as the highly contagious variant.
An outbreak at Roberta Place, first declared on Jan. 8, has resulted in the deaths of 40 residents and one essential caregiver as of Sunday.
There are 127 resident and 86 staff cases of COVID-19 at Roberta Place. Six residents are also in hospital with COVID-19.
The outbreak at Bradford Valley Care Community, meanwhile, was declared on Jan. 14. As of Sunday, six residents out of 230 and three staff out of 260 have tested positive for COVID-19.
The health unit said more testing will be done to determine whether the outbreak is due to the variant. It added that the outbreak is "well under control at this time with a relatively low case count," but the possibility that it may be due to the variant must be assessed and managed.
Dr. Andrea Moser, chief medical officer for Sienna Senior Living, which owns and operates the facility, said in a news release on Sunday that staff members at the home are working to contain the outbreak.
"We are being extremely vigilant in our monitoring for signs and symptoms of COVID-19 and are taking all of the necessary steps to protect the safety of our residents and team members," Moser said.
"We are working proactively with public health and community partners, as fighting the virus will require everyone's expertise and teamwork."
Staff at home implementing measures to control outbreak
Moser said case and contact measures are being undertaken, including:
Extending the length of isolation for cases and close contacts.
More readily identifying close contacts.
Quarantining all household contacts of confirmed or probable cases as quickly as possible.
The health unit said its staff vaccinated most of the residents in Bradford Valley Care Community on Jan. 15 as a protective measure against COVID-19.
As of Jan. 16, all residents of long-term care homes in Simcoe Muskoka have been offered their first dose of immunization against COVID-19, the health unit added.
Moser said about 60 per cent of staff members and 96 per cent of residents at Bradford Valley Care Community have received the first dose of the Pfizer-BioNTech vaccine.
"We appreciate all the efforts from our partners in the community with the rollout of the vaccine and will continue working closely with them as additional doses are available for deployment," she said.
Simcoe-Muskoka top doc on UK COVID variant in area: 'All eyes are watching us right now' – Sudbury.com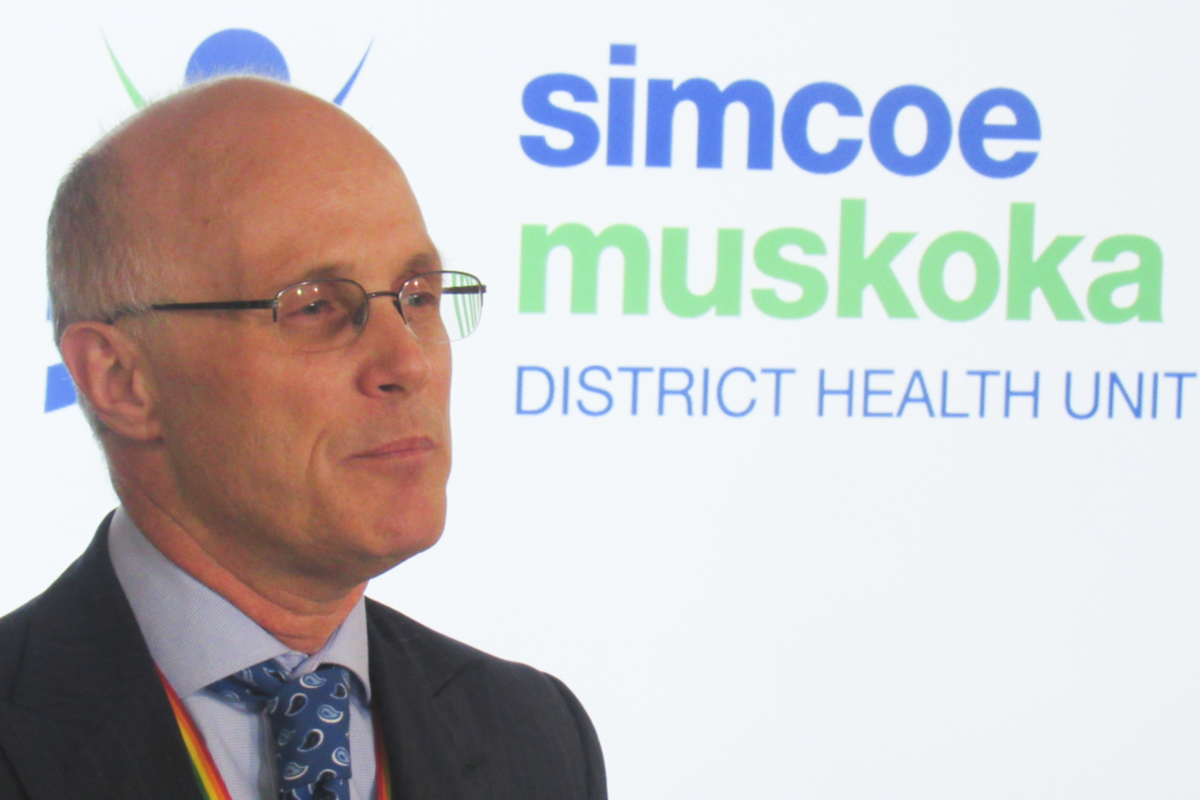 BARRIE – As more details emerge about the presence of the United Kingdom variant of COVID-19, it could also mean more changes to protective measures in long-term care homes, the local community, and abroad.
On Saturday, public health officials confirmed the more virulent UK B.1.1.7 variant is present at Roberta Place in south-end Barrie, where the death toll has now reached 40***.
There are 127 residents — which represents all but two residents — who have tested positive for the virus, as well as 86 workers, which represents approximately half of the entire staff. Six residents and one staff member are currently hospitalized at Royal Victoria Regional Health Centre (RVH).
The outbreak at the 137-bed Roberta Place long-term care home was first declared on Jan. 8.
This week, it was reported that a worker may have brought the virus into the Essa Road facility after being in contact with an international traveller. Simcoe–Muskoka medical office of health Dre. Charles Gardner was asked if charges could be laid if someone wasn't following quarantine rules.
"When we look at the situation, we actually don't see violation of any of the recommendations from the province, nor was there a violation of the Quarantine Act with regards to the individual who was travelling," he said Saturday during a Zoom call with reporters. "So the exposure in question did not take place out in the community."
The staff member who contracted the virus did not show symptoms at the beginning when they went to work, the doctor noted.
"They were asymptomatic when they were tested routinely," Gardner said.
Public health officials have been reluctant to release any information that could identify either the staff member or the traveller, but Gardner did confirm traveller is a resident of Simcoe–Muskoka.
"There's no requirement to be in isolation and not go into work solely because one has been in contact with a traveller who's asymptomatic," Gardner said.
"We need to keep learning about this virus as we go," he added. "I have no doubt that, with this variant, we're going to continue to have to change and tighten up requirements."
Questions have also been raised about staff at Roberta Place going between rooms of residents who were positive for the virus and others who were not.
"I would agree that the home never successfully put in place the kind of cohorting… where you maintain the restriction on the movement of staff, or the exposure of staff to cases and non-cases," Gardner said. "That was something that certainly was not the optimum practice in an outbreak and that wasn't established, in part because of how quickly this spread and in part because the number of staff that became ill, they had such a difficulty maintaining the adequate staffing in the first place."
Cohorting is a strategy to reduce risk of transmission by assigning health-care workers to patients or groups of patients based on patient exposure or infection.
Gardner said it can be "challenging" to do that, however, during a fast-moving outbreak.
"This moved very quickly," he said. "There were 40 cases that emerged over the course of a single weekend at the very beginning. The rapid pace made it difficult to put those measures in place."
David Jarlette, president of Jarlette Health Services, which operates Roberta Place, said the virus came into the long-term care home so quickly they weren't able to achieve cohorting "in a quick and timely fashion."
With so many staff and team members infected at Roberta Place, Gardner said they have had to take a multi-faceted approach to ensure staffing levels are sufficient at the facility. Jarlette Health Services has reallocated staff and also brought in temporary workers from outside organizations, such as the Red Cross.
An occupational health and safety team has been formed involving the health unit and other health-care partners. They also want to make sure all employees are offered the vaccine, Gardner said.
"From what we have seen, the uptake for this has been very, very strong, but we need to continue that as new people come into the facility," he added.
There will be ongoing monitoring at Roberta Place through rapid testing by Orillia Soldiers' Memorial Hospital (OSMH), which has been granted temporary leadership of the long-term care home following an order under the Health Protection and Promotion Act (HPPA). Testing will be done on a twice-weekly basis. Anyone who shows symptoms or who has a positive result will be placed in isolation at home, or hospitalized if needed.
Gardner said they hope to contain the variant to the site and limit spread into the community. This includes "a more strict threshold" for people who are at higher risk and more intensive follow-up. In cases where the person cannot isolate at home, they could be put up in a hotel to reduce the risk of spread to household members, he added.
"Our goal is to avoid transmission into the community," the doctor said.
Gardner conceded community spread involving the UK variant is likely already happening.
"It's certainly on the edge," he said. "It would depend on their contacts beyond their household and whether or not we're starting to see spread there. We haven't seen that yet, but we're on the very edge."
Gardner said health officials also want to protect long-term care homes and retirement facilities from community spread.
If outbreaks are seen at other facilities, Gardner said he will have the genome sequencing done to determine whether the variant is showing up in those other facilities.
With the local emergence of the UK variant, BarrieToday asked Gardner if any modifications to protocols or protective measures will be put in place at other long-term care homes in Simcoe–Muskoka.
In regard to Roberta Place, case and contact management has already changed to identify people who are considered high-risk.
"If in fact there's been an exposure that's just momentary, rather than 15 minutes or more, we're considering that a high-risk contact and those individuals go into isolation or quarantine," Gardner said.
As well, people in full protective gear who have been in a confined space for more than 30 minutes with an infected person, they will also be considered a high-risk exposure. The isolation period for such instances is being extended from 10 days to 14.
"The experience that has been seen with the UK variant in other countries has been of a higher viral load and therefore possibly a longer period of viral shedding," said Gardner, resulting in a longer period of isolation. "We certainly will have to learn from this with regard to what we do at other sites. The whole province will have to learn as we go.
"All eyes are watching us right now," the doctor added.
Gardner said the situation at Roberta Place will have a "profound" effect on other long-term care homes.
"We all need to be on the alert," he said.
The immunization of all residents retirement homes is another immediate change in protocol at long-term care homes, Gardner said. Last weekend, vaccinations were completed for all residents of long-term care homes in Simcoe–Muskoka. That focus has now shifted to retirement homes in the region. There are still 16 homes to go, which Gardner expected to be done by Wednesday.
***This information has been updated with the most recent numbers.
Teen working in long-term-care home identified as Yassin Dabeh, a Syrian refugee who fled to Canada for a better life – Toronto Star
Nearly five years ago, Yassin Dabeh's family fled war-torn Syria for a better life in Canada.
Now the family has been confronted with the unspeakable horror of watching Dabeh become the youngest person in the Middlesex-London area to die after being diagnosed with COVID-19.
Dabeh, 19, worked as a contract cleaner at the Middlesex Terrace Long Term Care home in Delaware, Ont., just west of London, and died after contracting the virus, said Mohamad Fakih, a businessman and philanthropist, who spoke with the young man's father.
"In 2016, they arrived as immigrants from Syria," said Fakih, CEO of Paramount Fine Foods, who reached out to the grieving family to offer financial assistance for the funeral. "He said that the community came together and paid for the funeral."
Fakih said the teenager, who had three brothers and one sister, died on Thursday and was buried on Friday.
To honour Dabeh's life in his own way, Fakih asked the organizers of a biweekly community outreach event in which 500 meals are cooked for those in need in Regent Park, if Sunday's event could be held in Dabeh's memory. They agreed.
Fakih said Dabeh's father cried when he told him the meals would be served in his son's honour.
"People need to feel that they're not alone, especially if they're refugees," said Fakih, an immigrant himself who came to Canada from Lebanon more than 20 years ago. "We want to show them that … Canadians, we're all one big family and they're not alone. He was very appreciative, the father."
Details around Dabeh's death, and its cause, are still emerging.
Dr. Alex Summers, Middlesex-London Health Unit's associate medical officer of health, told the Star he couldn't confirm Dabeh's identity, but only that a male between the ages of 10 and 19 who worked at a long-term-care home had died after testing positive for the virus.
"Obviously a death amongst somebody recently diagnosed with COVID in this age group is a surprise to many and something that is tragic," said Summers, adding that the deceased was the youngest individual in the health unit region to have died after being diagnosed with COVID-19.
"The public health unit investigation is primarily on understanding where individuals contracted an infectious disease such as COVID and where it might be spread and trying to intervene to limit transmission," he noted.
He said that the case in question was considered "resolved," meaning that the patient was no longer infectious.
"Certainly COVID as a virus can have implications for people well beyond whether or not somebody's infectious," Summers said. "Sometimes the repercussions can extend beyond the infectious period certainly. In this instance, all I can share is unfortunately a person of that age recently diagnosed with COVID has passed away."
According to the Middlesex-London Health Unit, an outbreak was declared at the Middlesex Terrace Long Term Care Home on Dec. 23 and remains "active." The number of infections at the home is not published.
In the health unit as a whole, there have been 601 COVID-19 cases, 292 of which have been among residents and 309 in staff members, as well as 79 deaths.
Mary Raithby, CEO of APANS Health Services, the company that owns the network of homes to which Middlesex Terrance belongs, said in an email to the Star that "we extend our deepest sympathies to the family and friends of Yassin."
Loading…
Loading…Loading…Loading…Loading…Loading…
"Out of respect for their loss and grief, we are declining any interview or statement requests at this time," she said.
Unifor Local 302, which represents employees at Middlesex Terrace, told the Star that Dabeh was not one of its members, but that it sends its "deepest sympathies to this young man's family and friends."
Some politicians took to social media Sunday to express their thoughts on Dabeh's death.
On Twitter, federal NDP leader Jagmeet Singh called Dabeh's death "a tragedy."
"Essential workers are at risk every day," Singh wrote. "Paid sick days, faster vaccine rollout and access to PPE are needed urgently — to save lives."
"My sincerest condolences to this young man's family, friends, & loved ones — and all victims of COVID-19," tweeted London mayor Ed Holder. "The virus doesn't discriminate based on age, gender, race, religion, or creed. Everybody needs to take this seriously, otherwise anybody can find themselves at risk."
Samir Sinha, director of geriatrics at the Sinai Health System and University Health Network, said the vast majority of young people who get COVID-19 experience mild, asymptomatic courses. But he said there is a very small segment of young people who get serious and hard-to-treat bouts of the virus that require hospitalization.
"One of the biggest reasons people die due to influenza is not actually due to influenza but because influenza can actually trigger other issues," he said. "For a lot of older people, influenza can actually trigger a pneumonia or a co-infection with something like pneumonia. It can also, if you have something like heart disease, trigger you to actually have a heart attack or other things."
Sinha noted that it is really hard to say at this stage what may have happened to Dabeh.
"It could have been something completely unrelated … or it might have been that COVID-19 triggered something else or caused something else to get worse."