Quick Reaction: Wizards 111, Raptors 140 – Raptors Republic

.grade background: #315233; padding: 10px; border: 3px solid #977252; color: white; font-size:35px; font-weight: bold; text-align: center;
margin-top: 5px
WAS Wizards
111
Final
Box Score
140
TOR Raptors
S. Ibaka

26 MIN, 15 PTS, 8 REB, 1 AST, 0 STL, 6-9 FG, 1-2 3FG, 2-2 FT, 0 BLK, 1 TO, 11 +/-

Just keeps on ticking, Ibaka posted another quietly impressive statline. Serge will never be a high-end passer, but he is so much more comfortable finding corner shooters and cutters at the dunker spot when rolling towards the paint. Also, that flagrant he was called for on Beal's three-point shot was one of the more absurd calls of the season.

P. Siakam

25 MIN, 12 PTS, 2 REB, 3 AST, 2 STL, 3-9 FG, 1-3 3FG, 5-6 FT, 0 BLK, 1 TO, 6 +/-

It was one of those offensive nights for Siakam today. He couldn't buy a bucket. Fortunately given the comfortable lead and other contributors pouring on the points, Spicy P wasn't required to hunt shots to rediscover a groove. Despite this, there were a few instances of Siakam's continued playmaking growth out of the post and when feeling the oncoming double team.

M. Gasol

29 MIN, 20 PTS, 6 REB, 5 AST, 2 STL, 7-9 FG, 6-7 3FG, 0-0 FT, 1 BLK, 3 TO, 26 +/-

Soo… I was hoping for another positive step returning from injury. That wasn't just a step, but a damn two-footed leap back to prominence from the Big Paella/Big Spain/Big Boss from Barcelona/my icon. Gasol hasn't looked laboured at all. He is aggressively stepping into his outside shot and as soon as they go down, it's game over. The charisma and swagger that he plays with just oozes into every facet of Gasol's game; scything passes, fluid behind-the-back dribbles, the smooth sauntering up court after knocking down another triple. Given how both bigs are playing, the twin-tower lineup isn't just a gimmick lineup anymore to thwart Philly's size. That wink he gave after beating the third quarter buzzer with a smooth triple impregnated half of Barcelona.

K. Lowry

22 MIN, 11 PTS, 3 REB, 8 AST, 2 STL, 4-9 FG, 2-6 3FG, 1-1 FT, 0 BLK, 1 TO, 5 +/-

Phewf. Lowry had a brief injury scare, and in that moment I was fully prepared to sacrifice my left leg. You'd expect KLOE to take it lightly when he returned, but that isn't how he operates. Lowry pushed the ball on every Washington miss, actively sought contact, and finished around, above, and through defenders. It's not a new observation, but the way Lowry gets others in rhythm is so refreshing in a league that is heavily turning towards score-first point guards.

O. Anunoby

26 MIN, 18 PTS, 6 REB, 2 AST, 4 STL, 8-13 FG, 2-6 3FG, 0-0 FT, 0 BLK, 4 TO, 8 +/-

Anunoby is an entirely different player when he doesn't have the offensive burden on his shoulders. He was a walking bucket in the opening half with a game-high 16 points on 7-for-8 shooting. O.G. walked onto the floor, grabbed Bradley Beal, and neatly put him in his pocket, silencing the All-Star for much of the game. There isn't many better one-on-one defenders in the game today.

N. Powell

30 MIN, 28 PTS, 5 REB, 2 AST, 2 STL, 10-17 FG, 4-9 3FG, 4-5 FT, 1 BLK, 1 TO, 22 +/-

Somebody tell Norm this isn't the playoffs! The dude absolutely crucified some gangly centre who looked to be the lovechild of Andris Biedrins and Jan Vesely. Powell has been on a hot streak shooting the ball but more impressive has been how smoothly he has assumed the number one scoring role with the bench unit and Gasol. Now this version of the Raps bench mob is fun. It is telling that Powell has become Nurse' go-to guy for ATO plays, and he rarely misses on those looks.

T. Davis

24 MIN, 23 PTS, 7 REB, 3 AST, 0 STL, 9-16 FG, 5-7 3FG, 0-0 FT, 0 BLK, 3 TO, 21 +/-

Wasn't an ideal start for Davis, coughing up the ball in a few pick-and-roll scenarios and a brainless and-one hack in transition during the first half. However, in the second half Davis didn't stutter, confidently stepping into triples and swooping down the court for a beautiful finish in transition. It is really impressive to see how short Davis' memory for such a young player. He then went scorched earth during garbage time which is always fun.

P. McCaw

22 MIN, 2 PTS, 0 REB, 4 AST, 1 STL, 1-3 FG, 0-1 3FG, 0-0 FT, 0 BLK, 1 TO, 20 +/-

Let's keep this space positive. McCaw was fine, he moved the ball well to open shooters and took care of the ball. Not much else to note.

R. Hollis-Jefferson

19 MIN, 4 PTS, 2 REB, 5 AST, 3 STL, 1-2 FG, 0-0 3FG, 2-2 FT, 0 BLK, 2 TO, 22 +/-

Hollis-Jefferson is such a luxury in this end of bench role. He doesn't need heavy minutes to find a rhythm and fits nicely next to Gasol on the bench, who masks his shooting deficiencies. Hollis-Jefferson is always brimming with energy and feeds off of the team's flowing offence, his five assists a testament to his passing ability.

M. Thomas

5 MIN, 3 PTS, 0 REB, 1 AST, 0 STL, 1-1 FG, 1-1 3FG, 0-0 FT, 0 BLK, 1 TO, 1 +/-

Garbage time, not much to note.

S. Johnson

5 MIN, 0 PTS, 0 REB, 1 AST, 0 STL, 0-0 FG, 0-0 3FG, 0-0 FT, 0 BLK, 0 TO, 1 +/-

Garbage time, not much to note.

C. Boucher

5 MIN, 2 PTS, 2 REB, 0 AST, 0 STL, 1-2 FG, 0-1 3FG, 0-0 FT, 0 BLK, 1 TO, 1 +/-

Garbage time, not much to note.

M. Miller

5 MIN, 2 PTS, 0 REB, 0 AST, 0 STL, 1-1 FG, 0-0 3FG, 0-0 FT, 0 BLK, 0 TO, 1 +/-

Garbage time, not much to note.

Nick Nurse

I loved Nurse's decision to maintain the massive starting lineup. Ibaka is on a tear right now and kept Toronto afloat, it is just that (for now) he gets those minutes. This game was a blow-out from the beginning so there wasn't many tough decisions for Nurse to make.
Things We Saw
The new norm for Norm?
The majority of Powell's five years in Toronto has been defined by inconsistency. We've gotten Playoff Powell in the biggest moments, but there have equivalent disappearing acts. He is no doubt a quality player, it is just those 'wow' moments have teased us for years. I'm not ready to fully conclude that this is Powell's norm (excuse the pun) now, but I'm really intrigued. The difficulty of his three-point shots has increased yet his efficiency hasn't dropped.
The injury gods love teasing us…
Anyone who denies having tears well up in their eyes the moment Lowry collapsed to the floor and writhed in pain is a liar. Injuries have been an unwanted storyline for much of Toronto's season, and it felt inevitable that Lowry would go down the moment the Raptors patch together a semblance of health. Thankfully, it was just knee knock and the entire fanbase can let out a collective sigh of relief.
Smooth sailing from the start
Toronto blew the game open early, torching the porous Wizards defence to the tune of 68% from the floor in the first quarter. They thrived in transition, generating 12 quick points off of eight turnovers, mainly courtesy of Anunoby. Once the Raptors get out on the run it's game over. Other than a small blip during the third, Toronto dominated in every conceivable way. What a way to start the weekend!

report this ad
One of Italy or Portugal will miss World Cup after qualifying draw – Sportsnet.ca
ZURICH — European champion Italy and Cristiano Ronaldo's Portugal were drawn in the same World Cup qualifying playoffs bracket Friday, meaning at least one of them will miss next year's tournament in Qatar.
Italy will face North Macedonia at home in a playoff semifinal next March, and the winner will play away at either Portugal or Turkey for a spot in the World Cup.
The semi-finals are set for the European play-offs!
One team from each of the 3 paths will reach the #WorldCup pic.twitter.com/cvkFwdzQoX

— FIFA World Cup (@FIFAWorldCup) November 26, 2021
Italy failed to qualify for the 2018 World Cup — losing in the playoffs to Sweden — and now will likely have to beat Ronaldo and Portugal to avoid missing the tournament for a second straight time. Portugal has always qualified during Ronaldo's career. He first played at the 2006 World Cup.
Also in the 12-team draw, Scotland will face Ukraine at home, and the winner will play at Wales or Austria in the final of their bracket.
Russia will host Poland for the right to face Sweden or the Czech Republic in their bracket final. Russia or Poland will host the final.
The six playoff semifinals will be played as single-leg elimination games March 24. The three finals are played five days later.
The three winners will complete Europe's entry of 13 nations in the 32-team lineup in Qatar.
FIFA will make the tournament draw on April 1 in Doha.
The playoffs feature the 10 teams who finished second in their qualifying groups along with two teams — Austria and the Czechs — who won Nations League groups last year.
Canada's World Cup chances get a boost after intercontinental playoff draw – Sportsnet.ca
CONCACAF got a break Friday, with a draw determining that the fourth-place qualifier from North and Central America and the Caribbean will face a side from Oceania in a Qatar 2022 intercontinental playoff.
Thus, if Canada slips to fourth in the CONCACAF table, its World Cup chances appear to have received a boost with the latest FIFA intercontinental playoff draw.
The draw at FIFA headquarters in Zurich paired teams from AFC (Asia) and CONMEBOL (South America) in the other playoff.
The intercontinental play-offs for places at the 2022 #WorldCup have been drawn pic.twitter.com/jhcTyTaeMv

— FIFA World Cup (@FIFAWorldCup) November 26, 2021
The intercontinental playoffs will determine the last two sides in the 32-country field for next year's World Cup. The single-game playoffs will take place in Qatar on June 13 and 14, 2022. Previously they were home-and-away series.
CONCACAF will likely heave a sign of relief at avoiding the fifth-place South American finisher. CONMEBOL teams have won seven of 10 playoffs, including six of the last seven. And Asia got the best of CONCACAF last time out.
Only two points currently separate fourth-place Colombia (No. 16) and eighth-place Bolivia (No. 77) in South American qualifying with Peru (No. 22), Chile (No. 24) and Uruguay (No. 17) in between.
New Zealand, at No. 110, is the top-ranked team in Oceania, ahead of the Solomon Islands at No. 141. The All Whites have represented Oceania in the last three playoffs, winning once.
The Canadian men, who had six games remaining, will look to avoid the playoffs by finishing in the top three come March.
So far so good. No. 40 Canada (4-0-4, 14 points) currently tops the eight-team CONCACAF final qualifying round, ahead of the 12th-ranked U.S. (4-1-3, 15 points) and No. 14 Mexico and No. 63 Panama (both 4-2-2, 14 points).
The playoffs were originally scheduled for March 2022 but were rescheduled due to the pandemic.
CONCACAF teams have won three of six playoffs, with Mexico advancing in 1962 and 2014 and Trinidad and Tobago in 2006.
Australia beat Honduras 3-1 on aggregate while Peru downed New Zealand 2-0 in two-game playoffs in November 2017 to qualify for the 2018 World Cup in Russia.
In the intercontinental playoffs ahead of the 2014 World Cup in Brazil, Mexico thumped New Zealand 9-3 on aggregate and Uruguay blanked Jordan 5-0.
New Zealand was successful in making the 2010 World Cup in South Africa edging Bahrain 1-0. Uruguay defeated Costa Rica 2-1 in the other playoff.
In the European playoffs also drawn Friday, it will be Scotland versus Ukraine, Wales versus Austria, Russia versus Poland, Sweden versus Czech Republic, Italy versus North Macedonia and Portugal versus Turkey.
The 12 teams are competing for three World Cup berths.
Argentina, Belgium, Brazil, Croatia, Denmark, England, France, Germany, the Netherlands, Serbia, Spain, Switzerland and host Qatar have already qualified.
Fantasy: Start, Sit, Stash, Quit – Week 12 – thescore.com
SSSQ is a weekly look at under-the-radar fantasy players to consider starting and potential busts you should leave on your bench. We also identify breakout candidates to stash on your roster and players you can safely cut.
For the rest of your lineup decisions, consult our Week 12 rankings. You can also listen to the Week 12 preview episode of theScore Fantasy Football Podcast.
Start
Cam Newton, Panthers
at Dolphins
In his first start since returning to the Panthers, Newton made his presence felt by throwing for 189 yards and two touchdowns while adding another 46 yards and a score on the ground.
It made Newton the QB4 overall on the week and gave fantasy managers hope that he can be a potential starting option the rest of the season.
Next up is a Dolphins defense allowing the fifth-most fantasy points to quarterbacks.
Boone's projection: 228 passing yards, passing TD, 37 rushing yards, rushing TD
Other QBs to start
Russell Wilson at Washington
Carson Wentz vs. Buccaneers
Taylor Heinicke vs. Seahawks
Miles Sanders, Eagles
at Giants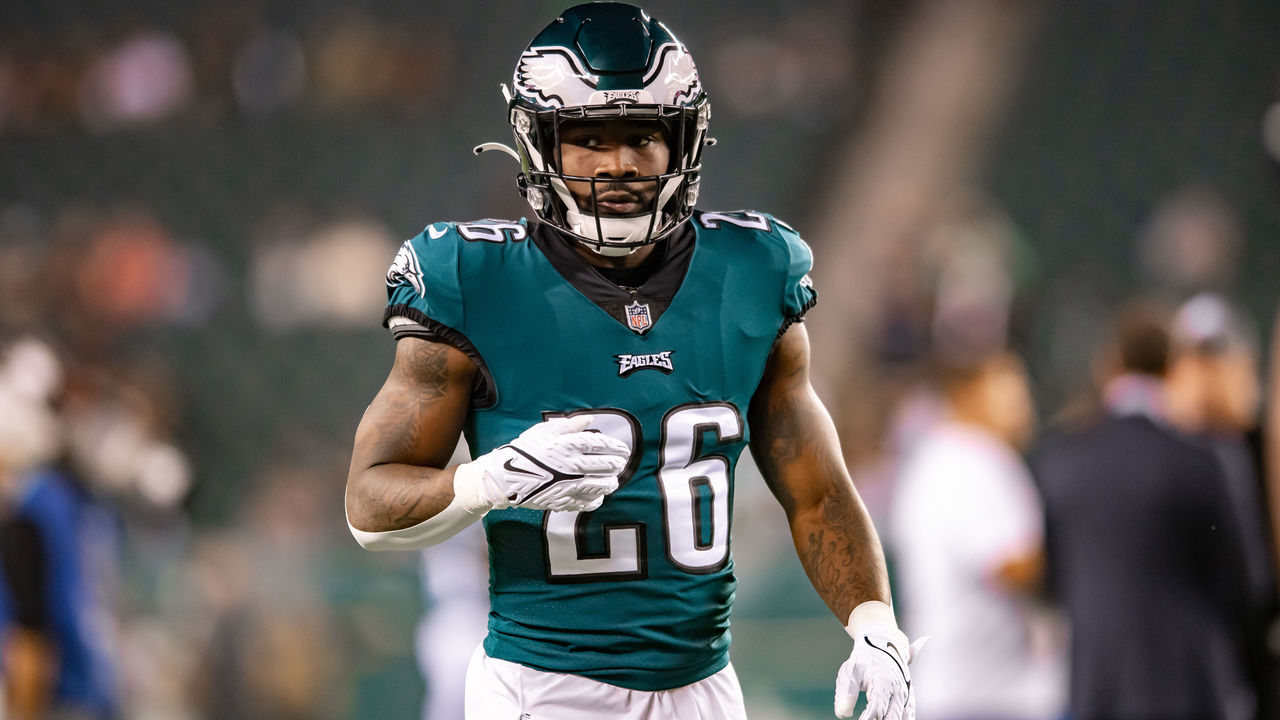 Sanders quietly tallied 94 rushing yards on 16 carries last week in his first game back off injured reserve. The reason his fantasy stat line didn't jump off the page was because he failed to reach the end zone and fumbled once.
However, with teammate Jordan Howard dealing with a knee injury that will sideline him for Week 12 and perhaps longer, Sanders is in a position to see plenty of volume in the Eagles' revived rushing attack.
Philadelphia's schedule is excellent the rest of the way, starting with a matchup against the Giants who are the seventh-easiest opponent for fantasy running backs.
Boone's projection: 77 rushing yards, TD, 16 receiving yards
Other RBs to start
James Robinson vs. Falcons
Antonio Gibson vs. Seahawks
Javonte Williams/Melvin Gordon vs. Chargers
Elijah Moore, Jets
at Texans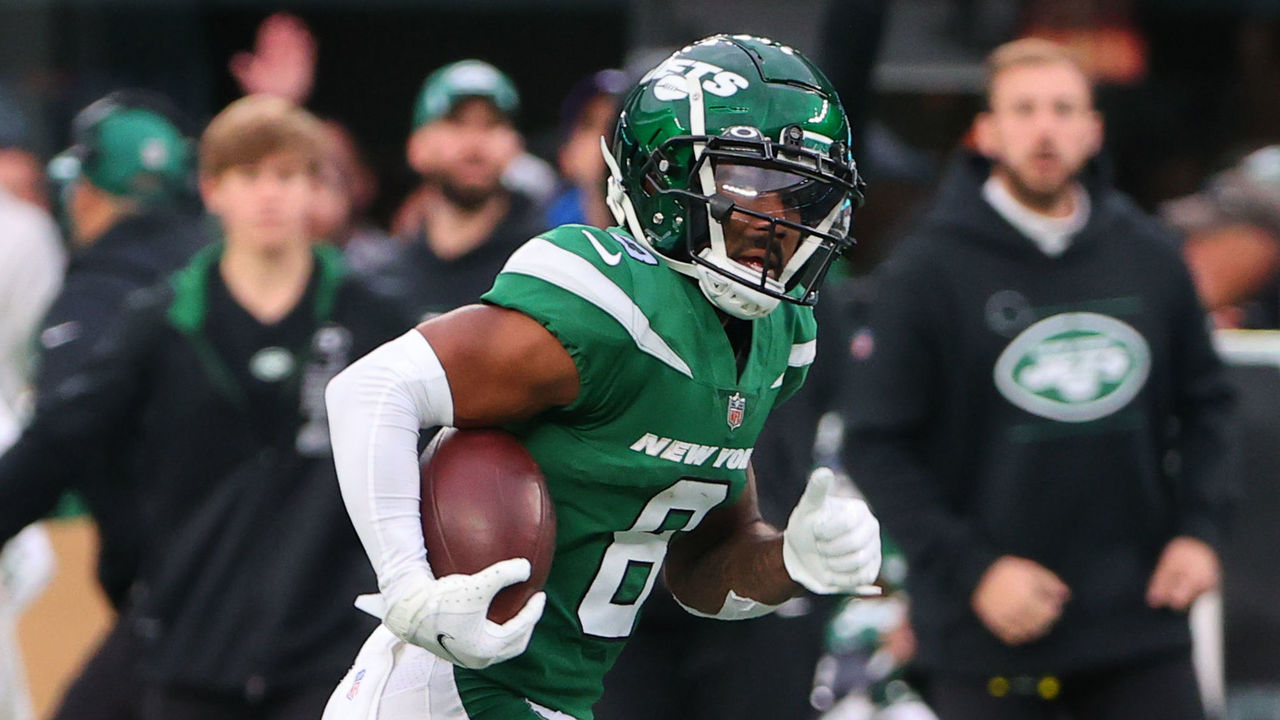 Rookies often get off to a slow start in their debut campaign before taking on a larger role in the second half of the season.
Moore has been on that track, and the days of him being underutilized appear to be over.
Over the last few weeks, he's emerged as a dangerous weapon in the Jets' offense, with stat lines of 6-67-0, 7-84-2, 3-44-1, and most recently 8-141-1. He's also done it with a revolving door at quarterback.
Zach Wilson is slated to return under center this week and there's nothing to fear about the Texans' pass defense. With teammate Corey Davis nursing a groin injury, this should be another chance for Moore to showcase his skills.
Boone's projection: 89 receiving yards, TD
Other WRs to start
Brandin Cooks vs. Jets
Brandon Aiyuk vs. Vikings
Marvin Jones vs. Falcons
Pat Freiermuth, Steelers
at Bengals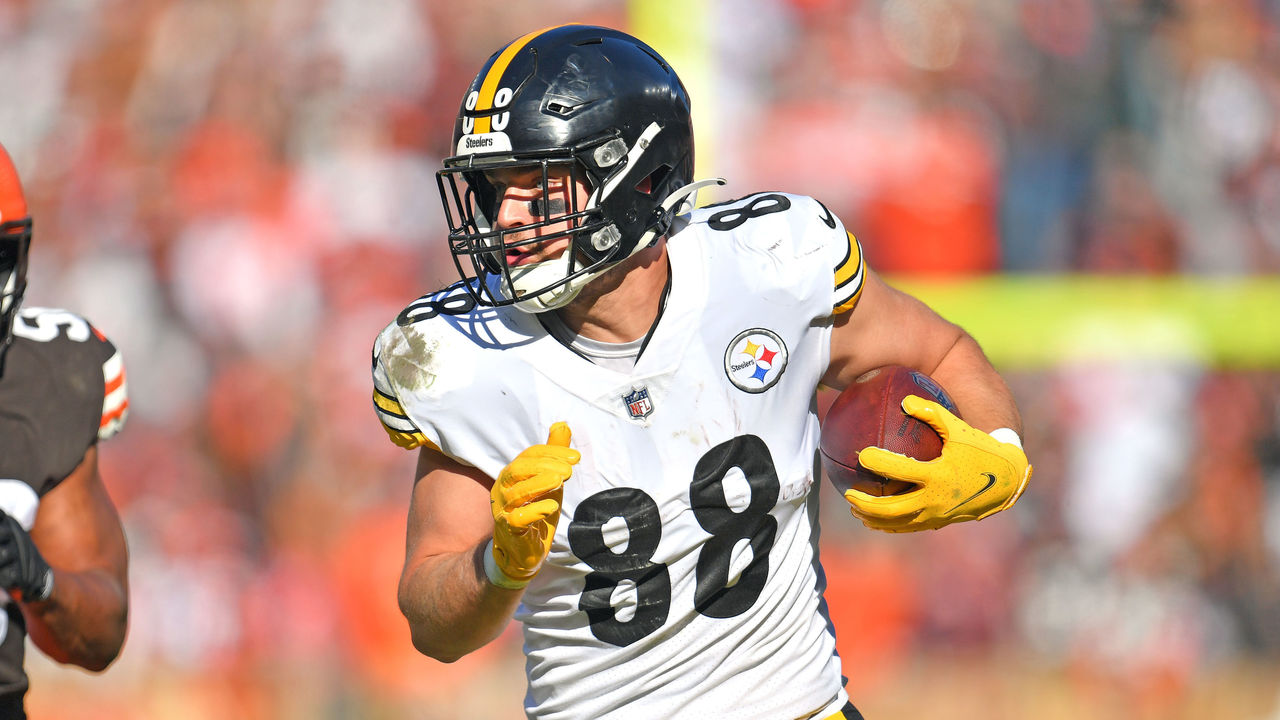 Freiermuth has averaged the fifth-most fantasy points among tight ends since Week 6.
His breakout coincided with Eric Ebron missing time a few weeks back. In the two games Ebron was sidelined, Freiermuth finished as the TE3 overall (Week 8) and TE1 overall (Week 9).
When the veteran returned to the lineup, Freiermuth's playing time and production took a hit.
Now, with Ebron expected to miss time with a knee injury, the rookie will be unleashed as a true top-10 fantasy option.
Boone's projection: 63 receiving yards, TD
Other TEs to start
Rob Gronkowski at Colts
Dallas Goedert at Giants
Dan Arnold vs. Falcons
Sit
Ryan Tannehill, Titans
at Patriots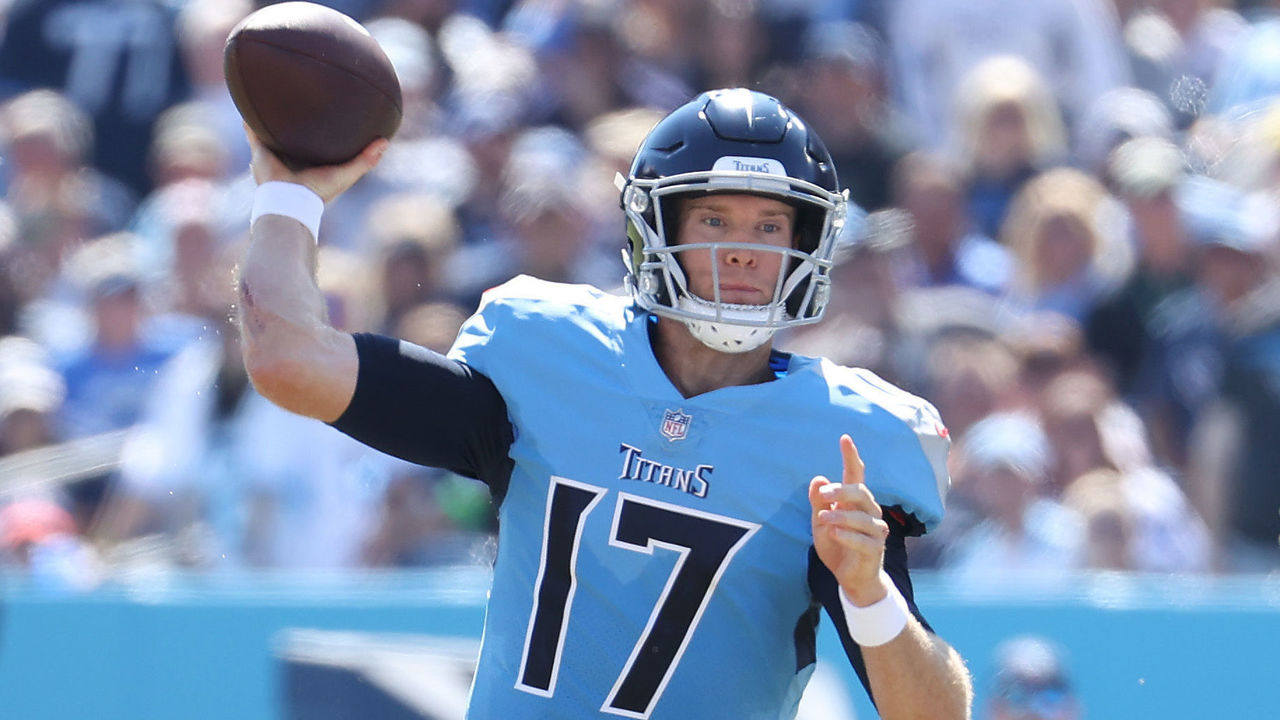 Don't start fantasy quarterbacks against the Patriots. Just don't do it.
Here's a list of recent QBs and where they've finished after taking on Bill Belichick's defense.
| QB | Week | Result |
| --- | --- | --- |
| Mike White | 7 | QB21 |
| Justin Herbert | 8 | QB18 |
| Sam Darnold | 9 | QB29 |
| Baker Mayfield | 10 | QB29 |
| Matt Ryan | 11 | QB30 |
Tannehill is already without Derrick Henry and big offseason acquisition Julio Jones.
To make matters worse, A.J. Brown's status is in doubt after he left last week's game with a chest injury and didn't practice Wednesday or Thursday.
You should be avoiding Tannehill at all costs this week.
Boone's projection: 194 passing yards, TD, INT, 21 rushing yards
Other QBs to sit
Tua Tagovailoa vs. Panthers
Ben Roethlisberger at Bengals
Baker Mayfield at Ravens
Myles Gaskin, Dolphins
vs. Panthers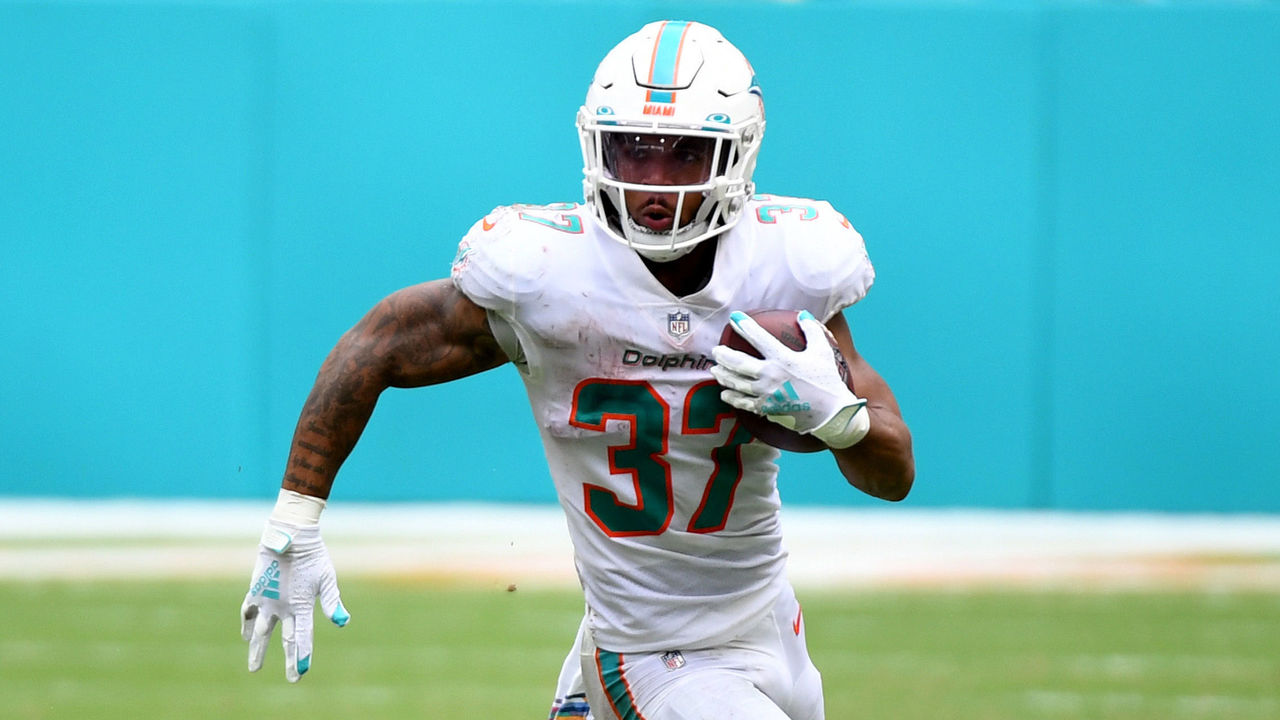 Gaskin has been an extremely boom or bust fantasy back with most of the booms coming against easier opponents and most of the busts happening versus tough run defenses.
Some recent bust examples include the Ravens in Week 10 (RB42) and Bills in Week 8 (RB34).
The Panthers are permitting the third-fewest fantasy points to running backs, which should make you question using Gaskin this week.
There's also the addition of Phillip Lindsay to consider, though that's more of an issue for Gaskin's value the rest of the season.
Boone's projection: 37 rushing yards, 14 receiving yards
Other RBs to sit
Devonta Freeman/Latavius Murray vs. Browns
Alex Collins at Washington
D'Onta Foreman at Patriots
Courtland Sutton, Broncos
vs. Chargers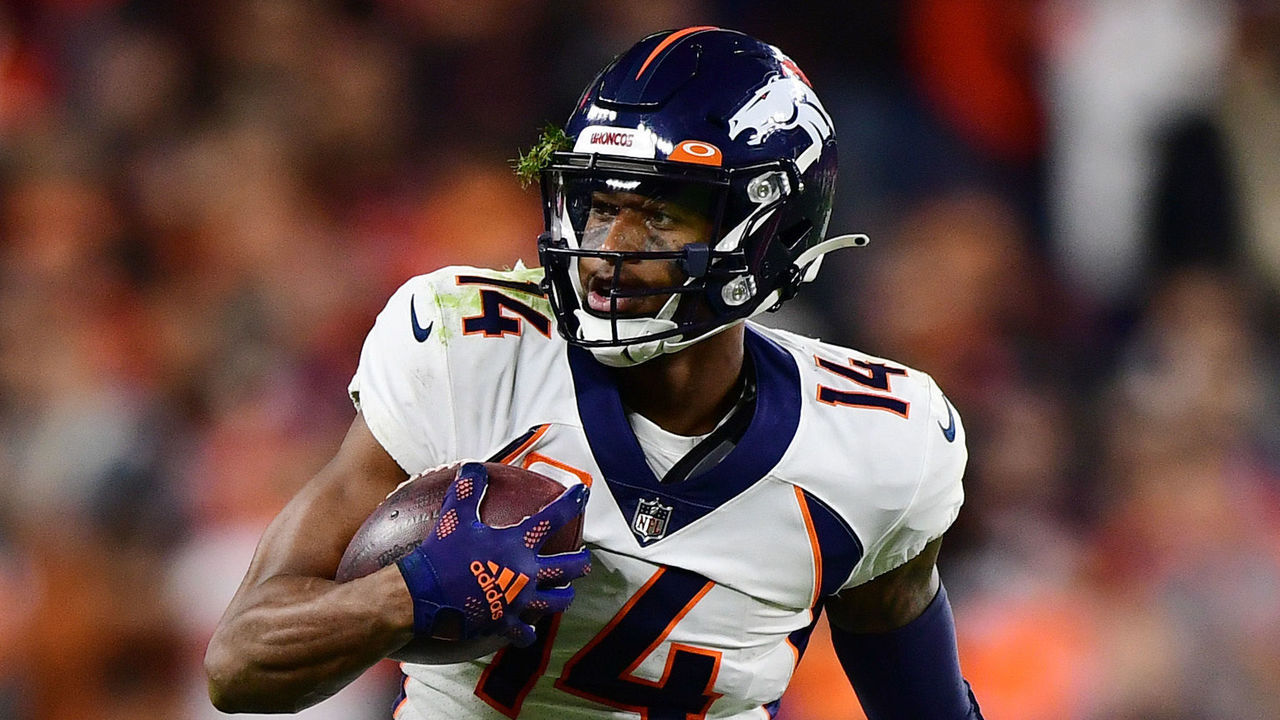 Despite the new contract extension he signed this week, Sutton has been underperforming ever since Jerry Jeudy returned to the field. He's caught just five passes over the last three outings.
A player of his caliber is destined to bounce back eventually, but this isn't the game to bet on Sutton escaping his slump.
The Chargers rank ninth in Football Outsiders' pass defense DVOA and are giving up the second-fewest fantasy points to receivers.
Boone's projection: 48 receiving yards
Other WRs to sit
Kenny Golladay vs. Eagles
Jarvis Landry at Ravens
Tyler Boyd vs. Steelers
Hunter Henry, Patriots
vs. Titans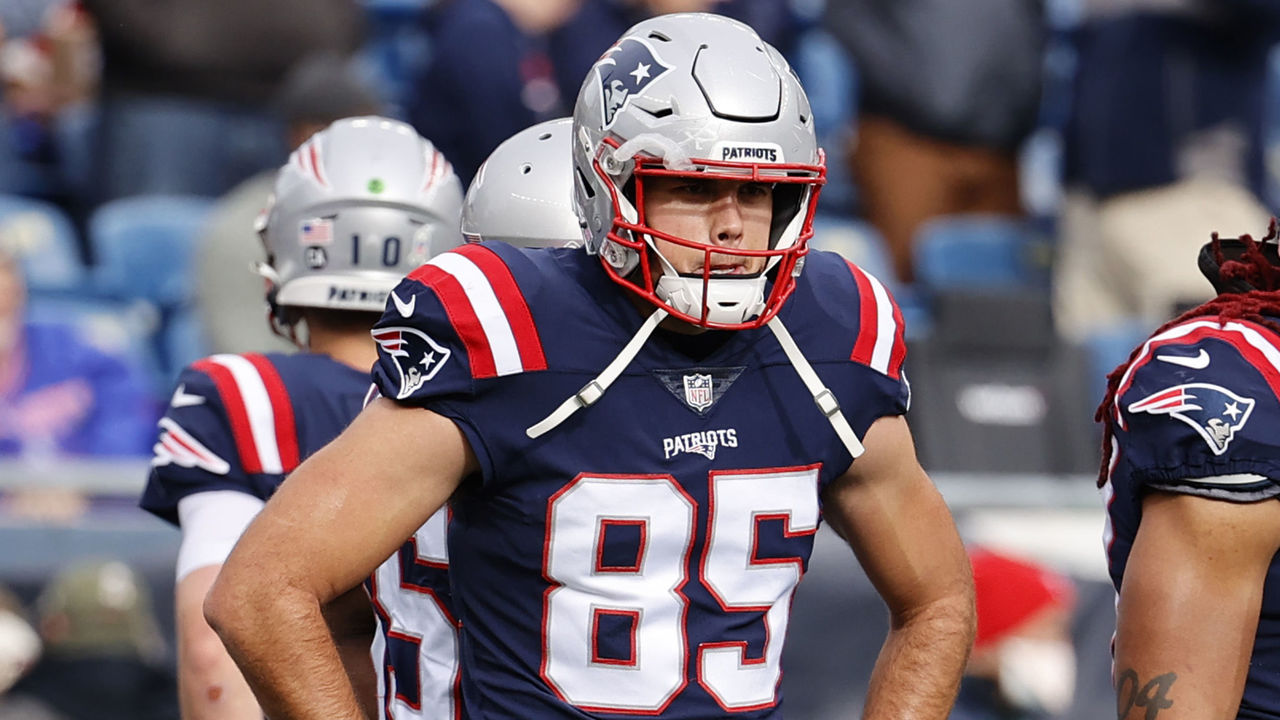 Henry has only topped 42 yards once this season, but his touchdown scoring has kept him fantasy relevant.
With seven trips to the end zone over the last eight games, Henry is the definition of a touchdown-dependent play.
Unfortunately for him, the Titans – who are a bottom-five matchup for fantasy tight ends – have only allowed three touchdowns to the position this season.
Boone's projection: 37 receiving yards
Other TEs to sit
Tyler Higbee at Packers
Tyler Conklin at 49ers
Jared Cook at Broncos
Stash
DeeJay Dallas, Seahawks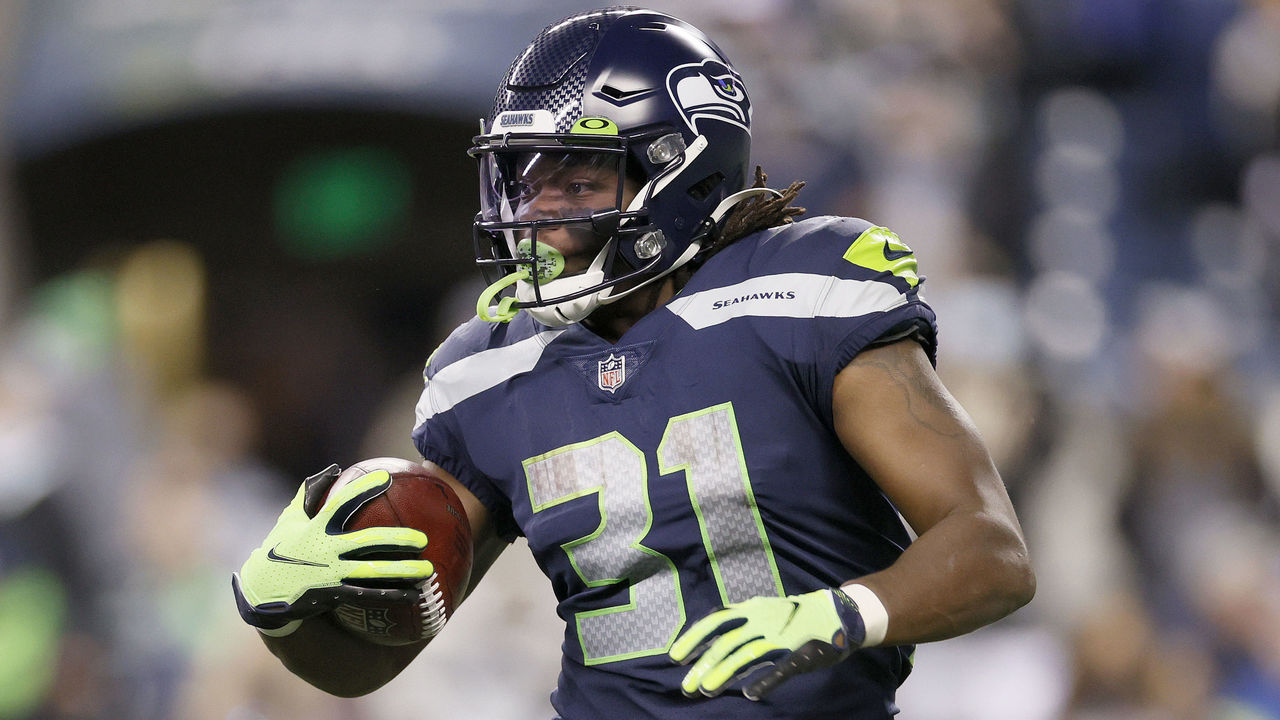 Chris Carson is officially done for the year and former first-round pick Rashaad Penny is once again dealing with an injury that will likely keep him on the sidelines.
Alex Collins has taken the lead in Seattle's backfield, but the coaching staff seems reluctant to use him as a pass-catcher – capping his upside.
Meanwhile, Dallas (3% rostered) saw his largest snap share of the season in Week 11 and began to carve out a role. He even scored a rushing touchdown in the game.
Though waiver wires tend to be picked apart at this point in the season, Dallas has a shot to earn significant touches on a depth chart desperate for someone to create a spark.
Curtis Samuel, Washington
It's been a long and disappointing season for Samuel (12% rostered) in Washington. Injuries have kept the versatile receiver out of all but two contests, and he was limited to just 30 combined snaps in those appearances.
However, Samuel is finally back at practice and may actually suit up for a Monday night matchup with the Seahawks.
While there's still a long way to go before we can trust him in our fantasy lineups, now is the time to scoop Samuel up and get him on your bench.
Quit
Mike Davis, Falcons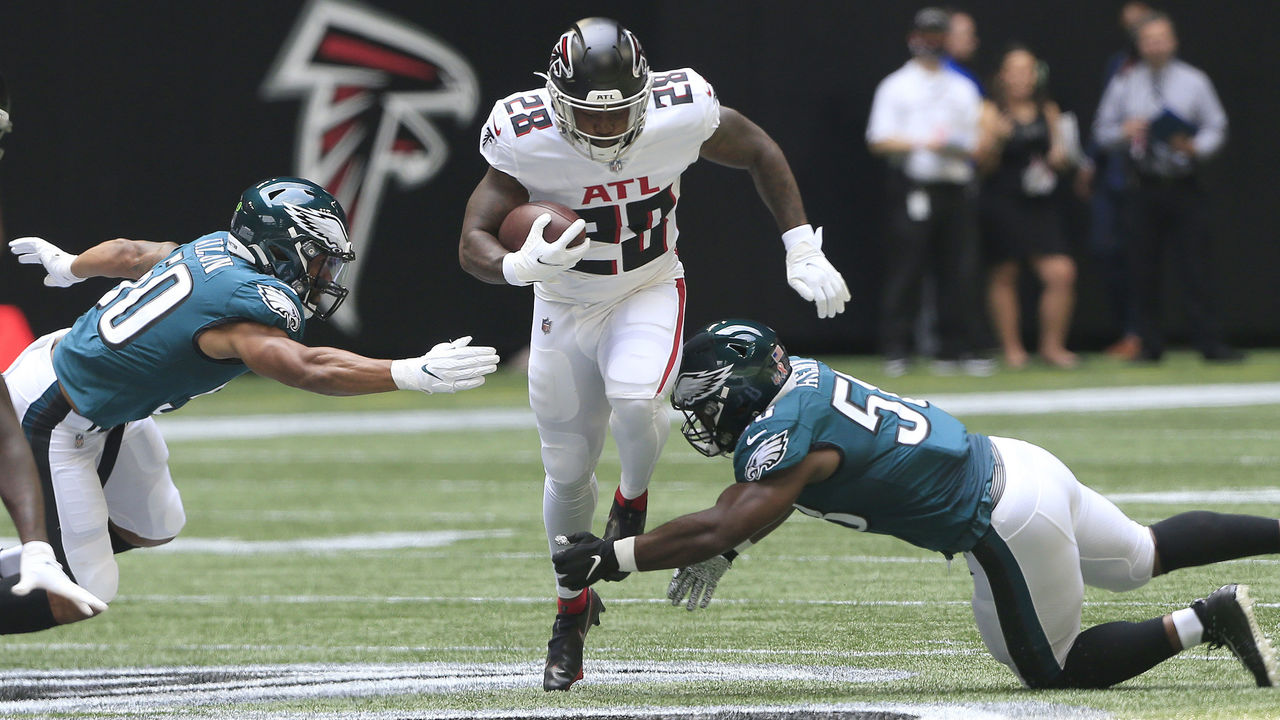 Davis was outplayed by Cordarrelle Patterson early in the season, but at least he was getting volume over the first five weeks.
Since the Falcons' Week 6 bye, the 28-year-old has fallen off the fantasy map. Davis has just one game with more than 21 yards from scrimmage in the past five outings and hasn't found the end zone during that span.
With Patterson sidelined in Week 11, Davis managed just three carries for one yard while gaining 20 yards on three receptions.
Unlike other backup runners around the league, Davis doesn't come with upside … regardless of how many injuries strike Atlanta's running back room.
The roster spot he's occupying is being wasted. Drop him and find someone who at least has a path to more production.