Space Controversy: It's Helio-Crescent Not Heliosphere; Astronomers Reveal Earth Lives in Huge Croissant – Tech Times
A new space study was revealed by researchers at Boston University on Mar 16 that might change how space should be studied. According to them, most science experts calling the protective bubble surrounding the Sun 'heliosphere' are all wrong. This bubble is not sphere-shaped at all but shaped more like baked good croissant or crescent– which must be called Helio-crescent.
Heliosphere debunked! Space experts reveal it's not sphere-shaped but more like a croissant
According to the research study made by Merav Opher, professor of astronomy and researcher at Boston University's Center for Space Physics, and her coauthor James Drake of the University of Maryland, there seemed to be wrong information that has been accepted by millions of researchers and people from years ago. This is when the first researchers identified the bubble-like surrounding the Sun and called it 'heliosphere.'
As explained by them, the shape of this bubble is not a sphere at all. Using their created image of the heliosphere, it was more like a croissant or a beach ball-shaped bubble.
For people out there still out of the blue on what is heliosphere, this is the vast space region that casts a magnetic "force field" around all the planets, deflecting charged particles that would otherwise muscle into the solar system and even tear through DNA. It was first thought to be sphere-shaped since the last five spacecraft returned with this data, including Pioneer 10, Pioneer 11, Voyager 1, and Voyager 2, and New Horizons launched in 2006.
According to Opher years ago, the bubble-like force field is shaped like a comet, with a round "nose" on one side and a long tail extending in the opposite direction. In 2015, the study was even made clearer when they used a new computer model and data from the Voyager 1 spacecraft. Using the info they acquired, they suggested using the "croissant" model and explained that this image shows how the two jets extend downstream from the nose rather than a single fade-away tail. "That started the conversation about the global structure of the heliosphere," says Opher.
"If we want to understand our environment, we'd better understand all the way through this heliosphere," says Loeb, Opher's collaborator from Harvard.
Experts: We can't accept Helio-crescent image and change space studies quickly
Though the findings of Opher and Drake seemed to be a great research study, some experts in the field said that they could not quickly accept these claims. Especially with how huge this information can affect all space travels and studies made and published years ago.
In fact, two years ago, another study somehow supports Opher and Drake's claims by saying that the bubble is not a sphere but neither a comet nor a croissant, but more like a beach ball. This is according to the readings from the Cassini spacecraft, which orbited Saturn from 2004 until 2017, that also debunked the original theory.
However, Tom Krimigis, who led experiments on both Cassini and Voyager, said that these theories could not be quickly accepted by the space studies.
"You don't accept that kind of change easily," said him. "The whole scientific community that works in this area had assumed for over 55 years that the heliosphere had a comet tail."
ⓒ 2018 TECHTIMES.com All rights reserved. Do not reproduce without permission.
Voyager 2 flew through a giant magnetic gas bubble during Uranus flyby – The Weather Network
When NASA's Voyager 2 spacecraft flew past Uranus in January of 1986, it gave us our first up-close look at the distant ice giant. Now, over three decades later, the data collected by the probe's sensors has revealed that it flew straight through an immense magnetic bubble, known as a plasmoid, that was ejected from the planet's atmosphere.
Uranus is certainly the oddball of all the worlds orbiting our Sun.
Tilted over on its side by some cataclysmic event in the early years of the solar system, this ice giant has a bizarre 'wobbly' magnetic field that scientists are still trying to make sense of, even now.
"The structure, the way that it moves… Uranus is really on its own," Gina DiBraccio, a space physicist at NASA's Goddard Space Flight Center and project scientist for the MAVEN mission, said in a press release.
Roughly 34 years ago, Voyager 2 discovered rings around Uranus, found never-before-seen moons circling it, and it took readings of the planet's extremely frigid atmosphere.
Voyager 2 flies past Uranus on January 24, 1986. Credit: NASA/JPL-Caltech
According to a new study, data from Voyager 2's flyby also picked up one other thing, which was missed at the time.
DiBraccio and fellow NASA Goddard scientist Dan Gershman were in the midst of planning possible missions for NASA to revisit the Ice Giant planets, Uranus and Neptune, but to stay this time. One aspect of this process is to look for compelling mysteries that a planetary spacecraft could investigate and potentially solve. Poring through the data collected by Voyager 2's Magnetometer instrument, over three decades ago, they found something interesting.
As the spacecraft swung by, at around 80,000 km above Uranus' cloudtops, it picked up a weird magnetic blip that lasted for just one minute of the total 45-hour flyby.

Magnetometer data from Voyager 2's Uranus flyby, showing the data averaged over 8-minute periods (red), and the same data plotted every 1.92 seconds (black), revealing the zigzag signature of a 'plasmoid'. Credits: NASA/Dan Gershman
After examining this blip closely, DiBraccio and Gershman came to the conclusion that it was a 'plasmoid' – an immense magnetic bubble being expelled from Uranus' magnetic field.
A plasmoid often forms as a planet's magnetic field is shaped by the solar wind, and influenced by solar storms. While the magnetic field lines near to the planet form a fairly spherical 'shield', the flow of the solar wind causes the outer field lines to stretch back into a 'magnetotail' on the night side the planet. If a solar storm or a fast stream of the solar wind pushes the field lines in the magnetotail closer together, they can 'reconnect', closing off a magnetic bubble that then gets caught up in the solar wind's flow.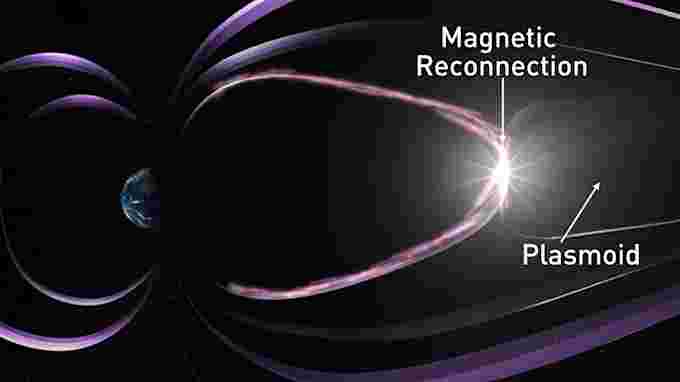 Magnetic reconnection in Earth's magnetotail forms a plasmoid bubble. Credit: NASA's Scientific Visualization Studio/Scott Sutherland
Based on what Voyager 2's Magnetometer picked up, the spacecraft apparently passed straight through one of these plasmoids as it was passing Uranus. At roughly 400,000 kilometres wide, this magnetic bubble was found to be filled with mostly ionized hydrogen. There was a bonus, too. The magnetic field inside the bubble was found to form smooth, closed loops. This told DiBraccio and Gershman that the ionized hydrogen was very likely a blob of Uranus' atmosphere, being carried away by the plasmoid.
While plasmoids are known to form in Earth's magnetotail, and they've been observed at Mercury, Jupiter and Saturn, this is the very first evidence that this process happens at Uranus too.
Currently, there is great interest in the space exploration community to send new missions out to the Ice Giants, as we have with the Gas Giants, Jupiter and Saturn. After Voyager 1 & 2's flybys of the outer planets, NASA sent Galileo, and then Juno, to orbit Jupiter. Cassini explored Saturn, and its rings and moons, for over 14 years.
Sending spacecraft to Uranus and Neptune would give us new up-close looks at these distant worlds. It would provide new data that could help scientists solve existing mysteries that were discovered, either by telescopes or the Voyager probes. It would undoubtedly give us new mysteries to study, about the Ice Giants themselves and about our solar system in general.
Sources: NASA | NASA's Scientific Visualization Studio
RELATED: VOYAGER 2 HAS GONE INTERSTELLAR!
Comet makes northern hemisphere flyby | Star News – Otago Daily Times
By David Hill
Canterbury's observatories might be in lockdown, but there is plenty for budding scientists and the superstitious to discover.
While the Oxford Area School Observatory is in lockdown, volunteer Erik Vermaat has been keeping in touch his night class students via his "Corona Blog" and on Facebook.
He says a lockdown can be the ideal time to make new discoveries.
"Newton developed theories of calculus and gravity while at home. What are you doing?" Erik says.
As Erik points out, during the Great Plague of London in 1666, a 22-year-old Cambridge University student named Isaac Newton came up with new theories for calculus, optics and the law of gravitation, while in self-isolation after returning home to the family farm.
The superstitious will realise comets have a knack of making an appearance in the night sky in a crisis and Covid-19 doesn't disappoint, as Oxford Observatory volunteer James Moffat points out.
"Atlas C/2019 Y4 could almost be mistaken for the latest doomsday comet arriving around the same time Covid-19 made its first appearance in China."
Comets have historically been "harbingers of death", with Halley's Comet making one of its flybys in 1665, on the eve of the Great Plague which claimed 100,000 lives in London.
"This comet (Atlas) is fast living up to that reputation appearing in brightness as rapidly as the Covid-19 virus itself spreads."
The Greek demi-god Atlas was perceived as carrying the weight of the world on his shoulders, "but in fact it was the celestial sphere not the terrestrial globe," James says.
"That is a weight human-kind now bears upon his own shoulders in containing Covid-19."
On Erik's "Corona Blog" you can discover just how fast the speed of light is, all the observable parts of the electro-magnetic spectrum (which Ernest Rutherford helped to discover) and exoplanets. Find the link on the Oxford Observatory page on Facebook.
Comet of a generation set to light up the night sky – The Times
A comet speeding towards the inner solar system could become one of the brightest objects in the night sky, promising the most dramatic display of its kind in decades.
Astronomers believe that Comet Atlas, which in one month has grown 4,000 times brighter than when it was first spotted, has the potential to become "the comet of a generation" if it maintains its composition.
"It's definitely a promising comet," Daniel Brown, an astronomy expert at Nottingham Trent University, said yesterday.
"It's pushing towards a level that by the end of April could look really, really stunning."
The comet was discovered by astronomers at the Asteroid Terrestrial-impact Last Alert System (Atlas) at the University of Hawaii, which scans the sky for near-Earth objects and calculates whether