SpaceX's Crew Dragon In-Flight Abort Test Will Now Launch No Earlier Than Jan. 11 – Space.com
SpaceX will now launch a major in-flight abort system test of its Crew Dragon spacecraft for astronauts no earlier than Jan. 11, a week later than previously announced.
The uncrewed test flight, called an In-Flight Abort Test, will test a vital safety system designed to protect astronauts during a launch emergency. It was initially expected to liftoff sometime this month, but NASA announced last week that the mission would launch no earlier than Jan. 4. That target has since slipped another week.
"NASA and SpaceX are targeting no earlier than Jan. 11, 2020, for a critical In-Flight Abort Test of the Crew Dragon spacecraft from Launch Complex 39A at the Kennedy Space Center, Florida, pending U.S. Air Force Eastern Range approval," NASA officials wrote in an update Wednesday (Jan. 18). NASA did not give a reason for the date change.
Video: Watch SpaceX's Crew Dragon Abort System in Close-Up Action
SpaceX's In-Flight Abort test flight, called IFA for short, will launch a Crew Dragon spacecraft on a Falcon 9 rocket and intentionally trigger the spacecraft's launch abort system in mid-flight. That system, a network of eight SuperDraco abort engines, will pull the Crew Dragon free of its Falcon 9 booster to simulate an emergency escape and parachute back to Earth.
The abort system is vital to safeguard astronauts during launch. In October 2018, the launch abort system on a Russian Soyuz rocket carried NASA astronaut Nick Hague and cosmonaut Alexey Ovchinin to safety when their booster failed during flight.
"The demonstration of Crew Dragon's launch escape system is part of NASA's Commercial Crew Program and is one of the final major tests for the company before NASA astronauts will fly aboard the spacecraft," NASA officials wrote.
Related: Emergency Launch Abort Systems of SpaceX and Boeing Explained
During the upcoming test, SpaceX will launch a Falcon 9 rocket carrying an uncrewed Crew Dragon, then activate the capsule's launch abort system in mid-flight. If all goes well, the Crew Dragon will fire its SuperDraco engines to rip the capsule free of the Falcon 9, deploy parachutes and splash down in the Atlantic Ocean.
"The In-Flight Abort Test follows a series of static fire engine tests of the spacecraft conducted Nov. 13 near SpaceX's Landing Zone 1 on Cape Canaveral Air Force Station in Florida," NASA officials wrote. "SpaceX will also conduct a static fire test of its Falcon 9 rocket ahead of the In-Flight Abort Test."
SpaceX is one of two commercial companies (Boeing is the other) building private space taxis to fly NASA astronauts to and from the space station. The company launched its first uncrewed Crew Dragon test flight to the station in March of this year, but the spacecraft used on that flight was destroyed during a failed ground-based abort system test in April.
SpaceX has since identified the cause of that failure and made corrections that led to a series of successful abort system ground tests in recent months.
Boeing, meanwhile, is making progress on its own spacecraft, a capsule called Starliner that launches on a United Launch Alliance Atlas V rocket. Last month, the company successfully performed a pad abort test of its Starliner capsule.
Today (Dec. 20), Boeing launched its first uncrewed Starliner flight to the International Space Station. However, about 15 minutes after liftoff, the spacecraft experienced an "anomaly" that prevented it from entering the correct orbit. Rather than spending a week at the space station as planned, Starliner will spend about 48 hours in orbit before returning to Earth via a parachute-assisted landing at the White Sands Missile Range in New Mexico. The mishap could delay Boeing's plans to launch a crewed flight test, which is currently scheduled to take place in mid-2020.
Email Tariq Malik at tmalik@space.com or follow him @tariqjmalik. Follow us @Spacedotcom and Facebook.


Scientists Are Figuring Out Why Some People Can 'Hear' The Voices of The Dead – ScienceAlert
Scientists have identified the traits that may make a person more likely to claim they hear the voices of the dead.
According to new research, a predisposition to high levels of absorption in tasks, unusual auditory experiences in childhood, and a high susceptibility to auditory hallucinations all occur more strongly in self-described clairaudient mediums than the general population.
The finding could help us to better understand the upsetting auditory hallucinations that accompany mental illnesses such as schizophrenia, the researchers say.
The Spiritualist experiences of clairvoyance and clairaudience – the experience of seeing or hearing something in the absence of an external stimulus, and attributed to the spirits of the dead – is of great scientific interest, both for anthropologists studying religious and spiritual experiences, and scientists studying pathological hallucinatory experiences.
In particular, researchers would like to better understand why some people with auditory experiences report a Spiritualist experience, while others find them more distressing, and receive a mental health diagnosis.
"Spiritualists tend to report unusual auditory experiences which are positive, start early in life and which they are often then able to control," explained psychologist Peter Moseley of Northumbria University in the UK.
"Understanding how these develop is important because it could help us understand more about distressing or non-controllable experiences of hearing voices too."
He and his colleague psychologist Adam Powell of Durham University in the UK recruited and surveyed 65 clairaudient mediums from the UK's Spiritualists' National Union, and 143 members of the general population recruited through social media, to determine what differentiated Spiritualists from the general public, who don't (usually) report hearing the voices of the dead.
Overall, 44.6 percent of the Spiritualists reported hearing voices daily, and 79 percent said the experiences were part of their daily lives. And while most reported hearing the voices inside their head, 31.7 percent reported that the voices were external, too.
The results of the survey were striking.
Compared to the general population, the Spiritualists reported much higher belief in the paranormal, and were less likely to care what other people thought of them.
The Spiritualists on the whole had their first auditory experience young, at an average age of 21.7 years, and reported a high level of absorption. That's a term that describes total immersion in mental tasks and activities or altered states, and how effective the individual is at tuning out the world around them.
In addition, they reported that they were more prone to hallucination-like experiences. The researchers noted that they hadn't usually heard of Spiritualism prior to their experiences; rather, they had come across it while looking for answers.
In the general population, high levels of absorption were also strongly correlated with belief in the paranormal – but little or no susceptibility to auditory hallucinations. And in both groups, there were no differences in the levels of belief in the paranormal and susceptibility to visual hallucinations.
These results, the researchers say, suggest that experiencing the 'voices of the dead' is therefore unlikely to be a result of peer pressure, a positive social context, or suggestibility due to belief in the paranormal. Instead, these individuals adopt Spiritualism because it aligns with their experience and is personally meaningful to them.
"Our findings say a lot about 'learning and yearning'. For our participants, the tenets of Spiritualism seem to make sense of both extraordinary childhood experiences as well as the frequent auditory phenomena they experience as practising mediums," Powell said.
"But all of those experiences may result more from having certain tendencies or early abilities than from simply believing in the possibility of contacting the dead if one tries hard enough."
Future research, they concluded, should explore a variety of cultural context to better understand the relationship between absorption, belief, and the strange, spiritual experience of ghosts whispering in one's ear.
The research has been published in Mental Health, Religion and Culture.
NASA abandons mars heat probe mission following unexpected soil conditions – Designboom
after two years of trial and error, NASA has called it quits on a mission to burrow into the surface of mars. the heat probe was deployed by NASA's insight lander, which landed on mars on november 26th 2018. since february 28, 2019, the team has tried to bury the probe into the ground in an attempt to measure the red planet's internal temperature. however, following unusual and unexpected soil conditions, the probe has not been able to dig itself to a sufficient depth.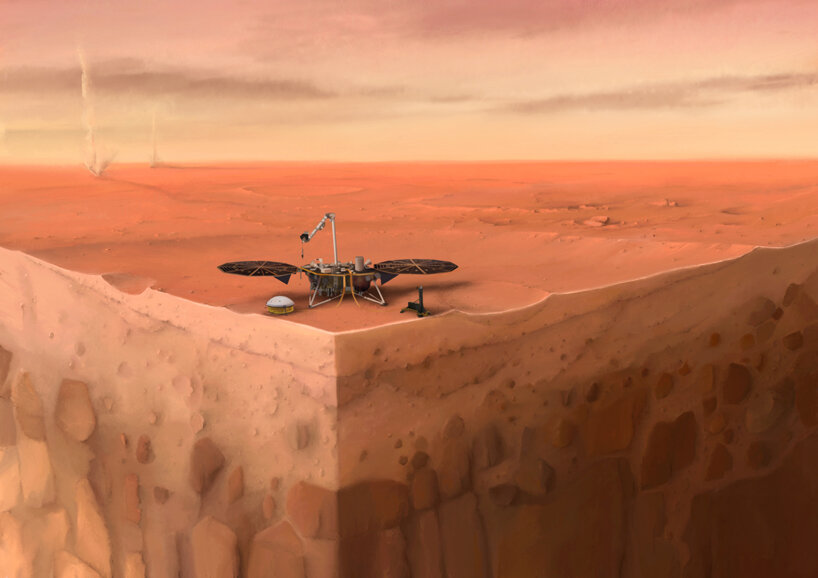 artist's illustration of NASA's insight lander on mars showing cutaway layers
image by IPGP/nicolas sarter
the heat probe, called the 'mole', was developed and built by the german aerospace center (DLR). the intention of the probe was to find out more about the geology of mars and how the planet came to be. by measuring the internal temperature, the mission team hoped to discover water ice underneath the soil, while scientists wanted to study the subsurface's potential to support microbial life (via NASA).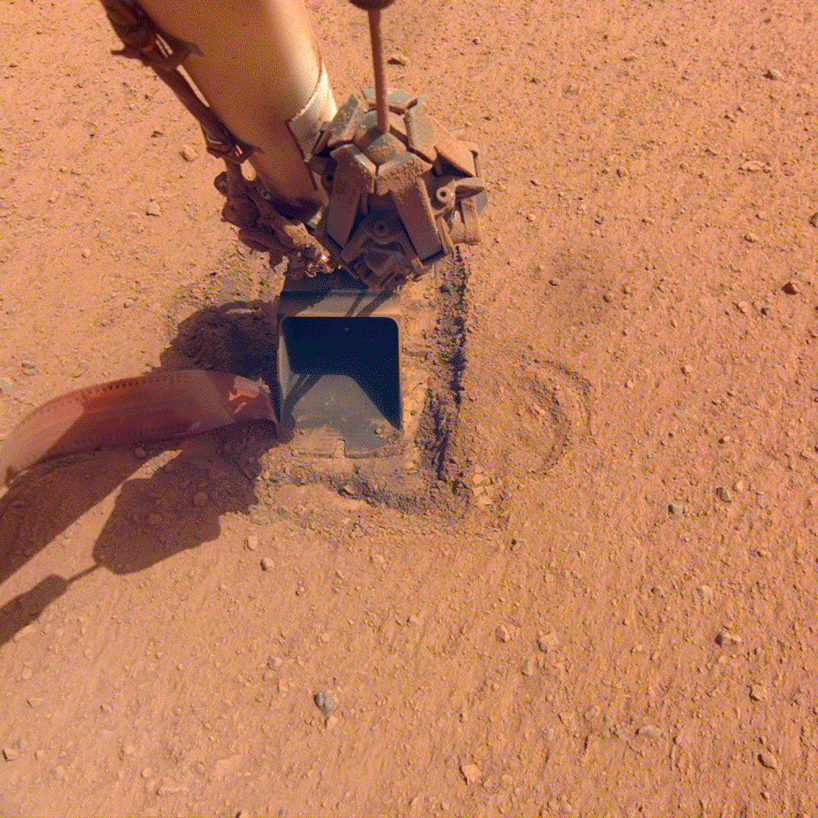 insight's heat probe or 'mole' as it looked after hammering on saturday, january 9th 2021
image by NASA/JPL-caltech
the heat probe is a 16-inch-long (40-centimeter-long) pile driver that's designed to burrow at least 10 feet (3 meters) deep before recording the temperature with embedded sensors. unfortunately, the pile driver came across soil that tended to clump together, meaning the probe couldn't gain the friction it needed to dig into the subsurface. in fact, it only reached about 2 or 3 centimeters under the surface. the mission team tried to troubleshoot the friction problem by using a scoop on insight's robotic arm to scrape soil onto the probe. but after no progress, the team called it quits on saturday, january 9th 2021.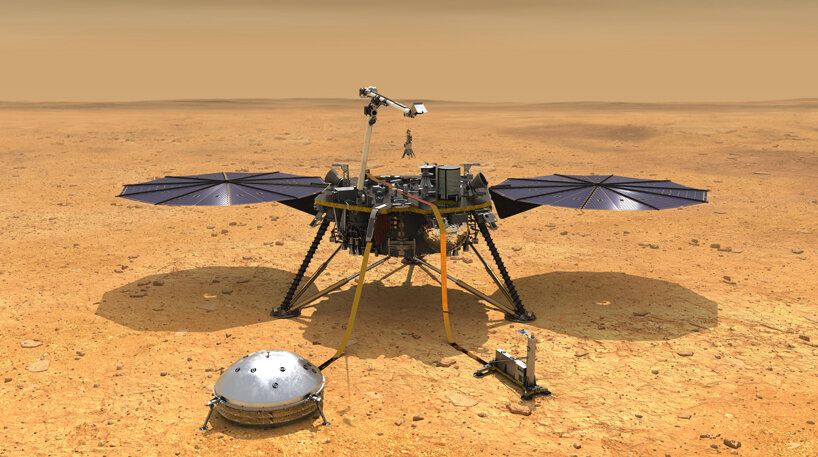 artist's illustration of the insight lander
image by NASA/JPL-caltech
all is not lost and NASA's insight lander will continue to explore mars until the end of 2022. as well as hunting for quakes, insight will continue to collect invaluable meteorological data. alongside NASA's curiosity rover and its new perseverance rover, which lands on february 18th 2021, the three spacecraft will create the first meteorological network on another planet (via NASA).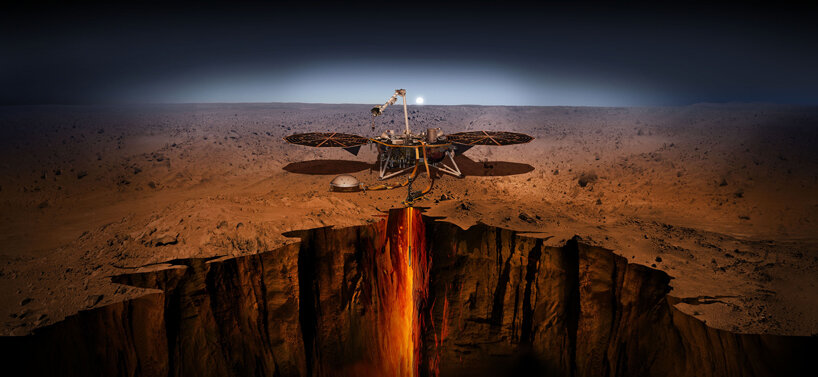 artist's illustration of the insight lander
image by NASA/JPL-caltech
article via: NASA
NASA Declares The Mars InSight Digger Dead After Two Years! – Mashable India
NASA announced on Thursday that a "mole" on Mars has ended its mission after landing on the Red Planet nearly two years ago.
The mole — also called a digger, drill, and probe — was built by the German Aerospace Center (DLR) and deployed by NASA's InSight lander. Its purpose was to drill 16 feet into Martian soil to take its temperature and…well, it never managed to do that.
The digger had drilled down merely 14 inches before getting stuck in the first month of its mission. Months later in Oct. 2019, NASA engineers made a plan to put the digger back on track by using a robotic scoop to help refill the 14 inches and support the digger in its next attempt at burrowing down 16 feet. The team at NASA was confident that the probe was finally ready to go, but they were wrong.
NASA's next idea, in Feb. 2020, was to direct the InSight lander to push on the probe with its robotic arm.
That didn't work, either. After attempting to use the scoop on InSight's robotic arm once again on Jan. 9, 2021, the probe made 500 additional hammer strokes with no progress. At that point, the team declared the probe dead.
"We've given it everything we've got, but Mars and our heroic mole remain incompatible," said DLR's Tilman Spohn in NASA's announcement.
There is good news, however. Spohn said that the work on this probe will benefit future missions, as they've learned a lot about the surface of Mars.
Thomas Zurbuchen, associate administrator for science at NASA's Washington headquarters, said he was proud of the mission's team — and that their work was purposeful. "This is why we take risks at NASA — we have to push the limits of technology to learn what works and what doesn't," he said.
"In that sense, we've been successful: We've learned a lot that will benefit future missions to Mars and elsewhere," Zurbuchen continued, "and we thank our German partners from DLR for providing this instrument and for their collaboration."