SpaceX's Crew Dragon In-Flight Abort Test Will Now Launch No Earlier Than Jan. 11 – Space.com
SpaceX will now launch a major in-flight abort system test of its Crew Dragon spacecraft for astronauts no earlier than Jan. 11, a week later than previously announced.
The uncrewed test flight, called an In-Flight Abort Test, will test a vital safety system designed to protect astronauts during a launch emergency. It was initially expected to liftoff sometime this month, but NASA announced last week that the mission would launch no earlier than Jan. 4. That target has since slipped another week.
"NASA and SpaceX are targeting no earlier than Jan. 11, 2020, for a critical In-Flight Abort Test of the Crew Dragon spacecraft from Launch Complex 39A at the Kennedy Space Center, Florida, pending U.S. Air Force Eastern Range approval," NASA officials wrote in an update Wednesday (Jan. 18). NASA did not give a reason for the date change.
Video: Watch SpaceX's Crew Dragon Abort System in Close-Up Action
SpaceX's In-Flight Abort test flight, called IFA for short, will launch a Crew Dragon spacecraft on a Falcon 9 rocket and intentionally trigger the spacecraft's launch abort system in mid-flight. That system, a network of eight SuperDraco abort engines, will pull the Crew Dragon free of its Falcon 9 booster to simulate an emergency escape and parachute back to Earth.
The abort system is vital to safeguard astronauts during launch. In October 2018, the launch abort system on a Russian Soyuz rocket carried NASA astronaut Nick Hague and cosmonaut Alexey Ovchinin to safety when their booster failed during flight.
"The demonstration of Crew Dragon's launch escape system is part of NASA's Commercial Crew Program and is one of the final major tests for the company before NASA astronauts will fly aboard the spacecraft," NASA officials wrote.
Related: Emergency Launch Abort Systems of SpaceX and Boeing Explained
During the upcoming test, SpaceX will launch a Falcon 9 rocket carrying an uncrewed Crew Dragon, then activate the capsule's launch abort system in mid-flight. If all goes well, the Crew Dragon will fire its SuperDraco engines to rip the capsule free of the Falcon 9, deploy parachutes and splash down in the Atlantic Ocean.
"The In-Flight Abort Test follows a series of static fire engine tests of the spacecraft conducted Nov. 13 near SpaceX's Landing Zone 1 on Cape Canaveral Air Force Station in Florida," NASA officials wrote. "SpaceX will also conduct a static fire test of its Falcon 9 rocket ahead of the In-Flight Abort Test."
SpaceX is one of two commercial companies (Boeing is the other) building private space taxis to fly NASA astronauts to and from the space station. The company launched its first uncrewed Crew Dragon test flight to the station in March of this year, but the spacecraft used on that flight was destroyed during a failed ground-based abort system test in April.
SpaceX has since identified the cause of that failure and made corrections that led to a series of successful abort system ground tests in recent months.
Boeing, meanwhile, is making progress on its own spacecraft, a capsule called Starliner that launches on a United Launch Alliance Atlas V rocket. Last month, the company successfully performed a pad abort test of its Starliner capsule.
Today (Dec. 20), Boeing launched its first uncrewed Starliner flight to the International Space Station. However, about 15 minutes after liftoff, the spacecraft experienced an "anomaly" that prevented it from entering the correct orbit. Rather than spending a week at the space station as planned, Starliner will spend about 48 hours in orbit before returning to Earth via a parachute-assisted landing at the White Sands Missile Range in New Mexico. The mishap could delay Boeing's plans to launch a crewed flight test, which is currently scheduled to take place in mid-2020.
Email Tariq Malik at tmalik@space.com or follow him @tariqjmalik. Follow us @Spacedotcom and Facebook.
The detection of phosphine in Venus' clouds is a big deal – here's how we can find out if it really is life – The Conversation US
On Sept. 14, 2020, a new planet was added to the list of potentially habitable worlds in the Solar System: Venus.
Phosphine, a toxic gas made up of one phosphorus and three hydrogen atoms (PH₃), commonly produced by organic life forms but otherwise difficult to make on rocky planets, was discovered in the middle layer of the Venus atmosphere. This raises the tantalizing possibility that something is alive on our planetary neighbor. With this discovery, Venus joins the exalted ranks of Mars and the icy moons Enceladus and Europa among planetary bodies where life may once have existed, or perhaps might even still do so today.
I'm a planetary scientist and something of a Venus evangelical. This discovery is one of the most exciting made about Venus in a very long time — and opens up a new set of possibilities for further exploration in search of life in the Solar System.
Atmospheric mysteries
First, it's critical to point out that this detection does not mean that astronomers have found alien life in the clouds of Venus. Far from it, in fact.
Although the discovery team identified phosphine at Venus with two different telescopes, helping to confirm the initial detection, phosphine gas can result from several processes that are unrelated to life, such as lightning, meteor impacts or even volcanic activity.
However, the quantity of phosphine detected in the Venusian clouds seems to be far greater than those processes are capable of generating, allowing the team to rule out numerous inorganic possibilities. But our understanding of the chemistry of Venus' atmosphere is sorely lacking: Only a handful of missions have plunged through the inhospitable, carbon dioxide-dominated atmosphere to take samples among the global layer of sulfuric acid clouds.
So we planetary scientists are faced with two possibilities: Either there is some sort of life in the Venus clouds, generating phosphine, or there is unexplained and unexpected chemistry taking place there. How do we find out which it is?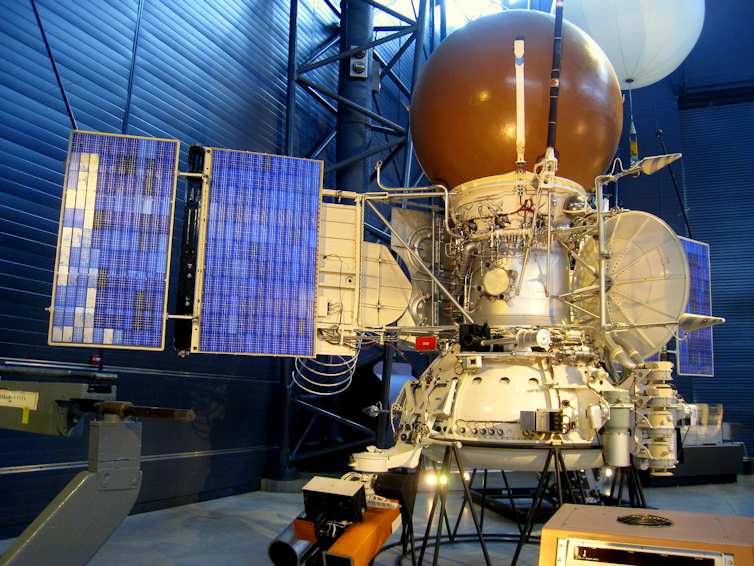 First and foremost, we need more information about the abundance of PH₃ in the Venus atmosphere, and we can learn something about this from Earth. Just as the discovery team did, existing telescopes capable of detecting phosphine around Venus can be used for follow-up observations, to both definitively confirm the initial finding and figure out if the amount of PH₃ in the atmosphere changes with time. In parallel, there is now a huge opportunity to carry out lab work to better understand the types of chemical reactions that might be possible on Venus — for which we have very limited information at present.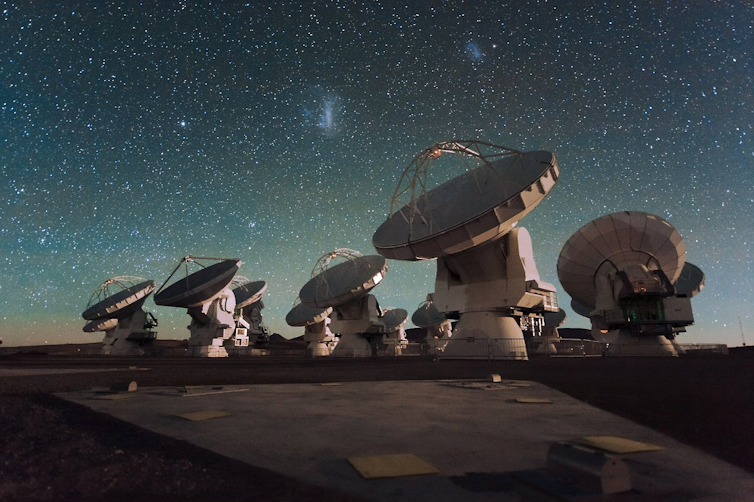 Once more unto the breach
But measurements on and from Earth can take us only so far. To really get to the heart of this mystery, we need to go back to Venus. Spacecraft equipped with spectrometers that can detect phosphine from orbit could be dispatched to the second planet with the express purpose of characterizing where, and how much, of this gas is there. Because spacecraft can survive for many years in Venus' orbit, we could obtain continuous observations with a dedicated orbiter over a much longer period than with telescopes on Earth.
But even orbital data can't tell us the whole story. To fully get a handle on what's happening at Venus, we have to actually get into the atmosphere. And that's where aerial platforms come in. Capable of operating above much of the acidic cloud layer – where the temperature and pressure are almost Earthlike – for potentially months at a time, balloons or flying wings could take detailed atmospheric composition measurements there. These craft could even carry the kinds of instruments being developed to look for life on Europa. At that point, humanity might finally be able to definitively tell if we share our Solar System with Venusian life.

A new dawn for Venus exploration?
Thirty-one years have elapsed since the United States last sent a dedicated mission to Venus. That could soon change as NASA considers two of four missions in the late 2020s targeting Venus. One, called VERITAS, would carry a powerful radar to peer through the thick clouds and return unprecedented high-resolution images of the surface. The other, DAVINCI+, would plunge through the atmosphere, sampling the air as it descended, perhaps even able to sniff any phosphine present. NASA plans to pick at least one mission in April 2021.
[Deep knowledge, daily. Sign up for The Conversation's newsletter.]
I have argued before for a return to Venus, and will continue to do so. Even without this latest scientific discovery, Venus is a compelling exploration target, with tantalizing evidence that the planet once had oceans and perhaps even suffered a hellish fate at the hands of its own volcanic eruptions.
But with the detection of a potential biomarker in Venus' atmosphere, we now have yet another major reason to return to the world ancient Greek astronomers called Phosphorus — a name for Venus that, it turns out, is wonderfully prescient.
Texas youth hockey coach, 29, dies from coronavirus complications days after feeling sick – Fox News
A 29-year-old North Texas youth hockey coach died late last month from coronavirus complications after feeling sick for just three days, according to reports.
Tyler Amburgey was a "loving husband and a loving father" who had played hockey since he was 7 years old, his wife, Aimee Amburgey, told WFAA-TV in Dallas. Their daughter, Rylee, is 8 years old.
She said her husband first thought he had caught a cold traveling from rink to rink like he usually did in late summer.
"It started out like originally…with him getting like all…normal cold symptoms," she told the station.
He then started to suffer from nausea, sleeplessness, shortness of breath, fatigue and migraines, FOX 4 in Dallas reported.
UNITED KINGDOM SEES SPIKE IN CORONAVIRUS CASES, SECOND LOCKDOWN MAY BE LOOMING
By the third day, Aug. 29, his wife said he finally canceled his hockey practice, where some players had already tested positive, and went to bed at their home in Lavon, Texas, north of Dallas.
Soon after, she found him unresponsive in bed. She called 911 but it was too late, she told WFAA.
The medical examiner said a sleeping pill Amburgey took combined with the virus to slow his heart until it stopped, his grandfather, Paul Hinds, told the Journal Star in Peoria, Illinois. Amburgey was a former Peoria Rivermen hockey player.
"He told us sleeping pills slow your heart rate, and in combination with COVID-19, which also slows your heart, Tyler's heart stopped," he said. "We were unaware he had COVID-19. No one knew that when he gathered to see him."
Amburgey played for several minor league teams before becoming a coach, The New York Times reported.
FAUCI WOULD BET ON EFFECTIVE AND SAFE CORONAVIRUS VACCINE BY NOVEMBER OR DECEMBER
He suffered several concussions and had five hip surgeries during his career. It's unclear if any of that made him more vulnerable to the virus.
He only tested positive for the virus after his death, Hinds told the Journal Star.
"Hockey meant everything to him," Aimee Amburgey told The Times. "When he got a new pair of skates, he was like a kid at Christmas. You never saw anyone so pumped up about new equipment, even shin guards."
"I just want him to be remembered for more than just a person that… passed away from COVID," she added.
CLICK HERE TO GET THE FOX NEWS APP
Nearly 30 youth players and coaches have tested positive for the virus this month, which could be linked to a recent tournament in the area, the Dallas County Health and Human Services said, FOX 4 reported.
How to spot a Starlink satellite in the night sky – Trading U
There are hundreds of SpaceX satellites in the sky. A successful sighting just requires a bit of luck, writes Abigail Beall
Space

16 September 2020

Denise Taylor/Getty Images
What you need
The Find Starlink website or something similar
A spot of sky viewed away from light pollution
OUR skies are filling up with satellites. Starting in May 2019, the firm SpaceX has deployed around 700 Starlink satellites into Earth orbit over 11 launches. SpaceX plans to deploy 12,000, and perhaps later 42,000, satellites with the aim of providing internet access to the entire world.
These satellites have the potential to change the way that the night sky looks. For comparison, there are only around 2600 satellites currently orbiting Earth. These days, …