Things to know about a Microsoft Certified Azure Data Engineer Associate
Microsoft Certified Azure Data Engineer Associate Professional Certificate is focused mainly on data engineers and developers. But it is not limited to these roles, so many professionals are aspirants for the DP 203 exam. This exam is for those who want to demonstrate their proficiency in creating and implementing data solutions using Microsoft Azure data services.
One must be proficient in building and implementing data solutions that employ Microsoft Azure data services. Using Microsoft Azure data services, one can learn how to integrate and convert data from multiple structured and unstructured data systems into data formats that are appropriate for creating analytics solutions.
About DP 203
You can use learning routes like tutorials and training modules to help you get ready for the DP 203 Data Engineering on Microsoft Azure exam from Microsoft. In addition, these Microsoft certification courses and practical labs will teach you how to deploy and manage a variety of Azure data solutions, even if you don't intend to take the test.
The Microsoft Certified:It is awarded to candidates who pass the exam of DP 203.
Skills measured
Planning and implementing data storage
Designing and developing data processing
Designing and implementing data security
Monitoring and optimizing data storage
Data processing
Learning Intentions includes
Create and implement an Azure data storage solution
Create and implement data processing on Azure
Create and implement data security
Keep an eye on and improve data processing and storage.
Why are certification important today?
One of the most in-demand skills on the job market is Azure data engineering and, to be more precise, a Microsoft certified professional with these skills. Data engineers experienced the largest year-over-year growth rate of all the technical positions, with job postings increasing by 88%, according to 2019 research. It's hard to become an expert in every technology in such a large sector, so if you want to become a data engineer, you'll need to choose which ones to master. However, Microsoft has long been a leader in data technology. Will it still be considered a top contender? Yes, absolutely.
With its Azure services, Microsoft has entered the cloud extremely aggressively. It is growing at almost twice the rate of Amazon Web Services and has the second-highest market share among cloud service providers.
Role of Azure data engineer
Implementing cloud security standards, implementing data preservation regulations, implementing streaming and batch data ingestion, converting data, finding performance bottlenecks, and accessing external data sources are all responsibilities of Azure data engineers.  However, learning cloud computing requires experience with Microsoft artificial intelligence.
Do you think it's worthwhile to pursue a career in the hot profession of Azure data engineering?
Then you can choose between Implementing an Azure Data Solution or Designing any of the two practical learning courses. These learning routes accompanied with Microsoft online courses incorporate the theory, technical expertise, and practical experience you'll need to achieve that certification and feel comfortable working in a live production setting.
Ways to be a Microsoft Certified Azure Data Engineer Associate?
Companies frequently employ qualified Azure Data Engineers to transform unstructured data into intelligent structured data that data analysts and data scientists can use. There are baby steps to becoming a Microsoft Certified Azure Data Engineer. With the correct training and direction, one can easily prepare for Azure Certifications like the new DP-203.
Why should you opt for Microsoft Certification?
Microsoft statistics show that about 365,000 new businesses sign up for Azure every year. In addition, Azure cloud is used by more than 95% of Fortune 500 firms. As a result, there are increasingly more jobs for Azure Data Engineers.
Every year, Azure's growth rate approaches that of AWS, and significant corporations are increasingly starting to trust and utilize Azure. In addition, businesses adopting or already using Azure frequently want Microsoft-certified professionals that can operate on Azure and manage large data.
Who should go for Azure Data Engineer Certification?
There isn't a set requirement for someone to pursue this Microsoft certification. Practically, any enthusiast for Azure or Data should try it. However, the following experts fit this certification the best.
IT specialists with at least a year's worth of experience working with Azure Data Engineers IT specialists looking to develop their skills and advance their careers as Azure Data Engineers should take the exam.
The duties of the Azure data engineer are mostly focused on the data. Utilizing tools to intake and manipulate data from various sources is one of the responsibilities. In order to determine and fulfill data requirements, Azure data engineers work in collaboration with business stakeholders. They practice and implement solutions.
Conclusion
The certification exam for DP 203 covers a wide range of topics and necessitates familiarity with numerous tools, so passing it is not an easy feat. However, Microsoft certification training and case studies make learning a little easier. All the best to the dreamers who are determined to achieve and become successful. With a little more dedication and patience, it's no big deal.
Makeover: How to achieve that perfect flick, no matter your eye shape – Brantford Expositor
Article content
A winged eyeliner is a classic look loved by many, and surprisingly easy to do.
Article content
Here are a few easy steps, and tips, to help you get that perfect flick no matter your eye shape.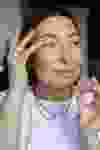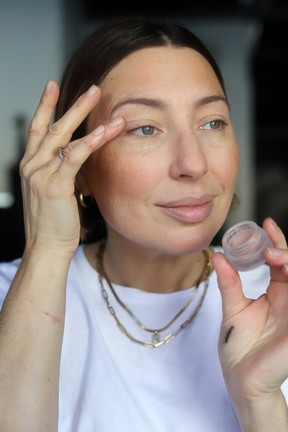 Step 1: Primer
The first and most important step is to prep the eyelid with a smudge proof base. I'm using Charlotte Tilbury's Matte — Eyes to Mesmerize in Nude Cashmere because it goes on smoothly, is long wearing and lasts up to 12 hours.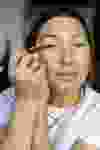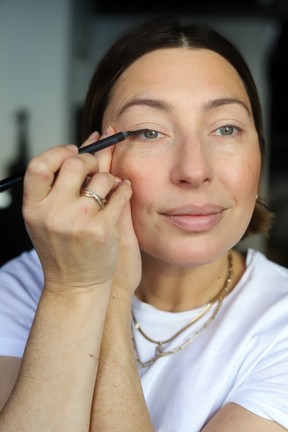 Step 2: Liner
I used Smashbox — Always On Waterproof Gel Eyeliner in Fishnet to draw on my liner. tarting at the middle of my eyelid, I traced a thin line along my lash, which progressively grew thicker toward the outer corner of my eye. I then connected the line from the inner corner to the middle of the eye. The key to a perfect liner is to use short and clean strokes, a sharp eyeliner and a fine angled liner brush to extend the outer wing.
Article content
Tip: For hooded eyes try creating the outer wing where the hood starts first and work your way inward. For round eyes start from the outer corner of the eye and create a sharper angle toward the middle of the lid. For small eyes try keeping your liner and wing thin and short. Use a skin toned eyeliner to draw a line just below the wing and to tight line, making the eyes appear larger and brighter.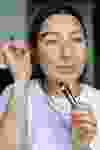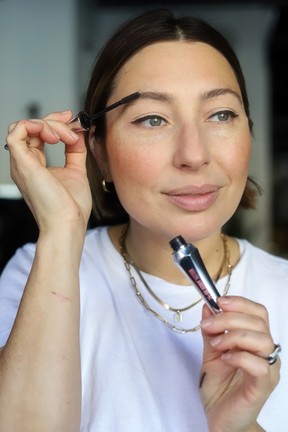 Step 3: Mascara and brows
Curling the lashes and coating them with black mascara will enhance the look, as will filling in your eyebrows. I'm using Benefit Cosmetics — Roller Lash Curling Mascara in black and on my brows, I used Benefit — 24-Hour Brow Setter Clean Brow Gel with Benefit — Precisely My Brow Pencil in #4.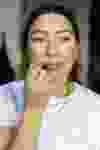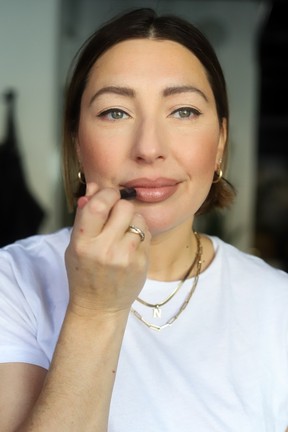 Step 4: Lips and blush
Article content
I lightly contoured my face with Tarte Amazonion Clay Waterproof Bronzing Powder, then swept a hint of Benefit Cosmetics — Dandelion blush on my cheeks. To pull the look together, I lined my lips with NYX — Suede Matte Lip Liner in Sandstorm then layered it with Glo Skin Beauty — Cream Glaze Crayon in Chiffon.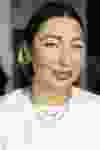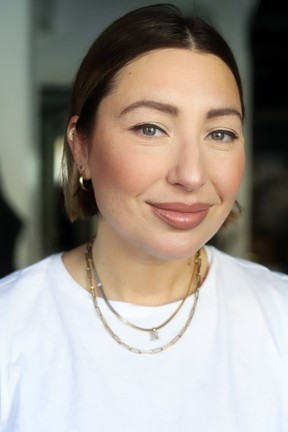 The completed look
---
More news, fewer ads: Our in-depth journalism is possible thanks to the support of our subscribers. For just $3.50 per week, you can get unlimited, ad-lite access to The Vancouver Sun, The Province, National Post and 13 other Canadian news sites. Support us by subscribing today: The Vancouver Sun | The Province.
'Fortnite' Leaked Skins: Mr. Beast, Geralt Of Rivia And More Coming To Chapter 4 – Forbes
The Fortnite Chapter 4, Season 1 leaks have begun just hours before the game's big live-event kicks off.
Screenshots of what appears to be the new cinematic trailer have leaked online and show off a few familiar faces.
Mr. Beast
Mr. Beast appears to be coming to the game, possibly as a Battle Pass skin, possibly as an Item Shop addition. He will join other YouTube celebrities and streamers like Ninja as well as big movie superstars like The Rock, all of whom have come to the battle royale game in some fashion. This isn't a surprise as Epic Games have talked about a future Mr. Beast collaboration in the past.
Geralt Of Rivia
Will we get horseback riding this season? That's Geralt of Rivia from The Witcher, but he's accompanied by his steed, Roach. Mounts would spice things up a bit for the next Chapter. (Flying mounts especially).
The timing here is good for CD Projekt Red. The Polish game developer releases the PS5 and Xbox Series X versions of The Witcher 3 this month on December 14th and is free for previous owners of the game.
DOOM Guy
The classic space marine from the DOOM franchise appears to be another collaboration. He's fighting a Cacodemon, which would be a cool new NPC enemy time.
Who would win in a fight? DOOM Guy or Master Chief?
If you look closely throughout the leaked trailer, you can spot others: Toy Story, perhaps, and the Teenage Mutant Ninja Turtles. We'll know more when Chapter 4, Season 1 launches.
More Chapter 4 Season 1 Updates:
Watch The Paradigm Create The New 'Fortnite' Chapter 4 Map In 'A New Beginning' Cinematic Trailer – Forbes
Update:
The actual cinematic trailer is live now so I'm updating this post with the official—and nicer looking—video (above).
This was the final segment in today's Fractured live-event which you can read about here.
Original Story:
The cinematic trailer for Fortnite's upcoming Chapter 4, Season 1 has leaked online just hours before the big Chapter 3, Season 4 'Fractured' live event.
Obviously big spoilers ahead and in the video.
Basically, it appears that Brie Larson's Paradigm has lost the battle against the mysterious oozing Chrome that has taken over the map during the 'Paradise' season.
She's forced to destroy the map entirely and piece together a new one, telling the players that she can't help them anymore. From here on, they have to help themselves.
I admit, I'm a bit lost in the game's current narrative, which they haven't really fleshed out much recently. This propels us into a new Chapter narratively also, though it's unclear what comes next even after watching the trailer.
I suppose Christmas stuff comes next! The Days Of Fortnite event, Christmas presents and so forth, all on a brand new map. That should be fun!
ore Chapter 4 Season 1 Updates: