Toronto FC ties New England, advances at MLS is Back Tournament – TSN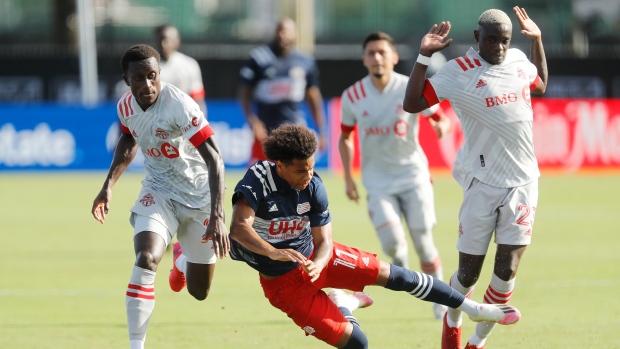 LAKE BUENA VISTA, Fla. — Toronto FC has made it to the round of 16 at the MLS is Back tournament, wrapping up a challenging first round with a 0-0 tie with the New England Revolution.
The result left Toronto atop Group C, pending the result of the final group game between Montreal and D.C. United later in the day. While a D.C. win would leave it tied with Toronto and New England on five points, Toronto can finish no lower than second based on tiebreakers.
The group winner takes on one of the four-best third-place finishers on Sunday in the first knockout round. The runner-up faces the Philadelphia Union, second in Group A, on Saturday.
"I'm pleased," said Toronto coach Greg Vanney. "I'd be hard-pressed to say that there's another team at a tournament that's had as difficult a schedule as we have in playing two games at 9 a.m. and one off of two days' rest.
"So again it shows the strength and resiliency of our group. Even the depth, with some of our young guys coming in and helping us out."
Toronto extended its club-record unbeaten regular-season run to 15 (6-0-9) since a 2-0 loss Aug. 3 at the New York Red Bulls. And with group games counting in the regular-season standings, it now stands second in the Eastern Conference at 2-0-3 behind Columbus (3-0-1).
New England, now with a 1-1-3 record in the season standings, also assured itself of moving on.
The knockout round could see Toronto field a potent strike force of Jozy Altidore and Ayo Akinola.
"They're two strong guys who are going to be a handful for defenders to deal with in the moments we use them together," said Vanney.
"We'll see how we play it out as we move through the tournament and into the rest of the year," he added.
Altidore, who has been working his way back to full fitness, made his tournament debut in the 86th minute and had an impact within 30 seconds, finding Akinola racing towards the penalty box. The 20-year-old forward was taken down by DeJuan Jones but, after video review, it was ruled a free kick just outside the box and not a penalty.
"Jozy's more than just a target striker. He's a fantastic soccer player," said Vanney. "Obviously we know he can score goals. He provides us with a lot of different things."
Akinola said he initially thought it was a penalty, but changed his mind after reviewing the skid marks made by the collision.
New England wanted a penalty in the 80th minute when substitute Gustavo Bou went down in the penalty box making contact with Michael Bradley, but no call was made.
Akinola, who came in the game with five goals at the tournament, had several chances to add to his total. The best came in the 79th minute when, after taking an Alejandro Pozuelo through ball, he outmuscled a defender only to see goalkeeper Matt Turner get a limb to the ball.
It was 29 C for kickoff, with the sapping Florida heat feeling like 36 C.
"As the game goes (on), it's a grind … No clouds, no cover from the sun," Vanney said. "For the guys, it's gritting it out. Your mind naturally is telling you that you need to try to take a rest. But you know you also can't take a rest. And then you've got 11 guys trying to co-ordinate when they should be resting at the same time."
It was a game of two halves Tuesday with Toronto running the first and New England coming out more aggressive in the second half.
"We got better in the second half, getting a little tighter on them and winning some second balls," said New England coach Bruce Arena. "And being better with our passing. We had the opportunity to get at them a little bit."
Toronto outshot New England 14-10 (5-2 in shots on target) and had 60.4 per cent possession.
Vanney made two changes to his starting 11, bringing in goakeeper Alex Bono for Quentin Westberg and midfielder Nick DeLeon for Tsubasa Endoh. It was Bono's first league start since May 8, 2019, when Toronto lost 2-0 to Atlanta. Westberg had started the last 33 regular-season and playoff games.
Bono made a key save in the 74th minute, using his body to stop Polish striker Adam Buksa from point-blank range after a long pass found Brandon Bye behind the Toronto defence.
Vanney had hoped Jonathan Osorio, who has been dealing with a quad issue, might be ready for Tuesday's game, but the Canadian midfielder did not make the matchday 23.
Arena, whose team played last Friday, made six changes to his starting 11.
Spanish playmaker Carles Gil, who has been dealing with a lingering foot issue, did not dress for New England. Gil sat on the bench with a walking boot on his leg foot.
Hamilton-born U.S. international forward Teal Bunbury, the son of former Canadian international Alex Bunbury, captained the Revs. Canadian Tajon Buchanan started on the right wing for New England.
New England did not manage a shot on target in the first half with Toronto, which put three shots on goal, having 68.1 per cent of the possession.
Canadian midfielder Noble Okello, who turned 20 Monday, made his MLS debut off the bench in the 68th minute.
Toronto opened the tournament with a 2-2 tie with D.C. United before beating the Montreal Impact 4-3. New England defeated Montreal 1-0 and tied D.C. United 1-1.
This report by The Canadian Press was first published July 21, 2020.
Mixed Martial Arts-Door is open for YouTube's Paul brothers in MMA
Logan and Jake Paul would make great Mixed Martial Arts (MMA) fighters, Bellator president Scott Coker has said as he targets exhibition matches featuring the YouTube personalities such as the former's boxing bout against Floyd Mayweather.
Logan Paul went the distance, surviving eight rounds against unbeaten (50-0) five-division world boxing champion Mayweather in an exhibition on Sunday at Miami's Hard Rock stadium.
USA Today reported the fight brought in one million pay per view buys with $50 million generated from sales in the United States.
It was only the second fight of Paul's career, while his brother Jake has fought in three professional boxing matches, beating former MMA fighter Ben Askren in April.
Critics have labelled the bouts a sideshow due to the lack of sporting credibility of the duo, who made their names as social media personalities and have millions of subscribers on YouTube.
However, Coker told Reuters the brothers have impressive physiques and the door is open for them to move into MMA.
"I met with Logan Paul about two years ago and I've spoken to Jake Paul's manager and Jake on a zoom call recently… The one thing I said was hey, if you want to do MMA we would love to promote you guys," the 58-year-old said in a Zoom interview.
"These guys are young, athletic, strong and you saw the fight on Sunday night these guys they came and did their work.
"Mayweather couldn't finish him and I know he tried, I heard he wanted to knock this kid out so bad," he added.
"When I heard both had high school wrestling backgrounds in Ohio, which is a prominent wrestling state in the U.S., it really made me interested in pursuing them in some super fights in Mixed Martial Arts – and that door is continually open."
HEADLINE FIGHT
Bellator, owned by Viacom, is gearing up for a busy month of events, starting with Bellator 260 on Friday with the headline fight between reigning welterweight world champion Douglas Lima and the undefeated Yaroslav Amosov.
However, super fights and exhibitions are where Coker is targeting a younger audience.
"My 14-year-old niece, I told her I was going to the Logan Paul fight and she thought that was the greatest thing," he said.
"She asked me who he was fighting and I said Floyd Mayweather and she said 'who's that?' – I thought wow, she doesn't know boxing, she doesn't know MMA, she's just a 14-year-old girl on the internet doing what they do."
As the sporting world gears up for the delayed Tokyo Olympics starting in July, Coker believes MMA will feature in future Games.
"When you think about mixed martial arts, what you're talking about is boxing, wrestling, judo, taekwondo, karate – those are all Olympic sports," he said.
"Why wouldn't mixed martial arts eventually get into the Olympics because six out of the seven disciplines MMA is known to use really is already there.
"There'd be a lot of details to work out but to me I think it will happen, it's just a matter of time."
(Reporting by Christian Radnedge,; Editing by Ed Osmond)
Montreal will host the 2024 world figure skating championships
Montreal will host the 2024 world figure skating championships, the International Skating Union (ISU) said on Wednesday, after the 2020 event Canada was to host was cancelled due to COVID-19.
The championships will return to Montreal from March 18-24, marking the 11th time Canada has staged the event.
"Skate Canada has a proven track record of holding successful ISU events and we are looking forward to bringing the world's best skaters to the fantastic Canadian city of Montreal," said Debra Armstrong, CEO of Skate Canada, in a statement.
(Reporting by Steve Keating in Toronto; Editing by Andrew Cawthorne)
Andreescu splits with coach Bruneau after French Open exit
World number seven Bianca Andreescu on Tuesday announced she has split with longtime coach Sylvain Bruneau, a week after falling in the first round of the French Open.
The pair had worked together for four years as Andreescu made her breakthrough with three titles in 2019, including the U.S. Open.
"It is with a heavy heart that I would like to inform my fans that my long time coach, mentor and friend, Sylvain and I, have mutually decided to end our incredible coaching relationship," Canadian Andreescu wrote on Twitter
"Our friendship will live forever … I am very grateful for everything we accomplished together and all of our great memories.
"Sylvain was more than a coach… he is family."
Andreescu, 20, returned to action at this year's Australian Open, having missed 15 months due to a knee injury.
A positive COVID-19 test subsequently ruled Andreescu out of both Madrid and Rome before an abdominal injury forced her to pull out of Strasbourg at the quarter-final stage.
Her most recent appearance at Roland Garros ended with a 6-7(1) 7-6(2) 9-7 defeat by Slovenia's Tamara Zidansek.
(Reporting by Hardik Vyas in Bengaluru; Editing by Andrew Cawthorne)