With new product, is Neo Financial's biggest competition Wealthsimple and Questrade, or banks? – BetaKit – Canadian Startup News
What if the future of banking wasn't a bank?
The question posed in the slogan of Neo Financial's new marketing campaign shows that the FinTech startup is clearly positioning itself against Canada's big banks.
But the company's newest product launch and broader roadmap continue to put upstart Neo in competition with both the incumbent big banks and fellow challengers like Wealthsimple and Questrade.
The three-year-old startup has been vocal about its plans to take on Canada's incumbent financial giants by creating a full suite of FinTech products. Today, the company officially launches its new product, Neo Invest.
Neo Invest is an actively managed investment platform: unlike robo-advisors like Wealthsimple, Neo has built a digital investing platform that will be managed by professional money managers.
Neo Invest will allow consumers to start investing with as little as $1, and to customize their portfolios based on goals and risk comfort. The platform will allow for investments in cryptocurrencies, real estate and infrastructure funds, and other hedge fund-like strategies.
Neo is able to launch its investment platform through a partnership with startup OneVest, which will manage the portfolios, according to Neo co-founder and CEO ​​Andrew Chau. The fellow Harvest Builders company is a wealth and asset management startup, which allows FinTechs and financial institutions to build on its customized wealth management tech.
OneVest is a registered portfolio manager in each Canadian province and territory, and an investment fund manager in Alberta, Ontario, Newfoundland and Labrador, and Quebec. Registered Investment Industry Regulatory Organization of Canada (IIROC) investment dealer CI Investment Services holds the assets in OneVest accounts.
RELATED: How Neo Financial plans to take on the Big Five banks from Calgary
Chau told BetaKit that the decision to launch an actively managed digital investment platform was very deliberate, noting that all other digital investing platforms are focused on automatic investing, a DIY approach, or a blend of both. Chau called active management a differentiator in a world of robo-advisors and bank-run mutual funds with high fees.
The idea for Neo Invest, he said, is to give Canadians access to types of investments that are typically reserved for high-net-worth individuals. Chau called the investment platform the most-asked-for product from Neo customers.
The investment platform adds a third prong to Neo's product line, including a savings account and credit card. Neo's interest in some of the main products offered by banks – savings, spending, and credit – is an approach that has been taken by other Canadian FinTech startups like Koho as means to find product-market fit.
Chau has been clear from the beginning about his intention to make Neo a full-service digital bank. "The way we can have the biggest impact is by truly owning the entire [financial] stack," said Chau, speaking with BetaKit after securing $64 million CAD in the fall.
Much like Wealthsimple, which started out with an investment platform and has since grown into saving, crypto, and taxes, Neo is actively working to broaden its scope. Chau called what Neo offers today "just scratching the surface."
RELATED: Neo Financial to bolster presence in Calgary with 113,000 square feet of new office space
The next product on Neo's roadmap appears to be mortgages. Chau noted that Neo Mortgage is still "under development," and declined to share any additional details. However, Neo's website indicates that the startup has already secured a handful of mortgage lending partners, including CMLS Financial and Home Trust. Late last year, Neo also hired mortgage professional Wayne Kainu as its head of mortgages.
A mortgage product would also put Neo in more direct competition with Questrade, which launched its mortgage product earlier this year. Wealthsimple CEO Michael Katchen has also teased mortgages as something that is on his company's product roadmap – though mortgages might be one feature where Wealthsimple enters the market after Neo and Questrade.
In addition to investing and mortgages, Neo's CEO has also discussed adding retirement planning to its platform. Shawn Abbott, co-founder and partner at Inovia Capital (a Neo investor) has indicated that Neo is also exploring crypto – something that would only move it closer to Wealthsimple (also an Inovia portfolio company), which is currently running an extensive ad campaign in Canada focused on its Wealthsimple Crypto app
While Neo might soon be fighting Wealthsimple and Questrade on two fronts, the startup's CEO has been open about the fact that he sees the real competition as banks. He noted that Canada's Big Five Banks are still home to the lion's share of consumers, which makes them Neo's primary competition.
Speaking on the BetaKit podcast last year, Chau also claimed there is enough space for multiple players to exist. "The more choice we have the better off everyone ends off being," he said.
Image source Neo Financial via Twitter
How the investment thesis for crypto has changed – Investment Executive
However, in the first half of this year, the digital currency has been increasingly correlated to equities and other risk assets. Despite a slight rally in recent days, Bitcoin was down 36% year-to-date as of market close on Tuesday. Tech stocks such as Amazon, Netflix and Meta Platforms (formerly Facebook) are down about 32%, 68% and 40%, respectively, year-to-date.
Last Thursday, Bitcoin plummeted below US$26,000 for the first time since December 2020. More than US$200 billion was erased from the market that day alone.
Alex Tapscott, managing director of the digital asset group at Ninepoint Partners, which manages the Ninepoint Bitcoin ETF, has observed the increasing correlation this year between Bitcoin and tech stocks.
"That tells me a couple of things: one, it's an asset class that's more widely held. It's held by a lot of institutions, it's quoted in mainstream media. So it is beginning to trade like a more conventional financial asset," he said. "But it's also a little disappointing, because one of the big attributes of Bitcoin, historically, has been that it's uncorrelated, which can improve measures of risk-adjusted returns when added to a portfolio."
Tapscott said he thinks Bitcoin will regain that role of being an uncorrelated asset over the medium and longer term. "But it is clear that during times of financial stress, in all markets, that it does begin to converge on the performance of other kinds of assets."
Greg Taylor, chief investment officer at Purpose Investments, said a certain type of investor could be contributing to Bitcoin's turbulence.
"It feels like a lot of the investors that took on more risky positions — whether it's in technology, or startups, or private assets — also hold Bitcoin. So those parts of the portfolio are being hit," said Taylor, whose firm manages various Bitcoin and Ether ETFs.
"It could also be that they're just selling anything to make margin requirements or to pay bills."
According to April Canadian ETF flows data from National Bank, cryptoasset ETFs had the "worst monthly outflow" since their inception in February 2021, with CAD$338 million in outflows.
Despite last Thursday's dramatic drop in Bitcoin, Taylor said there haven't been a significant amount of outflows for any of Purpose's crypto funds. In fact, he said one day last week, the company had its "biggest day of inflows" for its Bitcoin ETF in U.S. dollars.
"Given the space and the volatility that we know, there was probably a little bit of 'buy the dip.' People have been targeting Bitcoin to come back to $30,000. So when it hit that level, that's where we saw some buying come in," he said.
Amy Arnott, portfolio strategist at Morningstar, wrote an article in April about whether crypto is truly a portfolio diversifier.
Arnott noted Morningstar's 2022 Diversification Landscape Report, where the firm examined how different asset classes performed and how correlations between them had changed in the past couple of years.
"We found that while cryptocurrency has an unusually low correlation with traditional asset classes, its volatility makes it tough to use in a diversified portfolio," she wrote.
Arnott cited the CMBI Bitcoin Index's 2021 performance, noting how it was up 104% in Q1, then dipped 40% in Q2, then gained 25.3% in Q3 before falling into the red in Q4 as high-risk assets sold off in December.
"These dramatic performance swings have continued in early 2022," she wrote.
"Diversification value is one potential reason to add cryptocurrency to a portfolio, but investors should also consider other factors, such as their ability to hold on through crypto's periodic downdrafts, which have been unusually swift and severe."
Despite the recent crypto volatility, Tapscott said Bitcoin has been a good long-term diversifier and has "demonstrated an ability to improve risk-adjusted returns." And the run-up until the last few months has been astounding, if volatile.
Tapscott cited data released last year by Charlie Bilello, founder and CEO of Compound Capital Advisors, which showed that from 2011 to 2021, Bitcoin was the best performing asset class over the 10-year period, with an annualized return of 230%.
Bitcoin was trading above US$60,000, near its peak, at the time of the study, and a lot of its gains came during the pandemic when tech stocks also soared. At the beginning of 2020, Bitcoin was trading at about US$7,300.
"We're still believers that crypto is going to be something that's going to be with us for a long time. It's not a flash in the pan — there will be some utility that comes out of this," Taylor said.
He compared crypto to the dot-com bubble in the late 1990s.
"There were a lot of companies that came out, and a lot that failed. But, at the end of the day, you're still going to get the Amazons, the Facebooks, the Googles that come out of that," he said. There's still some "sorting out" of the crypto market's winners, he said.
Tapscott and Taylor both acknowledged crypto's volatility, which is why they'd recommend an allocation of 5% or less for the average investor.
Poilievre personally holds investment in Bitcoin as he promotes crypto to Canadians – CTV News
Conservative Party leadership candidate Pierre Poilievre has a personal financial interest in cryptocurrencies that he has promoted during his campaign as a hedge against inflation.
The Ottawa-area MP's assets include units of Purpose Bitcoin, a Canadian-based, exchange-traded fund that holds cryptocurrencies, according to his May 4 disclosure to the federal ethics commissioner.
Poilievre's campaign denied encouraging investment in crypto puts him in a conflict of interest.
"Mr. Poilievre spoke with the Office of the Conflict of Interest and Ethics Commissioner prior to publicly commenting on Bitcoin and Bitcoin related policies," his spokesperson Anthony Koch said in an email.
"The Office cleared him to do so without issue."
The campaign provided an email from the Office of the Ethics Commissioner from November that said the interest in Bitcoin "does not prevent you from commenting on cryptocurrencies in general, participating in debates and vote on public policies related to the regulation of cryptocurrencies."
The commissioner's office also said Poilievre was free to host conversations with other MPs "on this subject matter as any policies or regulations would apply to you as one of a broad class."
Poilievre has proposed barring the Bank of Canada from developing its own digital currency and said Canadians should be free to use alternative currencies for payments.
"We need sound money again—and also the freedom for buyers and sellers to choose #bitcoin and other technology," he tweeted on April 1.
In March, he held an event at a London, Ont., restaurant and paid for a shawarma using Bitcoin. And at an event in April in BC, he made a Bitcoin donation to the BC SPCA, accompanied by a dog wearing a Bitcoin logo.
"A Poilievre government would welcome this new, decentralized, bottom-up economy and allow people to take control of their money from bankers and politicians," his campaign said in a press release.
Since then, the value of Bitcoin and other cryptocurrencies has plunged, exposing Poilievre to criticism from opponents who say encouraging Canadians to invest in something so volatile is reckless.
The value of the Purpose Bitcoin ETF has fallen nearly 40 per cent over the past six months.
The Conflict of Interest Code for Members of the House of Commons requires MPs to report assets and liabilities in excess of $10,000. But it does not require them to reveal the value of their assets or when they were acquired.
Poilievre's campaign said his holdings in Bitcoin were right around the disclosure threshold.
In his disclosure, Poilievre also reported holding exchange-traded funds based on the stock indexes of Singapore and Switzerland. His campaign said he was required under the conflict-of-interest Code to publicly disclose these ETFs, but not his holdings in a Canadian stock index fund.
"Mr. Poilievre's largest investment by far is in Canadian Index Fund that tracks the TSX," the campaign said.
The co-founder of ethics advocacy group Democracy Watch said MPs should be prevented from holding assets like Bitcoin.
"It's clearly unethical for MPs or party leadership candidates to advocate for changes that will help businesses they are invested in, and the best way to stop this is to prohibit MPs from having investments," Duff Conacher, said in an email.
During last week's leadership debate in Edmonton, Poilievre was challenged over his past comments on Bitcoin. He should not be encouraging investment in "magic internet money," said Brampton, Ont., mayor and leadership candidate Patrick Brown.
[embedded content]
"People can make their own investment decisions," Poilievre said in response to a question from Leslyn Lewis, an Ontario Conservative MP and leadership candidate.
"I simply said they should be free to decide whether they want to use Bitcoin. I don't want to be like communist China and ban Bitcoin or other technologies."
Canadian investors are already free to invest in cryptocurrencies. Indeed, Poilievre is not the only MP with investments in crypto. At least seven others declared Bitcoin or other digital currency assets in their disclosures, including:
Ben Lobb (Conservative, Ontario): Bitcoin.
Chandra Arya (Liberal, Ontario): Stock options of Coinbase Global Inc.
Taleeb Noormohamed (Liberal, BC): Bitcoin, Ethereum, Stacks and Coinbase Global Inc.
Joël Lightbound (Liberal, Quebec): Purpose Bitcoin ETF, Purpose Ether ETF, Bitcoin and Solana.
Scot Davidson (Conservative, Ontario): Evolve Cryptocurrencies ETF, held by spouse.
Tony Van Bynen (Liberal, Ontario): Ethereum.
Terry Beech (Liberal, BC): Ethereum.
Calgary sets quarterly venture capital investment record – Calgary Herald
Alberta attracted $466 million worth of investment in the first quarter of 2022, $433 million of which was in Calgary alone
Article content
Calgary is on pace to shatter all previous venture capital investment records in the city and the province.
Article content
Alberta attracted $466 million worth of investment in the first quarter of 2022, $433 million of which was in Calgary, according to the Canadian Venture Capital and Private Equity Association Q1 report on Tuesday. In all of 2021, there was $561 million worth of venture capital investment in Alberta, $500 million of which was in Calgary.
Article content
"We knew it was going to be a significant quarter for the province of Alberta, but we weren't expecting this much activity this fast in 2022," said Economy, Jobs and Innovation Minister Doug Schweitzer. "It really is a testament to the growth of the industry and also the maturity of the industry in Alberta."
Article content
In 2020, the province had a record year of venture capital growth over 12 months at about $450 million worth of investment.
Article content
Kim Furlong, CEO of CVCA, credited investments made by the province years ago to make Alberta's risk-tolerant environment more appealing to startups and investors.
The numbers were boosted across the board due to record investment in Canada, but Calgary is starting to take a bigger piece of the pie. Calgary still trails Toronto ($2.19 billion), Montreal ($928 million) and Vancouver ($454 million) in total dollars, but it is closing the gap, especially in Western Canada.
Over the past several years, Calgary has seen rapid growth in the startup sector and venture capital investment, setting records every year.
Brett Colvin, CEO of Calgary startup Goodlawyer, said there has been a dramatic shift in the approach to the sector. When he was originally looking at launching his company he was considering Toronto, Montreal or Vancouver, but three years ago the environment began to change in his hometown.
Article content
He added that successes such as Neo Financial, Benevity, Solium Capital and others will only help grow the sector more.
"There is this palpable energy within government, business and the wider community that startups and technology will be key drivers to our city's future and long-term success," he said. "Fundamentally, the attitudes have shifted and the opportunity — that it seems like a lot of people are in agreement with — for the long-term success of our city lies in startups, lies in tech. It's an incredible time to be a startup founder in Calgary."
Still, he would like to see the return of the Alberta Investor Tax Credit, which he said was critical to early-stage investment for his company. The credit was phased out by the government beginning in 2019.
Article content
Schweitzer pointed to other initiatives the province has put its weight behind to stimulate growth, acting on the advice of the Innovation Capital Working Group. These moves include injecting $175 million into the Alberta Enterprise Corp. to increase liquidity in the sector and attract outside investment, efforts to improve the talent pool and improve mentorship through accelerator projects.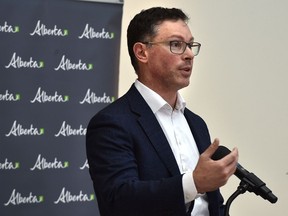 Edmonton was the beneficiary of just $18 million in venture capital investment in the first quarter. Schweitzer said Calgary began its pursuit of these dollars and startups before the provincial capital. He pointed to organizations such as Calgary Economic Development pushing this mission, noting Innovate Edmonton is attempting to do the same.
Article content
Furlong, however, warned there are some signs of potential slowdown in the next few quarters due to factors such as inflation and wage pressures, geopolitical pressures including the Russian invasion of Ukraine, and an overheated market. She said it is important for people to continue pushing for growth in the sector.
"Let's celebrate the success that we saw," she said. "Regardless of what's on the horizon, let's stay the course, because the types of companies and what it produces — jobs, exports — the talent that it attracts, all of it put together is essential for us thinking about how we transform Canada into an innovative economy."
Twitter: @JoshAldrich03