Apple reportedly developing next-gen ultra-thin displays for AR devices with TSMC – The Verge
Apple is working with TSMC to develop ultra-thin and energy-efficient micro OLED displays for its upcoming augmented reality devices, Nikkei Asia is reporting. The R&D project is said to be in a trial production stage, focusing on displays that are smaller than one inch in size and "several years" away from commercialization. Apple is also said to be developing MicroLED displays at the same Apple lab in Taiwan.
According to Nikkei, the micro OLED displays in development are able to be so thin and compact because they're built directly onto chip wafers, rather than glass like traditional OLED or LCD screens. News of the project follows reports that Apple has both VR and AR headsets in development. It could release its first VR headset (codenamed N301) as early as next year, while a more lightweight pair of AR glasses (codenamed N421) could follow in 2023. N301 reportedly features two 8K displays and a fabric exterior to cut down on its weight, while future headsets could eventually use this new panel technology to become slimmer and lighter.
As well as working on micro OLED, Nikkei reports that Apple is also working on MicroLED display technology at the same secretive lab in Taiwan. These self-emissive panels, which use miniature LEDs to remove the need for a traditional backlight, could eventually end up in devices like the Apple Watch, iPad, and MacBooks. Samsung already sells a MicroLED TV called The Wall, though the technology is a long way from being mainstream or affordable.
As a sidenote: micro OLED and MicroLED are distinct from Mini-LED, which uses an array of LEDs as a backlight behind a more traditional LCD display. Mini-LED technology is already available in TVs from the likes of TCL, and Apple is also reportedly working to bring it to devices like iPads and MacBooks in the not-too-distant future.
According to Nikkei, Apple's R&D efforts are an attempt to reduce its reliance on other companies, like Samsung, to supply its displays. The iPhone 12's OLED display is thought to be its second most expensive third-party component behind its Qualcomm 5G modem, for example. While Apple may end up using these technologies in its products, it could also just use its work to acquire technology patents, giving it more control over these next-gen technologies, Nikkei notes.
Apple isn't the only company working to develop these display technologies. Sony Semiconductor Solutions has developed micro OLED displays for AR and VR headsets, while a partnership of BOE, Yunnan North OLiGHTEK Opto-Electronic Technology, and Kopin are also working together on the tech. Meanwhile, Samusung, BOE, and San'an Optoelectronics are also working to commercialize MicroLED displays.
Official: Redmi Note 10 series will get the 108MP camera sensor – gizmochina
Xiaomi has been teasing several features of the upcoming Redmi Note 10 series of devices. Ahead of the March 4 launch(India & Global), the company has confirmed that the series will feature a 108MP camera sensor.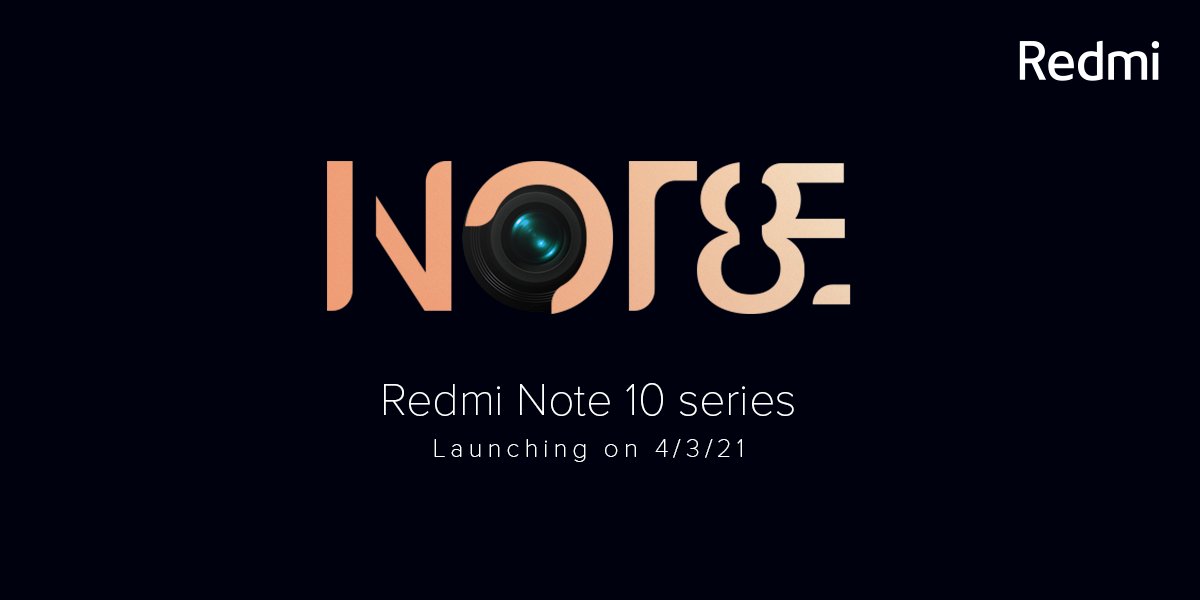 The company, took to Twitter to confirm the camera feature on the Redmi Note 10 series. It says that the series will bring the first 108MP flagship camera. Assuming that the series will have two or more devices, it is likely that the Redmi Note 10 Pro/ Pro Max will have the flagship camera(could be Samsung's HM1 sensor).
The company's only other device to feature a 108MP camera in the affordable segment is the Mi 10i 5G. Either way, it looks like the 108MP game has finally trickled down to the budget devices. This is because realme has teased its own version of the 108MP camera sensor a few hours ago, and it could be on the realme 8 series.
The Redmi Note 10 series is expected to switch over to the AMOLED panel this time. Last year, the company brought the IPS LCD on the Redmi Note 9 Pro Max. It didn't even have the support for a higher refresh rate.
However, the latest hands-on leak reveals that the non-Pro Redmi Note 10 will feature a centered punch-hole AMOLED display. This means that the highest model in the series will definitely feature it.
The top-of-the-line variant in the series is expected to be a 5G device. Rumors say that it could be a Snapdragon 768G 5G chipset but there is no confirmation so far. Let's wait for more details in the coming days.
RELATED:
---
[embedded content]
ALWAYS BE THE FIRST TO KNOW – FOLLOW US!
Season 3 of CTV's Hit Original Comedy JANN Begins Production – Canada NewsWire
– Calgary-based Tenaj Williams (BIG SKY, WYNONNA EARP) and Vancouver-born Charlie Kerr (SUPERNATURAL, THE MAGICIANS) join lead cast –
– Michael Bublé set to guest star this season –
– New eight-episode season of JANN, from EMMY® Award-winning producer Andrew Barnsley (SCHITT'S CREEK), and 2020 WGC Screenwriting Award-winners Jann Arden and Jennica Harper with Leah Gauthier, filming in Calgary –
Key Tags: @CTV_PR, @TheLede_CA, @CTV, @JannArden, #JANNonCTV
To tweet this release: https://thelede.ca/oofOcx
CALGARY, AB, Feb. 25, 2021 /CNW/ – CTV, in association with Project 10 Productions and SEVEN24 Films, announced today that production has begun in Calgary on Season 3 of hit original comedy series, JANN. Starring multi-platinum award-winning Canadian singer, songwriter, broadcaster, and author Jann Arden as a fictionalized version of herself, Season 3 consists of eight half-hour episodes.
Joining the cast of JANN in leading roles this season are Canadian actors Tenaj Williams (BIG SKY, WYNONNA EARP) and Charlie Kerr (SUPERNATURAL, THE MAGICIANS). Williams stars as Trey, Jann's (Jann Arden) personal assistant; while Kerr plays Nate, who finds himself in a love triangle with Jann and her ex-girlfriend Cynthia (Sharon Taylor).
Confirmed to guest star on the series' third season is GRAMMY® Award-winning Canadian singer-songwriter Michael Bublé as himself.
Season 3 of JANN is a period of new beginnings as Jann takes her life, career, and relationships into her own hands. She hires a personal assistant, commits to making a new album from the heart, and, after her girlfriend refused her marriage proposal, starts dating someone new… a younger man.
"I'm very excited and relieved to be going forward with Season 3 of JANN in light of all the strange things happening in the world," said Jann Arden, Co-Creator, Executive Producer, and star of JANN. "It feels like a little ray of sunshine to be back with my TV family working on JANN. We are all very excited about what the future holds for all these characters this season."
To view full press release, click here.
SOURCE CTV
For further information: For more information, please contact: Matthew Almeida, CTV Networks, 647.389.2337 or [email protected], Christy Sullivan, CTV Networks, 416.557.2840 or [email protected]
When And Where To Buy An Nvidia GeForce RTX 3060 Graphics Card Today – Forbes
Nvidia's latest budget graphics card hits digital store shelves today.
The GeForce RTX 3060 is the little sibling of its RTX 3070, 3080 and 3090 counterparts, but it's still a powerful GPU in its own right.
Early reviews all seem to agree: The RTX 3060 is a perfectly fine card at a decent price, but it's not as impressive as its more powerful siblings.
The RTX 3060 goes on sale today at 9 am PT / 12 pm ET and if you're looking to score one you should be at your online retailer of choice, refreshing the page, by this time. It's possible some websites could crash, but more likely that bot-equipped scalpers and crypto miners will simply try to scoop all these up before normal gamers can buy one.
Be sure to already be logged in with payment info saved at whichever site you choose.
Note: These sites don't have live product pages yet, so these links will take you to a search at each site that should populate with the GPU when it goes live.
The RTX 3060 features DLSS and Ray-Tracing and has impressive specs for a budget card, including:
3584 CUDA Cores
1.78Ghz boost clock
1.32Ghz base clock
12 GB GDDR6 memory
192-bit memory interface width
Good luck finding one of these today. It's a terrible time to try and find a new GPU as Bitcoin and Ethereum continue to go up with no signs of stopping and crypto-mining is back in fashion something fierce.