'Fires are burning': Tam says Canada on track for 10K daily coronavirus cases – Global News
Should Canada be unable to rein-in the coronavirus resurgence in the coming weeks, Dr. Theresa Tam says the country could see daily case counts of more than 10,000 by early December.
"Fires are burning in so many different areas and now is the time to get those under control," she said Friday.
In mid-October, Canada had about 2,300 new cases of COVID-19 diagnosed each day. By November, that number grew to above 4,000. On Thursday, it was just shy of hitting 5,000.
Tam — Canada's top doctor — and public health officials have been sounding the alarm in recent weeks about the surge in infections permeating across much of the country. She said even now, at close to 5,000 cases a day, some parts of Canada are feeling a strain on their health care capacity.
Tam said if Canada "continues on the current pace," the daily national virus case tally will climb by thousands.
"You can only imagine if we got to that level, that the pressure on the health care system would be huge," she said. "We've got to stop the acceleration so we don't see that [number] in the beginning of December… That's only a few weeks away."

4:07


Coronavirus: Trudeau says Ottawa will help provinces, territories but stressed resources not unlimited



Tam said the same culprits are to blame for the growing numbers.
[ Sign up for our Health IQ newsletter for the latest coronavirus updates ]
"An important driver continues to be informal social gatherings, and activities both inside and outside our homes," she said at a news conference in Ottawa on Friday.
"It's in these more relaxed settings, such as family get-togethers, birthday parties, holiday celebrations and recreational activities that it is easier to forget and let our guard down on necessary precautions."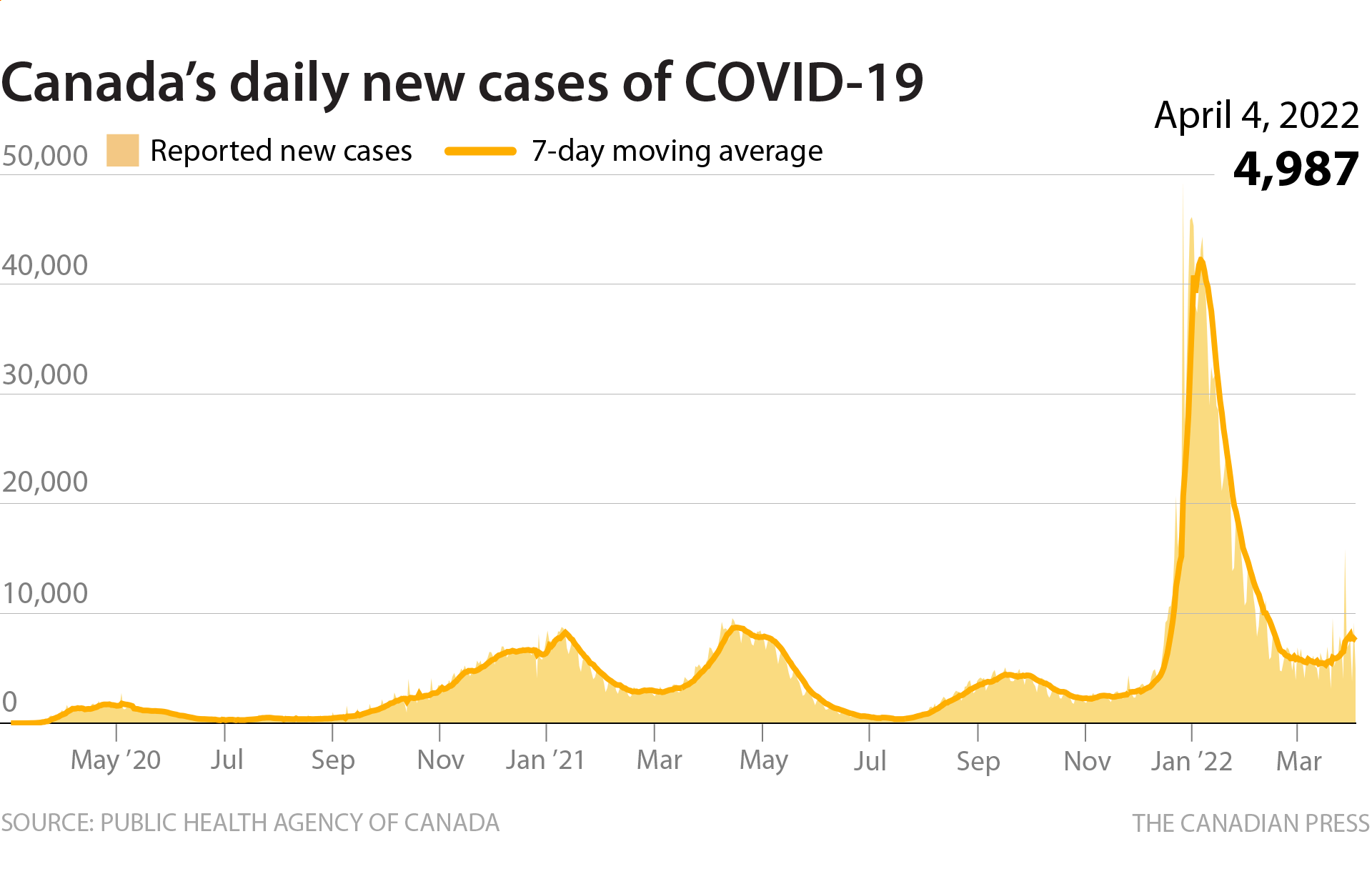 Tam reiterated how "layering prevention practices is the most effective" strategy, including reducing physical contacts, wearing a mask, proper hand hygiene and staying at home or self-isolating if you are sick.
"This situation is worrisome," Dr. Howard Njoo, Canada's deputy chief public health officer, said in French.
"It's putting pressure on local resources and health care…. With the case numbers rising, ICUs becoming fuller, we can sort of see that worst-case scenario."
Njoo pointed to the burden health-care systems in Alberta are facing while grappling with a second wave. Some elective surgeries have been canceled in Edmonton, leading dozens of physicians to speak out about the circumstances, demanding tighter restrictions.

2:12


Doctors divided on tougher pandemic response from Ottawa



Prime Minister Justin Trudeau said he spoke with Canada's premiers on Thursday night, where they discussed additional measures each will roll out in their respective region.
"We know that the optimal path is for us to work together," Trudeau said in Ottawa.
"It is best if we move quickly and firmly to bring in measures that are going to keep people safe. We continue to impress upon individuals to reduce their contacts, avoid gatherings and do things we all know keep us safe."
Trudeau and the doctors emphasized how "quick and firm" behaviour changes as individuals will help bend the curve.

3:08


Coronavirus: Trudeau says what's done now will determine Christmas get-togethers



He pressed Canadians to have patience.
"When we see cases flattening a bit, it's not a reason to say, 'Okay, great, we don't have to stay tight anymore,'" Trudeau said. "We all want this to be over, but it's not going to be over for many more months. How bad it gets in the coming months depends on us."
Without it, the December holidays may be on the line, he said.
"Whether or not we're able to do that depends entirely on us doing what we each need to do."
–With files from the Canadian Press
© 2020 Global News, a division of Corus Entertainment Inc.
Canada's M&A boom fuels hiring spree, higher pay
Record-breaking dealmaking in Canada is encouraging investment banks to beef up staffing, but the increased demand for bankers is forcing some to pay up in unique ways to attract new hires.
Canadian mergers and acquisitions (M&A) year to date surged to a record $206.5 billion and IPOs hit an all-time high of $5.6 billion, according to Refinitiv, after the pandemic crushed dealmaking in the first three quarters of 2020.
HSBC, JPMorgan Chase & Co and National Bank of Canada are expanding their M&A teams.
"It continues to be an active market with lots of active discussions with clients going on as well, and so that has absolutely spurred on a need to fortify the ranks within the teams," said Scott Lampard, head of global banking for HSBC Bank Canada.
HSBC plans to boost overall investment banking headcount by 20%-25%, mainly at the analyst level to support pitching and executing deals, Lampard said.
PENT-UP DEMAND
With the pace of transaction expected to continue at pace, banks are paying more to hire and retain existing teams, offering a range of new services, like sending in a consultant to create the ideal home office, recruiters say.
"We've been doing this for nearly 20 years and we've never seen a market like this," said Bill Vlaad, CEO at recruitment firm Vlaad and Company. "Everybody is scrambling,"
"Many of the banks have increased base salaries quite dramatically, mostly in 2021," he said, adding salaries had increased 20%-40% across M&A roles.
"Now if you want to attract, you have to put something else on the table."
To poach talent, banks are adding signing bonuses, extra vacation days, healthcare increases, special programs for mental wellness and home office perks, all tailored to individual requests, Vlaad said.
TD Securities, Barclays, CIBC World Markets are the top M&A advisers year to date. All three declined to comment on hiring plans.
Of the top deals announced this year, Rogers Communications Inc's C$20 billion ($16.2 billion) bid for Shaw Communications Inc and Canadian National's bid $33.6 billion offer for Kansas City Southern are the two biggest.
Despite the pandemic, five of the top six Canadian banks paid an average of C$3.1 billion ($2.50 billion) in total bonuses last year, up from C$2.9 billion ($2.34 billion) in 2019, an analysis of filings by Reuters showed.
Headcount at National Bank Finance will be up by four or five people in M&A versus the same time last year, David Savard, head of M&A at the bank, told Reuters.
That put the team at 28 for the large-cap M&A team and 10 for the mid-market team, he said, adding both areas were "booming".
"There seems to be some pent-up demand for entrepreneurial-led companies and private companies doing M&A coming out of COVID," he said.
David Rawlings, CEO for JPMorgan Canada, agreed headcount would be likely higher in the near future.
"We think activity will continue to be strong and are currently looking to selectively hire with a particular focus on senior diverse candidates," said Rawlings.
($1 = 1.2453 Canadian dollars)
(Reporting by Maiya Keidan; Editing by Denny Thomas and Lisa Shumaker)
French court overturns ruling saying sale of cannabidiol is illegal
France's highest appeals court on Wednesday overturned a ruling that stores in the country can't legally sell cannabidiol (CBD), a non-psychotic compound related to cannabis that is being researched for a variety of medical applications.
Based on the free trade of goods within the European Union, the Cour de cassation ruled that judges could not find the sale of CBD in France illegal if it had been legally produced in a member state of the bloc.
The Court of Justice of the EU ruled last year that no national law can prohibit the sale of CBD legally produced in a member state, the French court also said.
"Without considering whether the substances seized had not been legally produced in another member state of the European Union, the court failed to provide a basis for its decision," it said, referring to a ruling of a lower appeals court.
The Cour de cassation did not rule whether selling CBD in France was legal or not, and ordered a lower court to rule again on a case involving the owner of a shop selling CBD.
"We are happy", CBD shop owner Mathieu Bensa, who was not involved in the case, told Reuters after the ruling.
"We did not understand why France was the last country in the European Union that had not given access to the sale of hemp plants", he said.
Derived mainly from the hemp plant, CBD is increasingly used as a relaxant.
Cannabis stocks have attracted growing interest on world stock markets, particularly on the Toronto stock exchange after Canada became one of the first major economies to legalise the recreational use of marijuana.
Cannabis use is outlawed in France but the country has one of Europe's highest consumption rates.
(Reporting by Matthieu Protard, Benoit Van Overstraeten and Ardee Napolitano; Editing by Mark Potter)
Canada Energy Regulator allows resumption of Trans Mountain oil project
The Canada Energy Regulator (CER) has issued a notice https://bit.ly/35Sm87H allowing Trans Mountain Corp to resume work on its Trans Mountain Expansion (TMX) oil pipeline project.
The company was ordered in April to halt work on a section of the project in Burnaby, British Columbia, for four months to protect hummingbird nests.
The C$12.6 billion ($10.17 billion) TMX project will nearly triple capacity of the pipeline, which runs from Edmonton in Alberta to the coast of British Columbia, to ship 890,000 barrels per day of crude and refined products when completed late 2022.
(Reporting by Arpan Varghese in Bengaluru; Editing by David Goodman)