Here's where you can pre-order the Xbox Series X and S in Canada – MobileSyrup
Earlier this month, Microsoft confirmed that its pair of next-gen consoles, the Xbox Series X and Series S, will launch on November 10th in Canada.
The beefy Series X will be priced at $599 CAD, while the lower-cost, all-digital Series S will cost $379.99.
Ahead of launch, Canadian retailers will start taking pre-orders for both consoles on September 22nd at 11am ET/8am PT. Keep in mind that this only applies to online pre-orders, so you'll need to check with your local retailer to see whether they are taking any in-store.
Additionally, it's important to note that not every retailer has put up their online listings for the consoles yet. Therefore, we'll update this story with the appropriate links as they go live.
For now, at least, know that Series X and S pre-orders will be available at the following retailers at 11am ET:
Amazon Canada
Best Buy
EB Games
London Drugs
Xbox Series X
Xbox Series S
Games and accessories
Microsoft Store
Shoppers Drug Mart
Xbox Series X
Xbox Series S
Games and accessories
The Source
Note: most retailers only charge you once the item ships, but The Source will charge you as soon as the pre-order goes through. Therefore, prepare to spend several hundred dollars now if you're looking to get a console from The Source.
Walmart
Given that we don't know exactly when pre-orders will sell out, you'll want to be quick on the draw. To save time at checkout, it's a good idea to already have an online account for whatever retailer you plan on pre-ordering from. Make sure all of your shipping and payment details are up to date. Finally, log into your account ahead of 11am ET. Doing all of this ahed of time will ensure that all you'll need to do at the top of the hour is add the consoles to your cart and finalize the transaction.
Some food for thought
It's important to note that Xbox All Access, Microsoft's console financing option, is coming to Canada exclusively through EB Games. That said, the program will not be available come pre-order time, with Microsoft simply saying it will launch sometime before the consoles release on November 10th. Further, specific Canadian details like pricing have not yet been confirmed.
It's also worth mentioning that Microsoft just announced plans to acquire Bethesda parent company ZeniMax Media for $7.5 billion USD (nearly $10 billion CAD). Once the deal is finalized, this means that developers like Bethesda Game Studios (The Elder Scrolls), id Software (Doom) and Arkane (Dishonored) will be wholly owned by Microsoft. The timing of this news — a mere one day before pre-orders go live — was no doubt intentional, given that it's now gotten many people actively talking about Xbox.
With all of that said, then, you may want to factor in the current unavailability of All Access — as well as the long-term prospect of Bethesda games on Game Pass — into your pre-order plans.
What about the PS5?
The simultaneous launch of the Xbox Series X and Series S pre-orders across all retailers is a markedly different strategy than the one employed by Sony with its own next-gen console, the PlayStation 5.
Last week, the Japanese tech giant revealed mere hours after its big PS5 Showcase that pre-orders would open the following day, only to suddenly announce right after that they were going live that same night. Making matters more complicated was the fact that retailers soon began to accept pre-orders at different times. This all came after Sony had specifically said it wouldn't just drop PS5 pre-orders "at a minute's notice."
A few days later, Sony apologized for the PS5 pre-order situation, noting the process "could have gone a lot smoother" while promising to have more stock available between now and the end of the year. Overall, the company says it will have more PS5s available at launch than it did for the PS4 when it launched in November 2013.
We'll have more on additional Canadian PlayStation 5 pre-orders as that information becomes available. The PS5 will launch in Canada on November 12th for $629 CAD alongside its $499 disc-less Digital Edition counterpart.
Which console(s) are you planning to pre-order? Let us know in the comments.
French iPhone 12 comes in two boxes to accommodate EarPods – GSMArena.com news – GSMArena.com
In 2020 Apple took a stand against unnecessary carbon emissions (and spending money on accessory production) and took away the charger and earbuds from the iPhone 12 and 12 Pro retail package, as well as from that of the iPhone 11, SE (2020) and XR. But France requires manufacturers to ship headphones with phones by law, so Apple had to accommodate the EarPods with its iPhones.
But because Apple's new smaller iPhone retail box is standard across the globe, it packed it inside a bigger box that contains the EarPods. Note that Apple still doesn't include a charger, just the earbuds.

Big box holds EarPods and new standard small iPhone box
Apple advises its customers to use existing chargers and EarPods, but also sells a new $19/€25 20W wired charger and $39/€45 wireless MagSafe charger and has deducted $10 from the price of EarPods – now $19/€19.
[embedded content]
iPhone 12 Models Use Qualcomm's X55 Modem – MacRumors
Apple's iPhone 12 lineup appears to be equipped with Qualcomm's Snapdragon X55 modem, which is in line with rumors that we heard about the new devices prior to their launch.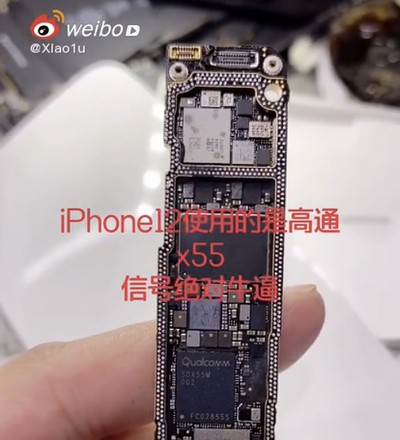 An iPhone 12 teardown video on Chinese social networking site Weibo gives a close look at the L-shaped logic board and the modem chip.
The X55 offers support for both 5G mmWave networks and 5G Sub-6GHz networks, along with 5G/4G spectrum sharing, and it is Qualcomm's second-generation 5G chip after the X50.
Reports in 2019 indicated Apple would use the X55 modem in its ‌iPhone 12‌ lineup, and at the time, the X55 was Qualcomm's fastest and newest 5G modem. Qualcomm in February 2020 introduced the X60 modem built on a 5-nanometer process, which is more power efficient than the 7-nanometer X55.
There was some speculation that Apple could adopt the X60 for the ‌iPhone 12‌ lineup, but the X60 likely came out too late in the ‌iPhone 12‌ development process to be considered for the new devices.
Next year's iPhones will likely use the Snapdragon X60 modem from Qualcomm, which is the third-generation 5G modem chip that Qualcomm has manufactured. It will bring notable performance improvements in terms of battery draw, component size, and connectivity speed because it offers carrier aggregation for combined mmWave and sub-6GHz networks.
Apple used Intel chips for the iPhone 11 lineup, but switched to Qualcomm's technology after it became clear that Intel would not be able to manufacture 5G modem chips. Apple settled a long-running legal battle with Qualcomm to get access to Qualcomm's chip technology.
Early iPhone 12 Teardown Features Smaller Taptic Engine, Magnet Ring and L-Shaped Logic Board – MacRumors
The iPhone 12 and 12 Pro are set to be delivered to customers this Friday, but there are already a few out in the wild. Leaker DuanRui this morning shared a video featuring a short teardown of the new ‌iPhone 12‌, giving us a quick look at the internals.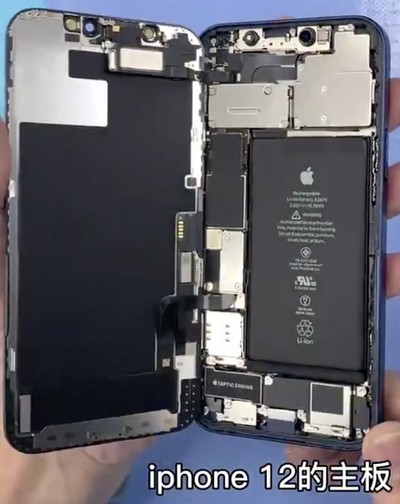 In the video, the ‌iPhone 12‌ is taken apart component by component, with comparisons to corresponding iPhone 11 parts provided. The new ‌iPhone 12‌ has an L-shaped logic board, which we initially saw in a leak in May. The ‌iPhone 12‌ logic board isn't identical to the leaked logic board, so that leaked version is likely from another one of the ‌iPhone 12‌ models.
‌iPhone 12‌ teardown video. pic.twitter.com/XuOJxfuoQh
— DuanRui (@duanrui1205) October 21, 2020
The logic board is longer than the logic board that was used in the ‌iPhone 11‌, and it has the aforementioned L design rather than just a straight design.
There's a 2,815mAh battery in the ‌iPhone 12‌, which was seen in Brazilian regulatory filings last week. Comparatively, the ‌iPhone 11‌ has a higher capacity 3,110mAh battery. Apple lists similar battery lengths for both iPhone models, though, due to efficiency improvements introduced through the A14.
‌iPhone 12‌ pic.twitter.com/4lXm6cs7G3
— 有没有搞措 (@L0vetodream) October 21, 2020
Smaller batteries may have been included because Apple may have needed extra space for the 5G components in this year's iPhones, but there have already been some concerning early tests about faster than normal battery drain when using 5G networks. That's not necessarily a surprise because it's well known that 5G drains battery faster, but it's something ‌iPhone 12‌ and 12 Pro users should be aware of.
The Taptic Engine, which provides haptic feedback, is a good deal smaller in the ‌iPhone 12‌, and the teardown also shows off that magnetic ring that works with MagSafe accessories.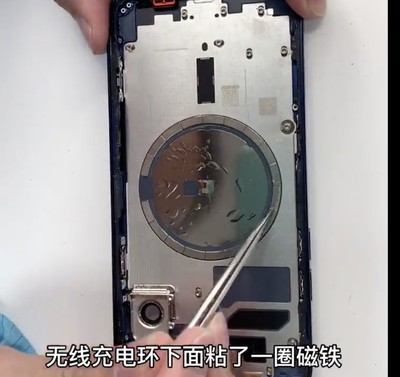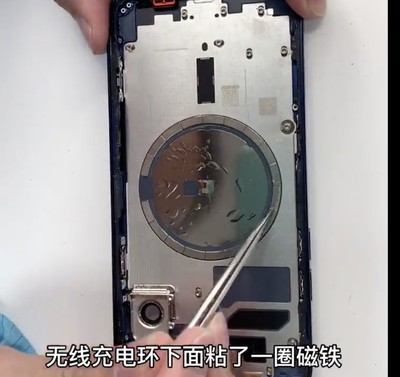 There are also comparisons between other components such as the display, dual-lens camera setup, flash, and more, which those interested can see in the video.
iFixit will have in-depth teardowns of both the ‌iPhone 12‌ and 12 Pro coming in the future, which we can count on seeing after the new devices are released.