NHL's lack of solidarity with Black Lives Matter protests 'out of touch', say critics – News 1130
TORONTO (NEWS 1130) – The National Hockey League is being accused by many of doing the bare minimum as it's called out for failing to cancel games in solidarity with Black Lives Matter protests.
As a number of sports leagues, including the NBA, MLS, and MLB, went dark on Wednesday night, the NHL proceeded with its scheduled games.
Hockey's decision to instead hold a "moment of reflection" at two of the games didn't go over well with many players, athletes, fans, and analysts.
Players, commentators, and fans weigh in on the NHL's choice to play Wednesday's games while much of the sports world went dark in support of Black Lives Matter protests: more on @NEWS1130 this morning. https://t.co/qeMdflcxPF

— Ash 'I work from home now' Kelly (@AshDKelly) August 27, 2020
Former player and current Sportsnet broadcaster Kelly Hrudey said the league was offside in its decision.
"I don't think we should be here. I think the NHL should postpone the games. I really feel that we should be more supportive of Black Lives Matter," he said.
"I'd prefer to be having this conversation with my family. I've said, many months ago, when I made my video about Black Lives Matter, it means something to me," Hrudey said while speaking to his Sportsnet panel.
His comments came as a number of sports stars continue to protest racial inequality, the latest catalyst being the shooting of Jacob Blake, a Black man in Kenosha, Wisconsin, over the weekend.
Players disappointed
NHL players were also among those disappointed with the lack of action.
In an appearance on Sportsnet 650 on Wednesday, Minnesota Wild defenceman Matt Dumba — who raised a fist to highlight social and racial justice issues during the anthems of his qualifying-series game against the Vancouver Canucks earlier this month — said the league's decision to hold playoff games Wednesday, despite cancellations across other leagues, is "disheartening," but expected.
"I know what's going to happen, and I don't think much is going to happen from that standpoint. But it's just back to it, I don't know, the NHL we're always late to the party, especially on these topics, so it's sorta sad and disheartening for me and other members of the HDA, and I'm sure other guys across the league," said Dumba.
He and San Jose left winger Evander Kane are faces of the Hockey Diversity Alliance and are some of hockey's strongest proponents for the need to address anti-Black racism in the sport.
Actually it's incredibly insulting as a black man in hockey the lack of action and acknowledgement from the @nhl, just straight up insulting. https://t.co/1KrpUvFhaQ

— Evander Kane (@evanderkane_9) August 27, 2020
Kane told Sportsnet's David Amber on Wednesday that it's "disappointing" the NHL has yet to acknowledge Blake.
"It's another instance, unfortunately, that still hasn't been acknowledged and we're about, what? Three or four days into this video being released, or this incident occurring? And I still haven't seen or heard anything in regards to it, so that's disappointing and as a Black player in this league, it's even more disappointing," Kane said.
Blake, 29, was shot several times in the back by officers on Sunday. The shooting happened in front of his children and left him paralyzed from the waist down.
Players the driving force
The decision to cancel and postpone games was largely led by players who said they have had enough of racial injustice, and that more needs to be done to address the issue.
The NBA's Milwaukee Bucks refused to play a playoff game against the Orlando Magic in the wake of the Blake shooting.
"We're tired of the killings and the injustice," Bucks guard George Hill told The Undefeated's Marc J. Spears following the Bucks' decision to boycott.
Full statement from the Milwaukee Bucks: pic.twitter.com/jjGEyVcCmB

— Milwaukee Bucks (@Bucks) August 26, 2020
The Houston Rockets and Oklahoma City Thunder announced shortly after the Bucks' decision that they would also be boycotting their game Wednesday, and the Lakers and Trail Blazers quickly followed suit ahead of their own Game 5 as players step away from the court in protest.
It's unclear if anything will be done ahead of the Vancouver Canucks match up against the Vegas Golden Knights Thursday night.
Lightning's Steven Stamkos ruled out for remainder of Stanley Cup Final – Sportsnet.ca
EDMONTON — The only way we'll see Steven Stamkos return to the Stanley Cup Final is if the Tampa Bay Lightning are able to finish the job without him.
The hard-luck captain was officially ruled out of the series by the Lightning on Sunday morning, but could still be called on to accept the Stanley Cup from NHL commissioner Gary Bettman.
"Hopefully the next time we see him on the ice is during a trophy presentation," said Lightning head coach Jon Cooper.
No team has won the Stanley Cup without its captain in the lineup since the 1936-37 Detroit Red Wings, who were without Doug Young. The Boston Bruins did not have a designated captain in 1970 and 1972, but Johnny Bucyk accepted the trophy both years and played in the clinching game.
Stamkos has been battling an undisclosed injury throughout these playoffs. He made an emotional return for Game 3 of the Cup Final against the Dallas Stars and scored a beautiful goal, but was unable to play after the first period that night.
The 30-year-old saw a total of five shifts while spending nine weeks inside the NHL bubble rehabbing.
"He gamed it out," said Cooper. "To be honest I didn't think he was playing at all in these playoffs. I don't think any of us did. So he gave us 2:47 of brilliant hockey, that's a phenomenal story.
"He scored a huge goal for us in a win."
The Lightning hold a 3-2 series lead over Dallas entering Game 6 on Monday.
Stamkos is the longest-tenured member of the organization and has endured a difficult run of injuries throughout his career. A broken leg saw him miss the chance to play for Team Canada at the 2014 Sochi Olympics and blood clots forced him out of all but one game of Tampa's 2016 run to the Eastern Conference Final.
He had a 15-game points streak going when he got injured on Feb. 25 this season. That was followed by core muscle surgery on March 2. Stamkos appeared to be on the mend while participating in training camp following the COVID-19 pause, but he suffered some kind of setback that kept him out until the brief, memorable appearance in this Stanley Cup Final.
"He did everything he could to get back, and he did get back, and unfortunately he couldn't go any further," said Cooper.
From the Stanley Cup Qualifiers to the Stanley Cup Final, livestream every game of the 2020 Stanley Cup Playoffs, blackout-free, on Sportsnet NOW.
It's been a difficult journey.
Stamkos was clearly moved after being called out to join Victor Hedman, Ryan McDonagh and Alex Killorn in accepting the Prince of Wales Trophy last round and sounded emotional after scoring against Dallas in the Game 3 win.
He remained on the bench throughout that game, and tested his skating stride during a couple television timeouts, but didn't play for the final 46 minutes. He gave everything he could.
"I've watched these guys be so committed to what our end goal is, and to be part of it tonight, it was a dream come true and I'm so proud of these guys," Stamkos said that night. "And to be able to share that moment with them and just even be on the bench and watch how well we played tonight, I have told these guys before: It's inspiring.
"It was great to be part of."
Dana White reveals who's next for Israel Adesanya and Jan Blachowicz – MMA Fighting
Israel Adesanya was dazzling in his title defense and Jan Blachowicz cemented himself as the new light heavyweight champion as the UFC 253 main and co-main events both ended in dramatic fashion.
While Adesanya and Blachowicz will undoubtedly enjoy their victories with a well-deserved post-fight celebration, it didn't take long for the subject of their next fight to be raised on Saturday night.
In fact, it was Adesanya himself who made the call about the top contender in the middleweight division. He immediately turned his attention to Jared Cannonier, who's been on his radar for the past year.
Cannonier is currently preparing for a showdown with former champion Robert Whittaker at UFC 254 in October. If he's victorious, Cannonier should expect his next fight to come against Adesanya with the middleweight title up for grabs.
"That's the fight if Cannonier wins," UFC president Dana White confirmed at the UFC 253 post fight press conference. "And I love that about Israel. He's ready for who's next, who else thinks they can beat me. The kid is an absolute stud."
Adesanya will undoubtedly be keeping a close eye on Cannonier's fight in just a few weeks to see if his next opponent is secured or not.
Things aren't quite as clear cut at light heavyweight, but there are only a few options that make sense for Blachowicz after he dispatched Dominick Reyes in impressive fashion to claim the vacant title.
The Polish veteran made it clear just after the belt was wrapped around his waist that he would like to cement his championship status by facing Jon Jones, who vacated the belt just recently with the intention of moving up to the heavyweight division.
Jones even went as far as hinting on Twitter that perhaps he could return to 205 pounds now that a challenger like Blachowicz exists for him but obviously nothing is set in stone at this point.
The other fight that could determine the next contender for the light heavyweight title will take place on Nov. 7 when Thiago Santos goes to battle with Glover Teixeira.
White confirmed the winner of that fight would earn the next crack at the new 205-pound champion unless Jones really did decide he wanted to return to his old stomping grounds.
"Those are the guys that are fighting for the next shot," White said about Santos vs. Teixeira. "But obviously if Jon Jones wanted that fight, we wouldn't deny Jon Jones the opportunity."
Stamkos out for remainder of playoffs – TSN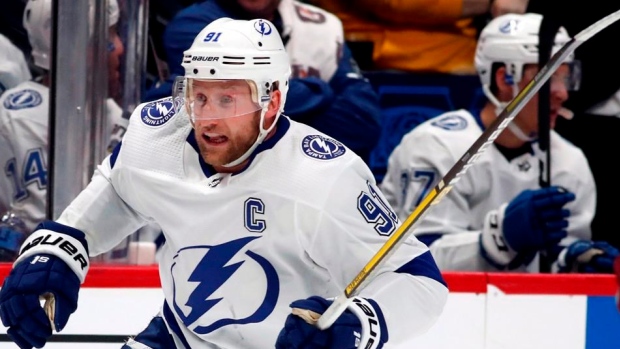 Tampa Bay Lightning head coach Jon Cooper said forward Steven Stamkos will not return in the Stanley Cup Playoffs. "Hopefully next time we see him on the ice is during the trophy presentation," Cooper said.
The 30-year-old returned to the Lightning lineup for the first time since February in Game 3 and scored a goal, but only had five shifts, playing just 2:47.
Stamkos skated off gingerly at the end of his final shift in the first period and was not on the bench for the start of the second. He returned to the bench and took a few twirls to test out the injury but did not return and was deemed "unfit to play" for Game 4.
Stamkos, who last played Feb. 25, had surgery in early March and aggravated the injury at least once over the summer.
Tampa Bay leads the series 3-2.