Raptors beat Mavericks in largest comeback in franchise history – Raptors Republic
The record the Raptors broke against the Dallas Mavericks on Sunday afternoon — the largest comeback in franchise history — was last set when DeMar DeRozan and Andrea Bargnani were teammates in the North. That team finished finished 22-60. This Raptors team is already 21-8.
Down 30 points midway through the third quarter against the Dallas Mavericks, the Toronto Raptors put Scotiabank Arena into a frenzy during a maniacal 47-21 fourth quarter that hearkened back to some of Toronto's most classic playoff wins. When the screaming died out and the clock switched off, the Raptors had won 110-107. The engine of the comeback was Lowry, who scored 20 points alone in the fourth.
"For us it was just follow the leader," said Chris Boucher of Lowry's importance.
"I don't know about everyone else, but when Kyle made a three on the right wing, I had like a vibe or a feeling…" said Rondae Hollis-Jefferson. "I kind of had that vision for Kyle taking off and that's what happened."
"I knew we were coming back."
That the Raptors had such a deep hole out of which to climb was perhaps a problem. It took a long time for Toronto to find balance on the offensive end. There's a reason why scales in cartoons take cartoonishly long times to settle in the middle; balance is a difficult thing to find. For the Toronto Raptors, it took three quarters of dreary failure for them to finally hit that sweet spot. But when they did, the lunacy of their comeback was worth it.
Nick Nurse was explicit before the game that he wants his bench guys to be paint-by-numbers guys, more followers than leaders, when it comes to the offensive end. He wanted his bench to contribute around the edges of Toronto's primary guys, namely Fred VanVleet and Lowry.
"We just gotta make sure we get that right blend," said Nurse before the game. "[The bench guys] are all capable. But I don't want seven possessions in a row where they're shooting seven straight shots. They've gotta be a little bit more opportunity guys than maybe they have been in some games.
The right blend of offense between starters and bench, primary and fringe scorers, is something of a promise. It's a promise that bench players will listen to the coach and stay in their own lanes. Nurse has punished players in the past for stepping outside of the minimal box that is a bench role on the Raptors. But the correct blend also necessitates a promise from the main guys that they'll carry the lion's share. If they're going to play the big minutes, create the most plays, and take the most shots, that has to translate to points. For three quarters, the offensive leaders didn't fulfill their promises.
Lowry and Fred VanVleet seemed to miss every jumper they took, and the team took its cues from those misses. Serge Ibaka and OG Anunoby, who should have provided Toronto's secondary sources of offense, were also ineffective. Ibaka had trouble creating good looks in the post, and he missed the majority of his spot-up jumpers as well. He finished with six points on three-of-11 shooting, which was a far cry from his level of dominance over the last two games. Anunoby missed his open triples, and his drives were frequently off-balanced and resulted in turnovers. He finished with six points and three turnovers.
The balance that Nurse sought between the starters and the bench was lacking in the first three quarters.
There were some fun elements in the first three quarters against the Mavericks. Pat McCaw was Toronto's choice as the primary defender of Kristaps Porzingis, and he was brilliant. Porzingis is not a big on the offensive end, and his height means almost nothing. He whiffed on his screens, couldn't create space in the post, and generally moped around when McCaw was guarding him. It was a great display of defensive diversity from McCaw, who also shot well, drove well, and was one of Toronto's most pleasant surprises. Terence Davis threw some nice passes, which is a solid development as Toronto transitions him into a ball-dominant guard. Boucher had some impressive blocks, as always. Though the fun things were fun, they weren't nearly enough to outweigh the Raptors' lack of offensive punch.
Then everything changed in the fourth quarter. A lineup of Lowry, Terence Davis, Malcolm Miller, Rondae Hollis-Jefferson, and Chris Boucher went on a 41-15 run over the brunt of the quarter, pulling the game within reach. That group includes three minimum salary players, all of whom were undrafted, one second draft scrap heap player, and Lowry. As always while playing with low-expectation, high-energy groups, Lowry was unbelievable. The offense was simple: give the ball to Kyle Lowry and let him do cool stuff.
He hit step-back jumpers, turned hesitation dribbles into and-one floaters, and of course hit pull-up triples in transition. He represented, on this night, the absolute peak of ref-arguing, charge-taking, post-stripping, basket-scoring, teammate-boosting, breath-taking, jumper-making, foul-baiting basketball. It was peak KLOE, both new and nostalgic, and for the first time this year but the millionth as a Raptor, he wrote and re-wrote our experience of his brilliance. Lowry finished with 32 points, 10 assists, and eight rebounds.
"He was unbelievable, right? And he really didn't have that good a game going until that point, too. Then he started firing and making and driving and and-one-ing, he was doing it all," said Nick Nurse.
"I'm not sure I've seen anything like it."
If Lowry was the frontman, Boucher was the showstopper. His incredible length and tenacity forced plenty of turnovers as Toronto used a full-court press to start the fourth quarter. When the Mavericks didn't turn the ball over and got the ball into the half-court, the Raptors reached and scrambled and played like lunatics. They collapsed into the paint and figured out the rest from there.
"We just kept saying anything but the rim," said Nurse. "If the ball started heading to the rim we just wanted to swarm it and make 'em kick out and then try to do our best to get back out there."
If they kicked it out, the task usually fell to Boucher to clean up the mess. He attacked Dallas' shooters without hesitation. His pterodactyl arms blocked a corner jumper into the upper stratosphere, and he did a good job frightening shooters after that with his maniacal closeouts.
"Yeah, it is [unique]," Nurse said of Boucher's closeouts. "I think they were such good plays because he was protecting the rim first. He was in there waiting, looking looking looking, and then he saw an opening, and he made a long run, and he jumps early on those. That's how he gets a piece of [those shots]. He played a hell of a game. Hell of a game."
Boucher finished with a career-high 21 points, seven rebounds, two steals, and four blocks.
If anything, the incredible performance of Toronto's bench mob wasn't so much an execution thing as an identity one. Missing so many key players, the Raptors do not have enough talent to coast through games. They've always been at their best this year when forcing turnovers and getting out in transition. Toronto's bench doesn't have the talent of the stars, but they can never be accused of trying too little. They get up on the ball, make wild decisions, and junk it up. The resulting chaos was the backdrop to Toronto's miraculous comeback.
Despite the heart-warming victory, Toronto will remain in the trenches for the next few weeks without three of its five most important offensive players. To win, they have to lock in on defense, play ugly and slop it up, and have their ball-dominant guards catch fire from deep. Those were negotiable elements when Toronto was healthy, as a Pascal Siakam explosion or Norm Powell spree could offset any problems in a blink of an eye. But Toronto doesn't have that room for error any longer. It took a miraculous comeback, sparked by the best game of Boucher's NBA career, and a vintage KLOE game, for Toronto to win. They can't always rely on such unpredictable elements.
"No, I think that was a one-off game, but you could see how hard we played, and that's something you take from and you continue to build on, the how hard we played," said Lowry.
The Raptors are 2-0 since Pascal Siakam, Norm Powell, and Marc Gasol were injured in the same game. Toronto just keeps winning. The factors that have informed those wins may not be repeatable in the future, but that the Raptors have won is almost unbelievable. With the second leg of the back-to-back tonight against the Indiana Pacers, the Raptors will need to make the unsustainable into a regularity to continue its most unlikely hot streak of the season.
Fantasy: Waiver Wire – Week 3 – theScore
Find positional rankings, additional analysis, and subscribe to push notifications in the NFL Fantasy News section.
Every Monday during the season, theScore's Justin Boone runs down the recommended waiver wire pickups.
Rostered percentages are based on Yahoo leagues. Free Agent Budget (FAB) amounts are set off a $100 salary cap. Only players rostered in less than 60% of leagues are considered.
Quarterbacks
Ryan Tannehill, Titans
| Next Up | Rostered | FAB |
| --- | --- | --- |
| at MIN | 46% | $1 |
After taking over as the Titans' starter last season, Tannehill was one of the best quarterback plays available in fantasy. From Week 7 on, the former first-round pick averaged the fourth most fantasy points at the position and helped lead Tennessee to the playoffs. He's picked up right where he left off with incredible efficiency through two outings (six touchdowns, no interceptions) and is once again a QB1 in the fantasy world. With defenses focused on stopping Derrick Henry and the rushing attack, Tannehill should continue to have success, including against a subpar Vikings pass defense next Sunday. He's a great streamer and might end up being your starter the rest of the way.
Gardner Minshew, Jaguars
| Next Up | Rostered | FAB |
| --- | --- | --- |
| vs. MIA | 32% | $1 |
Speaking of six touchdown passes through two games … how about Minshew's performance in Jay Gruden's system so far? Yes, the sophomore QB turned the ball over a few times this week, but he's emerging as a legit franchise quarterback and nearly helped his team earn a second straight upset victory. Minshew ranks 10th in fantasy points per game among quarterbacks through two contests and should keep that up at home on Thursday night against a Dolphins defense that just allowed over 400 passing yards and four touchdowns to Josh Allen.
Streamer options: Baker Mayfield vs. WAS (47% rostered), Philip Rivers vs. NYJ (27% rostered), Justin Herbert vs. CAR (3% rostered), Mitch Trubisky at ATL (7% rostered)
Running backs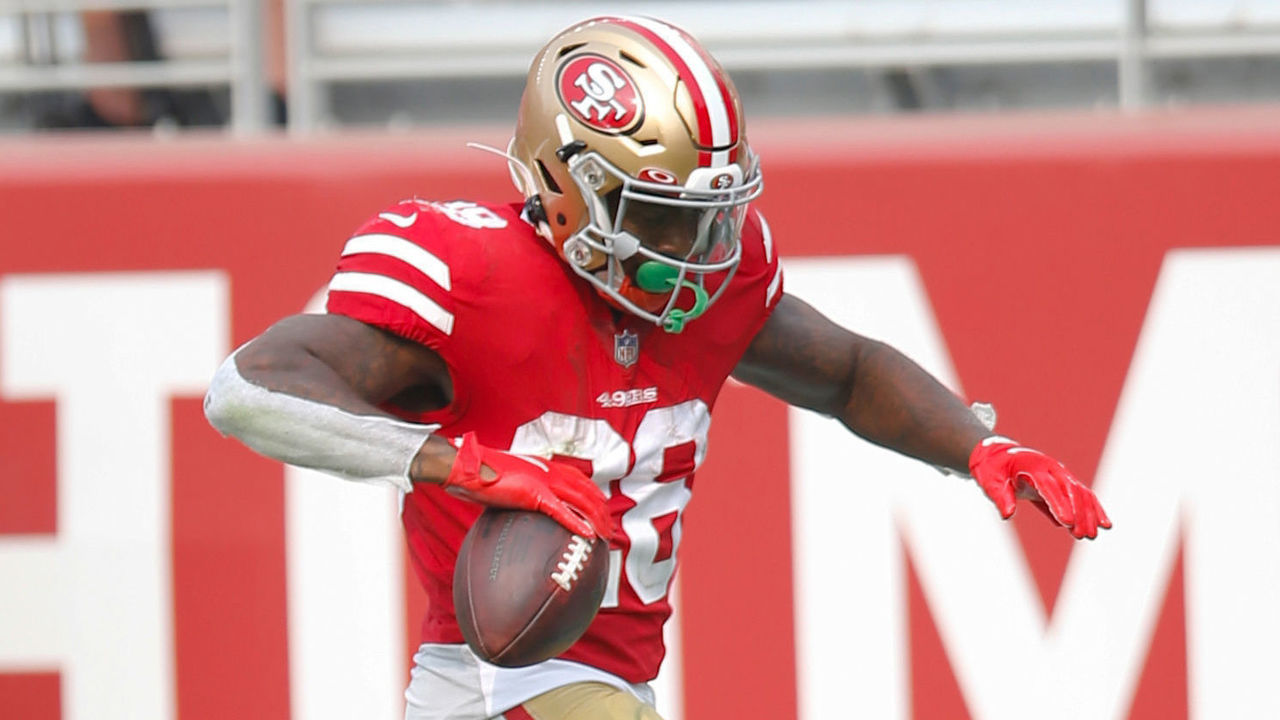 Jerick McKinnon, 49ers
| Next Up | Rostered | FAB |
| --- | --- | --- |
| at NYG | 23% | $29 |
With Raheem Mostert and Tevin Coleman both dealing with knee injuries, McKinnon vaults to the top of the 49ers' running back depth chart. As we know from nearly every NFL season that involved a Shanahan-coached offense, this scheme generates rushing production regardless of who's in the backfield. McKinnon, who was once handpicked to be Kyle Shanahan's lead ball carrier two years ago, is finally healthy and poised to capitalize on his opportunity. The 28-year-old posted 44 yards and a receiving score on just eight touches in the opener before making his mark with 77 yards on three carries in Week 2 – capped off by a 55-yard run to improbably convert a third-and-31. With Mostert and Coleman at risk of missing multiple weeks, McKinnon is about to remind you he can be an RB2 with RB1 upside in fantasy.
Mike Davis, Panthers
| Next Up | Rostered | FAB |
| --- | --- | --- |
| at LAC | 2% | $29 |
Fantasy first overall pick Christian McCaffrey is expected to miss four-to-six weeks with a high ankle sprain, leaving a void in the Panthers' backfield that no one running back can fill. Davis gave his best effort in relief duties on Sunday, catching eight passes for 74 yards with the team in comeback mode late in the game. While he wasn't given many touches last year, Davis has popped more than a few times for fantasy managers in the past. As a member of the Seahawks in 2018, Davis was given at least 15 touches in three games and posted yards from scrimmage totals of 124, 107, and 80 with three touchdowns combined in those appearances. None of the veteran free agents on the market offer an upgrade to Davis who already knows the system. He'll be an intriguing RB3/flex option who could produce RB2 fantasy value over the next month.
Darrell Henderson, Rams
| Next Up | Rostered | FAB |
| --- | --- | --- |
| at BUF | 31% | $24 |
As NFL Network's Mike Garafolo reported prior to kickoff Sunday, the Rams had planned to get Henderson more involved this week. The goal was a three-way timeshare between Henderson, Cam Akers, and Malcolm Brown. However, when Akers left the game early due to a rib injury, the hot-hand competition was down to just two backs. Henderson was far more effective with his touches, amassing 81 rushing yards, 40 receiving yards, and a touchdown to Brown's 47 total yards. So for the second straight week we'll take a shot on this productive backfield. You should be trying to roster any of the Rams' runners in hopes that one of them rises to the top of the depth chart and stays there at some point this season.
Joshua Kelley, Chargers
| Next Up | Rostered | FAB |
| --- | --- | --- |
| vs. CAR | 39% | $24 |
We're getting there. Kelley's almost being rostered in half of fantasy leagues, so hopefully his third straight appearance in this article will put him over the top. Kelley followed up the 60 yards and a score in his debut with 64 rushing yards and two receptions for another 49 yards. He's settled into the Melvin Gordon role quite nicely and is the perfect complement to starter Austin Ekeler. Expect the Chargers to continue to call his number, making him a weekly flex option with the potential to go nuclear if Ekeler gets hurt.
High-upside backups like Alexander Mattison (45% rostered), Tony Pollard (31% rostered), Chase Edmonds (45% rostered), and Darrel Williams (18% rostered) should be rostered in almost all leagues.
Flex options: Myles Gaskin at JAX (15% rostered)
Risky flex options: Dion Lewis vs. SF (5% rostered), Wayne Gallman vs. SF (1% rostered), Frank Gore at IND (14% rostered)
Sneaky stash: Devonta Freeman – Free agent working out for the Giants this week (13% rostered)
Deeper upside backups: Brian Hill vs. CHI (3% rostered), Carlos Hyde vs. DAL (18% rostered), Boston Scott vs. CIN (35% rostered), Giovani Bernard at PHI (4% rostered), Darrynton Evans at MIN (3% rostered), Jordan Wilkins vs. NYJ (0% rostered)
PPR possibilites: Chris Thompson vs. MIA (22% rostered), J.D. McKissic at CLE (1% rostered), Jalen Richard at NE (1% rostered)
Long shot bench stashes: Kerryon Johnson at ARI (38% rostered), La'Mical Perine at IND (3% rostered), Gus Edwards vs. KC (1% rostered), Jamaal Williams at NO (8% rostered), Rex Burkhead vs. LV (2% rostered), Bryce Love at CLE (3% rostered)
Wide receivers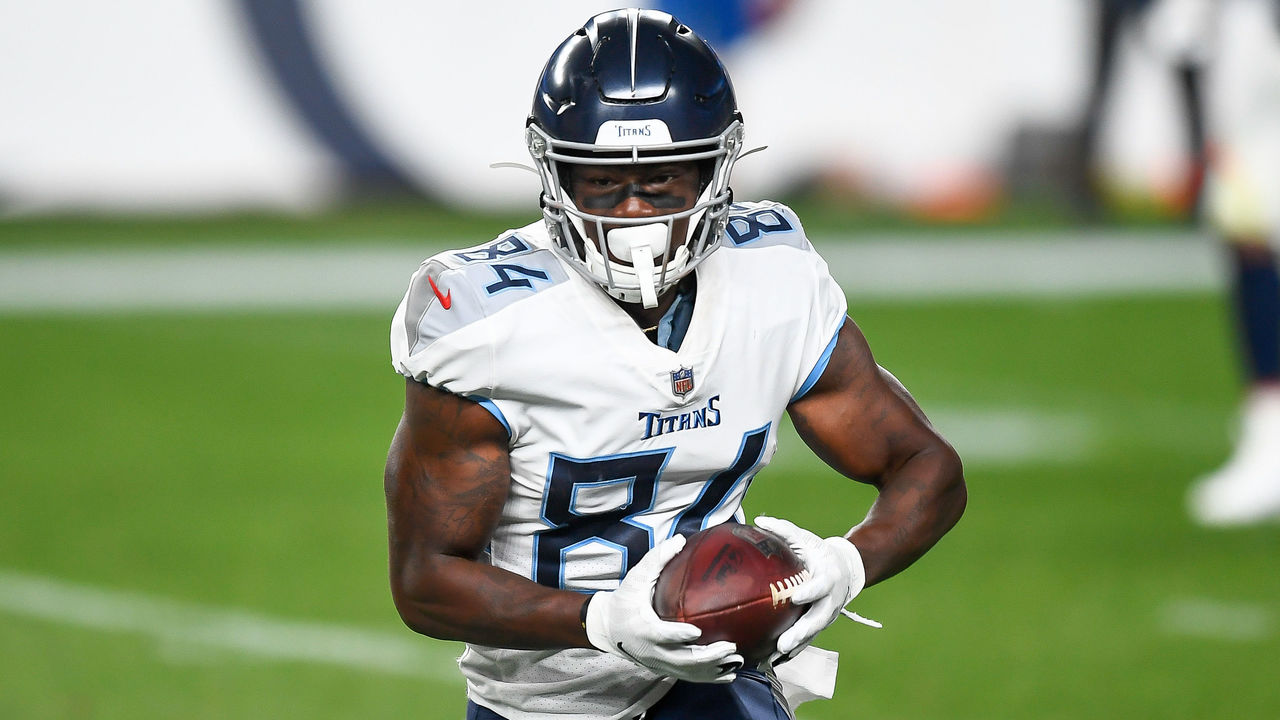 Corey Davis, Titans
| Next Up | Rostered | FAB |
| --- | --- | --- |
| at MIN | 42% | $24 |
Even with A.J. Brown out of the lineup, Davis wasn't able to replicate his 101-yard performance in the opener. That's alright, they aren't all going to be gems. The fact Davis still had a solid fantasy day with 36 yards and a touchdown is a positive sign for his value moving forward. He's set up for another big outing against the Vikings' work-in-progress cornerbacks in Week 3. Continue to consider Davis a WR3 for as long as Brown remains sidelined and potentially beyond that.
Marquez Valdes-Scantling/Allen Lazard, Packers
| Next Up | Rostered | FAB |
| --- | --- | --- |
| at NO | 36%/47% | $19/$14 |
It turns out Davante Adams' hamstring injury isn't serious, so we're likely to see the Packers' No. 1 receiver back on the field this week. That might be good news for Valdes-Scantling and Lazard, who struggled when asked to be the top targets when Adams missed time last year. Instead, the young duo can continue to operate as secondary pieces – something they've done very well in 2020. MVS has 160 yards and a touchdown through two games, while Lazard isn't far behind with 108 and a score. With Aaron Rodgers looking sharp early in the season, both wideouts are upside flex options. If forced to pick between them, I'd take Valdes-Scantling for his big-play upside.
N'Keal Harry, Patriots
| Next Up | Rostered | FAB |
| --- | --- | --- |
| vs. LV | 27% | $19 |
Harry's path to fantasy relevance has been a long, winding road with several speed bumps and not the clear highway many first-rounders seem to be on. Even so, we're finally starting to see signs of life from the 6-foot-4, 225-pound wideout, who's coming off his best game as a pro with eight receptions and 72 yards against the Seahawks. It's nice to see the 22-year-old's confidence growing as Cam Newton takes him under his wing. If we continue on this road, Harry will be a regular in fantasy lineups as a flex play and maybe more later in the year.
Preston Williams, Dolphins
| Next Up | Rostered | FAB |
| --- | --- | --- |
| vs. BUF | 38% | $19 |
How can we be recommending a receiver who caught one pass in Week 2 and has just three grabs on the year? Well, if you read this column last Monday, you'd understand Williams was never intended to be a fantasy option in the first two games after coming off a torn ACL and facing the Patriots and Bills – two tough matchups. Don't let those performances sway your outlook on him. The wideout's best outings are yet to come in 2020 as he gets his legs under him and the schedule eases up.
Jerry Jeudy, Robby Anderson, Mike Williams, and Brandin Cooks are around the 60% rostered mark and should be rostered in almost all leagues.
Upside flex options: Russell Gage vs. CHI (22% rostered), Golden Tate vs. SF (36% rostered), Laviska Shenault Jr. vs. MIA (17% rostered), DeSean Jackson vs. CIN (48% rostered), Jalen Reagor vs. CIN (35% rostered), Tre'Quan Smith vs. GB (13% rostered), MeCole Hardman at BAL (36% rostered), Demarcus Robinson at BAL (1% rostered)
Risky flex options: Christian Kirk vs DET (53% rostered), Keelan Cole vs. MIA (3% rostered), Randall Cobb at PIT (6% rostered)
Promising rookies: Brandon Aiyuk at NYG (36% rostered), Michael Pittman Jr. vs. NYJ (15% rostered), Van Jefferson Jr. at BUF (4% rostered), Chase Claypool vs. HOU (5% rostered), Darnell Mooney at ATL (0% rostered), Tee Higgins at PHI (3% rostered), Bryan Edwards at NE (13% rostered)
Deep bench stashes: Curtis Samuel at LAC (27% rostered), Miles Boykin vs. KC (4% rostered), Mohamed Sanu at NYG (4% rostered), Kendrick Bourne at NYG (7% rostered), David Moore vs. DAL (0% rostered), Deonte Harris vs GB (3% rostered), Isaiah Ford at JAX (0% rostered), Tim Patrick vs. TB (0% rostered), Hunter Renfrow at NE (12% rostered), Damiere Byrd vs. LV (0% rostered)
Tight ends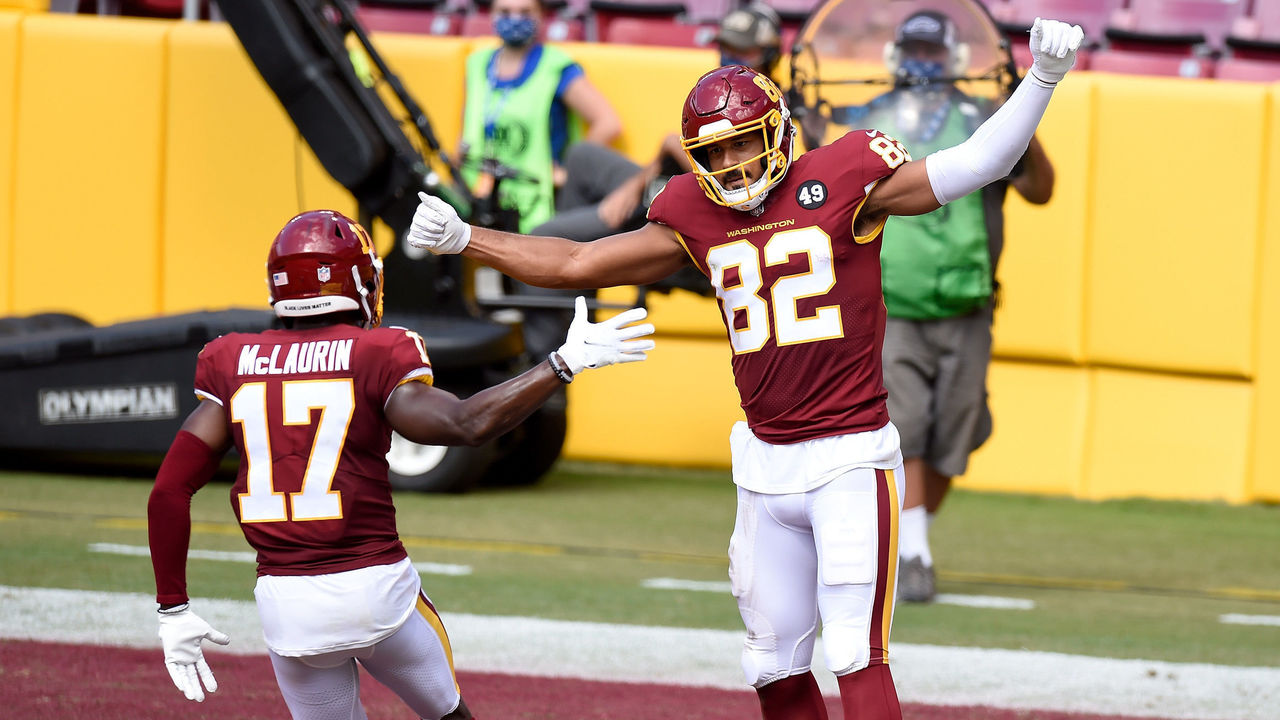 Logan Thomas, Washington
| Next Up | Rostered | FAB |
| --- | --- | --- |
| at CLE | 32% | $5 |
Thomas returns this section, not due to his stat line (4-26-0) which was a bit of a letdown in Week 2, but rather for his nine targets. That pushes him to 17 targets on the year and into a tie for second in the league in that category among tight ends – only Travis Kelce has seen more passes thrown his way. Opportunity like that is rare at his position, so don't let yourself be dissuaded. Thomas remains an intriguing TE2 with a chance to still finish as a low-end TE1 on the season.
Mo Alie-Cox, Colts
| Next Up | Rostered | FAB |
| --- | --- | --- |
| vs. NYJ | 1% | $3 |
With Jack Doyle on the shelf, Alie-Cox broke out with five catches and 111 yards versus the Vikings. His run-after-catch ability is fear-inducing and you can't put that kind of weapon back in the box. We don't know whether Doyle will be able to return in Week 3, but even when he does suit up, the Colts would be foolish not to find ways to get the ball in Alie-Cox's hands. There aren't that many tight ends with 100-yard upside. He'll be a streaming option against the Jets and then we'll reassess his value.
Jonnu Smith and Mike Gesicki are around the 60% rostered mark and should be rostered in almost all leagues.
If George Kittle is ruled out in Week 3, Jordan Reed (7% rostered) would become the top add under the 60% rostered mark this week.
Other options: Dalton Schultz at SEA (2% rostered), Chris Herndon (46% rostered), Drew Sample at PHI (1% rostered), Eric Ebron vs. HOU (33% rostered), O.J. Howard at DEN (30% rostered), Tyler Eifert vs. MIA (10% rostered), Jimmy Graham at ATL (10% rostered), Jordan Akins at PIT (2% rostered)
Defenses
Week 3 streamers
| Team | Next Up | Rostered |
| --- | --- | --- |
| Buccaneers | at DEN | 50% |
| Colts | vs. NYJ | 41% |
| Eagles | vs. CIN | 36% |
| Browns | vs. WAS | 17% |
| Chargers | vs. CAR | 30% |
Favorable upcoming schedules: Cardinals DEF (47% rostered), Colts DEF (41% rostered), Jaguars (1% rostered)
Bianca Andreescu to miss remainder of 2020 season – TSN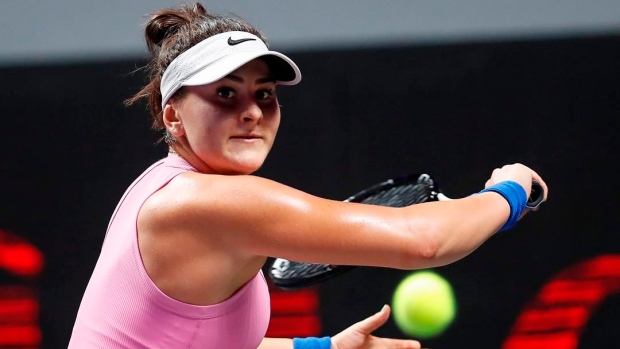 TORONTO — Bianca Andreescu says she is taking the remainder of the tennis season off to focus on her health and training.
The Canadian tennis star made the announcement Tuesday on Twitter.
The decision was expected after the 20-year-old from Mississauga, Ont., withdrew from the French Open. Outside of the last Grand Slam of 2020, there are only a handful of tournaments remaining on the WTA schedule that haven't been cancelled due to the COVID-19 pandemic.
"As hard as it was to come to this conclusion, I have so much to look forward to in 2021, including the Olympics," Andreescu said. "I want to use this time to focus my game so I can come back stronger and better than ever."
Andreescu hasn't played a competitive match since suffering a knee injury last October at the WTA Finals in China.
She also skipped the U.S. Open this month in New York, calling it a "difficult" decision. Andreescu won the 2019 U.S. Open over Serena Williams, becoming the first Canadian to win a singles Grand Slam.
Andreescu also won major events in Toronto and Indian Wells, Calif., last year as she reached No. 4 in the WTA rankings. She is currently at No. 7 despite her long period of inactivity.
The clay-court French Open, usually held in the spring, was postponed by four months due to the global pandemic.
Leylah Annie Fernandez of Laval, Que., and Eugenie Bouchard of Westmount, Que., are slated to represent Canada in women's singles at the tournament. Bouchard received a wild-card into the event.
Denis Shapovalov of Richmond Hill, Ont., Milos Raonic of Thornhill, Ont., Montreal's Felix Auger-Aliassime and Vancouver's Vasek Pospisil are Canada's players on the men's side.
The main draw begins Sunday.
NFL hands more than $1 million US in fines against 3 teams, coaches who didn't wear masks during games – CBC.ca
NFL coaches thumbed their collective, and exposed, noses at the NFL's mask mandate in Week 2.
The league responded with hefty fines of $100,000 US per coach and $250,000 per club. The first three to get fined were Denver's Vic Fangio, San Francisco's Kyle Shanahan and Seattle's Pete Carroll, according to a person with knowledge of the punishment who spoke to The Associated Press on condition of anonymity because the coaches were not identified.
The punishment was meted out a week after the NFL reminded team personnel on the sidelines about the rules for wearing face coverings during the coronavirus pandemic, lest they put the fledgling season at risk.
More coaches and clubs can expect similar punishments as the memo last week from Troy Vincent, who oversees the league's football operations, was largely ignored throughout the weekend.
Among other offenders: Patriots coach Bill Belichick and his offensive co-ordinator Josh McDaniels, Chiefs defensive co-ordinator Steve Spagnuolo, Colts coach Frank Reich and Rams coach Sean McVay.
Capping a weekend of deliberate defiance and/or desultory disobedience, Raiders coach Jon Gruden, who said last week he felt Vincent's memo was directed at him, and Saints coach Sean Payton were shown on a split screen Monday night, both of them breaking the rules.
Gruden wore his mask like a chin strap, and Payton sported his gaiter like a turtleneck.
Players exempt from face covering rules
Following the Raiders' 34-24 win over the Saints, Gruden revealed he'd had COVID-19 and apologized for violating the rules.
"I'm doing my best," Gruden said. "I've had the virus. I'm doing my best. I'm very sensitive about it. I'm calling the plays. I apologize. If I get fined, I will have to pay the fine."
The scenes were similar Sunday with head coaches and assistants apparently finding it too hard to keep their faces covered as required under the league's COVID-19 protocols with either a mask, gaiter or face shield. Players, who, like the coaches, are subject to daily COVID-19 tests, are exempt from the face covering requirements.
Some coaches such as Belichick, McDaniels and Steelers coach Mike Tomlin wore their masks or gaiters over their mouths but not noses. Others such as Carroll, Spagnuolo and Fangio wore their face coverings around their chins or necks, exposing both their mouths and noses.
In his strongly worded memo, Vincent said teams "must remain vigilant and disciplined in following the processes and protocols put in place by not only the league, union and clubs, but also by state and local governments."
Vincent added: "Becoming careless or ignoring face covering and physical distancing requirements will put the 2020 season at risk."
The rules don't apply to players, but all other individuals with bench area access, including coaches and members of the club medical staff, are required to wear face coverings at all times.
Failure to do so, Vincent warned in his memo, "will result in accountability measures being imposed against offending individuals and/or clubs. The face covering must be worn as designed so that it securely fits across the wearer's nose and mouth to prevent the transmission of the virus."