Apple AirPods Pro (second-gen): price, release date, and how to preorder – The Verge
Apple's "Far Out" event on Wednesday introduced a number of devices to Apple's existing product lineup, including the iPhone 14, a ruggedized Apple Watch, and an updated version of the AirPods Pro. The second-gen AirPods Pro are set to launch on September 23rd for $249.99 and will be available to preorder starting on Friday, September 9th. Apple will continue to sell the entry-level AirPods at their original price of $179; however, it appears Apple is discontinuing the original AirPods Pro with the release of the second-gen model.
Not much has changed aesthetically from the previous iteration of the AirPods Pro, with the new model donning the same pearly white exterior as the original model from 2019. The noise-canceling earbuds also retain the MagSafe-compatible charging case Apple introduced last year. But Apple has made some interesting changes to the hardware that make the second-gen AirPods Pro the company's most impressive earbuds to date.
Starting with the battery life, Apple claims that the new AirPods Pro can support up to six hours of continuous playback with noise cancellation enabled, or an additional 30 with the provided charging case. The 2022 model also includes an updated H2 chip, which allows for an improved Adaptive Transparency mode, better noise cancellation, and swipe controls on the stems for controlling playback. Both the earbuds and Apple's new Find My-ready charging case are also equipped with built-in speakers to let you know where they are if you've misplaced them.
We haven't had a chance to put Apple's new AirPods Pro fully through their paces, but you can check out our initial hands-on impressions of the new earbuds here.
How to preorder the second-gen AirPods Pro
The second-gen AirPods Pro will be available for preorder starting next week for $249.99. The original AirPods Pro were priced at $249 at launch but have now been replaced by their second-gen counterparts on the Apple website. Other retailers, however, are still selling the previous model for $179.99, including Amazon, Walmart, and Best Buy.
If you're considering upgrading to the new AirPods Pro ahead of their official launch on September 23rd, you'll be able to preorder them direct from Apple starting at 8AM ET / 5AM PT on Friday, September 9th. At the moment, Apple is the only retailer looking to open up preorders for the new pair of earbuds, but we'll update this post if Amazon, Best Buy, or any other retailer begins offering the earbuds in advance of their release date.
---
RELATED:
Top Stories: iOS 16.0.2 Bug Fixes, Apple Watch Ultra and AirPods Pro 2 Launch, and More – MacRumors
Who's ready for a breather? A flurry of hardware and software releases following Apple's "Far Out" event earlier this month is finally on a bit of a pause, with the Apple Watch Ultra and second-generation AirPods Pro now making their way into customers' hands while we have a couple of weeks before the iPhone 14 Plus launches.

This week saw the two major hardware releases, but also an important iOS update addressing some bugs with the latest iPhone models and iOS 16 in general, while the more significant iOS 16.1 update continues through beta testing. Be sure to read on below for details on these stories and more as we continue to explore everything new in Apple's latest releases.
Apple Releases iOS 16.0.2 With Bug Fixes for iPhone 14 Pro and More
Apple has released iOS 16.0.2 with several bug fixes. Notably, the update addresses an issue with the rear camera shaking and vibrating uncontrollably on the iPhone 14 Pro and iPhone 14 Pro Max.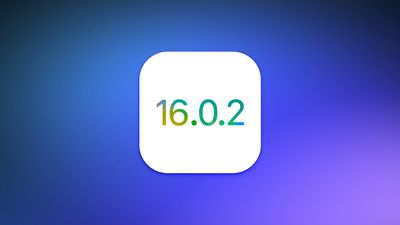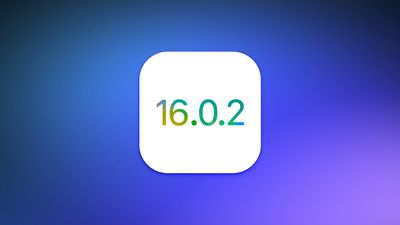 The software update also addresses an issue with excessive copy and paste permission prompts on all iPhones running iOS 16, an issue where touch input was unresponsive on some iPhone X, iPhone XR, and iPhone 11 displays following hardware service, and more.
Meanwhile, Apple continues to test iOS 16.1, which will include support for Live Activities in third-party apps, a new Clean Energy Charging feature in the United States, availability of Apple Fitness+ without an Apple Watch, support for Matter accessories in the Home app, and more.
Hands-On With the New AirPods Pro 2
Apple's second-generation AirPods Pro have begun arriving to customers, and we've had a chance to go hands-on with the upgraded earbuds.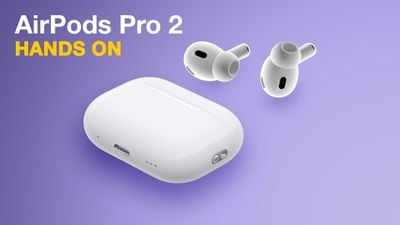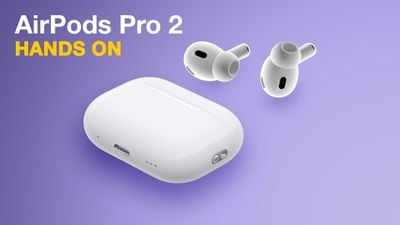 We've also rounded up both written and video reviews of the new AirPods Pro from select media and YouTube channels that had early access for more thorough looks. The reviews tested out sound quality, active noise cancellation, battery life, and more.
Apple Watch Ultra Unboxing and Hands-On
Like the new AirPods Pro, the all-new Apple Watch Ultra is now officially available as the first pre-orders have started arriving.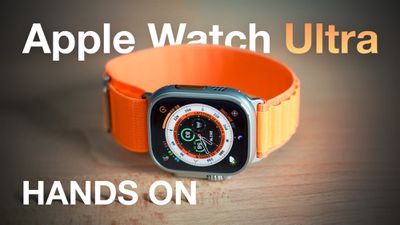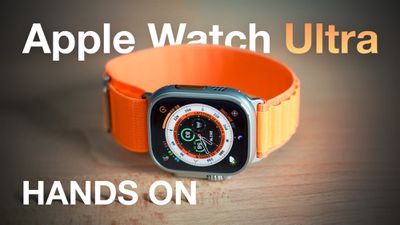 We've gone hands-on for an early unboxing and initial impressions, and we've rounded up both written and video reviews of the Apple Watch Ultra, which is bigger and better than any other Apple Watch model but isn't considered to be a "Garmin killer" yet due to a lack of certain features, such as offline maps and recovery metrics for workouts.
Everything New for iPhone in iOS 16.1 Beta 2
Apple this week seeded the second beta of iOS 16.1 to developers and public beta testers. As usual, the latest beta contains a handful of new features, changes, and improvements for the iPhone.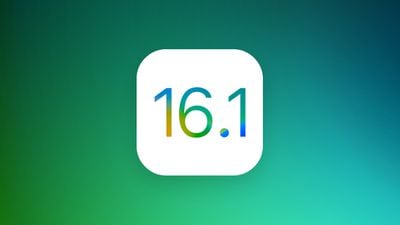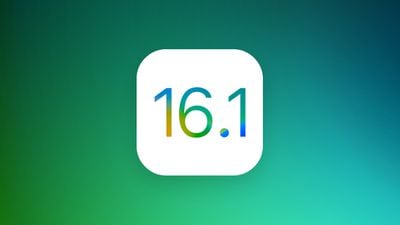 We've rounded up everything new in iOS 16.1 beta 2, including a design tweak to the battery percentage icon in the status bar and more, so be sure to check out the list if you install the beta on your iPhone.
YouTuber Actually Tests iPhone 14's Crash Detection Feature
The new car crash detection feature on all iPhone 14 models is hard to test given that reviewers don't want to risk physical injuries, but one YouTuber has managed to test the feature in a driverless car.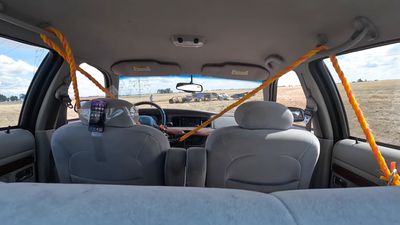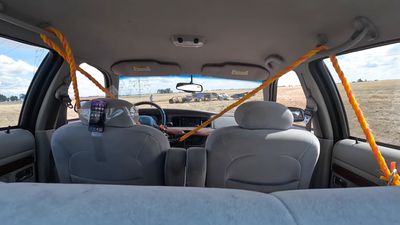 Note that the video does not serve as a scientific test of the feature and is in a controlled environment, so it should be considered purely entertainment, but at least we finally have a closer look at the feature out in the wild.
The MacRumors Show: Sara Dietschy Talks iPhone 14 Features
YouTuber and content creator Sara Dietschy joined us this week on The MacRumors Show podcast to talk through our experiences of all of the iPhone 14 and 14 Pro lineup's new features and more.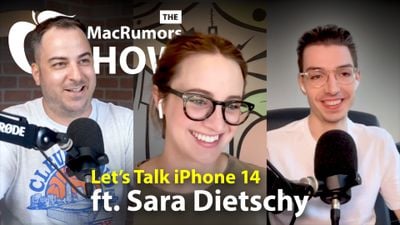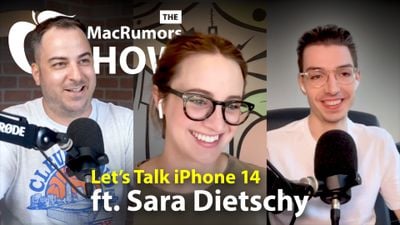 Listen to The MacRumors Show via apps like Apple Podcasts, Spotify, Pocket Casts, Castro, Google Podcasts, or subscribe by copying our RSS feed directly into your podcast player. You can also watch a video version of the podcast on our YouTube channel.
Each week, we publish an email newsletter like this highlighting the top Apple stories, making it a great way to get a bite-sized recap of the week hitting all of the major topics we've covered and tying together related stories for a big-picture view.
So if you want to have top stories like the above recap delivered to your email inbox each week, subscribe to our newsletter!
Apple updates iOS 16 to fix shaky iPhone 14 Pro camera and copy-paste issues – Yahoo Canada Finance
Apple released its latest iPhone lineup and mobile platforms earlier this month, and a couple of annoying bugs quickly made themselves known to users. The good news is that the tech giant has quickly whipped up patches to fix the issues and has now released them as part of the iOS 16.0.2 update. One of the problems the update solves is the iPhone 14 Pro's compatibility troubles with third-party apps that use its camera, such as Instagram, TikTok and Snapchat.
Users found that when they fire up those apps and use the device's rear cam, the camera view shakes on screen and the phone emanates grinding and rattling noises. In its patch notes, Apple said the update fixes an issue wherein the "[c]amera may vibrate and cause blurry photos when shooting with some third-party apps on iPhone 14 Pro and iPhone 14 Pro Max." The company didn't elaborate on the cause behind it, but it's possible that the apps weren't meshing well with the device's optical image stabilization system, causing the rattling noises.
Another troublesome problem the update fixes is the persistent appearance of permission prompts when trying to copy and paste content between apps. Apple senior manager Ron Huang previously admitted that it was "absolutely not expected behavior" and said the company was dealing with it. iOS 16.0.2 will get rid of other bugs, as well, including one that causes the device's display to go black during setup and another that renders the touch input on some iPhone X, iPhone XR and iPhone 11 displays to be unresponsive after they're serviced.
AirPods 3 vs. AirPods Pro 2 Buyer's Guide – MacRumors
Almost three years after the launch of the first-generation AirPods Pro, Apple unveiled the second-generation model alongside the iPhone 14 lineup and several new Apple Watches. Although the second-generation ‌AirPods Pro‌ feature the same design as their predecessor, they improve on features like Active Noise Cancellation, in-ear detection, and battery life, while introducing new functionality like Adaptive Transparency, volume adjustment touch controls, and precision finding.

In late 2021, Apple announced a major update for its standard AirPods, with the new earbuds featuring Spatial Audio, Adaptive EQ, force sensor controls, sweat and water resistance, MagSafe charging, and more.
Should you consider purchasing the $179 third-generation AirPods, or do you need the higher-end ‌AirPods Pro‌, which sell for $249? Our guide helps to answer the question of how to decide which of these sets of AirPods is best for you.
Comparing the AirPods and AirPods Pro
The AirPods and ‌AirPods Pro‌ share a large number of important features such as Spatial Audio with dynamic head tracking, sweat and water resistance, and skin-detect sensors. Even so, there are some meaningful differences between them that are worth highlighting, including design and Active Noise Cancellation.
Third-Generation AirPods
Semi in-ear design
Force sensor controls
H1 chip
Bluetooth 5.0
Up to 5 hours listening time with Spatial Audio enabled
Up to 4 hours of talk time with a single charge
Up to 20 hours of talk time using ‌MagSafe‌ Charging Case
‌MagSafe‌ Charging Case with Find My
‌MagSafe‌ Charging Case compatible with ‌MagSafe‌ charger, Qi wireless charging mats, and Lightning
Second-Generation AirPods Pro
In-ear design with silicone ear tips (four sizes)
Vent system for pressure equalization
Force sensors and touch controls for volume adjustment
H2 chip
Bluetooth 5.3
Active Noise Cancellation
Transparency and Adaptive Transparency
Conversation Boost
Up to 5.5 hours listening time with with Spatial Audio enabled
Up to 4.5 hours of talk time with a single charge
Up to 24 hours of talk time using ‌MagSafe‌ Charging Case
‌MagSafe‌ Charging Case with built-in speaker for ‌Find My‌, U1 chip for Precision Tracking, and lanyard loop
‌MagSafe‌ Charging Case compatible with Apple Watch charger, ‌MagSafe‌ charger, Qi wireless charging mats, and Lightning
Final Thoughts
The standard AirPods are now very similar to the ‌AirPods Pro‌, offering almost all of the same features at a lower price point. As a result, the third-generation AirPods should be the default choice for most prospective buyers. If you also have AirPods Max, which already offer ANC, and are looking for an additional pair of headphones to use while working out or on the go, the third-generation AirPods are also a good choice.
You should only buy the ‌AirPods Pro‌ if you specifically prefer the fit and improved sound that in-ear silicone tips can provide, or need Active Noise Cancellation. It is also worth buying ‌AirPods Pro‌ if you could make good use of Apple's Conversation Boost accessibility feature. Otherwise, the advancements of the H2 chip, minor battery life improvements, and Adaptive Transparency may not be a worthwhile set of improvements over the standard AirPods.
‌AirPods Pro‌ frequently see hefty discounts on Amazon and other third-party retailers, so stepping up to the Pro version may be more worth it if you can take advantage of one of those deals. The standard AirPods also often see solid discounts, so it is always worth seeking the best price using our Deals roundup.