Black Friday headphones deals: the best wireless earbuds deal is still in stock – TechRadar
On of the best Black Friday headphones deals we've seen so far is still available – for now, anyway. Right now, you can get the Sony WF-1000XM3 Wireless Earbuds at their lowest ever price in the US and the UK, but you'll need to act fast as they're likely to sell out quickly.
In these stunning Black Friday deals the Sony WF-1000XM3 cost just $168 in the US and £149 in the UK, saving you over $60 / £70. (Not in the US or UK? Scroll down for the best deals in your region.)
Today's best Sony WF-1000XM3 deals
Lowest price
Sony WF-1000XM3 wireless earbuds: $229 $168 at Best Buy
Save over $61 on the best wireless earbuds of 2020 at Best Buy, which is the lowest price we've seen so far for the Sony WF-1000XM3. Featuring industry-leading noise cancellation, brilliant sound, and a fantastic battery life, the Sony WF-1000XM3 have consistently ranked as TechRadar's favorite pair of wireless earbuds.
View Deal
Lowest price
Sony WF-1000XM3 wireless earbuds: £220 £149 at Amazon
In the UK you can save over £70 on the premium wireless earbuds at Amazon. With excellent active noise cancellation, unbeatable sound quality, and a long-lasting battery, the Sony WF-1000XM3 are a great purchase this Black Friday.
View Deal
The Sony WF-1000XM3 wireless earbuds are quite simply some of the best earbuds you can buy right now and a perennial favorite here at TechRadar.
Rated highly in both our review and buying guides, they're a great option for those who want an understated, sleek, feature-packed set of noise-cancelling earbuds that still manage to come in at a reasonable price. While the noise-cancelling might not reach the lofty levels of excellence featured on their Sony WH-1000XM4 over-ear cousins, they still square up to anything offered from the likes of Apple and Bose – and with great battery life to boot.
Prefer over-ear headphones? In the US, you can also get the brilliant Sony WH-1000XM3 for $214.99, saving you $135 – and there's even a Sony WH-1000XM4 deal to snap up if you want the newest model, with Amazon slashing the price from $349.99 to $278.
While the latest Sony headphones haven't been discounted in the UK just yet, you can still get a £100 saving on the WH-1000XM3 noise-cancelling headphones, bringing the price down to just £219.
There are cheap Sony headphones available too, which means there's a Black Friday headphones deal out there for every budget – you can find all the best deals below, kicking off with the US. If you're in the UK, scroll down to find the best Sony headphones deals in your area.
More Sony headphone deals (US)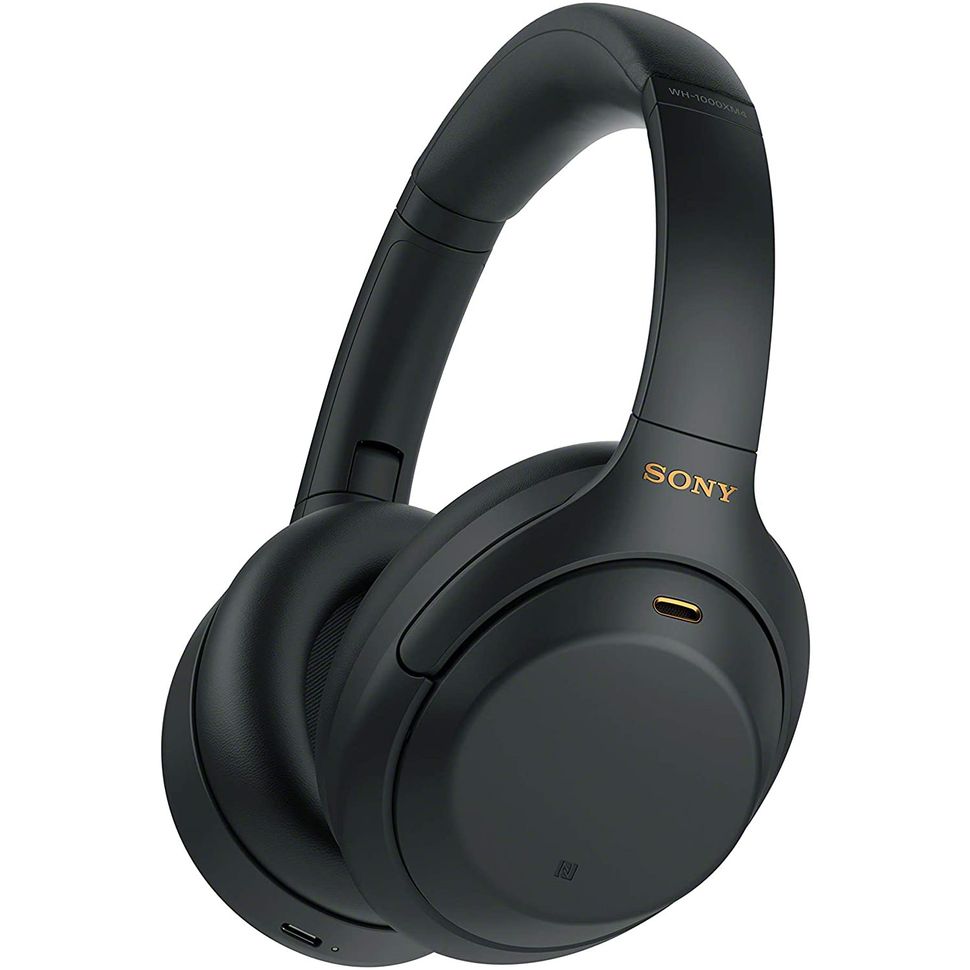 Sony WH-1000XM4: $349.99 $278 at Amazon
Amazon has dropped the price of TechRadar's top-rated headphones by $72. That's $20 lower than the Lightning deal found during Prime Day 2020, but you'll need to be quick if you want to grab the noise-cancelling cans at this price. You may find cheaper headphones on Black Friday, but you won't find any better than the WH-1000XM4.View Deal
Sony WH-1000XM3 wireless headphones: $349.99 $214.99 at Focus Camera
Give your ears a treat with Sony's excellent, top-of-the-line wireless and noise-cancelling cans, while also saving yourself loads of cash in the process thanks to this top early Black Friday deal from Amazon. View Deal
Sony WI-C310 Wireless Earbuds: $39.99 $18 at Amazon
Save over 50% on these Sony wireless earbuds, which come with 15 hours of battery life, inbuilt microphones for making calls, and 9mm drivers for crisp, clear sound.View Deal
Sony WH-XB900N noise-cancelling headphones: $248 $123 at Amazon
This is an incredible 50% discount on these bassy headphones from Sony, which come with 30 hours of battery life, intuitive touch controls, and active noise cancellation.

View Deal
Sony WH-XB700 EXTRA BASS Wireless Headphones: $129.99 $78 at Amazon
Looking for something a little cheaper? These Sony cans don't come with noise cancellation, but they do boast a 30-hour battery life, a compact on-ear design, and built-in Alexa.View Deal
Sony WF-XB700 Wireless Bluetooth Earbuds: $129.99 $68 at Amazon
Need some cheap wireless earbuds? Check out this fantastic deal from Amazon, which cuts the price of the Sony WF-XB700 by over $61. These sweat / water-resistant buds come with a nine-hour battery life and support for Google Assistant and Alexa.View Deal
More Sony headphone deals (UK)
Sony WH-1000XM3 wireless headphones: £330 £219 at Amazon
This isn't the lowest deal we've ever seen, but with over £100 off the original RRP, Amazon is giving you the chance to pick up Sony's excellent, top-of-the-line wireless and noise-cancelling cans for a fraction of the price.
View Deal
Sony WF-XB700 Wireless Bluetooth Earbuds: £129 £59 at Currys
Need some cheap wireless earbuds? Check out this fantastic deal from Currys, which cuts the price of the Sony WF-XB700 by £70. These sweat / water-resistant buds come with a nine-hour battery life and support for Google Assistant and Alexa.View Deal
Sony WH-CH510 wireless headphones: £50 £29.99 at Amazon
If you're just after a super cheap pair of over-ear headphones, these Sony cans should do just the trick – and they cost even less than usual right now. There's a £20 price drop on the WH-CH510 headphones right now – with an impressive 35 hours of battery under the hood, quick charge, a mic for quick hands free calls, and even voice assistant compatibility.
View Deal
Sony WH-XB900N noise-cancelling headphones: £230 £119.99 at John Lewis
With up to 30 hours of battery life, intuitive touch controls and digital noise cancellation, you're picking up a pretty sophisticated set of headphones for a great price here. The WHXB900Ns are more geared towards bass heads, so if you're after that thumping low range you'll be particularly at home here.
View Deal
Not in the US or UK? We've rounded up the best Sony headphone deals in your region below:
If you freelance or have a side gig, tech experts recommend doing this once a week – Financial Post
Article content
This article was created by StackCommerce. While Postmedia may collect a commission on sales through the links on this page, we are not being paid by the brands mentioned.
We live in a digital world filled with massive amounts of media files that can overload and slow down our computer's capacity. As a freelancer, you know this dilemma all too well. Working for several clients and handling copious amounts of data means storage is a long-term concern. But did you know not only should you have a data storage solution, but you also need to back up your computer at least once a week?
It's true. Sadly, many people learn to backup their computer regularly from a hard drive crash that leaves essential documents lost forever. Luckily, storage and backup solutions have become more convenient than ever. Cloud-based backup services have been revolutionary for freelancers and business owners around the globe.
Starchive 1TB Cloud Storage offers cutting-edge technology at an affordable price. The lifetime subscription means you have one terabyte of 100 per cent private cloud storage that is easy to utilize whenever you need it. The automated file curation leverages AI so you can access files instantly. The powerful search offers custom fields, auto tags, and data probing for an overall faster search experience.
Samsung Galaxy S21 Ultra Teardown Video Reveals Difficulty in Replacing Battery and Display – Gadgets 360
Samsung Galaxy S21 Ultra teardown video has been posted on YouTube, highlighting the difficulties in replacing its AMOLED screen. Changing the battery pack of the Galaxy S21 Ultra is also hard, as the teardown shows the requirement of quite an effort to pry the battery off. The teardown video also provides a detailed view of the components powering the latest Samsung flagship. The phone carries optical image stabilisation (OIS) support on three of its cameras. The Galaxy S21 Ultra also appears to have an enhanced thermal management.
The nearly nine-minute teardown video posted by YouTube channel PBKreviews begins with removing the back of Samsung Galaxy S21 Ultra by applying some heat. The back features a glass construction, though the camera housing is made of metal.
Removing the back panel of Samsung Galaxy S21 Ultra is just identical to how one can remove the back of the regular Galaxy S21, that also received a teardown treatment by the same YouTube channel recently. However, there are some major differences between both phones in terms of internals and their assembly.
The Galaxy S21 Ultra's top speaker come without foam-ball insulation that's there on the Galaxy S21. Foam balls on the speaker assembly are believed to help produce louder sound with more coverage. Samsung, however, didn't provide that tweak on the Galaxy S21 Ultra.
In comparison with the vanilla Galaxy S21, Samsung Galaxy S21 Ultra also lacks a detachable screen connector cable. The phone instead has a cable fixed with the screen.
"If you need to replace the screen, you would have to take the backplate off, remove the top cover, and disconnect the screen cable from the main board," the narrator in the teardown video said. "And then you'd remove the speaker assembly on the bottom. You'd heat up the front of the phone where the screen is, and you pry your old screen off."
The battery of Samsung Galaxy S21 Ultra is also fixed with adhesive and doesn't include any pull tabs to help you remove the battery pack.
"This battery is really difficult to pry off," the narrator said. "I had to use some isopropyl alcohol to loosen up the adhesive underneath so I could pry it off."
Samsung appears to have deployed graphite on the NFC antennae and motherboard to provide better heat dissipation. The Exynos 2100 processor and RAM also have a thermal paste on top, as per the video.
The YouTube channel has given the Samsung Galaxy S21 Ultra a repairability score of six out of 10 — given the struggle it requires in removing the battery and the screen. The repairability score is notably lower than the one given to the Galaxy S21 – 7.5 – as the Galaxy S21 Ultra comes with a glass back that is more difficult to remove, compared to a plastic back.
---
What will be the most exciting tech launch of 2021? We discussed this on Orbital, our weekly technology podcast, which you can subscribe to via Apple Podcasts, Google Podcasts, or RSS, download the episode, or just hit the play button below.
Galaxy S21: Samsung copies Apple again, and both Android and iPhone fans suffer – CNET
This story is part of CES, where our editors will bring you the latest news and the hottest gadgets of the entirely virtual CES 2021.
Samsung's Galaxy S21 line has plenty going for it. The displays have been improved, the processor has gotten faster and the cameras have been upgraded to take sharper photos and videos. And at a $200 cheaper starting price than the Galaxy S20, they are once again an enticing alternative to Apple's latest iPhones.
But in seemingly taking a page out of Apple's playbook, Samsung is scaling back on a few things. There is once again no headphone jack, the microSD card slot is gone and a fast charger is no longer included in the box. For some, it's like Samsung is copying Apple in all the wrong ways.
Sure, some of these changes should no longer be a surprise. Last year's Galaxy S20 line didn't have a headphone jack, and most pricier phones have said goodbye to the port as companies push Bluetooth earbuds and headphones. (Samsung unsurprisingly unveiled its latest $200 Galaxy Buds Pro earbuds at the same event as the S21.) This year Samsung, like Apple with the iPhone 12, went a step further and also removed the included wired headphones, which makes sense as it clearly wants people to buy its wireless buds.
It is, however, giving up to $200 in Samsung Credit for those who are preordering its new phones directly from Samsung.com. The credit can be used toward buying a pair of Buds Pro or other accessories, softening the blow for at least early adopters.
The microSD card slot was also seemingly on borrowed time. Samsung already has dropped the expandable storage option on its foldable phones, and a number of other manufacturers have turned away or long ignored the capability. Apple and Google never supported microSD storage expansion for their phones, while OnePlus only has the option available for its more affordable Nord series.
"Over time, SD card usage has markedly decreased on smartphones because we've expanded the options of storage available to consumers," the South Korean electronics giant said in a statement. The company notes that its phones come with at least 128GB of storage while also supporting 5G and Wi-Fi 6E for faster wireless transfers to and from cloud storage platforms like Microsoft's OneDrive and Google Drive.
While I can understand why this is frustrating for some power users, the idea of losing the microSD card slot never really bothered me. I also do appreciate that the base storage option is 128GB across the board, not 64GB like on Apple's iPhone 12 and 12 Mini.
So long, included fast charger

What I'll really miss, however, is the power adapter.
Apple kicked this "trend" off last year when it announced that it would no longer be including a charging brick with its latest iPhones. Lisa Jackson, Apple's vice president of environment, policy and social initiatives, said at the time that removing the products from the box will be better for the environment because it cuts down on waste (though, as some analysts pointed out, there may have been a nice financial benefit on the side to cash in on accessory sales).
Apple's 5-watt USB chargers that have been included with most iPhones for years are largely wasteful in 2021, ending up in a drawer or staying in the box. It would've been great for Apple to include a faster USB-C charger as it did with the iPhone 11 Pro and 11 Pro Max, but in ditching the slow charger the company could pretty easily claim it is helping the environment because so many people have the same charger from various other Apple products they've purchased over the years.
Read more: Samsung's Galaxy S21 upgrades likely won't spell an end to Galaxy FE or Note lines. Yet
Samsung, like Apple, says it is dropping the included power brick to help the environment. Federico Casalegno, Samsung's senior vice president of experience planning and its design innovation center, explained during Thursday's virtual press conference that "many of our users prefer to reuse their current chargers and earphones and to leave the new ones in the box, unused." Just like Apple, Samsung is shrinking its packaging for the S21 line in a bid to reduce its footprint.
Unlike Apple's chargers, however, Samsung's chargers have been getting more useful to me over time as the company's included power bricks can fast-charge devices over USB-C. For the Galaxy S20, Samsung included a 25-watt fast charger which, well, is actually pretty great.
The company says on its website for the S21 Ultra 5G that using that same type of power adapter can recharge the Ultra's 5,000-mAh battery in "about an hour."
Any effort to help the environment and solve the growing e-waste problem should be commended, but instead of dropping features, it would've been great to see Samsung take the lead and embrace new technologies such as gallium nitride for its chargers. This technology not only offers a fast way to charge but also is more energy-efficient, wasting less heat compared to traditional silicon chargers.
If it coupled offering newer, faster chargers with the S21 with an incentive of an extra few bucks for people to trade in their older chargers with their phones, it could've flipped the conversation. By recycling plenty of older chargers and giving users a more energy-efficient way to power their fancy new phones, Samsung would still be helping the environment while not taking away a useful feature from consumers.
And it's not like these new gallium nitride chargers are overly expensive. A new 30-watt USB-C GaN charger from AmazonBasics is available for less than $20, roughly the same price Samsung charges for a new 25-watt power adapter on its website.