Cam Newton honored with Ron Hobson Media Good Guy Award – Patriots.com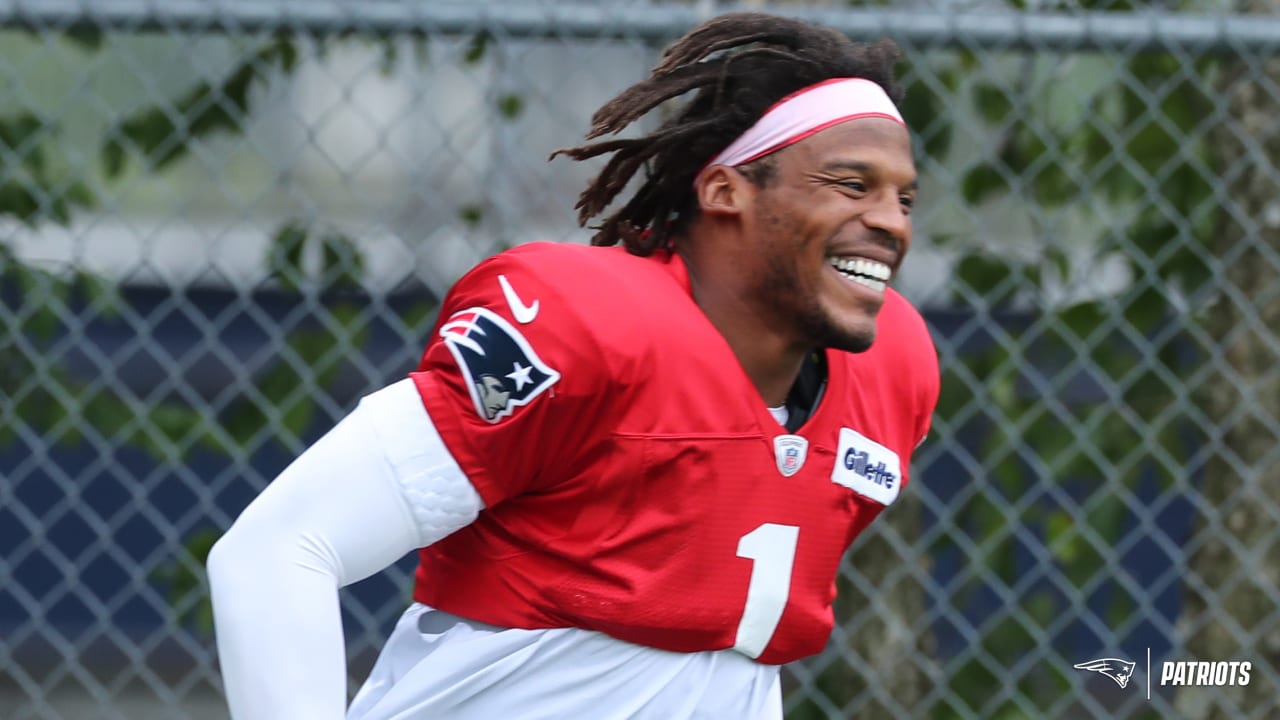 Despite this and having never met media members in person, Cam Newton's emotional honesty, patience and fantastic one-liners all season long earned him the 2020 Ron Hobson Media Good Guy Award.
NESN's Doug Kyed, the New England chapter president of the Pro Football Writers Association, surprised Newton at the beginning of his Thursday press conference.
"It's obviously been a trying year for many of us, but Cam is always a pleasure to interview, win or lose … It's always easy to write or report after Cam talks," Kyed said.
Newton held up the glass award to the laptop camera for all reporters to see, and with genuine shock, expressed his gratitude.
"Thank you! I appreciate it … That's pretty cool right here man," Newton said. "Thank you. Appreciate you guys."
In the press conference that followed, Newton doubled down on exactly why he was selected to begin with. In a 25-minute interview, Newton covered everything from what he's learned from Bill Belichick this year to the biggest sacrifice of 2020 — missing time with his children.
It was honest, vulnerable and, oftentimes, hilarious, which was the media's experience covering Newton's press conferences in a nutshell. As difficult as this year was on so many fronts, Newton said he learned that he was "a mentally tough SOB," and took a great deal from the trials.
"It teaches you resiliency. It teaches you patience. It teaches you to have faith, an understanding sooner or later you're going to get a break. I'm not looking for no handouts," Newtonsaid. "It's just more or less to say, 'Bro, damn. Finally.' 2020 man, I'm about to sign, seal, tie this year up. Put a big knot on it. I can buy every single lock, key, throw away all them keys. I don't want to see no part of 2020, but it made me a better person. That I do believe."
As we all turn the page and welcome 2021, we'll leave you with one final moment that just about sums it.
"Feeling so 2021," he said. "Can't be any worse than 2020, ya feel?"
You can watch Newton's entire Dec. 31 press conference here.
Chinese media criticise Pfizer COVID-19 vaccine, tout local shots – TheChronicleHerald.ca
BEIJING (Reuters) – Chinese state media outlets have run a series of articles criticising Western COVID-19 vaccines in the past week, including Pfizer's, while touting China-made vaccines as safer and more accessible.
The reports have come as China's vaccines, which are being rolled out to countries including Brazil, Indonesia, and Turkey, have faced criticism in the West for insufficient data disclosure.
The Global Times, a tabloid published by the People's Daily, the official newspaper of China's ruling Communist Party, has published more than ten reports in the past week critical of vaccines and inoculation schemes in the West.
About half of them have referred to reported deaths of some highly frail patients in Norway after being inoculated with the COVID-19 vaccine developed Pfizer and its partner BioNTech.
In a Jan. 15 editorial, the Global Times accused mainstream U.S. and British news outlets of "deliberately downplaying the deaths" and "using propaganda power to promote the Pfizer vaccine and smearing Chinese vaccines."
"Those major Western media will immediately hype any unfavourable information about Chinese vaccines and try to amplify their impact on public psychology," it said.
Norwegian authorities have not established a causal link between the deaths and vaccination and said on Jan. 18 they were not changing their policy on using the Pfizer/BioNTech vaccine.
Liu Xin, an anchor with CGTN, China's English-language state TV channel, on Jan. 16 tweeted screenshots of an unverified report of 10 deaths after vaccinations in Germany.
"Can't independently verify but it's concerning," she tweeted. "What about following it up? Hello??? @BBCWorld @CNN @AP @Reuters."
A Global Times report on Tuesday cited Chinese experts saying Australia should consider halting regulatory procedures for Pfizer's vaccine until the investigation of the deaths is over.
It also said Australia should purchase Chinese-developed vaccines, "which are relatively safer due to their mature technology".
The Global Times has also argued that Chinese vaccines are cheaper and easier to transport, and portrayed Pfizer as an unreliable supplier, sacrificing need in other countries to prioritise supply for the United States.
Pfizer did not immediately respond to a request for comment on Wednesday.
The U.S. drugmaker said last week it was temporarily slowing supplies of its COVID-19 vaccine to Europe to make manufacturing changes that would boost output.
Final stage clinical trials showed the vaccine was 95% effective, with no major safety concerns.
(Reporting by Beijing Newsroom and Yew Lun Tian. Editing by Mark Potter)
IMG Media Ltd. Sells Shares of Bragg Gaming – Canada NewsWire
LONDON, United Kingdom, Jan. 20, 2021 /CNW/ – IMG Media Ltd. announced today that on January 19, 2021 it sold 220,560 common shares ("Shares") of Bragg Gaming Group Inc. ("Bragg Gaming") through the facilities of the over-the-counter market in the United States for aggregate consideration of US$412,828.56, which represents an average sale price of approximately US$1.87 per Share.
In April 2017, IMG Media Ltd. acquired 3,985,570 Shares, which represented approximately 14.5% of the outstanding Shares at such time (Bragg Gaming was then known as Breaking Data Corp). As a result of additional Share issuances by Bragg Gaming during the intervening period, the 3,985,570 Shares held by IMG Media Ltd. represented approximately 3.38% of the outstanding Shares immediately before the sale announced today (based on the 117,948,396 Shares presumed to be outstanding as of January 13, 2021, being the sum of (i) the 2,479,335 Shares issued in connection with the non-brokered private placement disclosed by Bragg Gaming in its Material Change Report dated January 15, 2021, and (ii) the 115,469,061 Shares that Bragg Gaming disclosed were outstanding as of November 23, 2020 in its Management Discussion & Analysis for the three and nine-month periods ended September 30, 2020).
IMG Media Ltd. continues to hold 3,765,010 Shares, which represent approximately 3.19% of the outstanding Shares (based on the 117,948,396 Shares presumed to be outstanding as of January 13, 2021). Accordingly, the 220,560 Shares sold by IMG Media Ltd. resulted in a decrease in its ownership percentage in the Shares of Bragg Gaming of approximately 0.19%. IMG Media Ltd. holds Shares in Bragg Gaming for investment purposes and may from time to time, depending on market conditions, developments affecting Bragg Gaming and its business, and other business or investment opportunities that may arise, acquire additional Shares or other securities of Bragg Gaming or dispose of some or all of its Shares through market transactions, private agreements or otherwise.
IMG Media Ltd. will file an early warning report in accordance with applicable securities laws under Bragg Gaming's issuer profile on SEDAR at www.sedar.com. A copy of such report can also be obtained by contacting Robert Hilton at (212) 586-5100.
SOURCE IMG Media Ltd.
How Attention Experts Have Become Australia's Leading Social Media Managers – GlobeNewswire
Sydney, Australia, Jan. 20, 2021 (GLOBE NEWSWIRE) — Social media has become one of the most powerful forces in online communications since it's introduction in the early 2000's. Billions of people utilize various social media platforms for entertainment, research, inspiration and connection. That's why it's never been more important to have a strong social media presence. While it's easy to create a profile and post a few pictures, there is a fickle dance where science meets art when it comes to posting on social media. Where these two concepts intersect is the spark that captures people's attention, generating connection and engagement.
George Hawwa, founder of the leading Australian social media marketing agency, Attention Experts, understands this concept, and has a deep relationship with using data and human behavioural psychology to connect his clients with their audiences. Prior to Attention Experts, George helped establish two multi-million dollar online companies through social media marketing. This then led to other organisations reaching out to George and asking for help with their social media performance. This is when he decided to start an agency, Attention Experts, in 2016. George and the Attention Experts team know how essential social media is to the success of a business in this digital age and has made it their focus to put these tools in the hands of brands, assisting companies of all sizes; from large multinational corporations to small, local brick and mortar store businesses.
Having serviced hundreds of clients across 20 different industries globally, in both the Business to Business and the Business to Consumer sectors; Attention Experts live up to their namesake. They are professional experts in their field and have established themselves as the highest rated social media agency in Australia. Winning accolades from the Australian Marketing Institute awards, have been recognized by Yahoo Finance, and earned Facebook Partner status; solidifying Attention Experts as being on the cutting edge of social media marketing institutions.
What sets Attention Experts apart from their competitors is their emphasis on data driven strategies and their focus on generating return on investment for their clients. The social media campaigns that Attention Experts develop are the result of in-depth research into their clients brand vision and audience needs, creating and implementing content that increases the brand value of their clients businesses and developing databases of engagement from which to draw from.
Attention Experts' ethos involves a unique philosophy in the social media space, which is data leads content. While other social media marketers lead via content, and end up overwhelming their potential audience with a wide net of posts attempting to capture whatever engagement they can, Attention Experts are led by data, leading to an online presence that is intentionally curated for engagement by their intended audience and higher conversion rates for their clients.
Getting ahead of the curve with your online presence, ensures using the best providers. Companies like Attention Experts are the obvious choice, ensuring you are working with acclaimed agencies. Their comprehensive social media management services take the guesswork and hassle out of managing your online brand, and give you the confidence to focus on continuing to build your business.
If you want to learn more about how Attention Experts can help you, head over to their website.
Media details
Name – George Hawwa
Company Name – Attention Experts
Business Email – george@attentionexperts.com
Website – https://attentionexperts.com/
Attachment