Economy added 94000 jobs in July, largely in the services sector: Statistics Canada – Coast Reporter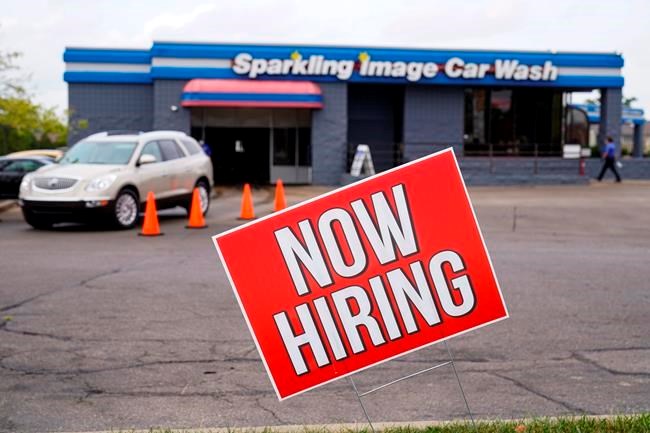 OTTAWA — Statistics Canada says the country added 94,000 jobs in July as public health restrictions linked to the COVID-19 pandemic continued to be lifted, but economists warned there is still a "long slog" toward a full recovery ahead.
The federal agency said Friday that the job gains caused the unemployment rate to fall to its lowest level since March of this year, at 7.5 per cent for July compared with 7.8 per cent in June.
The gains were seen primarily in Ontario and in the service sector, with 35,000 jobs added in the accommodation and food industry.
The rise came largely in full-time work, which rose by 83,000 or half a percentage point and occurred in multiple sectors.
Many economists had expected the country to add at least 100,000 new jobs during July and thought the unemployment rate would sit around 7.4 per cent last month.
"While the headline tally may have come in a tad light of meaty expectations, it's still a healthy advance, and there were some clear flashes of strength beneath the hood," said Douglas Porter, BMO Capital Markets' chief economist, in a note to investors.
He saw positive signs in the number of full-time positions added and the 1.3 per cent increase in total hours worked, though that figure was still 2.7 per cent below pre-pandemic levels.
"It will only take a few more reports like today's to get employment all the way back to pre-pandemic highs," Porter said.
He predicted the country will see one more employment bump before it settles into a "long slog" as job gains tied to reopening dissipate and the economy begins to more seriously deal with the Delta variant of COVID-19.
Canada is still 246,400 jobs, or 1.3 per cent, shy of pre-pandemic employment levels seen in February 2020.
The number of people considered long-term unemployed — those out of work for more than six months — in July was 244,000 higher than before the pandemic and accounted for 27.8 per cent of total unemployment. Of that number, more than two-thirds have been out of work for a year or longer, Statistics Canada said.
Like Porter, CIBC senior economist Royce Mendes believes job gains will be harder to earn in the coming months.
"Gains are likely to slow from here, with many employers reporting labour shortages due to generous government support, concerns about contracting COVID in high-contact work settings, and childcare duties," he wrote in a note to investors.
However, he also said July's increase continues the pattern begun with the 231,000 jobs added in June and can be considered a strong gain, making up for employment losses incurred during the third wave of the COVID-19 pandemic.
This report by The Canadian Press was first published Aug. 6, 2021.
The Canadian Press
'Full-blown war' of housing NIMBYism threatens Canada's economy: CAPREIT CEO – BNN
The head of one of the nation's largest residential landlords is warning Canada can ill afford a "full-blown war" on higher density housing projects led by single-family home owners intent on opposing those developments.
Canadian Apartment Properties Real Estate Investment Trust (CAPREIT) chief executive officer Mark Kenney said widespread pushback against higher density supply only serves to raise asset prices, and could have a dire impact on immigration levels and by extension long-term economic growth.
"Canada has had affordable housing for decades upon decades upon decades. It's only in the last, I'll say 10 years that affordability has started emerging as a really serious problem. But we can't have immigration – responsible immigration – without responsible housing policy," he said in an interview Tuesday.
"The reality is that if we want to have these ambitions, we have to have a different housing policy. It can't be a full-blown war against housing when we really need people coming to our country to help build our economy."
While home ownership affordability pressures have eased slightly – average prices in Toronto fell 6.4 per cent month-over-month in April to $1,202,819 – CAPREIT has seen some of the heat seep into the rental market.
In its most recent quarter, CAPREIT's monthly rental prices rose 10.2 per cent at units where there was tenant turnover.
Kenney said his company and the REIT sector at large are ready and willing to step in to help address supply constraints, but said the industry has been stymied by zoning rules, which are under the purview of municipalities.
"We're very much in the acquisition of new construction apartment buildings now. CAPREIT has been building up its zoning, we have over 10 thousand units of market-viable land. It takes so long to zone this land," he said.
"The apartment REITs are a big part of the supply solution for Canada. The apartment REITs are definitely a big part of the supply solution for Canada. We're capitalized properly, we have the experience and we have the land."
Kenney also pointed to modular housing as a potential solution for Canada, which badly lags the United States in adoption of that form of housing.
"This is one of the most affordable forms of home ownership there is out there. The U.S. has a very large segment of manufactured homes – close to 17 per cent of people in the U.S. live in one, versus less than one per cent in Canada – so we have an affordable home ownership solution sitting right in front of us, it's a matter of getting zoning to allow these homes to be put in," he said.
Kenney said part of the challenge is the stigmatization of modular homes, with perceptions they're no different from the mobile homes of years past.
"The reality is that the quality of these homes are better than homes that are built in subdivisions, because they're built in a controlled environment," he said, adding they have "high, high energy efficiency — they're probably the most eco-friendly form of housing you can buy.
"Terrible stigmatization, but the reality and the opportunity out there for Canada, we're trying our hardest to get the messaging across. It's a big part of the answer – not for big cities, but definitely in the rural areas."
CFL collective bargaining scuffle impacting Regina economy – Global News
As the Canadian Football League (CFL) and the CFL Player's Association continue to negotiate a new collective bargaining agreement, the start of the season hangs in the balance.
With players striking until a new deal is reached, fans and local businesses are keeping a watchful eye on the situation with games potentially getting cancelled.
"You can feel the energy in the city when the Riders are playing. It's infectious, it's exciting and to think that we might not get that experience in the same sense as we have in the past, it's disappointing," said Tyler Burton, assistant general manager at Regina's Cathedral Social Hall.
That infectious energy on a Rider game day translates to dollars for local businesses which are now waiting in limbo on whether or not Monday's preseason contest between Saskatchewan and Winnipeg at Mosaic Stadium will even be played.
"Rider games are often the biggest show in town. They give a much-needed boost to our tourism and hospitality sector anytime we can host a game in Regina so we are anticipating a busy weekend with the upcoming game," said Chelsea Galloway, Chief Tourism and Visitor Growth Officer for Economic Development Regina.
"We are really excited to have that in town and our restaurants, our hotels, and airport are all ready to welcome people back."

2:10


CFL season once again on hold as CBA looms



The potential cancellation of Monday's pre-season game — not to mention possible further cancellations depending on how long the work stoppage lasts — affects the entire economy. This is especially critical in markets like Saskatchewan where CFL game days provide a major financial boost.
"You see it all over our city, but I think definitely in our restaurants and our hotels it's those last minute cancellations, business that they're anticipating. They get that schedule, they see those games, they're trying to staff up, they're building budgets around that so our entire hospitality sector gets impacted by things like this," said Galloway.
"Rider events are the games that we plan forward to months in advance. We make sure the staff can't book off the days just because we know we are going to get slammed pre-game and post-game. It's huge for us; we look forward to it every year.
"Last year obviously was a little different with COVID but this year was supposed to be the first normal year back so it's tough to know that we might be losing some of those games, if not all of them. The numbers don't lie, they are some of our busiest days of the year."
Even vendors at Mosaic Stadium like Fresh Carnival are stuck managing 40 staff members and preparing perishable food items for an event that may or may not happen this coming long weekend.
"We do plan as far ahead as possible for that so we do have all this extra product coming in which is already hard enough to find these days with all the other factors out there in the world," said Burton.
"But for us to plan so far ahead and then to have it just not happen last minute it makes you stand back a bit and shows how volatile the industry can be and how all the little events around a city like Regina make such a big difference."
But the biggest boost for Regina's economy will come in November when the city hosts the Grey Cup and its accompanying festival.
"The Grey Cup is very significant. We've hosted it three times in Regina in the past. This time we actually have 10 more hotels, over 1,000 new rooms, so it's big. We're projecting a sellout at this point so it's a massive event for our city," said Galloway.
After two tough pandemic years, businesses are hoping for a quick solution to the latest collective bargaining situation.
"The timing couldn't be worse, obviously, and that goes without saying. I mean, after coming out of COVID and after going through a year that's kind of week-by-week where we don't know what to expect, to see the finish line or whatever that may be and think, 'Oh we have this first Rider pre-season game coming up' and everyone is talking about it and then all of a sudden for it to be pulled out from under our feet, it's disappointing," said Burton.

8:59


Focus Saskatchewan: CFL Struggles



© 2022 Global News, a division of Corus Entertainment Inc.
Opinion: Tokenization, not crypto, is the future for Canada's digital economy – The Globe and Mail
Mark Wiseman is a Canadian investment manager and business executive serving as a senior adviser to Lazard Ltd., Boston Consulting Group and Hillhouse Capital, and the chair of Alberta Investment Management Corp.
The dual threats of inflation and further financial downturns are real and require immediate action from policy makers – and they arise at a time when a litany of disruptive global events have darkened the economic outlook.
In order to be effective, both monetary and fiscal policy must be surgical, centralized, based on data and implemented with accountability. We must also be cautious when the likes of Conservative leadership candidate Pierre Poilievre advocate to "opt out" of inflation and create economic value with bitcoin or other cryptocurrencies. The political appeal of such voices ignores both economic reality and the larger opportunity in this digital space: tokenization.
Having been an investor for more than two decades, including many years spent managing the pension investments of millions of Canadians, I care about the principle of intrinsic value: pricing assets based on their underlying attributes and, in turn, generating a reasonable risk-adjusted return from those assets.
Unlike traditional investment alternatives, cryptocurrencies have been – and are – extremely volatile, with their value tied to speculative activity as opposed to intrinsic worth.
While one can envision how central-bank digital currencies or stablecoins could change our financial system and create significant efficiency value down the road, the real benefit that exists today is in the blockchain and distributed-ledger technology behind cryptocurrencies.
Tokenization is a tool created by such technology and has the potential to immediately create and redistribute value for everyday Canadians. It allows owners of assets with intrinsic value – ranging from real estate, to securities, to commodities, to fine art (or the digital equivalent) – to tokenize their assets into a form that is usable on a blockchain application. In practical terms, it enables asset owners to sell fractional ownership of their asset akin to a publicly traded company issuing equity, but in a much more accessible way.
Tokenization leverages smart contract functionality (the same technology that supports many cryptocurrencies) that has the potential to unlock immense value and liquidity for many investors, big and small. This is the aspect of the blockchain and distributed ledgers that our political leaders and regulators should be focused on.
The tool is incredibly attractive because it can provide investors with easier ways to purchase, hold and trade assets that have real underlying value, including digital assets such as the NBA's incredibly successful TopShot – a platform that allows fans to trade collectible NFTs of past plays (think of them as digital trading cards).
Cryptocurrencies, which have no clear intrinsic value, are an impressive demonstration of the power of blockchain. But like the early BlackBerry products, it turns out that the software that underlies many cryptocurrencies, such as bitcoin, is far more valuable than the initial application.
Tokenizing and selling part ownership of one's assets can improve liquidity and increase the transparency of the value of their assets, allowing them to borrow against them more easily. Valuing an artwork is notoriously difficult, but if a sculpture is tokenized and a liquid market in those tokens develops, price discovery for the object as a whole becomes far easier. After the tokenization of a skyscraper, a token holder would be able to secure financing against their tokenized portion of the building, as opposed to having to mortgage the entire structure to gain funding.
Were Canada to become a leader in tokenization, retail investors would be able to access assets beyond the public equities and bonds to which they are now mostly limited. Institutional investors – many of whom have already begun to significantly increase their investments in private companies, real estate, infrastructure and other alternative investments – are desperate to find havens for their capital, particularly given the recent fluctuations in equity markets.
Tokenization would allow them to invest in assets that would otherwise be unavailable, creating potential value for both buyers and sellers. With fewer barriers to selling fractional ownership of large infrastructure projects, this class of investor can drastically expand the type of large projects into which they can invest.
Undoubtedly, regulation will be an important consideration. Publicly traded companies have a significant amount of disclosure regulations they must adhere to, which may cause many asset owners to shy away from listing their assets on public exchanges. Regulation will have to ensure adequate information is available about the underlying asset, so that investors purchasing tokens can understand what they're buying, without being overly burdensome to the point that it dissuades asset owners from participating.
If we want to lead as a country in the blockchain and distributed-ledger technology sector, it is tokenization toward which we should be focusing our efforts – not on the misguided idea that bitcoin can solve the inflationary pressures brought about by an excess of demand over supply in the economy.
In fact, the support for cryptocurrencies by such voices as Mr. Poilievre, driven by criticism of our central bank, shows exactly why we need such independent institutions. Politicians are kept at arm's length from them for good reason – just look at what happened to the Turkish economy when President Recep Tayyip Erdogan ignored and eroded the authority of the country's central bank in favour of a misguided, politicized monetary strategy.
Instead of political theatre on the steps of a venerable institution, Mr. Poilievre and other cryptocurrency supporters ought to be more responsible and advocate to make Canada the leader in tokenization. That requires investing in the necessary training, technology and governance structures for this revolutionary technology, and building a system of laws and regulations to support it.
Your time is valuable. Have the Top Business Headlines newsletter conveniently delivered to your inbox in the morning or evening. Sign up today.