House Party: Taking another look at the real estate market in Helena – KTVH
HELENA — Anyone who is trying to buy a home right now, or spent any amount of time on Zillow knows that prices are high in Helena. MTN asked the experts who say there is a good reason for that.
"Cheaper cost of living compared to Bozeman and Missoula but also the quality of life in those markets wasn't as good where people aren't able to live next to the trails as an example," realtor and residential appraiser Tyler Warne told MTN. "Because those prices are very, very high. It's not a statistic I can track, just through doing appraisals and discussing with people that I meet."
People want to come to the capital city and that means high prices and low inventory. The activity isn't limited to residential real estate.
"In commercial, there has been quite a bit more activity in the last year so quite a few more commercial transactions," added Warne. "People that are retiring and getting out of business, whatever business they were in. and selling their commercial real estate. There has also been, and are quite a few commercial businesses for sale."
WEB Extra: Helena Housing Commercial Properties
Tyler told me that the list of reasons for businesses going up for sale is complex, ranging from retirement to having trouble finding workers to the increase in rent and housing costs. But, without looking into a crystal ball, Tyler did say the price of housing in Helena won't go up forever.
"We need a really large increase in housing, like 200 more units listed in the greater Helena area," said Warne. "If we have 200 more houses on the market than what we have right now, that don't have people living in them, then we might see stagnation or stabilization of the housing prices. And at some point that will happen because prices will go too high and then only 10 percent of the market can afford them and that's what will increase the inventory."
Canadian Real Estate Prices Will Have A Hard Time With Higher Mortgage Rates: BMO – Better Dwelling
Seeking BCREA Appointee to the Real Estate Foundation of BC – BCREA
The BC Real Estate Association (BCREA) Board of Directors is seeking an appointee for the Real Estate Foundation of BC's Board of Governors. This appointment term would commence April 1, 2022.
About the Real Estate Foundation of BC
In August 1985 the British Columbia real estate industry, in cooperation with the BC Ministry of Consumer and Corporate Affairs, established the Real Estate Foundation as a non-profit corporation under the Real Estate Act. On January 1, 2005, the Real Estate Services Act and the Real Estate Development Marketing Act replaced the Real Estate Act. The Foundation continued under the Real Estate Services Act.
The purpose of the Foundation is to undertake and carry out real estate public and professional education, real estate law reform, real estate research and other projects intended for the public or professional good in relation to real estate activities and to undertake and carry out projects and activities that the Minister designates as being in the public interest.
Call for Letters of Interest
Responsibilities include:
Governing in public interest;
participating in Board affairs;
understand the organization's mandate;
participate in the development, review, and approve the strategic plan;
select, appoint, compensate, evaluate, and terminate the Chief Executive Officer;
review financial and corporate issues; and
review and consider staff grant recommendations.
The Board operates within the broad policy direction prescribed by section 93 (1) of the Real Estate Services Act.
If you are somebody who has the following attributes and competencies, we would love to hear from you:
strong real estate experience;
governance experience;
a commitment to advancing equity, diversity, and inclusion; and
a commitment to learning and strengthening relationships with Indigenous Peoples and governing entities.
For the full list of desired personal attributes & competencies, please click here.
While previous experience as a governor is not required, it is important that Governors understand the roles and responsibilities of a member of a not-for-profit governing board and have the necessary experience and demonstrated skills to enable them to contribute to board planning, decision-making and oversight.
Time and Term Commitment
The amount of time a Governor spends on Foundation business varies from month to month, and from person to person. A Governor can expect to spend a minimum of eight in-person days on Foundation business throughout the year. This does not include committee, meeting preparation or travel time.
In addition, Governors are requested–individually or as a Board–to attend special events from time to time.
Each member is appointed for a one to three-year term and may serve up to six years in a row.
How to Apply
For the full Governor role description, click here.
If you have questions about the vacancy or wish to apply, please submit a letter of interest and current resume to the attention of the BCREA Nominating Committee at [email protected] by February 11, 2022.
The BCREA Nominating Committee thanks all applicants; however only those selected as potential candidates will be contacted.
To subscribe to receive BCREA publications such as this one, or to update your email address or current subscriptions, click here.
Another record month for Woodstock-area real estate market – Woodstock Sentinel Review
While the number of home sales in Woodstock hit a record high last year, real estate officials predict the ongoing shortage of housing inventory will continue throughout 2022.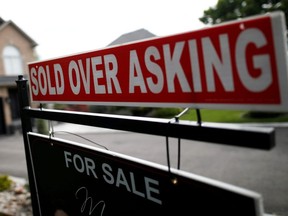 Article content
While the number of home sales in Woodstock hit a record high last year, real estate officials predict the ongoing shortage of housing inventory will continue throughout 2022.
Article content
Last year, home sales totalled 1,888 units in the Woodstock area, Woodstock-Ingersoll & District Real Estate Board officials said, which was a 10.2 per cent increase from 2020.
Anthony Montanaro, the president of the Woodstock-Ingersoll & District Real Estate Board, said the surging home sales and scarcity of new listings were simply the result of an increased demand for housing.
"It's basically the old supply and demand. Woodstock is in a lot of demand from outside our area," Montanaro said.
He says this heightened demand is primarily coming from buyers in the Greater Toronto Area.
"A lot of people are migrating down the 401 (and) 403 corridors going out west, but we are also seeing some migration from Kitchener, Guelph and the Hamilton area," Montanaro said.
Because of this new migration leading to a higher demand, the Woodstock area's current housing shortage has only become worse.
"Although the number of newly listed properties during December was well above average for this time of year, it was still insufficient to keep up with the seemingly endless demand. As a result, overall inventory has dropped below 40 active listings for the first time in history. Without an influx of new listings, the ability of buyers to find a home that suits them will soon become severely limited," Montanaro said.
At the end of this past month, active listings had fallen to 36, a sharp decrease of 39 per cent from December 2020. This was the lowest number of active listings for the month of December in past three decades, real estate officials said.
Article content
Despite this shortage, Montanaro said that demand will only continue.
"There's no inventory – the demand is tight because of that – so it's going to be more of the same. We are going to see repeats of this going forward into 2022," he said.
A recent population study by Ontario's Ministry of Finance also predicts Oxford County's population will increase by more than 35 per cent by the year 2046, adding to the demand on the local market.
In light of this, Montanaro said there are more and more buyers competing for the same homes, resulting in "multiple-offer situations" and contributing to rising home prices in the region.
"It's being fuelled by people coming from the Greater Toronto Area area," Montanaro said.
The benchmark for home prices – measured by the MLS Home Price Index, which was used to calculate the standard prices of houses in the region in December 2021 – had reached $641,400, a 32.4 per cent from December 2020.
The total dollar value of all homes sold last month was $82.4 million, a 56.2 per cent jump from last December and an all-time record for the month.
"With fierce competition for such few listings, it's no surprise that both average price and the (benchmark price) set all-time records in December," Montanaro said.
Looking ahead to 2022, Montanaro said the market would be dictated by inventory levels.
"If inventory starts to increase, then I think you can see prices kind of level off but, if the demand is still there – which we forecast that it still will be there – and the inventory is low then, yes, I can see prices increasing a little bit this year," he said.