New COVID-19 cases continue to decline in Interior Health region | iNFOnews | Thompson-Okanagan's News Source – iNFOnews
February 25, 2021 – 11:00 AM
The number of new COVID-19 cases in the Interior Health region has dropped steadily from 558 four weeks ago to 182 last week.
The Kamloops Local Health Area (stretching from Barriere to Logan Lake and Chase) still has the highest number of new cases at 78. That's a significant drop from 116 the week before.
The data is contained in a new map posted on the B.C. Centre for Disease Control website. It shows the number of new cases by Local Health Area, which includes 31 areas in the Interior Health region. It covers the week of Feb. 14 to 20.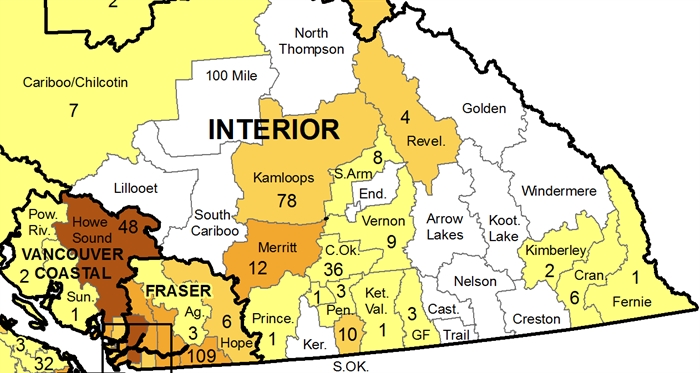 This shows the number of new COVID-19 cases by Local Health Areas in the Interior during the week of Feb. 14 to 20.
Image Credit: SUBMITTED/B.C. Centre for Disease Control
The Central Okanagan had 36 new cases, down from 69.
There were increases if a few areas.
The South Okanagan recorded 10 new cases, up from three the week before. Penticton had three new cases versus one the week before.
Vernon dropped to nine from 11.
See the full map and more data on the B.C. Centre for Disease Control website here.
---
To contact a reporter for this story, email Rob Munro or call 250-808-0143 or email the editor. You can also submitphotos, videos or news tips to the newsroom and be entered to win a monthly prize draw.
We welcome your comments and opinions on our stories but play nice. We won't censor or delete comments unless they contain off-topic statements or links, unnecessary vulgarity, false facts, spam or obviously fake profiles. If you have any concerns about what you see in comments, email the editor in the link above.
News from © iNFOnews, 2021

Sanofi-GSK report positive interim results for their COVID-19 shot
An experimental COVID-19 vaccine developed by Sanofi and GlaxoSmithKline showed a robust immune response in early-stage clinical trial results, enabling them to move to a late-stage study, the French drugmaker said on Monday.
Sanofi and Britain's GSK said a global Phase III trial would start in the coming weeks and involve more than 35,000 adults, with the hope of seeing the vaccine approved by the fourth quarter after having initially targeted the first half of this year before a setback.
Sanofi and GSK last December were forced to restart their trial when the vaccine showed a low immune response in older adults as a result of a weak antigen formulation.
Sanofi and GSK shares were little changed in early trading.
"The Phase II interim results showed 95% to 100% seroconversion following a second injection in all age groups and across all doses, with acceptable tolerability and no safety concerns," Sanofi said.
Seroconversion refers to the vaccine's ability to prompt the body to produce antibodies against the coronavirus, as measured by blood readings. Later mass trials will be based on real infections.
"Interestingly, we also observed that our vaccine generated a higher antibody response in those with previous COVID-19 infection, we are analysing this further as it may suggest our vaccine could serve as a potential booster, regardless of what vaccine someone may have received (beforehand)," Su-Peing Ng, Sanofi's global head of medical for vaccines, told reporters.
Ng said the vaccine had not been tested against so-called variants in the Phase II trial but that the Phase III study would be assessing it against various strains including a virus lineage known as B.1.351 first detected in South Africa.
But Sanofi, Ng said, has conducted parallel studies evaluating its vaccines against variants, with results expected to be published soon.
GSK and Sanofi's vaccine candidate uses the same technology as one of Sanofi's seasonal influenza vaccines. It will be coupled with an adjuvant, a substance that acts as a booster to the shot, made by GSK.
'QUITE A POTENTIAL'
Some 162.75 million people have been reported to be infected by the coronavirus in more than 210 countries and territories since the first cases were identified in China in December 2019, while economies have taken a hit and restrictions have turned daily life upside down.
The United States and Europe have embarked on mass vaccinations programmes in the past months, raising hopes of a gradual reopening, although the virus is still in circulation in many regions, with variants causing concern.
Last month, the European Union executive's President Ursula von der Leyen said protein-based COVID-19 vaccines such as the one developed by Sanofi and GSK offered "quite a potential", a positive signal as the bloc develops its purchasing strategy for the next two years.
Sanofi's shot, however, even if approved, will come long after ones from Pfizer/BioNTech and Moderna, which have produced efficacy results of more than 90%.
So far, Sanofi has purchasing agreements with the United States, the EU, Britain and Canada, as well as with the World Health Organization-backed COVAX facility.
The company has pledged to help other drugmakers this year, striking "fill and finish" deals for vaccines made by Pfizer/BioNTech, Moderna and Johnson & Johnson.
In addition to its vaccine project in collaboration with GSK, Sanofi is working on a mRNA candidate with U.S. company Translate Bio for which it has started clinical trials.
(Reporting by Matthias Blamont; editing by Louise Heavens and Jason Neely)
Worldwide coronavirus cases cross 161.42 million, death toll at 3,488,751
More than 161.42 million people have been reported to be infected by the novel coronavirus globally and 3,488,751​ have died, according to a Reuters tally.
Infections have been reported in more than 210 countries and territories since the first cases were identified in China in December 2019.
Interactive graphic tracking global spread of coronavirus: open https://tmsnrt.rs/2FThSv7 in an external browser.
Eikon users can click  for a case tracker.
The following table lists the top 50 countries by the number of reported cases. A complete list is available with the above links.
COUNTRIES AND TOTAL DEATHS CONFIRMED DEATHS PER
TERRITORIES CASES 10,000
INHABITANTS
United States 584,768 32,926,288 17.9
India 262,317 24,046,809 1.94
Brazil 430,417 15,433,989 20.55
France 107,423 5,848,154 16.04
Turkey 44,301 5,095,390 5.38
Russia 254,590 4,922,901 17.62
United Kingdom 127,668 4,446,824 19.21
Italy 123,927 4,146,722 20.51
Spain 79,339 3,604,799 16.95
Germany 85,903 3,579,871 10.36
Argentina 69,254 3,242,103 15.56
Colombia 79,760 3,067,879 16.06
Poland 71,311 2,849,014 18.78
Iran 76,433 2,732,152 9.34
Mexico 219,901 2,375,115 17.43
Ukraine 47,620 2,143,448 10.67
Peru 65,316 1,873,316 20.02
Indonesia 47,823 1,734,285 1.79
Czech Republic 29,857 1,651,178 28.09
South Africa 55,012 1,605,252 9.52
Netherlands 17,423 1,589,282 10.11
Canada 24,825 1,312,408 6.7
Chile 27,520 1,266,601 14.69
Iraq 15,910 1,134,859 4.14
Philippines 18,958 1,131,467 1.78
Romania 29,413 1,070,605 15.11
Sweden 14,275 1,037,126 14.03
Belgium 24,645 1,026,473 21.56
Pakistan 19,384 873,220 0.91
Portugal 16,999 841,379 16.53
Israel 6,379 839,076 7.18
Hungary 29,041 796,390 29.71
Bangladesh 12,102 779,535 0.75
Jordan 9,203 722,754 9.24
Serbia 6,646 705,185 9.52
Switzerland 10,179 679,510 11.96
Japan 11,396 673,821 0.9
Austria 10,455 635,780 11.83
United Arab Emirates 1,626 543,610 1.69
Lebanon 7,569 534,968 11.05
Morocco 9,091 514,670 2.52
Malaysia 1,822 462,190 0.58
Nepal 4,669 439,658 1.66
Saudi Arabia 7,134 431,432 2.12
Bulgaria 17,194 413,320 24.48
Ecuador 19,442 405,783 11.38
Slovakia 12,168 387,162 22.34
Greece 11,322 373,881 10.55
Belarus 2,681 373,351 2.83
Panama 6,288 369,455 15.05
Source: Reuters tally based on statements from health ministries and government officials
Generated at 10:00 GMT.
(Editing by David Clarke)
Canada plots course to fully vaccinated return to gatherings in fall
Canada on Friday said there would be a gradual return to a world with indoor sports and family gatherings as more people get vaccinated, but it did not go as far as the United States in telling people they could eventually ditch their masks.
Canada has administered one dose of a COVID-19 vaccine to just over half its adult population, and the country may be over the worst of its current third wave of infections, Chief Public Health Officer Theresa Tam said.
On Thursday, the U.S. Centers for Disease Control and Prevention (CDC) advised that fully vaccinated people do not need to wear masks outdoors and can avoid wearing them indoors in most places, guidance the agency said will allow life to begin to return to normal.
On Friday, Canada's public health agency offered guidelines to the 10 provinces, which are responsible for public health restrictions.
The agency says once 75% of Canadians have had a single dose and 20% are fully vaccinated, some restrictions can be relaxed to allow small, outdoor gatherings with family and friends, camping, and picnics.
Once 75% of those eligible are fully vaccinated in the fall, indoor sports and family gatherings can be allowed again.
"I think masks might be the last layer of that multi-layer protection that we'll advise people to remove," Tam told reporters, noting that in Canada colder temperatures meant people would start spending more time indoors in the fall.
"We are taking a bit of a different approach to the United States," she added. While in most of Canada masks are not required outdoors, they are mandatory indoors.
Less than 4% of Canada's adult population has been fully vaccinated compared to more than 36% of Americans.
Prime Minister Justin Trudeau, who has promised that everyone who wants to can be fully vaccinated by September, this week spoke of a "one-dose summer" and a "two-dose fall" without explaining what that might look like.
(Reporting by Steve Scherer and David Ljunggren; Editing by Hugh Lawson)