Police investigate illegal Mackinac Bridge climb after photos appear on social media – SooToday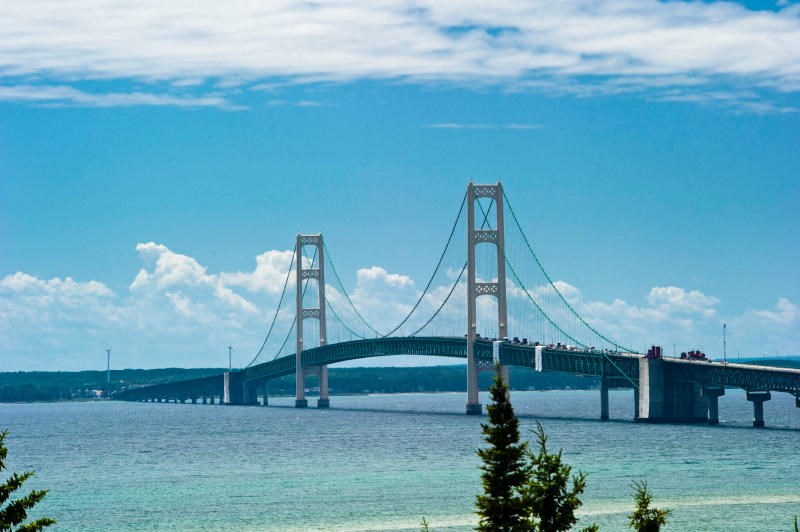 Michigan State Police is investigating after it is believed an individual climbed one of the Mackinac Bridge towers in early November.
A news release issued today by the Mackinac Bridge Authority (MBA) reports that officials became aware of the incident after photos, which appear to be captured from the top of one of the bridge towers, were posted to social media.
"After MBA staff became aware of photos posted on social media… they reviewed an incident where an alarm was activated on the bridge early one morning in early November," the release states. "Though staff investigated the alarm, they could not immediately determine how it was activated. When another alarm was activated several hours later, they observed someone leaving the bridge."
"This is not a harmless stunt; it's inexcusably reckless," MBA executive secretary Kim Nowack said in the release. "This individual risked not only his own life but also the lives of those crossing the bridge beneath him, and would have threatened the safety of emergency personnel and Mackinac Bridge Authority staff had a rescue been needed."
"While the Michigan State Police continue their investigation, I have also asked the MDOT (Michigan Department of Transportation) employees at the bridge to conduct a thorough review and implement measures to prevent future incursions," said MDOT director Paul C. Ajegba.
The individual responsible could face felony trespassing charges.
Media Release January 26th – Brandon Police Service – Brandon Police Service
Media Release for January 26th
A 20-year-old Brandon Male has been charged with an Assault. It is alleged that he intentionally struck his girlfriend with a shovel. The victim received minor injuries. The male has been released from custody to appear in court on April 12th.
A 39-year-old Brandon Male has been charged with Possession for the Purpose of Trafficking, Possession of Proceeds of Crime, and Possession of Property Obtained by Crime. He was found to be in possession of vehicle, which had been reported, stolen. While being arrested it was found that he had a quantity of Meth on his person and a significant amount of cash. He has been released to appear in court April 8th.
A 52-year-old Brandon Male has been charged with Assault. It is alleged that he assaulted his girlfriend in her residence. The male received medical treatment for her injuries. The Male was released to appear in court April 19th.
A 22-year-old Brandon Female and a 37-year-old Brandon Male assaulted each other in the 300 block of 10th Street. They have been released from custody on conditions to not communicate with each other and to attend court on April 19th.
Anyone with information on any unsolved crime is asked to call Brandon Crime Stoppers at 204-727-(TIPS) 8477, www.brandoncrimestoppers.com or by texting BCSTIP and your message to CRIMES (274637). Crime Stoppers pays up to $2000.00 cash for information that leads to the solution of a crime.
CRIME STOPPERS 204-727-TIPS
RELEASE AUTHORIZED BY:
Sgt. B. Verhelst #106
Coronavirus: Quebec media outlets join forces, denounce limited access to health network – Global News
Some of the province's major media organizations are calling on the Quebec government to grant journalists greater access to facilities within the health network, as the novel coronavirus pandemic continues.
In an open letter published Tuesday and signed by Global News, media representatives argue that showing the reality of what is going on in Quebec hospitals and long-term care facilities is paramount.
"It is of utmost of importance for Quebecers to hear directly from embattled doctors, nurses and orderlies, as well as the patients they are treating, in order to accurately report the harsh realities being experienced behind those closed doors," the letter reads.
"Health-care workers, after all, are the primary witnesses to what goes on inside our health institutions. They must be allowed to speak freely about what they are observing during this crisis."
The group credits images out of Italy in March 2020, showing overcrowded hospital rooms and overwhelmed staff, for helping to bring the full impact of the health crisis to the public's attention.
[ Sign up for our Health IQ newsletter for the latest coronavirus updates ]
"It was this imagery, more than any World Health Organization announcement or press release, that made people the world over aware of the gravity of the pandemic. It also helped many of them more readily accept government confinement measures."
According to media representatives, more often than not, journalists' requests to document the pandemic from inside long-term care facilities or within hospitals, have been denied by government and public health authorities alike.
Global News, as well as its fellow signatories, cited freedom of information for the request.
"It's shocking that the government would not let journalists in, journalists are being safe about it, they're protecting themselves as they go in. This is exceptionally important," said Karyn Pugliese, past-president of the Canadian Association of Journalists and co-chair of the association's advocacy committee.
"There's also the issue of accountability, we want to know how severe the crisis is, we want to know that patients are getting the care and that health-care workers are getting what they need in order to deliver care to people."
The province says it's looking into ways they can safely allow journalists into health facilities.
"I think we could benefit as a society to have more information, better communication with what's happening in our health establishments, buildings and facilities," said Christian Dubé, Quebec's Minister of Health and Social Services.

2:05


Coronavirus: Health-care workers on the front lines calling on Quebecers to follow rules



A full copy of the open letter can be found below.
© 2021 Global News, a division of Corus Entertainment Inc.
Social Media Is Dead, Right? Well… – Forbes
Recently, a friend approached me regarding the future of social media.
She was curious about things like The Social Dilemma, Twitter's permanent suspension of Trump's account, and many platforms' new regulations—and the effect all of this may have on the industry as a whole. It is truly a fantastic question, and as the founder of a social media agency, these are all things that have been top of mind for a long while now.
Here's how I responded.
Social Media Will Evolve, Not Go Away
Social media is absolutely addictive, and is built to be that way—so that part of The Social Dilemma is true. And this won't change. Social media will always be addictive, for better or for worse. It is part of human behavior now. Networks will change. They'll evolve. New ones will emerge. Older ones will die out. But consumer behavior—and the desire to connect and communicate online via networks—is forever here to stay. Users are not leaving social anytime soon.
I do, however, believe that the recent comeuppance of the false narrative of Trump and his followers has forced the hand of networks to take stronger action to avoid the spread of false information. I strongly believe that this will happen—and it will both be good for the world and affect the stock of some of the networks.
Brands Will Have to Meet People Where They Are
For advertisers, it is imperative to meet people where they are. And if you look at the spends, there is no sign of stopping. The data will tell you this: A third of brands currently spend more on Facebook than any other platform, and 76 percent of brands plan to increase their ad spend in 2021. 44 percent have upped Twitter spending post–Trump removal, and 38 percent have increased on Instagram. If consumers are there, advertisers simply have to be there.
One interesting observation: In July, there was a Facebook boycott called #StopHateForProfit where brands pulled their advertising from Facebook and demanded the network do more to combat bias, misinformation, harassment, and hate speech on the platform. This initiative was fantastic; however, it did not really hurt Facebook's bottom line at all—advertisers came right back. Personally, what I found during that time was that advertisers reallocated their dollars. They would ask our team: "Is this the time to try Pinterest advertising? TikTok? What can we do that's new?" The appetite is not to leave social media; it's to find an opportunity that meets people where they are in a natural way.
Brands Need to Align with Consumers' Values
There's also a deep desire for brands to create content that is good for the world. A recent study from Accenture talked about how consumers want the brands they purchase from to care about the things they care about—including social and environmental issues. In fact, brands that don't do this could see some big losses! 43 percent of consumers said they will walk away if they're disappointed by a brands' words or actions on a social issue—and 21 percent wouldn't come back. This is new for many brands, and so using social media to lean into the good that they do is transitioning from a "nice-to-do" to a "must-do."
So, I'm not worried about social media going away. I'm hopeful about it maturing and getting better. I'm not worried about advertisers going away. I'm focused on making sure they know about new networks, and keeping them educated on new platforms and on meeting people where they are. And I'm inspired by the amount of "good content" we will be able to put out into the world. Ultimately, I think that brands will have no choice but to do good—and that's great.