Province to impose province-wide lockdown – media reports – The North Bay Nugget
Article content
Media reports say the Ontario government is poised to impose a province-wide lockdown starting Christmas Eve in an effort to combat a surge in COVID-19 cases.
In reports released this afternoon, Global News and Toronto radio station 680 News attribute the information to sources briefed on the plan.
The outlets say the lockdown, which will vary in length depending on the region, is set to be announced Monday afternoon.
A spokesperson for Premier Doug Ford did not immediately respond to a request for comment, but the government has said new measures would be announced Monday.
Meanwhile, the province reported 2,316 new cases of COVID-19 on Sunday and 25 deaths related to the novel coronavirus.
That marked the sixth consecutive day the province has registered more than 2,000 new infections.
Health Minister Christine Elliott said 486 of the daily cases are in Toronto, 468 in Peel Region, 326 in York Region, 151 in Windsor-Essex and 128 in Niagara.
All of those regions are currently under lockdown due to rising case counts, except for Niagara, which is moving to the red alert level of the province's pandemic plan tomorrow.
Hamilton is also set to go into lockdown on Monday.
Provincial data also shows 875 people are currently in hospital as a result of COVID-19, with 261 in intensive care and 156 on ventilators. Elliott said more than 69,400 tests have been completed since the last daily report.
Candace Cameron Bure defends social media habits after 'disappointed' fans criticize her following – Yahoo Movies Canada
GlobeNewswire
BEYOND / HELLO™ Bloomington to Begin Serving Adult-Use Cannabis Consumers on Jan. 26, 2021BOCA RATON, Fla., Jan. 22, 2021 (GLOBE NEWSWIRE) — Jushi Holdings Inc. ("Jushi" or the "Company") (CSE: JUSH) (OTCMKTS: JUSHF), a vertically integrated, multi-state cannabis operator, announced it will open its 16th dispensary nationally and fourth retail location in Illinois: BEYOND / HELLO™ Bloomington. The new store location will begin serving adult-use cannabis customers on Tuesday, January 26, 2021. "A year after Illinois' adult-use program launched, legal cannabis sales surpassed more than $1 billion," said Jim Cacioppo, Chief Executive Officer, Chairman and Founder of Jushi. "Located in one of the fastest growing metropolitan areas in Illinois that's home to two universities, our second retail location in Bloomington-Normal and fourth in the state will help us meet the unprecedented consumer demand for cannabis products in the Prairie State. As we move into the New Year, we will also continue to broaden access to high-quality cannabis products as well as explore new growth opportunities in Illinois that deliver value to our patients, customers and shareholders." BEYOND / HELLO™ Bloomington, conveniently located near two universities, will begin serving customers on Tuesday, January 26, 2021 from 9:00 a.m. to 10:00 p.m. Customers can shop for adult-use cannabis products in-store and through its online shopping experience at www.beyond-hello.com, which enables consumers to view real-time pricing and product availability, and then reserve products for convenient in-store pickup. BEYOND / HELLO™ Bloomington carries high-quality, adult-use cannabis brands and products, including flower, extracts, edibles, vapes, topicals, tinctures, sublinguals and merchandise. Its expertly trained staff is also available during normal store hours to help adult-use customers identify and select the best cannabis products to meet their various needs and desires. The licensed storefront is ADA accessible, LGBTQ+ friendly and offers a standing 10% discount to seniors and veterans and active military service people with identification. In addition, Illinois medical marijuana patients can continue to shop at BEYOND / HELLO™ Normal during normal store hours. The City of Bloomington is located in the heart of Central Illinois and is the County Seat of McLean County, the largest county in Illinois. Bloomington (pop. 76,610) is a twin city with the Town of Normal (pop. 52,497), located near Interstates 39, 55 and 74 as well as US Route 51 and State Route 9. The twin cities are also serviced by two major railroad lines and Amtrak, as well as air transportation at the Central Illinois Regional Airport, one of the fastest growing airports in the country, which services commuter, corporate and private aircrafts. For more information, visit https://www.jushico.com/ or BEYOND / HELLO™ on Instagram and Facebook. About Jushi Holdings Inc.We are a vertically integrated cannabis company led by an industry leading management team. In the United States, Jushi is focused on building a multi-state portfolio of branded cannabis-derived assets through opportunistic acquisitions, distressed workouts, and competitive applications. Jushi strives to maximize shareholder value while delivering high quality products across all levels of the cannabis ecosystem. For more information, please visit https://www.jushico.com/, https://twitter.com/wearejushi and https://linkedin.com/company/jushi-inc. Forward-Looking Information and Statements This press release contains certain "forward-looking information" within the meaning of applicable Canadian securities legislation and may also contain statements that may constitute "forward-looking statements" within the meaning of the safe harbor provisions of the United States Private Securities Litigation Reform Act of 1995. Such forward-looking information and forward-looking statements are not representative of historical facts or information or current conditions but instead represent only the Company's beliefs regarding future events, plans or objectives, many of which, by their nature, involve estimates, projections, plans, goals, forecasts and assumptions that may prove to be inaccurate. As a result, actual results could differ materially from those expressed by such forward-looking statements and such statements should not be relied upon. Generally, such forward-looking information or forward-looking statements can be identified by the use of forward-looking terminology such as "plans," "expects" or "does not expect," "is expected," "budget," "scheduled," "estimates," "forecasts," "intends," "anticipates" or "does not anticipate," or "believes," or variations of such words and phrases or may contain statements that certain actions, events or results "may," "could," "would," "might" or "will be taken," "will continue," "will occur" or "will be achieved". By identifying such information and statements in this manner, the Company is alerting the reader that such information and statements are subject to known and unknown risks, uncertainties and other factors that may cause the actual results, level of activity, performance or achievements of the Company to be materially different from those expressed or implied by such information and statements. In addition, in connection with the forward-looking information and forward-looking statements contained in this press release, the Company has certain expectations and has made certain assumptions. Among the key factors that could cause actual results to differ materially from those projected in the forward-looking information and statements are the following: the ability of Jushi to successfully achieve business objectives, including with regulatory bodies, employees, suppliers, customers and competitors; changes in general economic, business and political conditions, including changes in the financial markets; changes in applicable laws; and compliance with extensive government regulation, as well as other risks and uncertainties which are more fully described in the Company's Management, Discussion and Analysis for the nine months ended September 30, 2020, and other filings with securities and regulatory authorities which are available at www.sedar.com. Should one or more of these risks, uncertainties or other factors materialize, or should assumptions underlying the forward-looking information or statements prove incorrect, actual results may vary materially from those described herein as intended, planned, anticipated, believed, estimated or expected. The forward-looking information and forward-looking statements contained in this press release are made as of the date of this press release, and the Company does not undertake to update any forward-looking information and/or forward-looking statements that are contained or referenced herein, except in accordance with applicable securities laws. All subsequent written and oral forward-looking information and statements attributable to the Company or persons acting on its behalf is expressly qualified in its entirety by this notice. For further information, please contact: Investor Relations Contact:Michael PerlmanExecutive Vice President of Investor Relations and Treasury561-281-0247Investors@jushico.com Media Contact:Ellen MellodyMATTIO Communications570-209-2947Ellen@Mattio.com
'The US is falling apart': How Russian media is portraying the US Capitol siege – The Conversation US
The storming of the U.S. Capitol on Jan. 6, which was Christmas Eve for Eastern Orthodox Christians, was a perfect holiday gift for Russian politicians and state-controlled Russian media.
While President Vladimir Putin has remained silent so far, reaction from political leaders was instantaneous, and the topic has dominated Russian news coverage ever since.
Maria Zakharova, a spokesperson for the Russian Foreign Ministry, said that while the siege is "an internal affair," it's important to point out that the "electoral system of the U.S. is archaic."
Konstantin Koschev, head of the International Affairs Committee of the Federal Council, the upper chamber of Russian Parliament, proclaimed "the end of the celebration of democracy."
Russian media have been eager to take up these points.
For years, the pro-Kremlin media has exalted stability as the core virtue of Putin's "sovereign democracy" – a term coined by Putin.
As a scholar of post-Soviet politics, I've watched how state-controlled Russian media have portrayed pro-democracy protests in countries surrounding Russia, including my native Ukraine, as CIA-led efforts to destabilize Russia.
The storming of the U.S. Capitol by pro-Trump rioters has allowed Russian media outlets to change the conversation and depict the siege as the final collapse of the U.S. political system and democracy itself.
US 'disorder'
Russian coverage of the Capitol insurrection points out the perceived hypocrisy of Democratic leaders and the U.S. media.
Russian state-controlled media have repeatedly juxtaposed Democratic outrage over former President Donald Trump's role in the siege against the party's support for the "BLM and antifa summer riots" – their term for racial justice protests last summer in the wake of George Floyd's death.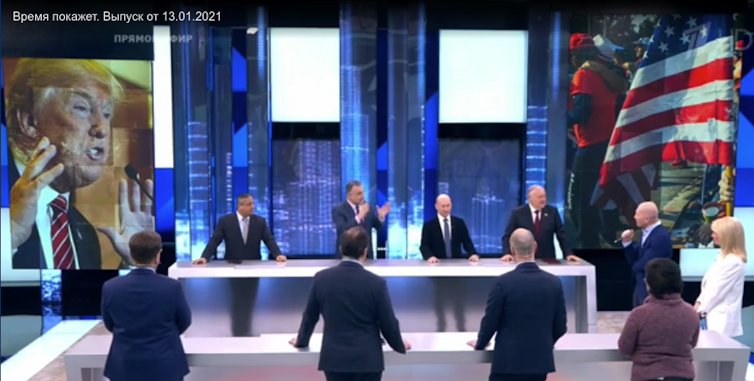 State-controlled media have also highlighted allegations – debunked in the U.S. – that members of antifa, a left-wing protest movement, and Black Lives Matter participated in the storming of the Capitol. "Time Will Tell" and "60 Minutes," two pro-Kremlin news talk shows on the state-run Russia 1 TV channel, have dedicated air time to this allegation.
The upshot of such coverage juxtaposes the disorder in the United States to the order and stability in Russia – a favorite message of Russian propagandists.
'Digital gulag for Trump'
Somewhat surprisingly, members of both the Russian political opposition and the country's pro-Putin political elite assert that the suspension of Trump's social media accounts amounts to censorship and undermines democracy.
Such statements from people like Vladimir Zhirinovsky, the bombastic nationalist leader of the Russian Liberal Democratic Party, come off as hypocritical in a country whose ruler's power is based on censorship and anti-democratic measures, but are not surprising.
But Alexei Navalny, the Russian opposition leader and Putin critic who was poisoned and almost died last August and was recently jailed upon his return to Russia, also criticized Trump's Twitter ban. He is likely worried that the Russian government will mimic companies like Twitter in its own censorship efforts.
Yet, there is also much relish for discussing Trump's Twitter ban among Russian propagandists. That included Vladimir Soloviev, a popular television host, who has dubbed it the "digital gulag for Trump." He has argued that the social media ban is part of an ongoing campaign to silence Trump and his supporters.
On Jan. 13, the hosts of the evening talk show "Time Will Tell" reacted with horror at the "police state" and "repressions" of pro-Trump rioters at the Capitol.
The hosts likened the tips received by the FBI from the public to citizens snitching on each other – a remark that resonates with anyone aware of former Soviet leader Josef Stalin's reign of terror.
They also insisted that Trump supporters have become the "enemies of the people," after Sen. Chuck Schumer urged the FBI to add Capitol rioters to the federal no-fly list.
This portrayal of Trump and his supporters as persecuted political dissidents has been used to further highlight the argument that American democracy is steeped in hypocrisy.
'US is falling apart'
So-called U.S. disintegration has been a favorite topic for the state-controlled network Russia 1. The hosts of "Time Will Tell" have repeatedly reinforced this point by referring to the U.S. as "United, for now, States."
During a recent broadcast, host Anatoly Kuzichev repeatedly said, "the U.S. is falling apart."
RT, another state-controlled media outlet formerly known as Russia Today, reinforced a similar claim by quoting the former Soviet leader Mikhail Gorbachev, who said the Capitol insurrection has "called into question the future fate of the United States as a state."
If Russian media outlets are to be believed, there are no longer any beacons of democracy left in the world. Margarita Simoniyan, chief editor of RT, summed up that view in a tweet: The United States "never were" a model of democracy.
[Deep knowledge, daily. Sign up for The Conversation's newsletter.]
Iyuno Media Group Enters Agreement to Acquire SDI Media – Canada NewsWire
"The media and entertainment industry has been growing rapidly in recent years with the rise of video streaming services and we have seen media companies merge to create and deliver more content to more diverse audiences around the world," said David Lee, Executive Chairman, Iyuno Media Group. "Now, more than ever, viewers are watching internationally produced programs localized in their language. This creates an increased demand to produce the breadth of languages needed, delivered at the scale and speed that our customers require."
Consumer spending on content is predicted to double from 2019 to 2024; this explosive growth brings with it a parallel increase in demand for high quality localized content.
"As two of the leading media and entertainment localization service providers in the world, together we will provide an unprecedented solution to the market," continued Mr. Lee. "Both companies are perceived as leaders of quality services, global coverage and innovation. By combining the two, our goal is to effectively support the rapidly growing need from media businesses around the world – not only by offering scale, global coverage and end-to-end capabilities across our worldwide operations – but also by utilizing state-of-the-art technologies such as AI to bring true best-in-breed support for the industry."
"We are excited to join Iyuno and become part of the industry's leading localization services company," said Mark Howorth, Chief Executive Officer, SDI Media. "We believe that the increasing global content distribution needs of the industry can only be served by a complementary service provider that can scale with them in support of their needs."
Iyuno was supported in this transaction by Altor, Shamrock Capital and SoftBank Ventures Asia, its primary financial partners. The three investors are pleased to see this sustained momentum in the expansion and diversification of the Iyuno Media Group portfolio. The completion of this transaction remains subject to review and approval from relevant authorities.
ABOUT IYUNO MEDIA GROUP
Iyuno Media Group (www.iyunomg.com) is a market leader in media localization with leading-edge technology providing dubbing, subtitling and media engineering services in over 80 languages. An innovative trailblazer with grounded core values in an ever-changing industry, Iyuno Media Group uses its sophisticated in-house technology for all of its product and service offerings. Today, the company operates 35 local facilities globally, spanning a network of fully owned sites across 30 countries in Europe, Asia and The Americas – offering end-to-end solutions for broadcasters, all major film studios, OTT and streaming platforms.
ABOUT SDI MEDIA
SDI Media (www.sdimedia.com) is one of the world's leading media localization providers offering dubbing, subtitling and media services to content owners, broadcasters and multi-platform distributors. SDI Media offers a complete end-to-end localization solution for theatrical releases and episodic series, using one of the most comprehensive suites of customizable localization software applications in the industry. Its network of 33 owned and operated dubbing facilities in Asia, EMEA and the Americas boast over 150 recording rooms and 85 mixing rooms globally.
FORWARD-LOOKING STATEMENTS
This press release may be deemed to contain forward-looking statements, which are subject to the safe harbor provisions of the Private Securities Litigation Reform Act of 1995, including statements regarding Iyuno's strategy to provide enhanced localization and translation solutions utilizing SDI Media's assets, the expected completion of the acquisition and the timeframe in which this will occur, and the expected benefits to Iyuno and its customers of completing the acquisition. Readers are cautioned that these forward-looking statements are only predictions and may differ materially from actual future events or results due to a variety of factors, including, among other things, that conditions to the completion of the transaction may not be satisfied or such completion may be delayed, the potential impact on the business of SDI Media due to the uncertainty about the acquisition, the retention of employees of SDI Media and the ability of Iyuno to successfully integrate SDI Media and to achieve expected benefits, business and economic conditions and growth trends in relevant markets and various geographic regions, global economic conditions and uncertainties in the geopolitical environment, and other risk factors. Any forward-looking statements in this release are based on limited information currently available to Iyuno, which is subject to change, and Iyuno will not necessarily update the information.
SOURCE Iyuno Media Group
For further information: Chris Carey, +1 818.681.9224 or Brianna Appel, +1 818.823.3289, [email protected], http://www.iyunomg.com
Related Links