Samsung ships Snapdragon-powered Galaxy S22 units to India – PhoneArena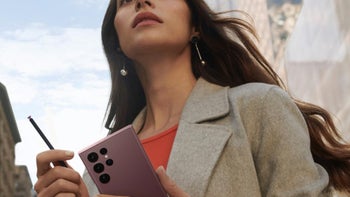 A post published by
Samsung
in India reveals officially that the Galaxy S22 series is being powered by Qualcomm's Snapdragon 8 Gen 1 chipset in the world's second-largest smartphone market. That is a change from recent years which saw the Galaxy S line powered in India by the Samsung-designed Exynos chipset. There was one exception as the 5G version of the Galaxy S20 FE replaced the Exynos 990 last year.
There are other markets besides India where the Snapdragon 8 Gen 1 SoC is driving one of the three Galaxy S22 models instead of the usual Exynos component. One such country is the United Arab Emirates (UAE). Traditionally, only select regions would find a Qualcomm chipset under the hood of their Galaxy S device such as North America and China.
Samsung teamed up with AMD to improve the graphics on its Exynos 2200 chipset

This year,
Samsung
teamed up with AMD so that the latter could help drive Sammy's new Xclipse GPU. And this might have resulted in a doozy of a rumor reported last September. The buzz whispered from ear to ear said that Verizon requested it
be sold the Galaxy S22 series powered by the Exynos chip
instead of Qualcomm's 2022 flagship AP (which turned out to be the Snapdragon 8 Gen 1).
At the time, the largest wireless carrier in the states and the top smartphone manufacturer worldwide were said to be discussing the request. Apparently, the talks never led to any deal between the two companies.
There have been times when Samsung was forced to make a change in the chipset used on a particular year's Galaxy S series in certain countries. In 2020, Samsung's Exynos team in the company's home country of South Korea
were reportedly humiliated
by Samsung's decision to ship the Galaxy S20 line in the country powered by Qualcomm's silicon. Samsung executives allegedly were not happy with the performance and energy consumption of their own Exynos 990.
Here's an interesting fact to bring up at your Super Bowl party: both the Snapdragon 8 Gen 1 and the Exynos 2200 are manufactured by Samsung Foundry using its 4nm process node. But both have several new features that vary from each other widely.
Why did Samsung make this move in India?

For example, the Exynos 2200 should deliver more realistic shadows on video games as it is the first mobile chipset to include accelerated ray tracing (RT) and variable rate shading (VRS). The
Snapdragon 8 Gen 1 has some new unique features as well
. It sports the first mobile 18-bit image signal processor.
One theory about why Samsung gave its new flagship phones Qualcomm chips this year in India has to do with the composition of the consumer market in that country. In India, especially, phone buyers are quite knowledgeable. On the other hand, being an emerging and developing country means that India's per capita income is not at the level to support large sales of high-priced flagship models.
As a result, Samsung's thought process might have taken into account that even if it has to spend more to purchase the Snapdragon chips for the Indian market, the number of units would be small enough so as not to have an impact on the bottom line. And at the same time, using the latest powerful Snapdragon chipset in the Galaxy S22 series could lead to a hike in sales since many Indian phone buyers have been requesting that Sammy make this change in the country.
The next question, which we might not have an answer for until several months have passed, is whether India will be shipped Snapdragon-powered Galaxy S23 series handsets next year.
With GitHub, Canadian company TELUS aims to bring 'focus, flow and joy' to developers – Transform – Microsoft
Katie Peters could have used an advocate as she embarked on her tech career.
In her first year at the University of British Columbia, Peters' computer science classes were split almost evenly along gender lines. But most of her female classmates soon switched majors, and by Peters' final year there were typically only two or three women in those classes. She felt increasingly isolated and was uncomfortable asking for help.
After graduating with a computer science degree in 2012, Peters took a job as a software developer for TELUS, a Canadian telecommunications company. Joining an organization with more than 90,000 employees, Peters initially found it challenging to make her way around its procedures and structure. So when the position of staff developer opened on TELUS' new engineering productivity team last fall, Peters jumped at the opportunity.
"I wanted to be the person that I wish could have helped me," says Peters, who started in the role last October. "There are so many complicated processes in a company as large as TELUS and it's really difficult to navigate. You end up feeling stupid a lot of the time and you have to ask lots of questions. I don't want other people to have to experience that. I want to make that better."
Peters is now helping lead an initiative aimed at changing TELUS' culture to better empower its developers. Much of that effort is focused on encouraging widespread adoption of Microsoft's code-hosting platform GitHub to help automate software development at TELUS and make it easier for the company's roughly 4,000 developers to collaborate. TELUS recently made GitHub available companywide and signed an agreement with Microsoft to help manage its enterprise-level use of the platform and provide GitHub training to developers.
Justin Watts, head of developer experience for TELUS, says Peters' experience as both a developer and a previous member of TELUS' enterprise architecture team makes her ideally suited to help redefine the company's approach to software development.
"This is all being driven by Katie and the vision she has," says Watts, who heads the engineering productivity team. "Katie is great at capturing that relationship with the developer and what our goals are. She is a brilliant developer and a brilliant technologist.
"She's seen as a really senior, influential mind in the company."
Peters is already shaking things up. Drawing inspiration from "The Unicorn Project," a 2019 novel by Gene Kim about a group of renegade developers seeking to overthrow the existing order and make work more fulfilling, Peters has replaced the usual staid presentation decks with ones featuring swirling designs, pink and purple tones and cartoon unicorns, and adopted the book's mantra of bringing "focus, flow and joy" to developers.
Transform recently chatted with Peters over Microsoft Teams from her home in Vancouver, where she lives with her husband and 2-year-old daughter. The interview has been condensed for clarity and length.
TRANSFORM: Why was the engineering productivity team formed and what is its mission?
PETERS: We've been transitioning to the cloud for software development for a while, but it's challenging. It greatly simplifies very complicated operations activities and turns those things into code. So instead of needing an ops professional to manually create a bespoke server for the developer to host their application, the definition of that server is standardized and codified in a way that can be stored and managed alongside the application code.
That makes it easier for a developer to manage it themselves, but they're now expected to own that server definition, where sometimes they've never previously had exposure to the ops side of software development. That's a really difficult transition for people. And a lot of legacy processes haven't caught up to cloud development yet. We're giving developers a lot more freedom, but it's also a lot more responsibility in different areas than they might not have had experience in before. So we have to make that not a burden for them.
Our team exists to help developers make that cloud transition and to update all of that legacy process baggage to align with the new cloud paradigm.
TRANSFORM: Why did TELUS see a need to change how software development is done?
PETERS: We need to stay innovative and creative. We need to be able to react quickly to the market, and if we want to be able to do that, we need to give developers the time and the space and the safety to do that while also making sure that what they're building is secure and reliable.
To enable us to move quickly without sacrificing security and reliability, we need to really make that developer experience our focus. I treat it as the developers are my customers, and what experiences can I give them so that they are inspired to keep pushing and keep innovating, and just unblock them as much as I can, to make it as simple and fast as I can so that they can keep innovating.
TRANSFORM: What role can GitHub play in helping developers shift to this new cloud paradigm?
PETERS: GitHub used to be just for storing the source code, but now it has a lot of other features. When you're writing code, for example, you need to be able to plan that work and distribute it to people. We can use GitHub projects for that.
After you've developed code, there are tools you can use to tell you if there are problems with how you've written it. In the past, we would wait until we were trying to release that code to our customers before we would run those tests. So when things went wrong, it was really costly. Now, developers can push their code back to the public repository on GitHub for the rest of the team to see. Then we can run all of these automated tests and security scans, so it's easier to make fixes right then, whereas in the old world, it was potentially months later they would get that feedback.
With GitHub taking over that developer lifecycle, that allows us to build in a lot of automation so we have end-to-end visibility on where developers are spending their time and what they're doing. That's good for metrics on how we can improve that experience and make it better for people.
TRANSFORM: GitHub is ultimately a tool. What other components are you thinking about in driving this cultural shift at TELUS?
PETERS: As a big company, TELUS can be a little formal. It's hard for people to ask for help. We really wanted to change that culture. We wanted to be open and approachable and let people vent to us in a psychologically safe place to share their problems. That way, we can understand all the little things that add up to so much toil.
We have a lot of really creative people at TELUS, a lot of talented developers, and they come up with really interesting ways to deal with the status quo that don't actually fix the problem for anyone else — it's just a workaround that they've developed. We need people to feel safe coming to us with their problems and trust that we can help them solve them, so that we can then bring that to everybody and drive that improvement across the board.
TRANSFORM: How did your interest in computers start?
PETERS: My parents really wanted me to be interested in computers, so they bought me my own computer when I was a kid. They got me into robot building camps and software development camps and all sorts of stuff.
I started playing video games when I was 4 years old. I played Putt-Putt Goes to the Moon and Fatty Bear's Birthday Surprise. I loved all sorts of video games. Morrowind was another big game for me. They had a modding community, and I learned a lot about computers in general by participating in that community. (Modding refers to the practice of altering content or creating new content for video games.)
I wanted to work in the video game industry, but when I was applying for co-op placements during university, I got into Sierra Wireless (a Canadian IoT solutions provider). As I was exposed to that industry, I liked the consistency and stability of the telco industry and the feeling that you're contributing to something important. Providing internet to people is really important.
TRANSFORM: You said you felt at times like you have imposter syndrome. Did you feel that way particularly as a female developer?
PETERS: I've always had a lot of imposter syndrome, which I think is true for a lot of software developers. I'm not unique in that way. I do think it's worse as a woman, but I think it's just common in software development to have those kinds of feelings. The industry is kind of steeped in this mythology of like, really smart geeks who live and breathe computer science and build Google or Microsoft in their basement, and they're all geniuses and always know everything about everything.
There are really high expectations in the software industry in general, and I think everybody experiences that, but I think it's amplified for a woman. Because the expectation, I think, at least when I started in the industry, was that I don't actually know what I'm doing. I'm a poseur and I just got my place because I'm a woman. So I had to work really hard to appear extra smart.
TRANSFORM: Is it important to you, as a woman in this role, to attract more female developers to the field?
PETERS: Absolutely. When you're the only woman, it can be really challenging. And when you have one or two women in a large group, sometimes you can be forced into this weird sense of competition with them. People are always comparing you to the other women.
But when there's a critical mass of women, you really get to be comfortable working with other women who typically come from the same kinds of experiences. You get to open up a little bit in a way that you might not have been able to otherwise. Most women I encounter in computer science are so supportive and friendly.
It always makes me happy to see more women in the industry. Any opportunity I have to try to make that easier for somebody or to help somebody go in that direction, I'm very happy to be able to do that.
Top photo: Katie Peters stands on a deck at TELUS' headquarters in Vancouver, B.C. (Justin Watts photo courtesy of Justin Watts; all other photos by Jennifer Gauthier)
Apple is making it easier to distribute subscription podcasts – The Verge
Apple is making it easier for podcasters to get their subscription shows onto its platform. Creators on select podcast distribution platforms like Acast and Libsyn will soon be able to automatically upload their premium shows onto the Apple Podcasts app instead of having to publish it episode by episode through Apple's platform.
Currently, those who offer subscription shows through the Apple Podcasters Program need to publish episodes through Apple Podcast Connect. The company says that its new Delegated Delivery system will allow creators to skip that extra step and publish shows on Apple directly from their host's dashboard. In addition to Acast and Libsyn, the initial group of partner hosts includes Buzzsprout, Omny Studio, RSS.com, Blubrry, and ART19. The feature is supposed to launch "this fall."
The new distribution feature will also apply to free shows, which are distributed by RSS feed. Even with the new distribution system, podcasters offering subscriptions will still need to pay for the Apple Podcasters Program, which costs $19.99 per year.
Apple Podcasts spokesperson Zach Kahn said that the new feature is not intended to compete with Spotify's Anchor, which allows creators to host and distribute subscription shows directly onto Spotify. The intent, he said, is to create a more open podcasting ecosystem so open that Anchor and Megaphone, also owned by Spotify, could become Delegated Delivery partners if the company chose to do so. Spotify did not respond to request for comment on whether it would.
Spotify already has its own partner hosts that have streamlined publishing for subscription shows through its Open Access program, including Supercast, glow.fm (which is owned by Libsyn), and Apple partner Acast. (Note: Vox Media is also a partner in Spotify's Open Access program).
Apple announced a new feature for podcast listeners as well. A new software update for iPhones, iPads, and Macs will allow users to specify how many podcast episodes they want to keep downloaded in the app for offline listening, with options like "five latest episodes" or those published in the "last 14 days." Older episodes that weren't manually downloaded will be automatically removed. The new downloads configuration potentially solves a big annoyance for heavy podcast listeners who can quickly rack up downloads that eat their device's storage.
Google, Samsung help Android developers sync fitness data between apps – Deccan Herald
Google and Samsung have joined hands to give developers an opportunity to sync users' health and fitness data between Android apps and their devices.
Called 'Health Connect', the platform and API (application programming interface) are for Android app developers to securely access users' health data.
With user permission, developers can use a single set of APIs to securely access and share health and fitness data across Android devices, Google said in a statement.
"We're building this new unified platform in collaboration with Samsung to simplify connectivity between apps" to foster richer app experiences while also providing centralised privacy controls for users," the tech giant added.
Google is working with developers including MyFitnessPal, Leap Fitness, and Withings as part of an early access programme.
In addition, Samsung Health, Google Fit, and Fitbit are adopting Health Connect. All developers can get access to Health Connect's common set of APIs for Android via Android Jetpack," the company informed.
'Health Connect' supports many common health and fitness data types and categories, including activity, sleep, nutrition, body measurements, and vitals like heart rate and blood pressure.
"The users will have full control over their privacy settings, with granular controls to see which apps are requesting access to data at any given time," said Google.
The users will also have the ability to shut off access or delete data they don't want on their device, along with an option to prioritise one data source over another when using multiple apps.