Social media challenge brings increase in school vandalism – CTV News Atlantic
HALIFAX —
According to digital anthropologist Giles Crouch, the TikTok social media trend known as "The Devious Licks challenge" is spreading quickly online.
"It is going down to Latin America and it worked up to Canada very quickly," said Crouch. "This is being seen all across Canada."
The challenge features some students destroying school bathroom fixtures while damaging and stealing other school property items.
"Soap dispensers coming out of the walls," said Reign Sherrington, the brother of a Halifax-area student. "I heard at Halifax West High School, they had sinks coming out of the walls."
TikTok is removing "Devious Licks" posts from its platform. Crouch said students likely think it is only a prank, not vandalism.
"This is sort of the digital age version of pulling the fire alarm from 20-plus years ago, when we were in high school," said Crouch.
The issue is serious enough, that Millwood High School sent a note home to parents.
Jenna Kedy is a student at Bay View High School.
"Our school last week sent a huge email that said they wanted people to stop breaking soap dispensers and paper towel dispensers," said Kedy. "And then I started hearing from friends and seeing videos on my TikTok feed from people at various schools around Halifax, breaking soap dispensers and breaking paper towel holders."
Crouch said young people often participate in a social media activityto join the crowd and gain peerre-enforcement.
"They are more concerned about getting social acceptance," said Crouch.
Trump Plans to Regain Social Media Presence With New Company – Bloomberg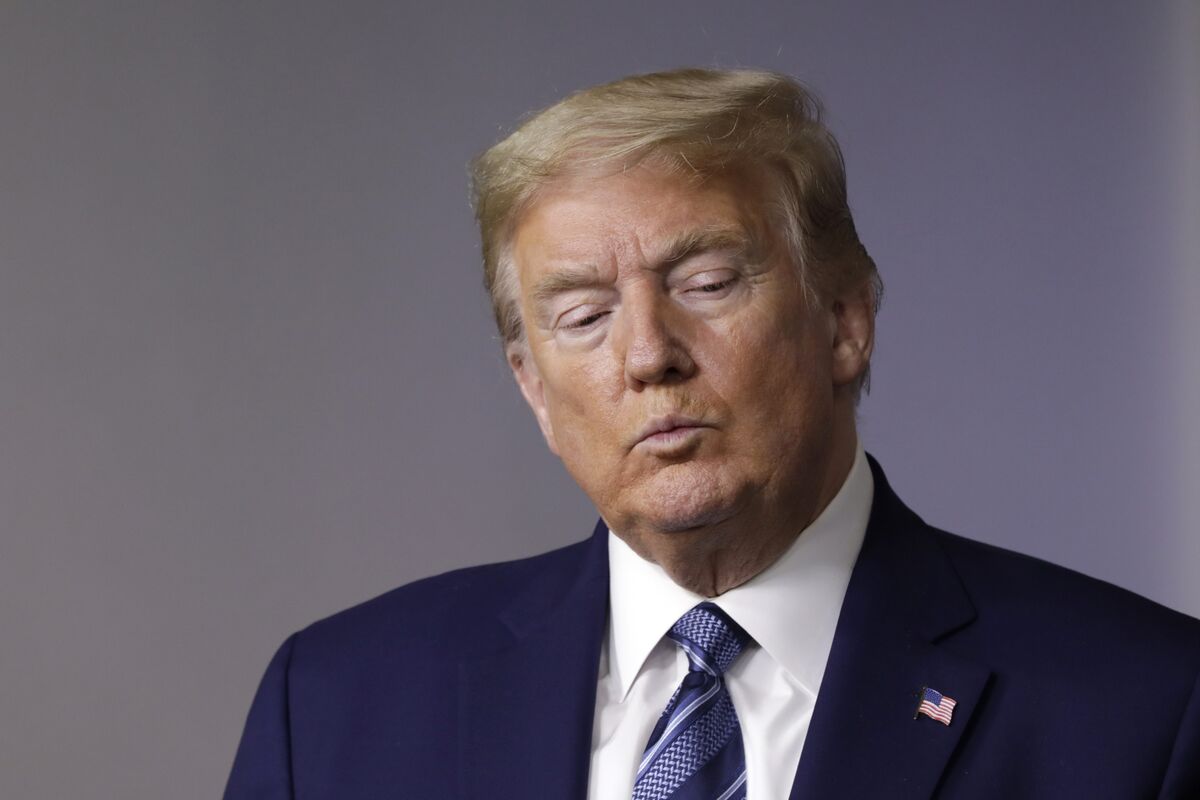 Former President Donald Trump on Wednesday announced a deal that would enable him to regain a social media presence after he was kicked off Twitter Inc. and Facebook Inc. platforms.
The former president's new enterprise will be in operation by the first quarter of 2022, according to a press release from the Trump Media and Technology Group. It says it plans to start a social media company called Truth Social. The moves, if all goes according to plan, would occur well ahead of the 2022 mid-term elections.
Protesters denounce Netflix over Chappelle transgender comments
About 100 people protested near Netflix Inc's headquarters on Wednesday against the streaming pioneer's decision to release comedian Dave Chappelle's new special, which they say ridicules transgender people.
Netflix staff members, transgender rights advocates and public officials gathered on a sidewalk outside a Netflix office blocks away from the company's main 13-story Sunset Boulevard building in Los Angeles.
Demonstrators held signs proclaiming, "Trans Lives Matter" and "Team Trans" and chanted slogans like "What do we want? Accountability," "When do we want it? Now."
Netflix staff were outnumbered by members of the public, but the precise number was not clear. Netflix employees had called for a walkout.
Chief Content Officer Ted Sarandos acknowledged in interviews before the walkout, "I screwed up" in how he spoke to Netflix's staff about Chappelle's special, "The Closer."
Sarandos previously defended the decision to air the show, saying Chappelle's language did not cross the line into inciting violence. Netflix posted record subscriber numbers on Tuesday,
"While we appreciate the acknowledgement of the screw-up, in his own words, we want to actually talk about what that repair looks like," said Ashlee Marie Preston, a transgender activist who came out in support of the Netflix employees.
Joey Soloway, creator of "Transparent," a now-ended streaming series on rival Amazon that had a transgender character, talked about the line that separates edgy jokes and harmful speech.
"People say to me, as a comedian, where's the line?" said Soloway. "The line is anything that makes it worse."
Not everyone supported that message. "…The idea that a small, angry mob can shape entertainment and silence people's speech is terrifying," said counterprotester Dick Masterson.
While employee protests against corporate policies have become common in Silicon Valley, this is believed to be the first such action at the pioneer streaming video company.
The controversy over "The Closer" is playing out against the backdrop of a company-wide diversity effort that began in 2018, after Netflix's former head of communications was fired for using a racial epithet in company meetings.
"It doesn't feel good to have been working at the company that put that out there," Netflix software engineer Terra Field wrote in a Medium post, referring to "The Closer." "Especially when we've spent years building out the company's policies and benefits so that it would be a great place for trans people to work."
(Reporting by Dawn Chmielewski in Los Angeles; editing by Kenneth Li and Cynthia Osterman)
Senior leader at Thunder Bay, Ont., hospital removed after Nazi imagery discovered on his social media – CBC.ca
WARNING: This story contains images, language that may be distressing.
The hospital in Thunder Bay, Ont., has removed a senior official from a leadership council for violating its social media policy after images of Nazi-affiliated items were discovered on his Facebook page.
Keith Taylor is no longer co-chair of the patient family advisory council at the Thunder Bay Regional Health Sciences Centre (TBRHSC), where he had volunteered for about a decade, a spokesperson confirmed Tuesday, citing the hospital's social media policy.
In over a dozen posts to his public Facebook page, mostly in 2012, there were images of swastikas, a bronze sculpture of Adolf Hitler and a military badge, among other items.
One post, about the Vietnam Veterans Memorial, used a slur toward people of Asian heritage; other posts made jokes about Nazis, including one comment with Taylor calling someone "my little nazi."
CBC News was first made aware of these posts Sunday when contacted by an employee at the hospital.
"The individual mentioned in your request is not an employee of TBRHSC, and is no longer serving in a voluntary role on the patient and family advisory council," spokesperson Marcello Bernardo said in an emailed statement Tuesday morning.
Bernardo said it was an internal human resources matter, but cited the hospital's social media policy in his statement and declined further comment.
It wasn't until Taylor was contacted by CBC News that he learned he was no longer in the voluntary role at the hospital.
"I'm not happy about it," he said. "I've probably been involved in over a thousand policy developments and changes that would benefit patients."
He added he understood the decision made by the hospital.
"I'm not a racist. I'm not a Nazi. I'm a man who cares about my community and I'm a history buff."
Ex-official says he hoped to open museum
Taylor said he was collecting the items found on his social media in hopes of opening a museum to educate people about military history. He said he never got the idea off the ground, and since 2012, has donated or given away most of the items to museums or "valid collectors."
But several experts in Holocaust education and history expressed concern to CBC about the way the items were posted on Facebook.
During the Second World War, Hitler's Nazi extermination camps were responsible for the killings of about six million Jewish people and five million non-Jewish people.
Among photos of war memorabilia from a number of countries that the CBC News investigation found, 17 images or videos with swastikas or other items or references to Nazis were posted on Taylor's social media.
Several photos show Nazi flags with swastikas on them.
On Feb. 22, 2012, Taylor posted his "pic of the day" showing a framed armband used to identify people at the Buchenwald concentration camp in Germany.
"Could you imagine if this band could talk, resources were so scarce these bands were sometimes used a few times over," the caption said.
Another photo put up March 2, 2012, shows what Taylor claims to be a "german panzer kill badge … awarded to tankers that achieve multiple kills."
He added in his caption, "i wear this on my bike vest."
Attached to an image of a war-time helmet, Taylor wrote: "hey clem, this one is for you my little nazi, lol."
Apologizes for harm caused
In the interview with CBC News, Taylor apologized for harm caused by any of the Facebook posts.
He said that when he posted the images, he thought he was sharing them only with a few friends who knew about his intent to open a museum, so people could learn about military history.
The items from Nazi Germany, including flags and pieces with swastikas emblazoned on them, were just a part of his collection that also included historical equipment from America, Italy, Russia and Britain, said Taylor.
"I always went to the spot of education. We need to remember this stuff. We need to never forget the atrocities. Ever."
When he had these items in his home, Taylor said, he gave tours to friends and told them the history and stories behind them.
"I have no shame in it, honestly. No ill intent there. It was just an educational tool."
Items carry 'a moral responsibility'
A Facebook post by Taylor on June 17, 2012, shows a sculpture of Hitler's head, which he said was from about 1942 and made of solid bronze.
In the caption, Taylor said, "i am not a nazi, just a history buff."
It's an argument met with skepticism by Jody Spiegel, director of the Holocaust Survivor Memoirs Program at the Azrieli Foundation in Toronto, and incoming chair of the education working group for the International Holocaust Remembrance Alliance.
"These are triggering images, and a place like a museum is a space for education and discussion," Spiegel said after viewing the Facebook posts.
"All of these things have a place. They don't belong in someone's basement and they don't belong in social media forums for discussion about how awesome a collection is."
Daniel Hannah, president of the Shaarey Shomayim Congregation in Thunder Bay, said it's hard to understand why anyone would want to collect items associated with anti-Semitism and the Holocaust.
"It raises questions about their judgment," Hannah said in an emailed statement to CBC.
He worried such collections support the business of auction houses that cater to neo-Nazis, and called several of the images "disturbing."
These symbols do carry a moral responsibility … they can't be divorced from the history in which they were produced.– Valerie Hébert, associate professor of history at Lakehead University
Valerie Hébert, an associate professor of history with Lakehead University in Thunder Bay and an expert in Holocaust education, also reviewed some of Taylor's Facebook posts.
"These symbols do carry a moral responsibility," she said. "They can't be divorced from the history in which they were produced."
There is value in showing and understanding items from historical periods along with text to interpret and contextualize them, Hébert said, but called the way in which the Facebook posts displayed the items "rather cavalier."
"To think you can continue to trade in and display these kinds of symbols and not be responsible for the ideas that they represent is irresponsible. It's careless and it's potentially harmful."
In response to these concerns, Taylor said his intention when posting in 2012 was to share new items he found with the few friends he had on Facebook at the time and who knew about his ambition to start a museum.
He said he posted the images so long ago, he forgot they were still publicly viewable.
"People are uncomfortable with history. They're very sensitive and I understand that, but I'm a big believer that we need to remember the ugliest parts of our history."
Hospital refuses to answer more questions
Taylor posted all his photos nine years ago, shortly after he started volunteering at the hospital.
In 2015, Taylor received an honourable mention for the Patient Safety Champion award from the Canadian Patient Safety Institute for his work in the development and promotion of patient and family-centred care.
He was nominated by Rhonda Crocker Ellacott, current president and chief executive officer of the Thunder Bay hospital, according to an article published by the TBRHSC.
The article noted Taylor's work "has touched many areas of the organization," including support in "hiring leaders" and sitting on a number of committees at the hospital.
She described Taylor at the time as "an amazing leader," saying "we are fortunate to have an individual of his calibre engaged in our work."
A request for an interview with Crocker Ellacott was denied by the hospital, with Bernardo saying: "As the hospital cannot discuss personnel/HR issues publicly, we are unable to grant an interview."
The hospital also would not say what specific images violated its social media policy or whether a formal complaint was filed. It also wouldn't comment on who was responsible for appointing Taylor to his position as co-chair of the patient family advisory council and for his inclusion in the senior leadership council.
The hospital also did not say if it would issue an apology to the public.