Teamsters targets Amazon in Canada, attempting to organize 9 workers' unions – Global News
The Teamsters workers' union has launched campaigns to organize employees in at least nine Canadian facilities of U.S. e-commerce company Amazon.com, according to Reuters interviews with union officials.
The influential union took the first step earlier this week to organize employees at one of Amazon's Canadian facilities, and the interviews reveal it is widening such efforts across the country, where the e-commerce company employs about 25,000 workers and plans to add 15,000 more.
The campaigns could be seen as a bet by the Teamsters that early success unionizing employees in a more labor-friendly market such as Canada will inspire similar results south of the border, where Amazon has so far fended off unionization attempts.
In the latest challenge to Amazon's anti-unionization stance, Edmonton, Alberta's Teamsters Local Union 362 filed for a vote on union representation at a company fulfillment center in nearby Nisku late on Monday.
Interviews with Teamsters units in other cities and provinces show that the union's efforts stretch from the Pacific coastal province of British Columbia to the Canadian economic heartland in southern Ontario.
The Teamsters' Edmonton unit says it has enough signed cards calling for a union to meet the 40 per cent threshold to require a vote. Two of the union's units in Ontario and one in Alberta have confirmed they are signing membership cards with Amazon workers.

4:29


Amazon Canada set to ramp up hiring in expansion plan



And two of the five units that confirmed to Reuters that they are organizing said they are running campaigns at multiple sites, bringing the total Amazon facilities involved in some level of organizing to at least nine.
"Any locals that have an Amazon facility in their area are doing an organizing campaign," Jim Killey, an organizer with Teamsters Local 879 near Hamilton, Ontario, told Reuters.
Amazon did not immediately respond to a request for comment. Earlier in the week Amazon Canada spokesperson Dave Bauer said in an emailed statement: "As a company, we don't think unions are the best answer for our employees."
Unions would prevent the company from changing quickly to meet employees' needs and represent "the voices of a select few," he added.
The Teamsters say they can help the workers win better wages and benefits, such as leaves of absence.

SLEEPING IN THEIR CARS
Unionization votes in Canada do not have any direct bearing on the United States, but they could raise enthusiasm, said John Logan, a labor professor at San Francisco State University.
"Organizing at a place like Amazon requires workers to take a certain amount of risk," Logan said. "If they can look to other places and see that that risk has paid off for other workers, then they are far more inclined to do it themselves."
Union members are going to great lengths to connect with Amazon workers, sleeping in their cars to catch the employees after graveyard shifts and forging ties at local churches.
The International Brotherhood of Teamsters, which has more than a million members in the United States and Canada, has made organizing Amazon a top priority, describing it as an "existential threat."
Amazon does not have any unionized facilities in North America. The Teamsters is one of a handful of unions trying to undertake the daunting task of organizing its vast, high-churn workforce.
Earlier this year, the Retail, Wholesale and Department Store Union (RWDSU) lost a vote to organize workers in Bessemer, Alabama, by a more than two-to-one margin. Amazon pushed hard against unionization, and the result is being disputed.
The Teamsters have indicated they will not seek to hold such votes in the United States any time soon, arguing the process is unfairly tilted toward employers.
But in Canada, where labour laws are more favorable, the Teamsters see an opportunity to go straight to the ballot box.

4:26


A rare setback for Amazon



The Teamsters' Killey said his chapter is campaigning at Amazon facilities in Milton, Cambridge and Kitchener, all traditionally working-class towns just west of Toronto, Canada's most populous city.
"Where we see there is a lot of support, we're going to go full steam ahead," said Christopher Monette, spokesperson for Teamsters Canada.
Jason Sweet, president of Teamsters Local 419 in Ontario, said his unit has begun signing cards with workers in the greater Toronto area and has formed WhatsApp groups with Amazon workers to keep them abreast of the union's efforts, delivering updates every 48 hours or so. "We are trying to build relationships from the inside," he said.
In British Columbia, Teamsters Local 31 President Stan Hennessy said potential members have been receptive.
"It's our hope that we can help these workers," he said. "They certainly can use some help."
(Reporting by Julia Love in San Francisco and Moira Warburton in Vancouver; Editing by Peter Henderson and Muralikumar Anantharaman)
Why COVID-19 boosters weren't tweaked to better match variants – CTV News
More COVID-19 booster shots may be on the way — but when it's your turn, you'll get an extra dose of the original vaccine, not one updated to better match the extra-contagious delta variant.
And that has some experts wondering if the booster campaign is a bit of a missed opportunity to target delta and its likely descendants.
"Don't we want to match the new strains that are most likely to circulate as closely as possible?" Dr. Cody Meissner of Tufts Medical Center, an adviser to the Food and Drug Administration, challenged Pfizer scientists recently.
"I don't quite understand why this is not delta because that's what we're facing right now," fellow adviser Dr. Patrick Moore of the University of Pittsburgh said last week as government experts debated whether it's time for Moderna boosters. He wondered if such a switch would be particularly useful to block mild infection.
The simple answer: The FDA last month OK'd extra doses of Pfizer's original recipe after studies showed it still works well enough against delta — and those doses could be rolled out right away. Now the FDA is weighing evidence for boosters of the original Moderna and Johnson & Johnson vaccines.
"It's less churn and burn on the manufacturing" to only switch formulas when it's really necessary, said FDA vaccine chief Dr. Peter Marks.
But Pfizer and Moderna are hedging their bets. They're already testing experimental doses customized to delta and another variant, learning how to rapidly tweak the formula in case a change eventually is needed — for today's mutants or a brand new one. The tougher question for regulators is how they'd decide if and when to ever order such a switch.
What we know so far:
CURRENT VACCINES ARE WORKING EVEN AGAINST DELTA
Vaccines used in the U.S. remain strongly effective against hospitalization and death from COVID-19, even after the delta variant took over, but authorities hope to shore up waning protection against less severe infection and for high-risk populations. Studies show an extra dose of the original formulas revs up virus-fighting antibodies that fend off infection, including antibodies that target delta.
MIGHT A DELTA-SPECIFIC BOOSTER WORK EVEN BETTER?
Vaccines target the spike protein that coats the coronavirus. Mutations in that protein made delta more contagious but to the immune system, it doesn't look all that different, said virus expert Richard Webby of St. Jude Children's Research Hospital.
That means there's no guarantee a delta-specific booster would protect any better, said University of Pennsylvania immunologist John Wherry. Waiting for studies to settle that question — and if necessary, brewing updated doses — would have delayed rolling out boosters to people deemed to need them now.
Still, because delta is now the dominant version of the virus worldwide it almost certainly will be a common ancestor for whatever evolves next in a mostly unvaccinated world, said Trevor Bedford, a biologist and genetics expert at the Fred Hutchinson Cancer Research Center.
A delta-updated vaccine would "help to provide a buffer against those additional mutations," he said. Bedford is paid by the Howard Hughes Medical Institute, which also supports The Associated Press Health and Science Department.
TWEAKING THE RECIPE
The Pfizer and Moderna vaccines are made with a piece of genetic code called messenger RNA that tells the body to make harmless copies of the spike protein so it's trained to recognize the virus. Updating the formula merely requires swapping out the original genetic code with mRNA for a mutated spike protein.
Both companies first experimented with tweaked doses against a mutant that emerged in South Africa, the beta variant, that has been the most vaccine-resistant to date, more so than the delta variant. Lab tests showed the updated shots produced potent antibodies. But the beta variant didn't spread widely.
Now the companies have studies underway of fully vaccinated people who agreed to test a booster dose tweaked to match delta. Moderna's studies also include some shots that combine protection against more than one version of the coronavirus — much like today's flu vaccines work against multiple influenza strains.
The mRNA vaccines are considered the easiest kind to tweak but some other vaccine makers also are exploring how to change their recipes if necessary.
WHY STUDY UPDATED SHOTS IF THEY'RE NOT YET NEEDED?
Moderna's Dr. Jacqueline Miller told an FDA advisory panel last week the company is studying variant-specific boosters now to learn if they offer advantages, and to be ready if they're needed.
And Penn's Wherry said it is critical to carefully analyze how the body reacts to updated shots because the immune system tends to "imprint" a stronger memory of the first virus strain it encounters. That raises questions about whether a subtly different booster would prompt a temporary jump in antibodies the body's made before — or the bigger goal, a broader and more durable response that might even be better positioned for the next mutations to come along.
NO RULES YET FOR MAKING A SWITCH
"What is the tripping point?" asked Webby, who is part of a World Health Organization network that tracks influenza evolution. "A lot of what is going to need to go into that decision making is just going to be learned by experience, unfortunately."
Bedford said now is the time to decide what drop in vaccine effectiveness would trigger a formula change, just as is done with flu vaccines every year.
That's important not just if a dramatically worse variant suddenly develops. Like many scientists, Bedford expects the coronavirus to eventually evolve from a global crisis into a regular threat every winter — which might mean more regular boosters, maybe even yearly in combination with the flu shot.
Timing between shots matters, too, Wherry noted.
"Your boostability may actually improve with longer intervals between stimulation," he said. While scientists have learned a lot about the coronavirus, "the story's not finished yet and we don't know what the last chapters say."
Pfizer officially requests Health Canada approval for kids' COVID-19 shot – CP24 Toronto's Breaking News
Laura Osman, The Canadian Press

Published Monday, October 18, 2021 4:50PM EDT


Last Updated Monday, October 18, 2021 8:34PM EDT

OTTAWA – Pfizer-BioNTech has asked Health Canada to approve the first COVID-19 vaccine for children aged five to 11 years old.
The vaccine was developed in partnership with Germany's BioNTech and is now marketed under the brand name Comirnaty. It was authorized for people at least 16 years old last December, and for kids between 12 and 15 in May.
Pfizer already submitted clinical trial data for its child-sized dose to Health Canada at the beginning of the month. The company said the results were comparable to those recorded in the Pfizer-BioNTech study in people aged 16 to 25.
Health Canada said it will prioritize the review of the submission, while maintaining high scientific standards for safety, efficacy and quality, according to a statement from the department.
"Health Canada will only authorize the use of Comirnaty if the independent and thorough scientific review of all the data included in the submission showed that the benefits of the vaccine outweighed the potential risks in this age group," the statement read.
The doses are about one-third the size given to adults and teens age 12 and up.
As soon as the regulator gives the green light, providers will technically be able to start offering the COVID-19 shot to kids, though new child-sized doses might need to be procured.
Pfizer has delivered more than 46 million doses to Canada to date, and an analysis of the available data on administration from provincial and federal governments suggests there are more than enough Pfizer doses already in Canada to vaccinate kids between five and 11 years old.
But simply pulling smaller doses from the vials Canada already had stockpiled across the country may not be advised, chief public health officer Dr. Theresa Tam said at a media briefing late last week.
"We also understand from Pfizer that this actual formulation has shifted, this is a next generation formulation, so that is something that needs to be examined by the regulator," Tam said Friday.
Canada signed a new contract with Pfizer for pediatric doses last spring.
The Pfizer-BioNTech vaccine has also been tested on children as young as six months old. Topline data for children under five years old is expected as soon as the end of the year.
Health Canada said it expects to receive more data for review from Pfizer for younger age groups, as well as other manufacturers for various age ranges in the coming months.
The Public Health Agency of Canada has noted rare incidents of myocarditis, an inflammation of the heart muscle, after receiving an mRNA vaccine like Pfizer-BioNTech and Moderna.
As of Oct. 1, Health Canada has documented 859 cases associated with the vaccines, which mainly seem to affect people under 40 year old. On balance, the risk appears to be low, according to Tim Sly, a Ryerson University epidemiologist with expertise in risk management.
"Of course, no one considers any complication in a child to be acceptable, and a tremendous amount of caution is being taken to look for and identify all problems," said Sly in a recent email exchange with The Canadian Press.
COVID-19 infection also produces a very high risk of other cardiovascular problems, he said.
Aside from protecting kids against more serious symptoms of COVID-19, the vaccine would also reduce the risk of a child passing the virus on to a vulnerable family member and make for a better school environment with less stress about transmission.
Once the vaccine is approved for kids, the National Advisory Committee on Immunization will weigh in on whether the benefits of the shot outweigh potential risks for young children.
This report by The Canadian Press was first published Oct. 18, 2021.
– With files from Mia Rabson
All vaccinated Ontarians can now download enhanced, scannable certificates – Sudbury.com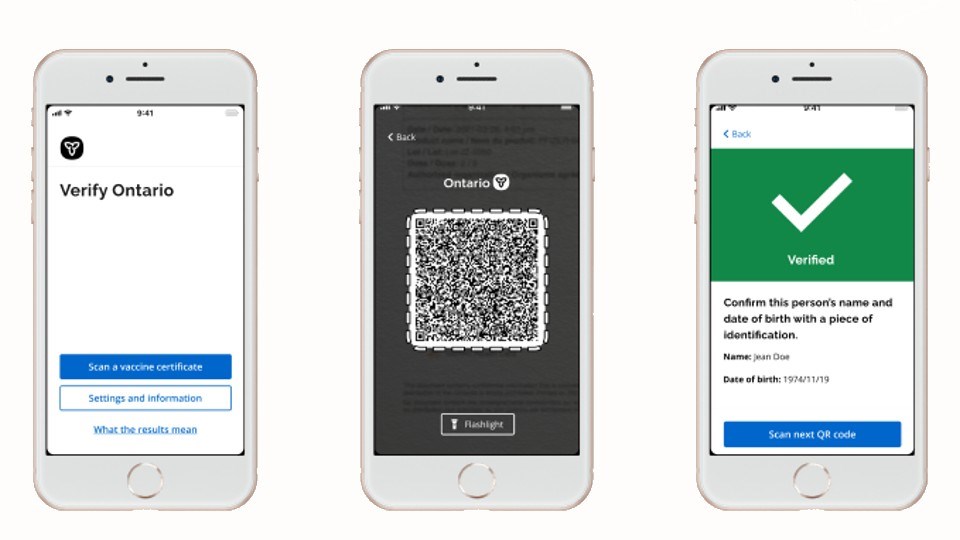 TORONTO — All Ontarians vaccinated against COVID-19 can now download their enhanced certificates, which include a QR code.
The provincial government has said the scannable documents will allow for faster entry into settings that require proof of vaccination.
The enhanced system officially takes effect on Friday, but Ontarians can get their new vaccine certificates before then, and businesses can start using a new app to verify those codes.
Residents whose birthdays fall between January and April were able to download the enhanced vaccination certificate through the province's COVID-19 website on Friday, and further cohorts got access over the weekend.
Under Ontario's vaccine certificate program, only those who have been fully vaccinated against COVID-19 — or have a valid medical exemption from a doctor — can access certain settings.
They include theatres, gyms, nightclubs and restaurant dining rooms.
This report by The Canadian Press was first published Oct. 18, 2021.
The Canadian Press