Wollongong real estate agent Bob Onofri shuns technology, rent rises
While most real estate agents have windows lined with screens showing lavish, slick promotional videos, realtor Bob Onofri's shopfront appears stuck in the 1960s.
He does not have a computer, a mobile phone, the internet, or any technology more sophisticated than a landline.
Property details are instead scrawled on pieces of paper and a whiteboard beside printed photos tacked up at the front of his Wollongong business.
A steady stream of locals wave and call out his name as they walk past.
"I'm old-fashioned. I believe in talking to people," Mr Onofri, 90, says.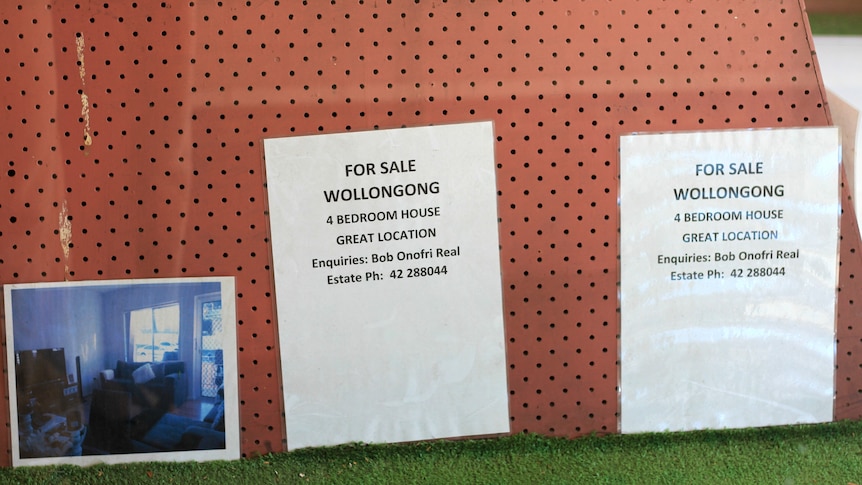 Old-fashioned service
Arriving at his shop each morning in a three-piece Italian suit, Mr Onofri leaves at lunchtime to eat at the Italian Club, and bet on the horses of an afternoon.
"His hair is immaculate and his shoes are always polished," Wollongong real estate agent Paul Spinelli says.
"It's good old-school personal service."
Mr Spinelli's parents bought their home from Mr Onofri in the 1960s.
"He has relationships with his landlords and tenants and that's what's missing these days," Mr Spinelli says.
Mr Onofri has traded from the same building since 1967, and the shop retains its 60s style renovation.
There is a telephone exchange still mounted to the wall and veneer dividers creating office cubicles.
He says he has probably not sold a property in more than a year and instead relies on about 50 tenants on his books.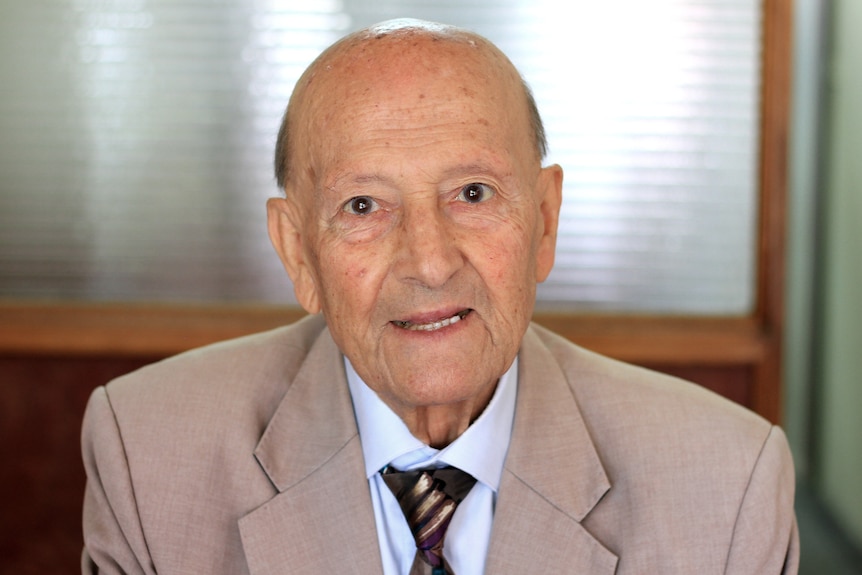 Resisting rent rises
According to Core Logic, Wollongong rental prices increased by 12.7 per cent in the 12 months to December 2022 in Wollongong.
But Mr Onofri says he is bucking that trend, rarely increasing his tenants' rents.
"I maintain that extra $20 for the owner is an investment, but that $20 for a family to look after their kids is more important," he says.
Tony Piccin owns a house in Wollongong that Mr Onofri has managed on his behalf for 41 years.
He says the most recent tenants stayed there for 20 years.
"It's a win-win for both of us," Mr Piccin says.
"You could have a lot of tenants moving in and out, but there's a cost involved in that."
Mr Spinelli says Mr Onofri's reluctance to increase rental prices could benefit landlords in the long term.
"The landlord doesn't have to pay a letting fee every six to 12 months," he says.
"And it doesn't take much for tenants to do $20,000 worth of damage — he doesn't have that problem."
A tenant himself, Mr Onofri started renting his shopfront from plumber Roy Cleary in 1967, who operated out of the adjoining premises until he died 12 years ago.
Paying just a fraction of the market rate, Mr Onofri's rent has not increased in 25 years.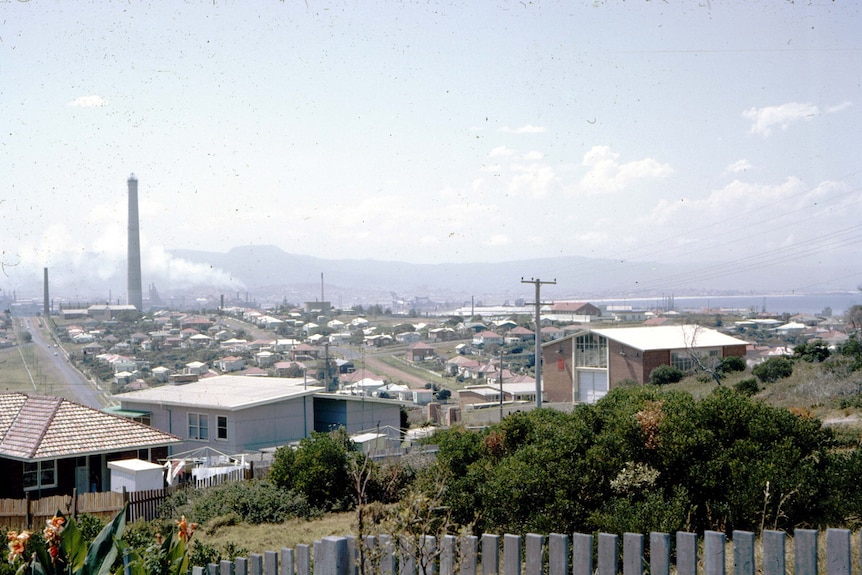 Post-war migrants
Many of Mr Onofri's customers are from Italian families who have done business with him over several generations.
"In my time in real estate over the past 60 years, I helped a lot of the community, especially Italians who were living in Warrawong, Cringila, near the steelworks," Mr Onofri says.
Mr Onofri, who was born in Italy, paid 20 pounds for a passage to Australia in the years after World War II.
He started work on the Snowy Mountains Hydro-Electric Scheme before moving to Melbourne.
He found work as a boilermaker in the Illawarra before he moved to Wollongong and started trading as a real estate agent in 1961.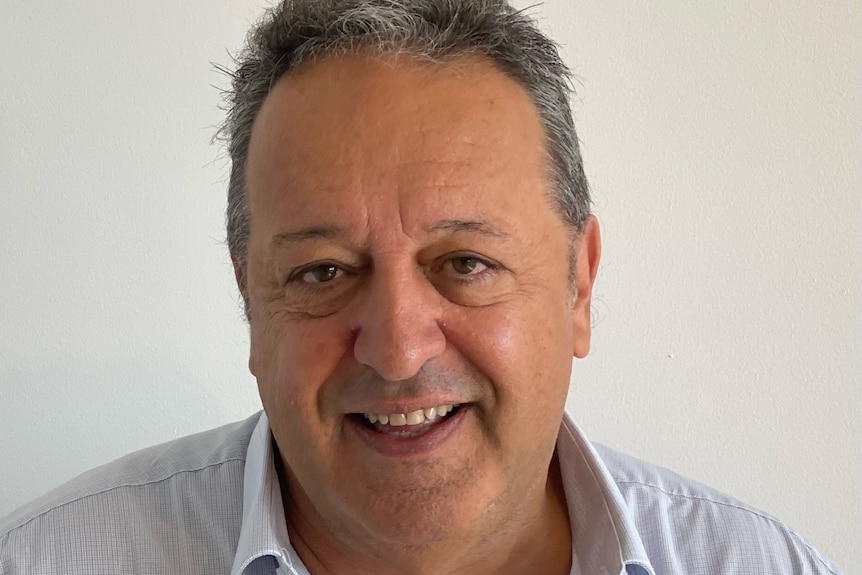 "Those days when we first arrived, everyone lived around the steelworks where we worked. There was nowhere else to live," Mr Onofri says.
"I sold them good homes for their kids to go in good schools in other areas, not under the steelworks."
Mr Spinelli says Mr Onofri is more collegial and less competitive than other real estate agents, reflecting how the industry has changed over the past six decades.
"Most people are in it to maximise their profits — Bob's got a heart, he runs his business emotionally," he says.
"The best way to describe him is a real gentleman."
Mr Onofri says he is renewing his real estate agent's licence for another three years and although his family would like him to retire, he has no plans to do so.
House of the Week: $4.8 million for a humongous Whitby estate with a turret and a 15-foot-tall waterfall
Neighbourhood: Central Whitby
Price: $4,800,000
Size: 6,500 square feet
Bedrooms: 4+4
Bathrooms: 5
Agent: Kelsey Schoenrock, Chestnut Park Real Estate
The place
A stately country house in Whitby sitting on a staggering 13 acres of forested land. Located off Anderson Street, it's a short drive to Whitby's downtown strip but far enough from city life to feel like an escape.
The history
The current owners, Bob and Judy, were living nearby and raising their three kids when they came across this property in 1991. Bob was eager for a slice of cottage life, and Judy wanted to stay close to Whitby, so the spot seemed like the perfect compromise. After several years of living off-site, they hired architect Duff Ryan and Vicki King of Willow Hill Designs to help them realize their dream. Construction finished in 2001, and now, 22 years later, they're looking to downsize.
The tour
Stepping through the front door—imported from Colorado—reveals this grand foyer. On the right is the dining area, sectioned off by rounded, taupe-stained pine walls.
The partial wall and cut-out windows allow natural light into the space, and the room was built specifically to accommodate that large circular dining table.
Here's a view from above. The outer ring of the table can be removed to seat smaller groups.
Just beyond the dining area is this lodge-inspired great room, with cedar log beams, pine ceilings and hemlock floors. The 20-foot-tall transom windows overlook land that backs onto the Greenbelt. 
That reading nook beside the limestone fireplace is the ideal spot for a morning coffee.
Opposite the great room is the kitchen, which features matte granite countertops, a butler's pantry and an island with seating for three. The tin ceiling was made by an artisan in Waterloo.
The kitchen also has a wet bar.
And, yes, this home comes with a turret. This is its main level, which houses a breakfast room. There's porch access through the doors on the left and a three-season sitting room on the right.
Here's that sitting room—the owners wanted a space to enjoy the outdoors in the summertime without having to worry about flies and mosquitoes.
Back inside on the main floor is this office, which can be seen from the second floor.
Here's the main-floor powder room, with an antique metal wash basin.
This laundry room down the hall has a built-in gift-wrapping station, and its large porcelain sink is great for prepping flower arrangements.
The primary bedroom sits on the main floor and features a faux-stone wall that conceals the ensuite bathroom.
The ensuite has plenty of storage. 
It also comes with a glass shower and jet tub that overlook the sprawling woods.
A quick detour outside shows off the main bedroom's porch, which has more of those cedar logs, this time as pillars.
The catwalk on the second floor is almost always bathed in natural light.
Above the garage is the guest suite. Whitewashed ceilings and soft pine floors add a bit of freshness.
Here's a reverse view of the suite to show its cozy window bench.
Guests also have their own ensuite.
This sewing room could easily be converted into another bedroom.
And so could this exercise room with vaulted ceilings.
The estate's painting studio sits at the end of the second-floor hall. That railing on the right overlooks an escape ladder.

Here's the ceiling, which is itself a work of art.
If a daring escape isn't your thing, you can reach the basement via the winding staircase.
There are are four more bedrooms in the basement. This one has an ensuite.
Here's that ensuite, with a double vanity and a raised shower.
Beyond these stained-glass doors is a walk-up bar, a media room, a games room, a wine cellar and a tasting area.
And here's a look at that bar. The doors on the right lead to a 700-square-foot patio with a hot tub. 
The games room is fashioned for the outdoorsy types. 
The sunken media room showcases another fireplace (this one's granite) and a movie screen that can be hidden away via the folding doors on either side. 
Here's the tasting area, with hemlock flooring. It lives directly under the turret. 
Beside it is the wine cellar.
This huge workshop sits underneath the three-car garage. It's completely separate from the main home, so it could be renovated into a rental unit.
Outside is this firepit with log benches. Since the owners have tapped many of the property's maple trees, you could use the cauldron to boil sap. 
Here's the back of the house, with its 15-foot-tall waterfall currently covered in snow.
The property also comes with a 12-foot lined pond, home to about 100 trout.
---
Have a house that's about to hit the market? Send your listing to realestate@torontolife.com.  
There is going to be a 'real mess' in commercial real estate, but maybe not a financial disaster, economists says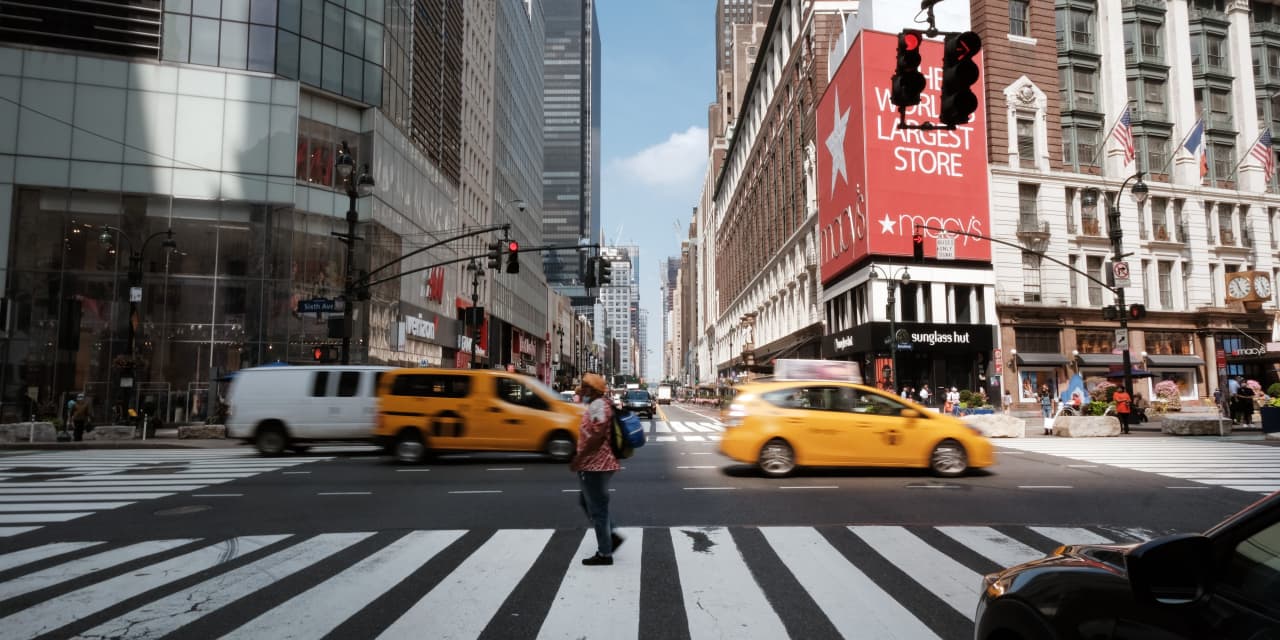 The commercial real-estate sector is headed for a "real mess" but not necessarily a financial disaster, a leading economist said Monday.
"I expect a major correction in commercial real estate is already under way," said Adam Posen, president of the Peterson Institute for International Economics.
The cause is not complicated. Office occupancy is "lastingly" down 30%-40% since the pandemic, he said.
Even thought the problem is relatively simple, the whole industry still seems like it is frozen in place.
"We haven't seen smooth repricing or terribly transparent repricing of the mortgages and commercial real estate lending that is held in nonbank financial intermediaries," Posen said.
A disproportionately large share of the lending in commercial real estate went through so-called "shadow banks."
This may be less bad for the entire economy because these private equity lenders aren't banks.
But at the same time everything is opaque. The sector isn't regulated.
City municipal tax revenues may be hit hard because they are based on rental rates.
"Is it a financial disaster? I hope not. I don't expect so," he said. But it could have a negative effect on wealth and city budgets to the real economy, Posen said.
Commercial real estate is in trouble. Why you should be paying attention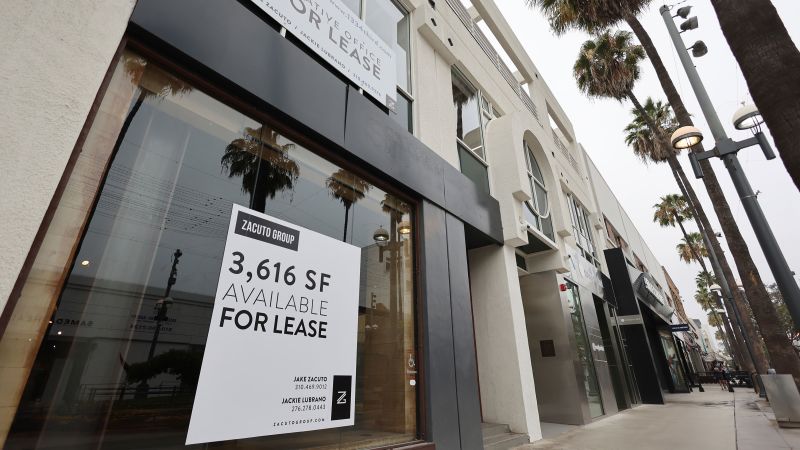 A version of this story first appeared in CNN Business' Before the Bell newsletter. Not a subscriber? You can sign up right here. You can listen to an audio version of the newsletter by clicking the same link.
Economists are growing concerned about the $20 trillion commercial real estate (CRE) industry.
After decades of thriving growth bolstered by low interest rates and easy credit, commercial real estate has hit a wall.
Office and retail property valuations have been falling since the pandemic brought about lower occupancy rates and changes in where people work and how they shop. The Fed's efforts to fight inflation by raising interest rates have also hurt the credit-dependent industry.
Recent banking stress will likely add to those woes. Lending to commercial real estate developers and managers largely comes from small and mid-sized banks, where the pressure on liquidity has been most severe. About 80% of all bank loans for commercial properties come from regional banks, according to Goldman Sachs economists.
"I do think you will see banks pull back on commercial real estate commitments more rapidly in a world [where] they're more focused on liquidity," wrote Goldman Sachs Research's Richard Ramsden in a note on Friday. "And I do think that is going to be something that will be important to watch over the coming months and quarters."
Recently, short-sellers have stepped up their bets against commercial landlords, indicating that they think the market will continue to fall as regional banks limit access to credit. Real estate is the most shorted industry globally and the third most in the United States, according to S&P Global.
So just how big of a deal is this threat to the economy? Before the Bell spoke with Xander Snyder, senior commercial real estate economist at First American, to find out.
This interview has been edited for clarity and length.
Before the Bell: Why should retail investors pay attention to what's going on in commercial real estate right now?
Xander Snyder: Banks have a lot of exposure to commercial real estate. That impacts banking stability. So the health of the market has an impact on the larger economy, even if you're not interested in commercial real estate for commercial real estate's sake.
How bad are things right now?
Price growth is slowing and for some asset classes it's starting to decline. Office properties have been more challenged than others for obvious reasons.
Now private lending to the industry is starting to slow as well — bank lending was beginning to dry up over a month before the Silicon Valley Bank failure even happened. Credit was getting scarce for all commercial real estate and a fresh bank failure on top of that only exacerbates that trend.
How do you expect banking turmoil to make things worse?
I think more regulatory scrutiny is coming for smaller banks, which tend to have a larger concentration of commercial real estate loans. That means small and medium-sized banks are going to tighten lending standards even more, making it more difficult to get loans.
Does the possibility of a looming recession play into this?
As credit becomes scarcer and more expensive, it's hard to know exactly what buildings are worth. You get this gap opening up between sellers and buyers: Sellers want to get late 2021 prices and buyers are saying 'we don't know what things are worth so we'll give you this lowball offer.' That was already happening and the result of that price differential was bringing deal activity down.
There's no broad agreement on asset valuations. Economic uncertainty will exacerbate that trend. And if you're a bank, it's a lot more difficult to lend against the value of a building if you don't know what the value of the building really is.
So how worried should we be?
A lot of people hear commercial real estate and they think it's all the same thing and the trends are they're all the same but they're not. The underlying fundamentals of multifamily and industrial assets remain relatively stable on a national level.
It's different for office and retail properties. There's been a fundamental shift in how we use office space and that has changed demand. That's something you should have your eye on, especially as low-interest office loans come due. We're running into a situation where office-owners have to refinance at a higher rate and only 50% of the building is being used. That doesn't translate to good cash flow metrics for the lender.
I think retail also faces challenges. A lot of people are still sitting on excess pandemic savings that are beginning to be spent down and the Fed is certainly trying to nudge unemployment up a little bit. So I imagine that both of those things will impact retail spending and therefore impact retail as an asset class.
Economists forecast recession and elevated inflation
Stagflation, the combination of high inflation and a weakening economy, could make a comeback. The majority of economists expect a recession sometime this year and forecast that inflation will remain above 4%, according to The National Association for Business Economics' latest survey, released Monday.
It appears as though the fog has lifted since last month's survey, which showed a significant divergence among respondents about where they think the US economy is heading in 2023.
"Panelists generally agree on the outlook for inflation and the consequences of rate hikes from the Federal Reserve," said NABE Policy Survey Chair Mervin Jebaraj. "More than seven in ten panelists believe that growth in the consumer price index (CPI) will remain above 4% through the end of 2023, and more than two-thirds are not confident that the Fed will be able to bring inflation down to its 2% goal within the next two years without inducing a recession."
Still, more than half of NABE Policy Survey panelists expect a recession at some point in 2023. But only 5% believe the United States is currently in one. That's nearly four times lower than the 19% who believed the US was in a recession in August.
Banking turmoil brings us 'closer right now' to recession: Fed President Kashkari
The recent meltdown in the banking industry could tip the US into recession said Federal Reserve Bank of Minneapolis President Neel Kashkari.
"It definitely brings us closer right now," he said during a CBS Face the Nation interview this weekend.
"What's unclear for us is how much of these banking stresses are leading to a widespread credit crunch. And then that credit crunch, just as you said, would then slow down the economy," he added.
While Kashkari said that the financial system is "resilient" and "strong" he said that there are still "fundamental issues, regulatory issues facing our banking system."