The Minnesota Timberwolves are on the clock.
After COVID-19 delayed June's 2020 NBA Draft, the Timberwolves are just hours away from making their top selection.
Who's projected to go No. 1?
Many mock drafts have Minnesota taking point guard LaMelo Ball, the youngest of the famous Ball brothers, with the first overall pick.
Other projected high picks include shooting guard Anthony Edwards (Georgia), centre James Wiseman (Memphis), small forward Deni Avdija (Israel) and centre Onyeka Okongwu (USC).
Still, the 19-year-old Ball, who most recently played in Australia with the Illawarra Hawks, isn't the runaway favourite.
According to Caesars Sportsbook by William Hill, Ball is the odds-on favorite go No. 1 with -200 odds.
Odds to go first overall
LaMelo Ball: -200
Anthony Edwards: +150
James Wiseman: +650
If either Ball or Edwards goes first overall, it will mark the seventh time in the last 30 drafts that a guard was selected with the No. 1 pick, including the T-Wolves taking Canadian Andrew Wiggins in 2014.
Guards selected No. 1 (last 30 years)
2017 – Markelle Fultz (Washington)
2014 – Andrew Wiggins (Kansas)
2011 – Kyrie Irving (Duke)
2010 – John Wall (Kentucky)
2008 – Derrick Rose (Memphis)
1996 – Allen Iverson (Georgetown)
Furthermore, if Ball ends up becoming the top selection, it will end a streak of 10 straight years that a freshman has been drafted first overall. Blake Griffin was the last non-freshman to go first overall in 2009.
If Ball goes first, it will also mark the first time the top pick didn't attend college since 2006 when the Toronto Raptors selected Italy's Andrea Bargnani. It also happened in 2004 with Dwight Howard, 2003 with LeBron James, 2002 with Yao Ming and 2001 with Kwame Brown.
If Avdija also goes in the top-five alongside Ball, it would only be the sixth time since 1966 where multiple non-college players have been selected in the top-five.
Multiple players who did not attend college (top five)
2015 – Kristaps Porzingis, Mario Hezonja
2004 – Dwight Howard, Shaun Livingston
2003 – LeBron James, Darko Milicic
2002 – Yao Ming, Nikoloz Tskitishvili
2001 – Kwame Brown, Tyson Chandler, Pau Gasol, Eddy Curry
What about Kentucky, North Carolina, Kansas and Duke?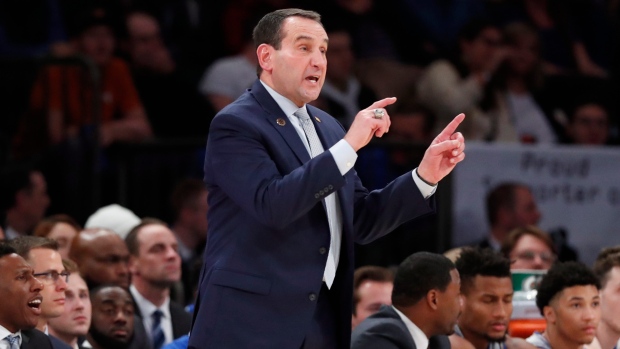 Everything about the year of 2020 has been strange, so it's no surprise the 2020 NBA Draft could also be unusual.
Currently, no prospect who played their college ball at Kentucky, North Carolina, Kansas or Duke is projected to be selected with a top-14 pick. The last time no players from those four prestigious basketball schools were selected by a lottery team (top-14) was in 2000.
It could also snap Kentucky's 10-year streak of having a player selected in the lottery, the longest streak since the lottery began in 1985.
Most consecutive drafts with a lottery selection
2010-19 – Kentucky (active)
2014-19 – Duke active)
2010-14 – Kansas
Also, the last time that no players from Kentucky, North Carolina or Duke were selected in the top-10 was 2009.
Odd and ends
For a second consecutive year, the Philadelphia 76ers have five draft picks, the most in the league (21, 34, 36, 49, 58).
Boston Celtics have three first-round picks (14, 26, 30).
Houston Rockets are the only team without a draft selection this year.
25th anniversary of Kevin Garnett going fifth overall to the Timberwolves.
35th anniversary of Patrick Ewing going first overall to the New York Knicks in 1985.
Source:- TSN
Raptors prop odds roll out in advance of season – Sportsnet.ca
With the start of the NBA regular season less than three weeks away the Toronto Raptors are adjusting to life in their temporary home of Tampa Bay. Forced to relocate due to continued cross-border travel restrictions related to the ongoing pandemic, the Raptors will play home games at Amalie Arena until further notice.
However, with a COVID-19 vaccine looking increasingly likely to roll out at some point in 2021, the odds of the Raptors playing at least one home game in Toronto this season sit at a short -250 in NBA props betting at sportsbooks monitored by OddsShark.com.
But faced with the prospect of living out of hotels for the entirety of the NBA season, the Raptors have taken a step back on the NBA odds.
Victorious in 53 games last season, second most in the NBA, the Raptors' win total for the upcoming season sits at just 43.5. Toronto remains a -360 favourite to return to the NBA playoffs for an eighth straight season, but their temporary exile from Scotiabank Arena and recent offseason moves have raised questions. While the team locked up Fred VanVleet with a lucrative four-year contract, the departures of Serge Ibaka and Marc Gasol suggest the team is undergoing a changing of the guard.
Those concerns extend to team president Masai Ujiri, who has been in demand around the league since leading Toronto to a championship and sports -110 odds of resigning his position with the Raptors before next season's NBA playoffs.
Indeed, if the Raptors fall out of postseason contention during their upcoming nomadic campaign, Kyle Lowry's future with the team could also be in question. The heart and soul of the Raptors since his arrival in Toronto eight years ago, Lowry played a crucial role in the team's march to an NBA title in 2019. But with Lowry turning 35 in March, and entering the final year of a contract that will pay him $30 million, he is listed as a +250 wager at online betting sites to not finish the season as a member of the Raptors.
While a slow start could place Lowry's future in question, Drake's position with the Raptors appears to be eternal. The Toronto-born hip hop star has served as the team's global ambassador since 2013, and has become a familiar presence around the franchise both on and off the hardwood.
That is not expected to change, even as the global pandemic rages, with the musician sporting -850 odds to take his familiar seat at courtside for at least one Raptors game in the season ahead.
Inside look at New York Rangers – NHL.com
NHL.com is providing in-depth roster, prospect and fantasy analysis for each of its 31 teams from Nov. 16-Dec. 16. Today, the New York Rangers.
The New York Rangers are confident they're entering training camp with the blueprint for how they need to look and play to be a Stanley Cup Playoff contender.
"We found that balance toward the end of last season, the last two months, from playing with a defensive conscience and also being productive offensively," Quinn said. "That's what we have to be. We found some continuity with lines and [defenseman] pairings, and that was really the first time that had happened in the last two years. I think for the first time going into training camp we have a little bit of a clearer picture of what we're going to look like."
[Rangers 31 IN 31: 3 Questions | Top prospects | Behind the Numbers | Fantasy breakdown]
The disappointment of the Rangers' quick exit from the Stanley Cup Qualifiers last season — they were the first team eliminated, swept by the Carolina Hurricanes in three games — hasn't stolen from their belief that they've grown into a contender to reach the Stanley Cup Playoffs.
It starts with familiarity with who they have returning, a list that doesn't include Henrik Lundqvist. They bought out the final year of the goalie's seven-year contract, making the Rangers' leader in wins (459) an unrestricted free agent to solve the three-goalie issue they dealt with last season and pave the way for Igor Shesterkin to be their new No. 1.
Shesterkin was 10-2-0 with a 2.52 goals-against average and .932 save percentage in 12 starts last season after being recalled from Hartford of the American Hockey League on Jan. 6. New York also re-signed goalie Alexandar Georgiev to a two-year contract Oct. 15.
"I just love his demeanor," Quinn said of Shesterkin. "I just love how confident he is."
Artemi Panarin proved last season, when the left wing had 95 points (32 goals, 63 assists) in 69 games (1.38 points per game), that he's comfortable in the New York spotlight, solving one of the questions the Rangers had going into last season.
Video: Top 10 Artemi Panarin plays from 2019-20
Panarin, entering the second year of his seven-year contract, is expected to start camp playing with center Ryan Strome, who re-signed with a two-year contract Nov. 5.
Quinn is eyeing 19-year-old Kaapo Kakko to be the right wing with Panarin and Strome, replacing Jesper Fast, who signed with the Carolina Hurricanes as a free agent. Kakko, the No. 2 pick in the 2019 NHL Draft, scored 23 points (10 goals, 13 assists) in 66 games last season.
Mika Zibanejad delivered as a No. 1 center last season, scoring 41 goals in 57 games, including an NHL-high 23 in 22 games from Jan. 30 to the end of the regular season. He is again expected to have Chris Kreider and Pavel Buchnevich on his line, giving the Rangers continuity in their top six forwards.
"No final decisions have been made, but certainly you want to start that way and hit the ground running," Quinn said.
Video: WSH@NYR: Zibanejad scores five goals, OT winner
The Rangers expect Alexis Lafreniere, the No. 1 pick in the 2020 NHL Draft, will be an impact player in his rookie season. Lafreniere is penciled in as the left wing on the third line, likely playing with 21-year-old center Filip Chytil.
Lafreniere arrived in the New York area from his home in Saint-Eustache, Quebec, in November and is training and living with a billet family in Connecticut.
"He has the whole package," Rangers assistant general manager Chris Drury said. "His skating, his sense, his shot, his passing, you name it, it's all very elite. His internal drive is exceptional."
The Rangers are comfortable with their returning defensemen, even if there are issues to iron out, namely filling an opening on the left side they created by trading Marc Staal to the Detroit Red Wings.
Quinn said the Rangers could move a right-handed defenseman (Jacob Trouba, Tony DeAngelo or Adam Fox) to the left side.
DeAngelo, who led New York defensemen with 53 points (15 goals, 38 assists) last season, is the most likely candidate, but Quinn said he knows Fox would be comfortable too. It's unlikely they ask Trouba to switch.
K'Andre Miller and/or Tarmo Reunanen, two of New York's top defenseman prospects and each a left-handed shot, could play well enough in training camp to win a job and remove the need to move a righty to the left side.
"That probably is the one position that we're going to have to really let it play out," Quinn said.
The Rangers have far fewer uncertainties than they've had entering the past two seasons, fueling their optimism.
"We feel real good about where we are," New York president John Davidson said. "We've come a long way. There's been some very difficult decisions, but to get to that end, to the championship, this is what you have to do."
Canucks anthem singer Mark Donnelly axed for planned appearance at anti-mask rally – Global News
He's long been a staple of Vancouver Canucks home games, but it appears Mark Donnelly has sung the national anthem for the last time in Rogers Arena.
Canucks owner Francesco Aquilini took to Twitter Friday, responding to a Vancouver Sun report that the Canucks' anthem singer would be performing at an anti-mask rally in Vancouver on Saturday.
"Hey @VancouverSun, change the headline to 'Former Canucks anthem singer.' #wearamask," wrote Aquilini.
Global News has requested comment from Donnelly.
[ Sign up for our Health IQ newsletter for the latest coronavirus updates ]
Gatherings of more than 50 people have been banned by public health order in B.C. since March. In November, the province extended that ban to all social gatherings.
Saturday's planned "B.C. Christmas Freedom Rally" is being organized in part by Ryan Kulbaba, who has spearheaded several other anti-mask rallies in Vancouver since July.
The events have featured a variety of anti-vaccine speakers and decried what participants say is censorship and government overreach.
Others have expressed fears that a vaccine would be made mandatory, or argued that the fatality rate from the virus does not justify the economic effects of restrictions.
Previous Vancouver rallies have also drawn believers in a range of conspiracy theories, including debunked myths that masks cause cancer or other health issues, baseless accusations that Bill Gates plans to use vaccines to implant microchips in people, and the U.S.-based QAnon fantasy which claims a cabal of U.S. pedophile politicians are consuming children's blood.

2:07


British Columbians opposed to wearing masks hold Vancouver protest



Posters for Saturday's rally declare "we oppose government orders & will gather for the holidays."
Along with Donnelly, the event features a message from Santa, singing, speeches from vaccine opponent Ted Kuntz and the group Hugs over Masks, comedy, an anti-5G presentation and evangelical anti-SOGI123 activist and former People's Party of Canada candidate Laura Lynn Tyler Thomas.
© 2020 Global News, a division of Corus Entertainment Inc.